Bosavi Headlamp

Top 50 in Headlamps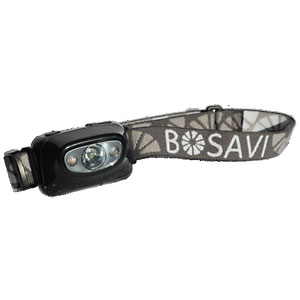 Specs
Price
MSRP: $70.00
Historic Range: $69.95
Reviewers Paid: $100.00

Reviews
1

review

5-star:

0

4-star:

1

3-star:

0

2-star:

0

1-star:

0
A light, compact, rugged, powerful and full-featured LED headlamp with a brand new design, sporting an internal rechargeable battery. Red and white LEDs, flashing and steady modes, low, high, and sear-yer-eyeball modes. Brought to the world by a small independent US designer, through a Kickstarter project.
Pros
Lightweight (2.1 oz - INCLUDING the battery)
Versatile: white & red LEDs, flashing and steady modes, low, high and turbo modes
Turbo mode is very bright, good for long-distance scanning
Water resistant
Good battery life - website claims 60 hours on low, 8 hours on high - I've run it twice over 30 hours before shut-down using a variety of high & low modes.
Rugged - I wasted no time and have already dropped it 5 feet onto a hardwood floor with no problems to the lamp itself. The mounting tab for the strap, on the other hand, didn't survive if dropped just right, but should be easy to replace
Standard USB charging. Charger is built-in, no wallwarts, simply plug into a computer or any common USB charger (wall, cigarette lighter, AA-powered, solar-powered, etc.) 4 patterns of flashing LEDs indicate level of battery (100%, 75%, 50%, low) with a simple long press on the button when the light is off
Small US independant developers, Kickstarter project - good karma, bruh. And very friendly, quick, personalized customer support.
Cons
No way to easily swap in spare batteries, you need a way to recharge the battery in the field. (can use portable USB AA or solar chargers, so it's possible to recharge it in the field, w/ the implied weight & space penalty)
New product, seems well thought out and rugged, but needs a bit more time to get more user feedback
New product, small independant designer, means that for now at least you'll most likely will have to buy it online, sight unseen, and accessories are still being designed or manufactured now (March 2013)
Slightly pricier than similar lamps by big manufacturers. But see "Good Karma" note in the Pros column!
I'm a mainly a cyclist, but also hike, camp, and use headlamps around the house/car. The new Bosavi worked well for all the tasks I threw at it. I can compare this light to the many different headlamps and bicycle lights that I've used, broken, lost and discarded over the past 30 years, from the usual suspects, Petzl, Black Diamond, Princeton Tec, Cateye, NightRider, Planet Bike, CygoLite, Di Notte among others, low power, mid-power or high power, feather-weight or heavy monstrosity w/ remote  battery packs.
My current go-to headlamps are the Petzl E+Light for general use around the house or the tent, even for easy hiking at night, and for map, cue sheet reading, and troubleshooting on the bicycle, augmented by a Black Diamond Remix or an old Tikka+ workhorse, and for the bikes a combination of 200L AA DiNotte and dynohub-powered Busch & Müller Lumotec Fly. The Bosavi will prove a welcome replacement or addition to my quiver of lights.
Of the lamps I know, the closest competitors to the Bosavi would probably be the Petzl Tikka 2 Core, which doesn't have a red LED, but where you can swap in AAAs if need be, and the Black Diamond ReVolt which does have a red LED and can use AAAs. Both appear to be about US$10 cheaper (March 2013.) Unfortunately I've never used those, and can't do a direct comparison of how they perform. On specs, they seem to be on a par.
Bosavi is a new brand that recently got launched through a Kickstarter project. The designer and chief bottle-washer is an EE who decided to cook up his own design to meet his needs as an outdoorsman and climber. The final product shows that it was well thought through and its features were concocted while camping out in the boonies or climbing some wall with friends - personal experience is a big plus.
>>> Description:
The body of the headlamp (comes either in black or orange) houses three LEDs: low power white, high power white, and red.

The shape is smooth and fairly streamlined, and vaguely reminds me of an Art Deco headlight for some big 1950s Cadillac - no agressive marketing-driven design only meant to look cool - I like Bosavi's practicable, serviceable, no-nonsense approach. The main body is hinged at the bottom onto a base. The hinge offers just enough resistance to hold the lamp in place. The base is attached to the headband through a couple plastic pieces through which it weaves its way. Those two plastic pieces slide into two notches on either side of the base. It provides a solid point of attachment, and will allow the lamp to be easily slipped out of the headband and slipped onto other accessories like a bike mount.
The little plastic pieces don't look hugely strong, and I've already broken one (but after a big unlucky drop - they are fine for regular use.) Bosavi sent me a replacement, and it would be easy enough to pack along replacement tabs in the unlikely case one broke, which would be way better than most all other lights, which often can't be used on the head once the built-in attachment breaks - I have a fancy expensive Black Diamond headlamp that I managed to salvage by velcroing it to a helmet after that very thing happened - but it's pretty much useless for anything else. The mounting system provides flexibility in using the light for other applications, and I look forward to future accessories, like the handlebar mount. 
The electronics and built-in battery are housed in the body and the base. The battery does not appear to be user-replaceable. That will be one point to address in a couple years. A somewhat slower charging mode was chosen in order to improve the life of the battery, so it should be good for a long time, depending of use and care. Specs claim: "80% Capacity Retention After 3 Years or 3000 Cycles." And of course, I've seldom had to worry about replacing built-in batteries in this kind of devices: before that time came, something else broke, or it got lost, or technical advances meant that some much better device had come around and had to be purchased...  
No external battery pack to mess with, the headlight is light and compact. 
The headband is... well, not much to say about it, just a regular headband that just plain works as expected.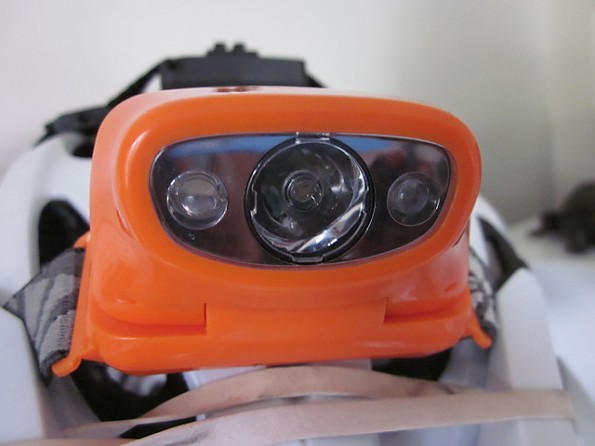 >>> How does it perform:
I mainly use the red LED to preserve night vision, the low setting white for around-camp tasks, reading in bed, fixing a flat at night, hiking on easy trails at night, and the high setting when searching for far landmarks when hiking, traffic signs when biking. They each work fine for what they're designed for. 
The red LED is bright enough to work at close range, and provides a fairly narrow bright field, but still wide enough to cover the whole width of a page w/out having to turn your head when reading. 

Low white setting is low enough to not be blinding when you're working on close objects, and provides a fairly wide illuminated field, definitely wide enough to cover the whole width of a page, or finding your spork or salt shaker when eating in your tent or cooking at night, or finding all your tools when fixing a flat. 

The high settings are plenty powerful for wayfinding in the dark on a trail, or reading street signs a ways away when riding at night. 

The "turbo" mode can be activated from any mode with a simple long press on the button, and is _b r i g h t_. It is much brighter than the advertised 100 lumens of my "good" Princeton Tec Remix. It actually appears fairly close in throw and brightness to the advertised 200 lumen of the DiNotte. The turbo setting is only temporary, though, to save battery life, and (I suspect) avoid overheating issues. After one minute, it gracefully fades down, or you can click out of it before if you're done. This setting works fine for hiking or everyday use, but it would be great to be able to keep it longer for biking, to allow maximum visibility during long, fast descents, for instance. But that's not the primary targeted use for the headlamp, so it's no big deal, and it's very nice to have the possibility to access this very high-zoot turbo mode when you need it. 
I haven't relied much on the white blinking: it uses the low-power LED, and although visible at night, I like a brighter (more obnoxious) flash when trying to grab the attention of car drives in a busy night environment. This said, it's on a par with many low-end bike flashers and would be satisfactory for regular use, maybe in conjunction with another light, and for me it's plenty good as a get-me-home back-up to my more powerful lamps. It would work fine for spotting your tent or a lost hiker in the dark. I haven't used the flashing red LED, but am glad it's there as an option, should I need it. 
A cool feature of the light is that you can program out the modes you don't want, with a few simple presses on the button, so if i'm tired of cycling through a mode I don't use, i can just take it out of the round-robin choices until I need it.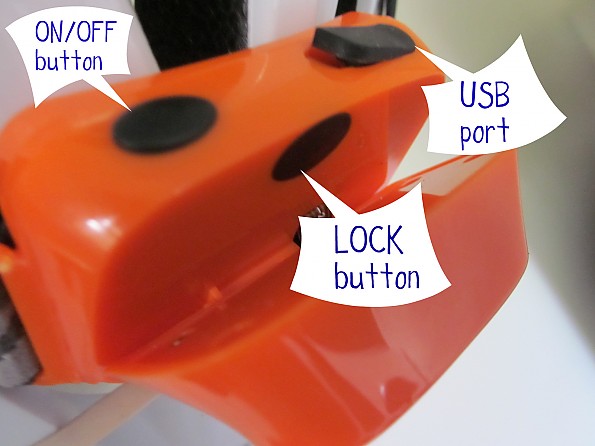 >>> Waterproofness:
The lamp is not specified as being waterproof, but  a video on the website shows it surviving many hours of _full_ submersion, and reviving after drying out when drowned on purpose by opening the USB port to let water in. I and a friend did have an issue w/ the light dying during a long ride through a _major_ frog-choker. I had not secured the protective cover for the USB port (see photo above), water seems to have shorted out some circuits, and the high-power LED stopped working - the rest of the lamp is fine.
Although this was my fault for not having battened down the USB port correctly, Bosavi immediately and most graciously sent us replacement lamps, and are looking at the failed units to analyze what happened. The designer reported that this was the first time he'd heard of such a problem. I trust that either this was a statistical fluke, or that he'll work out the issue for the next run. For now, I'll make sure that the rubber tab for the USB port is indeed watertight, and won't worry about it.
>>> Convenience:
4 patterns of flashing LEDs indicate level of battery (100%, 75%, 50%, low)
You can lock the ON/OFF button so as to prevent the headlamp from accidentally turning on by itself and empty the battery when transported in a bag, for instance.
Recharge time is probably around 4 hours from dead - i've never actually timed it, just plugged it overnight, and it's done in the morning.
>>> Cute factor:
Part of the packaging is a sheet of translucent plastic that can be folded origami-like into a light (ahah) faceted tube, that, when attached to the lamp, turns it into a very serviceable lantern. Kudos for a) trying to reduce the amount of waste in the packaging, and b) enhancing the usability of the lamp w/ a very simple and clever idea.
>>> Conclusion
This being a new design, it will have to prove itself on the long run — but for now, I really like the design, the different modes, the power of the turbo mode, and the light weight and compactness for the power. It's keeper, for hiking and biking. Check out their website for more details and pictures.
Source: bought it new
Price Paid: US$100 (Bike Commuter model)

You May Like