Bota of Boulder Outback Water Filtration System

Top 25 in Bottle and Inline Water Filters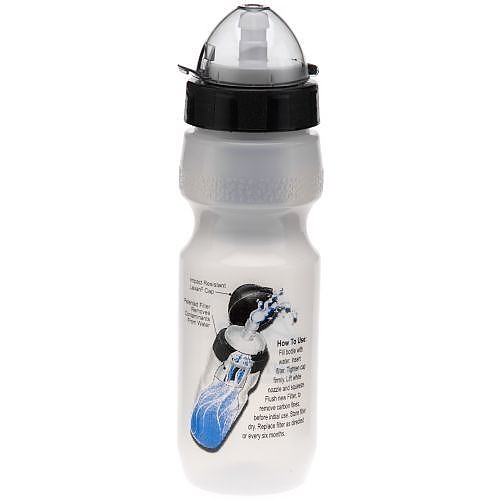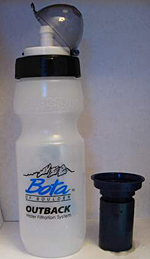 Specs:
Weight: 4.7 oz.
Dimensions: 3 x 9.5 inches
Filter: activated carbon
Bottle capacity: 22 oz.
Capacity with filter: 20 oz.
Expected lifetime: 40 gallons (230 refills)
MSRP: $19.99
Pros: 
(Note: The Bota and Aquamira bottles use the exact same bottle, spout, and cap.) Lexan flip cap protects spout from contaminants. Semi-transparent bottle lets you see how much water remains. Replacement filter is available.
Cons:
The Bota Outback has the same weaknesses as the Aquamira Water Bottle Filter. Additionally, organic contaminants that have been filtered out by activated carbon filters provide an excellent food source for bacterial growth, particularly when the filter is not used for a long time.
Review originally published as part of In-Bottle Water Filters comparison review.
Source: received for testing via the Trailspace Review Corps (Sample provided by Bota for testing and review)

Version reviewed: 24 oz
Seven years and untold replacement filters later, the plastic fold-over cap/cover finally broke and most of the brand graphics on the outside have worn off. That, of course, doesn't have any effect on the filter's functioning. For the last four years it's been my only filter I carry when it's just one to three people on a trip and still ABSOLUTELY satisfied. Filters are getting hard to find.

***UPDATE 7/2013***
Bota of Boulder went out of business some time last year, but I've found I can still get replacement filters from "gofastandlight.com". Thank God!!! I'd hate to be without this filter!!!

***2016 Update***
It fell off the car and got run over. Luckily, I was able to find a company that sells the exact same type of Nalgene bottle and replacement filters!! Happy me as this is the ONLY filter I carry any more.
Pros
Works
Lightweight
Did I mention it works?
I've been using this filter as my primary drinking water filter for over three years now and have recommended it to every single person I've hiked with since the first use. (I carry a separate sediment filter for the water I cook with and Micro-Pur tabs as back-up and for my hydration bladder and camp water bag. Overkill? Ya, but a lot of my hiking is done with Boy Scouts who tend towards forgetfullness.)
When on any hike, whether it be a day hike or a through-hike, it's so nice to be able to just squat down at any water source, fill up and drink my fill. It sure saves on use of the "emergency water" in my hydration bladder.
As mentioned above, I've recommended this filter to EVERYONE and many have taken the advice. Some, unable to find the Bota, have ordered other water bottle filters and have been disappointed. Neither the Katadyn or Eddie Bauer models have initially or are able to maintain the flow rate of the Bota. It's almost comical at times watching frustrated friends struggling with their water bottle filters, squeezing with all of their might until their knuckles turn white and their forearms cramp in an effort to barely more than wet their lips while I have no trouble whatsoever draining my Bota in long full gulps.
That Katadyn bottle ended up in the trash can at the end of the first trip it was used on along with the extra filter that was tried in an effort to get some water flowing and the Eddie Bauer bottle now serves as the owner's kid's toy (sans filter).
Yes, the Bota does eventually slow down, but it definitely goes through more than 20 gallons before that happens and the second it shows any perceptible slowing in the flow rate, I change the filter. After over three years and about five replacement filters I still can't say enough good about this filter. And I'd bet that the four or five backpacking buddies and dozen or so Scouts that now have them after seeing mine would tell you the same.
Source: bought it new
Price Paid: $19

The water bottle itself works pretty well, but throw in a good filter, and you have yourself a great, lightweight water bottle/filter for use in the backcountry.
Pros
Lightweight
Fast
Efficient
I purchased one of these bottles back in the late 1990s. I don't remember for sure if it was the Bota brand, or not, but I do know that it is the same drop-in cartridge filter and has worked wonderfully. I've used it on multiple backpacking trips with friends over the years. A couple of my friends were so impressed by it, that they went out and bought one as well.  
I love how the filter works in my larger, 1-liter, soft-sided Nalgene bottle as well. This has allowed me to fill up my bottle, and drink directly from it, or squeeze the water into a pan for cooking. 
It is no longer my main filter, but I continue to use the bottle itself, and I bring along the filter in my backpack as a backup in case our main pump filter fails.
After hundreds of uses, the flip-cap finally broke off. However, I still really like the way the bottle top pulls open, and I continue to use it around the house, as well as out backpacking.
A water bottle that will last 20 years of significant use? Fantastic!  
Source: bought it new

This filter is great and cheap. I recommend filtering the water into a water bottle and drinking from the bottle. The Bota does get a little hard to squeeze, but other than that it works great and is super easy to use. I have had to use it in water that was highly suspect and had no problems.

I am a true believer in this filter. It is a little work to filter a 16 oz bottle and will take a little time to do; however, it is much easier than trying to drink from the bota by squeezing.
Price Paid: $13

I love this filtration system. It is simple, cheap, and actually makes the water taste good. Best yet it is made in the USA!
Price Paid: $16

I chose the Bota because it appeared to be an economical and simple method of providing potable water from suspect sources.
We first tried it out 3 years ago on an extended hike in the Porcupines (Michigan). The filter worked great. Although my wife was skeptical at first, she became a believer after tasting the clean water (and living to tell about it).
The half star deduction relates to the poorly designed plastic cap and the fact that it does require some hand/forearm strength to squeeze the water through the filter. It takes approx. 1-1/2 fills of the Bota to fill up a standard Nalgene water bottle. Your arms will get tired in the process, but hey, look at the muscles you're building after filling 3-4 water bottles!
Whether taken from steams, lakes or ponds, the water flow rate through the filter seems the same from the first squeeze up to the last, although all the places we've hiked had relatively clean looking water.
The plastic dome shaped protective spout cover broke on our 3rd hike. A minor complaint since the cover has no effect on the filters operation or effectiveness.
Price Paid: $20

I purchased this Sunday at Sportsman's, today is Tuesday. Trying to get a drink of water requires the full use of both hands squeezing the bottle and then I hardly get a drink. I cannot imagine taking this anyway where I really need a drink. I would not recommend this product even to a body builder as there must be better products and I know I'm going to have to go find one myself.
Price Paid: $14.95

Your Review
Where to Buy
Help support this site by making your next gear purchase through one of the links above. Click a link, buy what you need, and the seller will contribute a portion of the purchase price to support Trailspace's independent gear reviews.
You May Like
Specs
Price
Historic Range: $7.95-$20.99
Reviewers Paid: $13.00-$20.00

Recently on Trailspace