Bridgedale Hike Ultra Light T2 Boot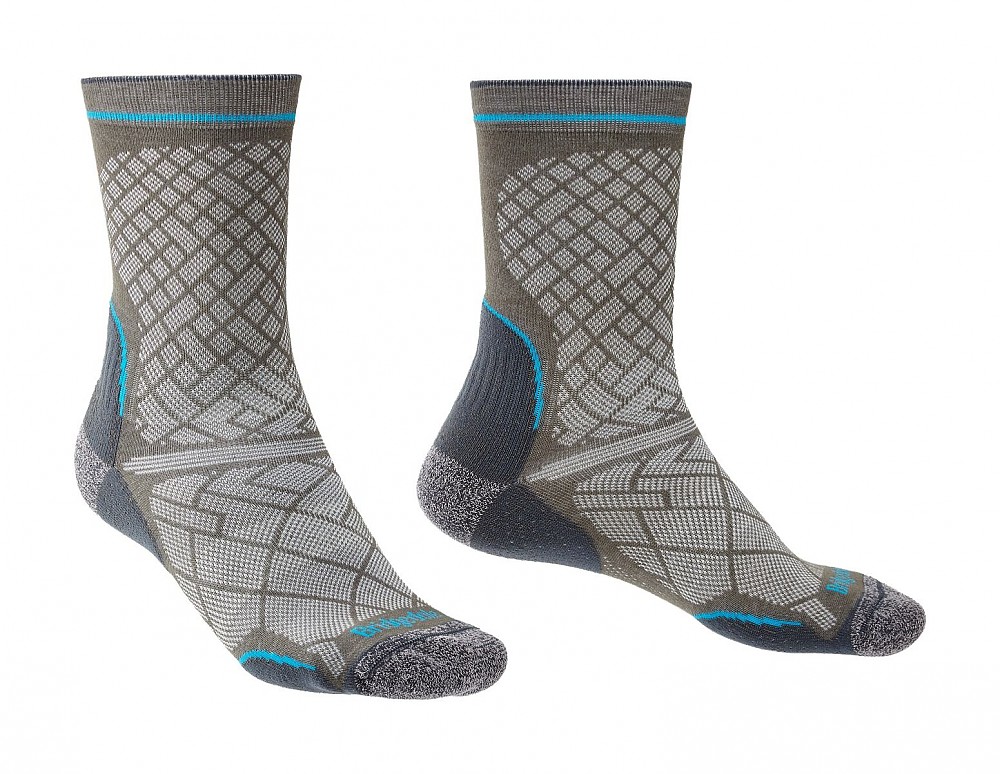 A well-cushioned pair of hiking socks that are designed for warmer temps. The cushioning makes for a very comfortable wear, while the non-wool Coolmax fabric (polyester) doesn't quite wick moisture as I had hoped. Still, a very comfortable and durable sock that is best worn during low-to-moderate energy-burning activities.
Pros
Quick to dry
Comfortable anti-shock areas (T2 technology)
Durable
XL option (US13+)
Cons
Moisture-wicking is sub-optimal, limiting its use in high-energy activities
Confusing name
Conditions
I've worn the Bridgedale Hike Ultra Light T2 socks in a wide range of temps and conditions from April to October in the mid-Atlantic, USA. From cold, wet hikes to mid-summer humidity, I've worn the socks on countless occasions with four different pairs of footwear—sandals, approach shoes, lightweight boots, and mountaineering boots. Below, you'll see what temp ranges these are best suited for. I tested these socks in conjunction with another non-wool pair from Bridgedale with Coolmax technology—the Hike Light Weight T2, which are a warmer and thicker version of this sock.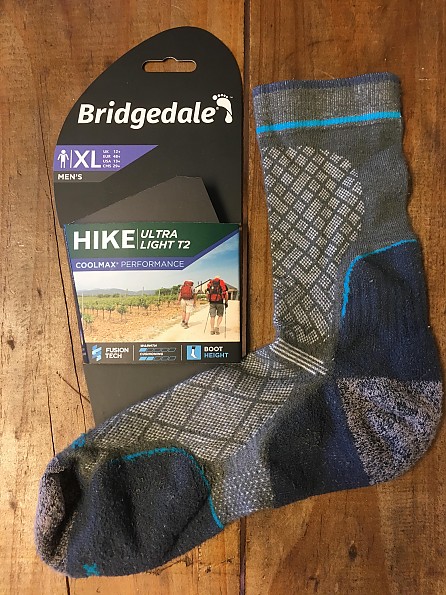 Fit
As someone with size 13 men's (US) feet, I appreciate any brand whose extra large size is built for those of us with big feet. Many brands stop making socks around the 13 US size, but not Bridgedale. The socks fit well, don't overly stretch nor restrict any parts of the foot, ankle, or leg, even after an entire day of wear.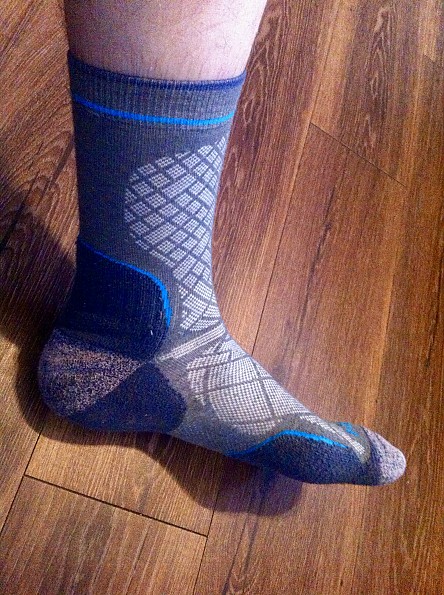 Temp Control/Moisture Wicking
Designed as a warm-weather sock meant to keep feet cool and dry, I found the Hike Ultra Light T2 to run a little too hot and not moisture-wicking enough to be worn while high-energy hiking or other sweat-inducing activities in the summer. In the midsummer heat, my feet overheated in these socks, becoming rather sweaty. I find these socks become too warm for me either when I am doing highly aerobic activities or when the external temps are above 75°F (24°C). Obviously the less breathable the footwear, the worse the sweatiness gets.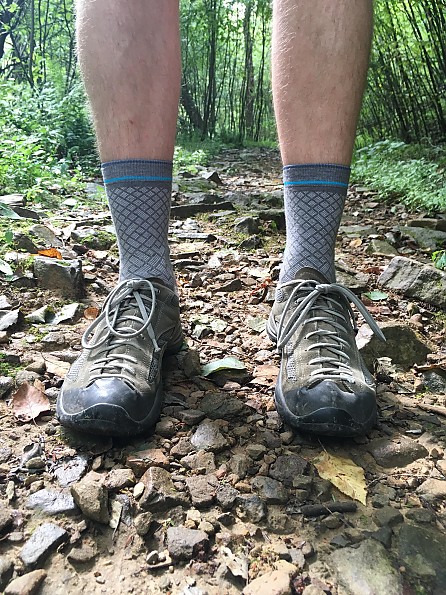 Support and Anti-Shock
Perhaps the most interesting and noteworthy feature of these socks (and their counterpart, the Bridgedale Hike Light Weight T2 socks) is the T2 anti-shock cushioning that is built into the socks. As the manufacturer claims, this technology is a "loop within a loop, which offers an additional level of impact protection; the inner loop has even more resilience than the outer loop for cushioning when you need it."
The socks are noticeably well-cushioned, even for being relatively thin, warm-weather socks, making for a very comfortable wear underfoot. Similar to the other pair I reviewed with the same T2 technology, I suspect this added cushioning adds to them being warmer than expected.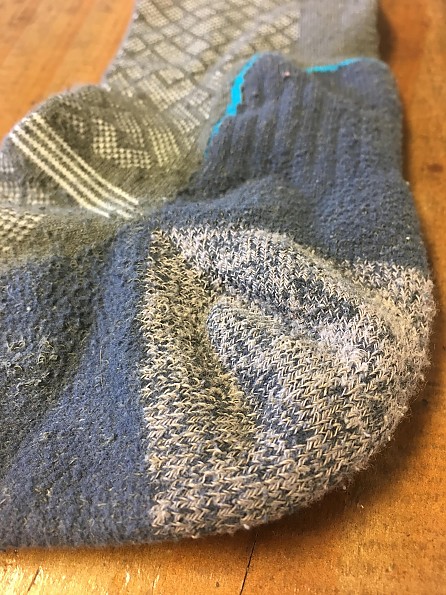 Closeup of the cushioned heel. Very comfortable!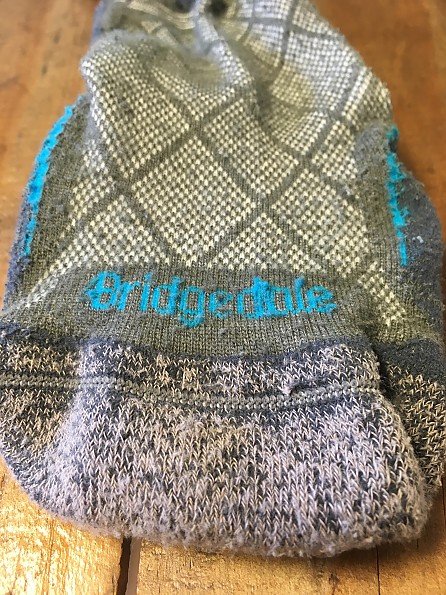 Closeup of the toe area. 
Construction & Durability:

As someone who almost always wears some sort of merino wool or wool-blended sock during outdoor pursuits, these non-wool socks and their materials were new to me. Being open-minded and interested in the new materials, I wore the socks in a variety of settings to give them a full-spectrum test. Not once did I have any issues with the feeling of the socks, as the materials are soft, durable, and completely itch-free even after a full day or night or wearing them (yes, I sleep with socks on!). No liners were needed, and I encountered no blisters, hotspots, or other irritations.
I did however recognize that these don't have the same smell-deterring properties that merino wool socks have. After a hike, I usually change out of my hiking shoes/boots and into more comfortable sandals while driving home, allowing my feet to breathe. After a hike with these socks, the funky smell was more noticeable than when I wear merino wool socks.
As for the durability, the Hike Ultra Light T2 socks have held up well over six months of use, with no signs of being stretched out or threadbare. I noticed no excessive stretching when wearing them on an all-day hike.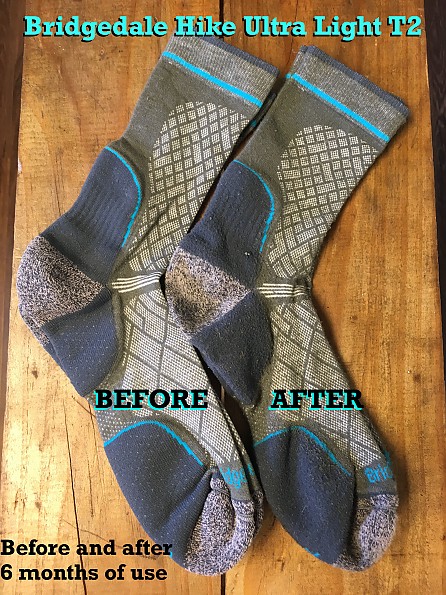 The pair on the left has not been worn, the pair on the right have been worn and laundered regularly for six month.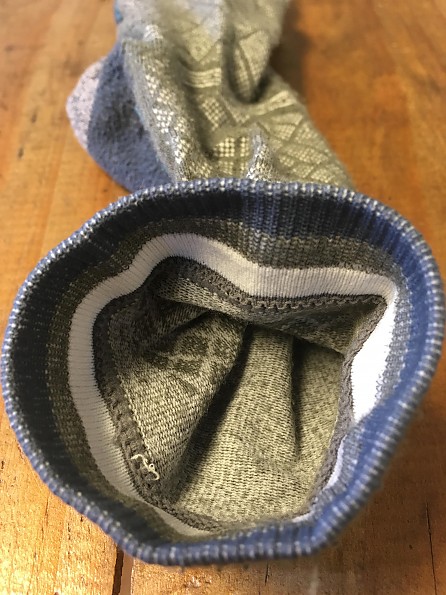 Closeup of the cuff. 
Washing/Care
Bridgedale recommends these socks be washed inside out in hot temps (104°F/40°C), and then dried on low heat. Being a native Fahrenheit reader, I misread the packaging that only lists the water temp in Celsius and washed these on several occasions in cold water, probably closer to 40F than the recommended 40C. Regardless, my inability to read instructions doesn't seem to have negatively impacted the socks and I've corrected my laundering mistakes since. 
Dry Time
In order to test the dry time of these Bridgedale socks, I washed and rinsed six pair of boot height socks, hang dried them in ambient indoor temps, and monitored until I could no longer feel dampness. 
From left the right, the socks are arranged based on which dried the fastest and which took the longest to feel completely dry.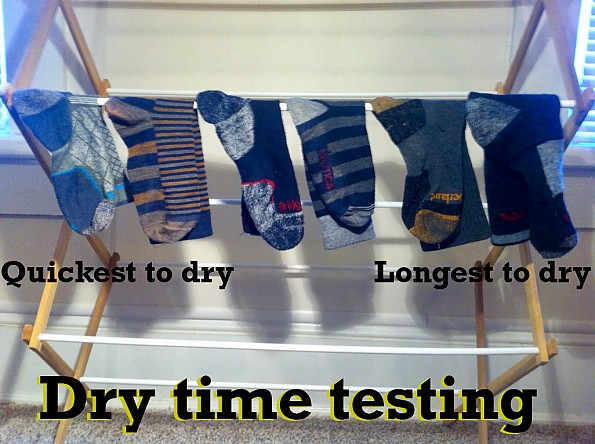 In order of dry time:
The Bridgedale Hike Ultra Light T2 sock was the fastest to dry of all the pairs, even though it is not the thinnest sock tested. I think the quick dry time could have a very positive impact on hikers who use their pack to air dry their socks while hiking. The sooner socks are dry, the sooner your feet will be happy!
Additional Observations
Bridgedale backs these socks with a lifetime guarantee. Seems promising.
I found the naming of the Bridgedale line of socks to be somewhat confusing. With both a merino and non-merino version (i.e. Coolmax) of these socks in a variety of cuts, it took me awhile to figure out exactly how these compared to other socks in their line. As far I can tell, "Hike" refers to the activity it is meant for, "Ultra Light" refers to the thickness, "T2" refers to the cushioning, and "Coolmax Performance" refers to the fabrics used. There are several variations to choose from, which is good for finding the exact sock to meet your needs, but a little overwhelming and slightly confusing. 
The packaging of the socks lists a recommended hike/trail for these socks, which I found kind of cool, as it might expose users to a new trail. However, the trail they recommended on all four pairs of socks I reviewed was the ultra-popular Camino de Santiago. Looks more like a marketing ploy to catch the attention of those hiking that specific trail. Cool idea, but I hope they put more than already well-known trails on other packaging.  
Background
I'm a hiker and hunter, using a variety of socks depending on the season. Unsurprisingly, I don't like having sweaty feet, so breathability is an important aspect of a good sock in my opinion.
Source: received for testing via the Trailspace Review Corps (Sample for testing and review provided by Bridgedale)

Your Review
Where to Buy
Help support this site by making your next gear purchase through one of the links above. Click a link, buy what you need, and the seller will contribute a portion of the purchase price to support Trailspace's independent gear reviews.
You May Like
Specs
| | |
| --- | --- |
| Materials | 43% Coolmax / Polyester, 55% Nylon / Polyamide, 2% Lycra / Elastane |
Recently on Trailspace