Brooks-Range Lt Breeze Jacket

Brooks-Range is no longer in business, and the Lt Breeze Jacket has been discontinued. If you're looking for something new, check out the best wind shirts for 2023.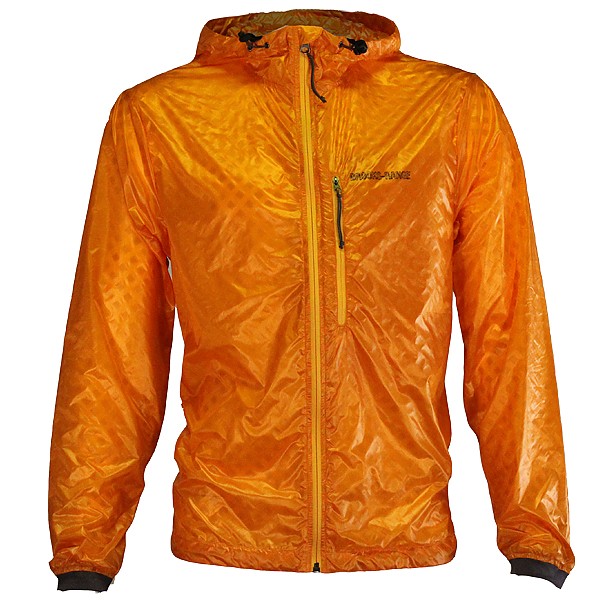 The Brooks-Range Lt Breeze Jacket is a versatile, innovative, ultra-light wind jacket. The innovation? Paper thin "fleece" diamonds laminated to the inside of the 20-denier nylon fabric that keep cold, wet nylon off your skin or base layer and boost airflow beneath the fabric. This jacket looks great, fits well, wears like iron, and weighs a scant 5.3 ounces in size medium.

Those fleece diamonds do exactly what Brooks Range intended; they eliminate that clammy sticky feeling when wearing this garment next to your skin. Those innovative diamonds put this wind jacket at the head of the pack.

I recommend this jacket for high aerobic output activities (backpacking, climbing, trail running, etc.) in cool, dry conditions. If, however, you're looking for rainwear this will not fit your needs.
Pros
Eliminates clamminess
Ultralight (5.3 oz)
Durable
Looks great
Fits well
Zips into pocket for storage
Cons
Lacks shoulder yoke vents
Limited availability at present
Expensive (at $135 including shipping from Brooks-Range)
Features
The description of the Lt Breeze Jacket on the Brooks-Range website is rather Spartan.  It simply states:  "Brooks Range is using light weight 20d nylon with "fleece" diamonds that have been laminated to the inside. The reason for the diamonds?? To keep the cold clammy nylon off your skin." 
The specification section also is rather short and to the point:
5oz (144g)
Helmet compatible hood
Gasket cuffs
Chin guard
Chest pocket
It currently comes in four colors: Black, Alpine Blue, Rust, and Wheat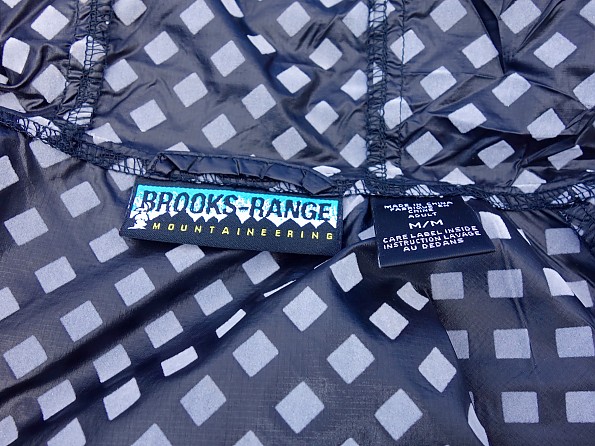 Closeup of micro fleece diamonds


Chin guard, hood adjusters, bar tacks, YKK zip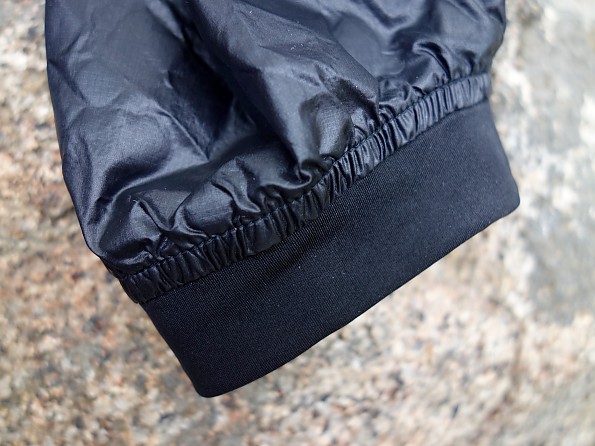 Gasket wrist cuffs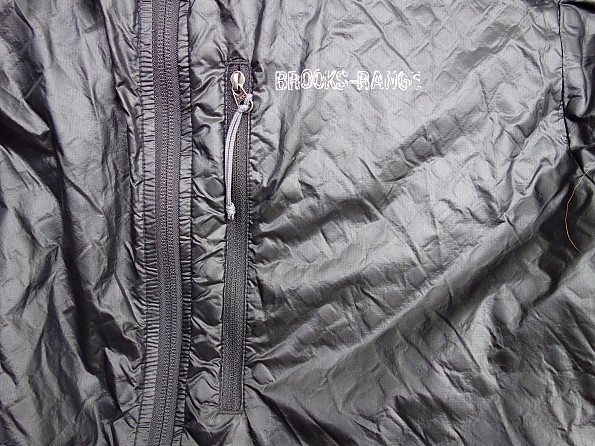 Ample front pocket, jacket will easily stuff inside


All stuffed up, ready to go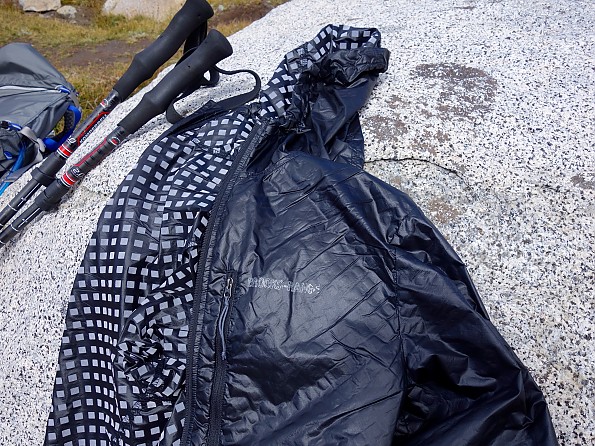 On its way up to Prusick Peak


First Impressions
When my jacket arrived there were no tags attached to the garment touting its features, etc. The first thing I did was try it on for fit. As a reference, I'm 5'10" tall, have a 33" waist, and a 40" chest. My sleeve length is 30". When I'm standing the size medium jacket reaches about 3" below my waistline.
When I extend my arms overhead the waist rides up to about my belt line and the wrist cuffs move down a little over an inch. The sleeves reach all the way to my wrists with my arms held at shoulder height and bent 90 degrees at the elbow. There is approximately 4-5 inches of extra room in the chest and 2-3 inches of extra room in the upper arms. There is ample room in the jacket to wear a lightweight fleece or even a lightweight down vest underneath. 
I next examined the garment for quality. It is quite well made; no problems noted in the sewing or the fabric. It is bar tacked at all stress points and as pointed out in the specification section it does have a shield over the zipper when fully zipped — the chin guard. 
The fleece "diamonds" are about ¼" square and are located on the inner side of the 20 denier fabric. They line the entire inside of the jacket (arms, chest, back, and hood). The only place where there are no diamonds is in the elastic wrist cuffs. It has two elastic waist adjustments and two elastic hood adjustments. Both work well even with gloves.
I weighed it on my "gram weenie" scale and it comes in a 5.3 ounces.  It can be folded up or balled up and easily fits in a hip, cargo, or side pocket of my hiking pants. 
Front View
Back View


Testing
Since Brooks-Range is a mountaineering company one might assume that this jacket is a mountaineering jacket only; but that couldn't be further from the truth.  I've used it frequently for cycling and it excels. My primary testing of this jacket has been backpacking for 25 days both on the trail and in camp. I also used it for a lot of off-trail scramble hiking and peak bagging including one class 5 climb.
I did not "baby" this jacket during the testing period; in point of fact, it was probably subjected to more abusive treatment than is my custom. Best guess is that it got a lifetime's use in those 25 days that I tested it.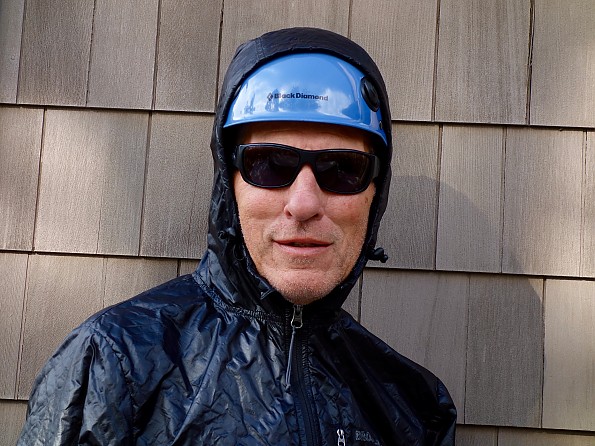 Worn over climbing helmet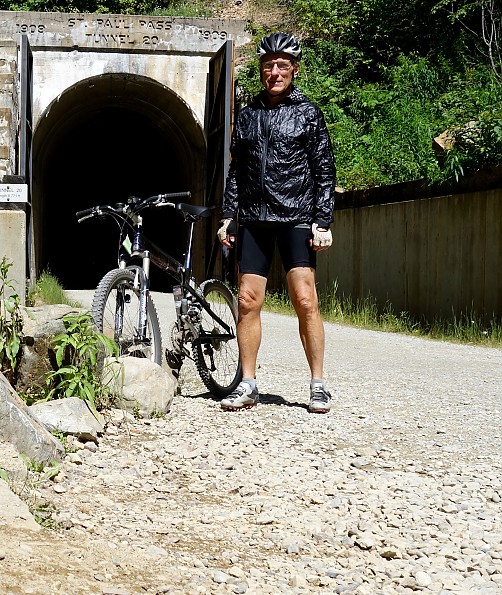 Great for cycling (mountain and road)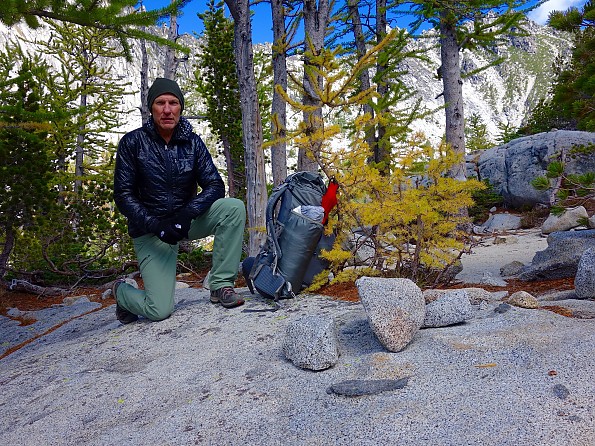 Awesome for backpacking — seen here in the Enchantment Lakes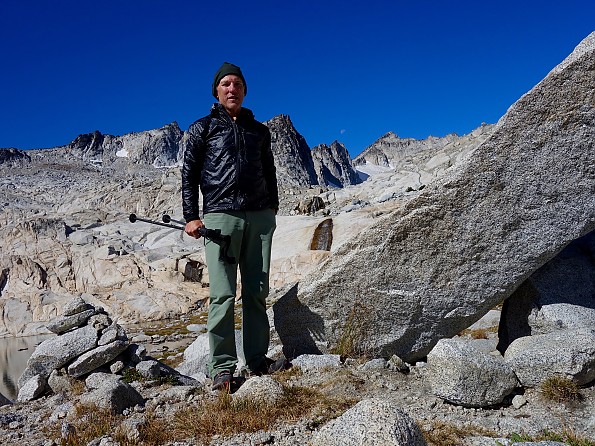 Its forte is mountaineering. Dragontail and Witches Tower
in background were both climbed in this jacket.
Performance
First let me say that the fleece "diamonds" are what makes this jacket innovative and different and make it stand out from the other wind shirts available today. They actually do accomplish what they were designed to do; is they keep damp skin from adhering to the garment. The sleeves always feel "fluffy" when wearing this jacket and never stuck to my arms.
Whether real or perceived, the jacket also feels warmer than a wind shirt without the diamonds. I never wore the jacket without at least a short sleeve base layer beneath (synthetics and Merino wool, no cotton) and the diamonds seem to wick moisture out of these garments equally well. Although this jacket breathes well I couldn't help but think shoulder yoke vents would have made it perform even better especially when worn under a pack.
Whenever I removed the jacket because I was hot I would check the inside of the jacket for moisture accumulation and never found any. The fleece diamonds also felt dry in these conditions.
The 20-denier nylon fabric has certainly proven to be durable and well suited for exposure to abrasion from rock, brush, and frequent wear. I did a lot of off trail scrambling, climbing, bush whacking, and bouldering and there was no appreciable wear or abrasion to the jacket. My pack straps rubbing off a bit of the front chest logo caused the only wear that I can see. 
Other than that there are no abrasions, snags, runs, or tears to be seen. It appears that you get maximum durability for minimum weight with this fabric. Note: I did manage to tear a small hole in the right sleeve in a rather nasty fall onto a sharp rock. That small tear was easily repaired in the field with Tenacious Tape and all I lost was one or two of the fleece diamonds.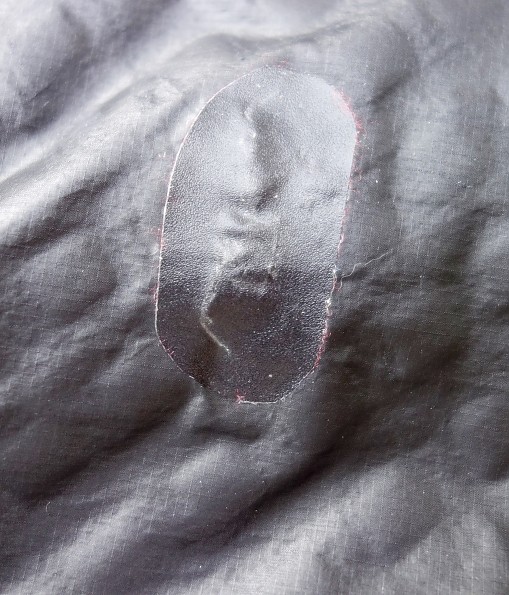 Small 1" tear repaired with Tenacious Tape
The hood is helmet compatible and fits easily under or over climbing helmets. It did not, however, fit over my cycling helmet. There were no problems wearing it with a helmet and my preferred method was to wear it under the helmet. When worn over or under a helmet or with no helmet while climbing/scrambling the jacket causes no restrictions and it moves easily when reaching for handholds. It's almost as though it isn't even there.
Caveat! This jacket was not designed for, nor is it, rainwear. It does not have a DWR coating and the seams are not taped. It does not resist rain well; water initially beads on the surface but quickly soaks through. Snow seems to bounce off, but I only encountered light snow conditions in fairly strong wind, not a true test of snow resistance.
I've carefully followed the washing instructions. Washing six times has not changed any of its properties. It still looks as good as it did on the first day and the diamonds are adhering well. 
Bottom Line
This wind jacket is so light and so versatile — why would you NOT pack it? I own a half dozen wind jackets but this one has become my "go-to."  It always goes in my pack. 
Source: received for testing via the Trailspace Review Corps (Sample provided by Brooks-Range for testing and review)

Your Review
You May Like
The Brooks Range Lt Breeze Jacket uses a lightweight 20d nylon with "fleece" diamonds that have been laminated to the inside. The reason for the diamonds?? To keep the cold clammy nylon off your skin.
Helmet compatible hood
Gasket cuffs
Chin guard
Chest pocket
Specs
Price
MSRP: $119.95
Historic Range: $53.98

Weight
5 oz / 144 g