Brunton 54LU

The 54LU has been discontinued. If you're looking for something new, check out the best handheld compasses for 2023.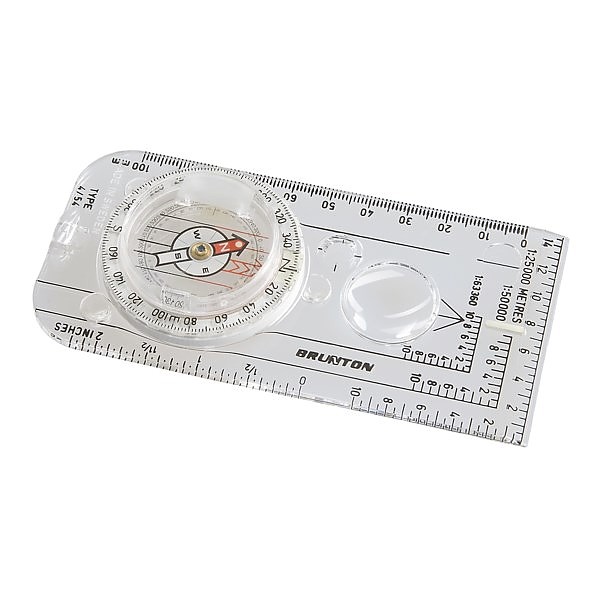 The 54LU is a precision compass made by Silva of Sweden (NOT the branded Silva product sold in the U.S.) and marketed in the U.S. by Brunton. It is a very unusual compass. On the one hand it has a standard clear baseplate for use with a map (longer than most, to make drawing courses easier). But it also features an optical prismatic sight built into the top of the dial. Much easier to use than a mirror-sighted compass, the Model 54 can take landmark bearings to 1 degree accuracy with ease, great for use in deserts or open country with widely spaced landmarks.
It is built to the usual Silva of Sweden standard of quality, with engraved and ink-filled scale measurement markings (not just ink-printed to rub off after a couple of months), a quality jeweled bearing, bright luminous compass points, and is constructed to military standards of durability. The only downsides are a lack of adjustable declination and a 1:24,000 scale for use with standard U.S. topos.
Price Paid: $55

I'd say the best compass I've owned by far, and that includes the really fine Suunto KB-14. For dependable extreme accuracy, a true sighting compass is the way to go, but they all require a fancy protractor to maintain that accuracy with a map. The 54, (really a Silva 54) is the one exception I know of. Don't let the $12 baseplate look fool you. This is built to quality standards.
It's also very light, weighing in at 1.3 oz. without lanyard.
The downsides are:
1. Expensive.
2. Not enough U.S. new scales, such as national geographic topos 1/40,000.
3. A fair amount of the inner direction lines are covered up by the large white center circle and the prism assembly (minor point).
4. No declination -- not as big a challenge as you'd think; out west just remember First Man Adam (Field to Map, Add).
5. While the sighting has one degree markings and is accurate to a half degree, the map protractor has the older 2 degree markings instead of the newest magnified 1 degree gold standard. I doubt one could plot a half degree in the field with a short base compass anyway.
Price Paid: $60

Your Review
You May Like
Specs
Price
Historic Range: $42.66-$87.04
Reviewers Paid: $55.00-$60.00