Brunton 8099 Eclipse

The 8099 Eclipse has been discontinued. If you're looking for something new, check out the best handheld compasses for 2023.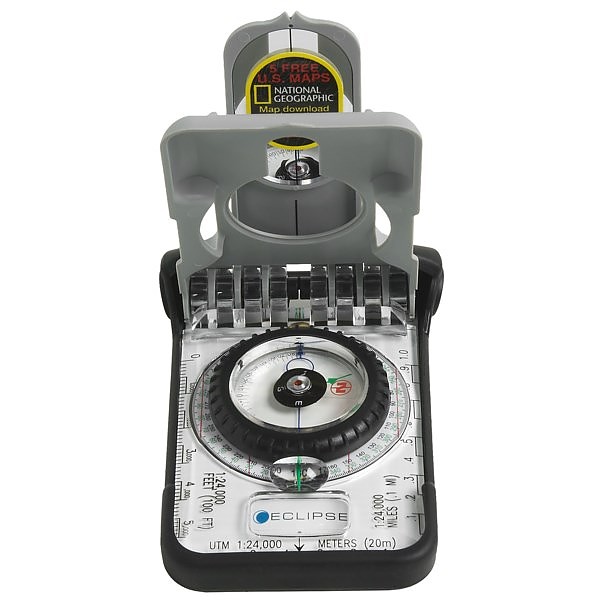 Loaded with features. Clineometer, bearing and back-bearing protractors, correctable for declination, comes with UTM grids for most major US series. Signal mirror. Fluid won't freeze (I tried).
Pros
Roamer grids included
Survival cards and first aid instructions (does not replace proper certification)
Fluid won't freeze EVER
Clineometer
Magnified lens alows for readings as accurate as 30' of a degree.
Azimuth and Back-Azimuth listed, no addition or subtraction needed.
Cons
Klunky
Rubber boot gets in the way
Pricepoint
This product works as smoothly as any compass that I've used. The lense rotates smoothly and remains grit free/doesn't stick. Allows hyper accurate readings that I've used for first order, amature surveying. Includes roamer grids for UTM/coordinate work in the most commonly used scales/series.
I've put >200 miles on this compass in 4 seasons of Northeast US backpacking. Freeze proof, shock proof, you'll snap it if you abuse it though, it's an instrument not a piece of kevlar. Sighting mirror can be used as signal mirror. Clineometer is a novelty until you need it, then you're glad they included it, can be used as a primitive sextant.
Source: bought via a "pro deal"
Price Paid: $15

It's a bit of an average compass for all the hoopla. The mirror used to take a sighting is small, and the degree readings are printed on cardboard and aren't visible at all in low light (not luminous). Also, the degree readings are reversed in the 8099's mirror which is a bit of a pain, and the declination adjustment is by friction only, not by geared wheel; slight slippage was a problem on mine and I had to keep checking it when in use. The orienting lines (used to orient the compass to map north) are tiny hashmarkes around the tsa and difficult to use - because the Brunton's style of declination adjustment rotates the compass dial relative to the capsule, they weren't able to put orienting lines in their usual position at the bottom of the capsule.
Biggest problem I found is the compass is clumsy and bulky when it's needed for use with a map or to wear around your neck. You must strip it of its rubber cover and all its cards and impedimentia to get the baseplate to work with the map, find a place to put everything, then re-assemble once you're done. It's advisable to keep the cover on the baseplate otherwise, since the ink markings appear to be simply printed on, not engraved, and have a tendency to wear off with use.
Easy to use compass. Very intuitive. Customer support is the best.
Pros
Very intuitive
Durable
Customer support is the best
Cons
Needle housing group may need to be replaced
I have had this compass since 2006 or 2007. I first learned map and compass in the military and I think that this compass is more intuitive than military compasses. The declination is very easy to set and needs no tools. It comes with a lifetime warranty. Normally, I would have given this a four-star rating, but because of the great customer support, I upgraded to five stars.
After three or four years of use, the needle started sticking to the housing group. I called Brunton support and they immediately sent me a new needle housing group with no questions asked. A few years later, a bubble formed in the new needle housing group and again Brunton support sent me a new needle housing group and so far no new problems. It has been 5 or 6 years with the latest needle housing group and it works just like new.
I haven't compared the accuracy with other compasses, but with the sightings that I have taken with my topo maps, it seems to be right on.
It is made of a durable plastic. I try to take good care of my gear and it seems to be in mint condition after 11 or 12 years.
UPDATE: July, 2020: I thought that I would provide an updated review. After about 8-10 years after I replaced the latest needle housing group, the needle started sticking a little. I called Brunton and they immediately sent me a new needle housing group with no questions asked and free of charge. I believe the new needle housing group is the same one as used in the Truarc 20. I really like it. I think it is much superior to the one they sent me 8, 9, 10 years ago. It is their global needle and it is great. The needle moves more freely and is much more lenient if the compass is not exactly level. According to google maps, the needle seems to be right on. Again, I give my highest recommendation to customer support. They really are the best. Especially, the young lady who handled my request.
I have read reviews on the Brunton Truarc 20 and the negative reviews do not comport with this needle housing group or this compass as a whole. I have an old Silva Ranger compass and this compass is much better than it in all respects. This 8099 will probably outlive me.
Source: bought it new
Price Paid: $75

The compass came with a huge bubble, rotation of the proprietary no needle system is suspect as it hangs up and does not free spin when level. Overall quality is poor. Wish I had gotten the Silvia Ranger. Do not recommend purchase.
Price Paid: $69

Your Review
You May Like
Specs
Price
MSRP: $78.00
Historic Range: $24.95-$106.00
Reviewers Paid: $15.00-$75.00

Weight
3.6 oz

Overall dimensions
4.1 in x 2.5 in x 1 in

Graduations
1°

Scales
Feet, mile, meter

Map scale
USGS 1:24k UTM

Recently on Trailspace