Brunton Restore

Top 25 in Solar Panels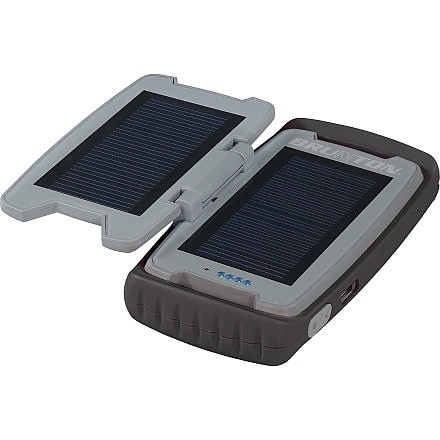 Specs
Price
MSRP: $120.00
Historic Range: $59.96-$119.95

Weight
8.6 oz

Dimensions
3 in x 5.75 in x 1.13 in

Solar Panel
Two 100 mA polycrystalline

Battery Storage
2,200 mAh battery

Output
1,000 mA / 5V, USB 2.0 compatible

Reviews
3

reviews

5-star:

0

4-star:

2

3-star:

0

2-star:

1

1-star:

0
The Restore is a compact, extremely rugged solar charger and back-up battery designed for small USB electronics like iPhones, androids, iPods, media devices, GPS, and even small cameras & iPads/tablets. It holds a full GPS or smart phone charge in reserve, and the solar will replace this in two summer days (practical experience). A great charger for day trippers and geocachers.
Pros
Built tough
Integrated cables
Compact size
Well-balanced solar vs battery storage
Attachment points
Apple-friendly
Status meter
Cons
A little under-powered on the solar side, but better than most chargers in this class
The Restore is one of my favourite solar chargers. Brunton did a great job in the design of this product, but as with all solar chargers, it is a tool that is designed for a specific purpose, and should be kept to this to avoid frustration.
The Solar Charger...
The Restore provides a 1-Watt built-in solar panel. Sensitivity is decent in low-light, and in most locales, you can expect to get between 3 and 5 Watt-Hours per day of power generated. This equates to 50-80% of the power needed to recharge an iPhone for example. So, if you drain your GPS or iPhone at a rate of 50% or less per day, the Restore will be able to keep up (in summer months of course).
The Storage Battery...
The Restore holds 8 Watt-Hours on board in a lithium battery. At any time, you can use this power to top-off your phone, GPS, PS camera, etc. You can expect the solar panel to be able to replace the power in this on-board battery in approx 2 summer days, so budget accordingly. The advantage of the on-board battery of course, is that you are not at the mercy of the sun from moment-to-moment when you want to recharge your USB devices... they will charge at full speed as if they were connected to any other USB port.
The Connections...
The Restore comes with an integrated cable for charging it from a USB source, and for providing a mini-USB & Micro-USB output connection. The full-size USB port, along with the Mini and Micro connections, are all Apple-friendly, so consider them universally compatible with all USB devices. The one note is iPads & tablets: the Restore can 'power' an iPad as an external battery, but it will not 'charge' an iPad due to the fact that it is not a 2.1A USB port.
Other Considerations...
Brunton got the design of the restore right in other ways too: rugged, rubberized casing, spring-loaded door to protect the panel face, attachment points for backpacks, practical storage battery metering, and the integrated power cable helps to seal and protect the USB ports when not in use. Name another small solar charger (besides the Brunton Freedom) that could be thrown across the yard with no ill-effects.
As always with solar gadgets, it becomes a trade-off between size and power. Brunton made the decision to build the Restore to cover the small electronics, and it does this very well. As devices get more power hungry, it would be nice to have a 1.5W or 2W Restore so that it could do a little more, and keep-up in more than just the summer months.
Source: I work at Modern Outpost, and try each product in order to be able to consult to trekkers & expedition groups

The Brunton Restore harvests sunshine into a compact and lightweight solar-powered portable power supply that can be charged indoors or out. It has:
Durable rubberized shell that is resistant to water and accidental drops
Rechargeable internal lithium polymer battery
Power gauge and auto shut-off
Two 100 mA polycrystalline solar panels
2,200 mAh battery
1,000 mA / 5V (USB 2.0 compatible) output
Mini-USB female to micro USB male adapter output with option to purchase adapters for other handheld electronics
12 volt USB to car adapter (to charge in the car before heading off the grid)
The ability to charge from solar panel, computer USB or from the included DC adapter
I tested the Brunton Restore most recently on a trip to Amsterdam (where I opted not to buy the Amsterdam-necessary 220V adapter because I wanted to see if the Restore would keep my phone and camera charged) and then for a few weeks post-Amsterdam around my house.
It did work in both testing scenarios, but with a few limitations.
First the good. At a size of 3" x 5.75" x 1.13" and weighing in at 7.2 ounces, it was a handy device to have on the trip. It would also be a simple accoutrement to carry in a backpack. It is about the size of my palm and did not take up any space in my wheelie—nor will it take up any valuable space in your backpack, either.
It also, for reasons unknown to me, did not set off any bells, sirens or whistles going through TSA. This was clearly a stroke of luck on my part but I recommend that if you are taking it on the plane, you check it. These little gizmos cost $89.95 at REI. Do you really want to see a TSA'r with a free Brunton Restore?
Functionally, it is sleek and couldn't be easier to use. It flips open (like a cell phone) to expose two solar panel to absorb the ample sun's rays. For the Restore to be fully charged by the sun, you will need to expose it to sun all day. Generating solar power is a game of square footage. The small solar panels on the Restore are best for maintaining a charge and for situations where no other charging options are available.
On extended-day camping or hiking trips (or trips to countries that have funky electrical outlets), flip open the solar panel when there is ample sunlight, strap it to the outside of your pack with webbing (the Restore has handles on it that are perfect for this), hike all day and by the time you set up camp, your Restore will have enough juice in it to charge your camera, phone or iPod.
Next, the not so good. On my Amsterdam trip, I left the Restore on the balcony of our hotel room to charge from the sun. When we got back to our room at the end of the day, the Restore was powered just enough to power my camera battery about 50 percent. In its defense, December in the Netherlands is not known for long days of sunshine but the Restore still charged my camera battery enough to get through each day of sightseeing and endless pictures of canals.
I recommend charging the Restore before your trip, via your computer or a car adapter, because you can't always count on sunny days. Plus, it gets its strongest charge from non-solar sources.
Post-Amsterdam, I found that a fully-charged Restore did in fact charge a dead iPod for about two hours of music. The Restore only seems to charge an iPod when the Restore has been fully charged by a computer (or car adapter) because Apple products require more juice than other handheld electronics.
With this in mind, charging cell phones while off the grid might be a buzz killer, depending on the phone you have. I left my Restore in a sunny spot (at home) where it could get the full seven hours of winter sunlight and it still only charged my dead Droid to about fifty percent before the Restore ran out of juice. But phones like iPhones and Droids are notorious power-suckers. Regular phones (non-Smart phones) would probably get a full charge. The Restore charged by a computer did in fact result in a 100 percent charge to my Droid, though.
On a positive note, if you're backpacking, do you really need a fully-powered Droid? It's not like you'll be updating your Facebook status every twenty minutes along the Everest Base Camp trail. Enough power for emergency phone calls is sufficient for my use.
Now the somewhat bad: Most of what you see on the Restore is really pretty self-explanatory, especially with the adapters, but it was through trial and error that I learned when the Restore was fully charged. It doesn't say this in the instruction manual, but the Restore is fully charged when the green blinking light stops blinking and the four blue LEDs stay lit.
If you can deal with the petty annoyances, and can live with half-charged electrical devices on your trip, I think it's worth checking out. This is the first portable power device I've ever used so I have no basis for comparison.
Still, I say give the Restore a fair chance. The price is really reasonable and it did charge my phone and camera battery from solar power. I was disappointed in the iPod department but I also have to be honest here: I have never, in my entire life, taken an iPod into the backcountry. Once I hit the trail, I want to hear the sounds of nature and crackling campfires not Monsters of Rock. My goal with the Restore was to see if it would charge my camera battery and cell phone, which it did.
P.S. Brunton says the Restore has a 500-charge life before its battery wears out. This is a lot considering how often you will use it.
Price Paid: demo from Brunton

Fair product for getting by. Seems more like a gimmick.
Pros
Enough power to charge your cell phone twice
Lightweight
Compact
Cons
Charges very slowly
No charge indicator
This is a good unit if you only need to keep your cell charged or maybe a simple GPS. Doesn't store much power and charges very slowly. Doesn't include any adapters, only a double ended cord with a USB on one end and mini USB on the other.
Takes an insane amount of time to charge. Doesn't have an indicator light other than the one that shows how full the battery is. Probably because it wouldn't charge if an indicator light blinked continuously as the panels are very small.
Source: received it as a personal gift

You May Like
Recently on Trailspace