Brunton Sync

The Sync has been discontinued. If you're looking for something new, check out the best power storage for 2023.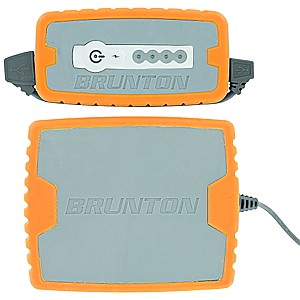 I have had these items through an entire season (I have two), and they have performed flawlessly in the back country while snowshoeing, at the beach while camping to power/support an iPad, iPhone, nintendo DS, rechargeable batteries, etc.
They are worth every penny, and the dual Brunton Solaris i6 solar panels I also own can be linked together to create even more power and a faster re-charge of the Syncs. I can also recharge my Syncs quickly by A/C or D/C.
I have many Apple products, which have such sensitive and refined voltage regulation and therefore require a consistent charge, something that doesn't occur with a direct connect to my solar panels (unless that panel has a built-in voltage regulator-I don't know of any that do).
In terms of high-performance options at a bargain basement price, this combo of a Sync with the Solaris i6 panel is the best I could find. The Sync is important because it has a storage capacity of almost 10,000 M/Ah, roughly 3x's the capacity and with twice the charging speed (mA output) of the current Brunton Inspire - and all for the same cost as the Inspire's current retail price. It also has the remote control for charging as a separate unit, allowing more flexibility for packing and using while on the trail.
The Sync only charges electronics however, that can use a USB, micro-usb, or mini-usb for their power source. If your electronic device does not have that connector type, then you can hopefully plug it directly into the Solaris solar panel to charge during daylight hours (I always strap the solaris to my pack and plug it into something, Sync or otherwise, to charge). A sync can be drained and recharged fully 500 times - that's about 4000 full recharges of my i-phone.
My Sync has proven excellent for providing a fast, clean charge. Plus I can charge a dead iphone 7 times before the sync needs to be replenished. With the Solaris I6, it's a great charging combo, but not that light weight at 12.5 oz for the sync and 5 oz for the Solaris (7.2 if you take all of the different connectors with you). If you're really concerned about weight, you may want to look into the Inspire, which is like the sync but smaller in size and weight (5.5 oz), but also with less capacity (3200 mAh vs 9000 mAh).
I like the sync better because I can pack the battery in my pack's top pocket, connected to the solar panel strapped to the back, and attach the charging pod to my shoulder strap. I can plug the iphone into it at any time, without stopping on the trail. This is also better for keeping the battery warm, as I can remotely store the Sync's battery inside my jacket to keep efficiency up, or put it in my pack for warmth and protection. 
Come to think of it, this unit is built very solidly and has taken drops and still operated without fail.  Brunton just released the Re-Sync, which is 2 oz lighter, has only one piece, and has slightly less capacity, for more than 3 times the price of what my Sync sells for. They both use the same platform and technology. Brunton really executes their power products well.
Price Paid: $57 each (I have two)

Your Review
You May Like
Specs
Price
Historic Range: $53.99-$139.95
Reviewers Paid: $57.00

Battery Dimensions
4.13" x 3.75" x 1"

Control Module Dimensions
4" x 2" x 0.63"

Weight
12.7 oz

Battery storage
9,000 mAh battery

Output
2,000 mA / 5V