Buck Hartsook Ultralite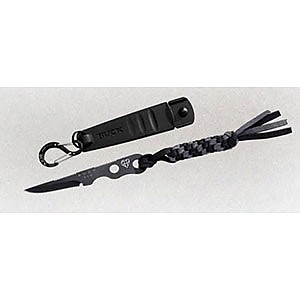 A tiny, light, fixed-blade knife, perfect for ultralight backpackers who don't need a woodcraft blade.

Pros
Lightweight
Corrosion resistant
BOS hardened, premium S30V stainless steel
Wicked sharp
Cons
Some find it too tiny
Some find blade too short
Heavier than advertised
If you're like me, you love backpacking forums in spring. The rebirth of annual questions from those just getting back on the trail. Questions so well-worn that the answers are wholly predictable.
"What knife should I bring?" is one of those. Old-timers love their Swiss Army Classics. The bushcraft types will point to finely made, sturdy fixed-blade knives. To which the ultralight backpackers counter that all one really needs is a hard-back razor blade. Invariably this leads to "You don't need a knife, you can cut cheese and salami just fine with a spoon." Those looking to knives as self-defense tools will point to a fast-opening blade of martial descent. While innocents look on in wide-eyed terror that someone out there might actually be carrying a knife!
I admit, I can't resist a good knife thread. I do love knives. I'm no expert, and I don't lurk on knife forums. I just have an appreciation for a finely crafted knife. Something I got from my Dad. I have a nice Finnish bushcraft knife, my old Navy-issue Ka-Bar, various folders, knives for cooking, knives for fishing , knives that once hung off my web gear … And while this 50-something has embraced the ultralight credo to take weight of my knees, I still cling to the Mountaineer's Ten Essentials. So I'm constantly looking for the right balance between weight and my requirements.
My Requirements:  Of course requirements change depending on the mission.  If I'm going to camp and fish, I'm packing a filet knife and something to chop wood.  But lately the mission has been long-distance hiking, and I'm neither filleting nor cutting wood. I'm cutting cheese, salami, and bits of cord. Opening packages. Maybe making a fuzz stick to start a fire, or a tent stake to replace the one I left at the last campsite.  Occasional mindless whittling. I want it to be easy to carry, accessible with one hand, and maintenance-free.
And the lighter, the better …
I carried another knife designed to be worn around the neck in my first long AT section, but it was a bit intimidating to those who didn't know me, and the edge corroded from rain and sweat without my ability to deal well with that.  A pocket folder clipped to my pant's pocket suffered a similar fate. In the long, green tunnel, I need  a corrosion-free knife.
Enter the Hartsook: Every once and a while a jewel pops up in those forum discussion, and I'm punching the Amazon "Buy It Now!" button. Such was the case when I first read about Buck's Hartsook Ultralight.  A tiny, fixed-blade knife, fashioned from a single piece of premium stainless steel, in a molded nylon sheath, weighing a half ounce! …  Where's that "Buy It Now" button?!
What it is: Buck Model #0860BKS-B, designed by Doug Hartsook, and made in the USA. Blade is a 1 7/8" Talon, Length overall is 4 1/8". It's made from S30V stainless Steel, Bos hardened to 58-60 Rc, and coated with black oxide. It comes with a molded nylon sheath, and a paracord lanyard attached to the handle.
Buck's website claims it weighs 0.5 oz. (14.2 g). I found no combination of knife, sheath and lanyard that came out to 14.2g. On my scale, the knife alone is 12g, the lanyard is 5g, and the sheath is 10g for a total of 27g / .95 oz. Maybe if I removed the lanyard it'd be .5ozs, but not as configured.
So that pissed me off. Still …
S30V is considered a premium steel, designed specifically for cutlery. Buck considers S30V to be "the absolute best blade steel available," and it's made in America. S30V contains carbon as well as high amounts of chromium, molybdenum and vanadium. Double-tempered – it can be hardened to a Rockwell hardness of RC 59.5-61."
Bos hardening refers to Paul Boss, who is widely regarded as the master of heat-treating steel. He built Buck's facility, and still oversees it.
The handle has two finger notches, and the top edge of the knife has two sets of textured notches to help control the blade. The paracord lanyard serves to extend the handle.
The sheath locks the blade in securely, and the blade can easily be released one-handed. You'll see reviews on Amazon and elsewhere that complain of retention issues. First generation sheaths had such issues, but current models were completely redesigned, and have no such problem. The sheath comes with a split ring thru the tip of the sheath, and an S-biner to hang it from a neck cord or pack. But the raised slot the split ring goes thru easily accommodates paracord.
My Experience: I carried this on a 674-mile section of the AT. I hung it from a d-ring on my shoulder strap where it was relatively unobtrusive, but exposed to rain. Lots of rain. I had no corrosion issues.
I did have issues with the provided s-biner. I had it snapped on to a d-ring on my shoulder strap, and on several occasions it disconnected from my pack. I was lucky enough to catch it. I took the split ring and s-biner off, and tied the sheath to the d-ring with paracord.
Most critiques are about the size and handling. I find it fine. I generally grip it with my forefinger and middle finger in the finger grooves, my thumb on the back set of textured notches, and the lanyard gripped in my pinky. For more delicate work, I pinch the handle between my thumb and middle finger, with my forefinger on the forward set of textured grooves. Both offer plenty of control, and I found myself able to do intricate, detail work. It's a scalpel, not a Ka-Bar.
Bottom Line: I'm happy with this knife for long-distance hiking. It easily handles all my requirements. There is a bit of cult following in the Every Day Carry world. I could see it ending up in a tackle box, and would certainly have it around my neck while fly-fishing.
It will be hanging from my pack strap when I hit the AT again this spring.
Source: bought it new
Price Paid: $26.80

Your Review
Where to Buy
Help support this site by making your next gear purchase through one of the links above. Click a link, buy what you need, and the seller will contribute a portion of the purchase price to support Trailspace's independent gear reviews.
You May Like
Specs
Price
MSRP: $50.00
Reviewers Paid: $26.80

Weight
0.5 oz / 14.2 g

Blade Length
1 7/8 in / 4.8 cm)

Blade Material
Black oxide S30V

Carry System
Molded nylon sheath

Fixed Blade
Yes

Handle Material
S30V skeleton with black oxide coating and lanyard hole

Quantity
Yes

Upgraded Steel
Yes