Butternut Mountain Farm Maple Syrup Pouch

#6 in Breakfasts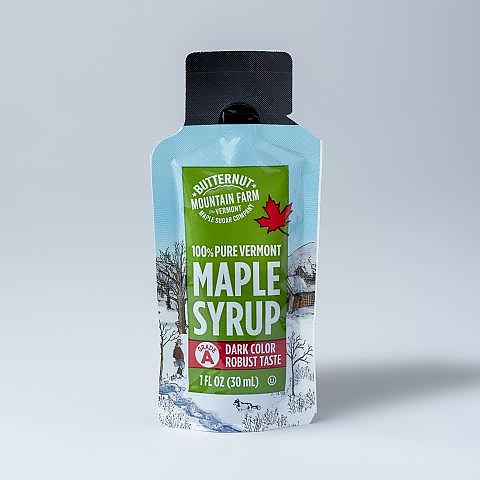 Specs
Price
MSRP: $1.25
Reviewers Paid: $1.25

Size
1 fl oz / 30 ml

Reviews
1

review

5-star:

1

4-star:

0

3-star:

0

2-star:

0

1-star:

0
When we are canoe or car camping, we enjoy making pancakes or French toast for breakfast. As Vermonters, "pancake syrup" just doesn't cut it, since we require pure Vermont maple syrup! For years, we sought a safe and spill-proof method for packing small quantities of maple syrup. In the past two years, we have used 1 oz. pouches of pure Vermont maple syrup produced and packaged by a local company, and have found it the easiest, most secure, and most satisfying way to carry this delicious camping staple.
Pros
Delicious high quality Grade A syrup
Locally produced
Easy to open
Convenient
Non GMO
BPA free packaging
Cons
Expensive per unit
Not resealable package
Packaging cannot be re-used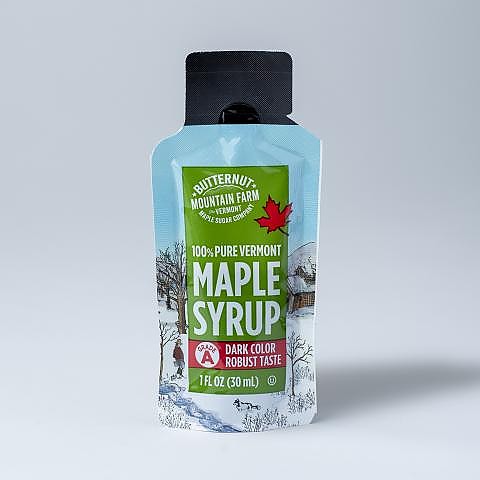 Butternut Mountain Farm produces high quality and delicious maple syrup, as well as other maple products. Vermont is known for the quality of its maple syrup, and though other states and provinces produce first-rate syrup, we prefer to support our local sugar makers.
When camping, we use pure Vermont maple syrup on pancakes, french toast, and oatmeal. Those unfortunate folks who think that store brand pancake syrup is suitable are just missing out! If you have not grown up using pure maple syrup, you may initially be surprised by its sweetness and viscosity, but we know you would soon become a convert if you tried this syrup.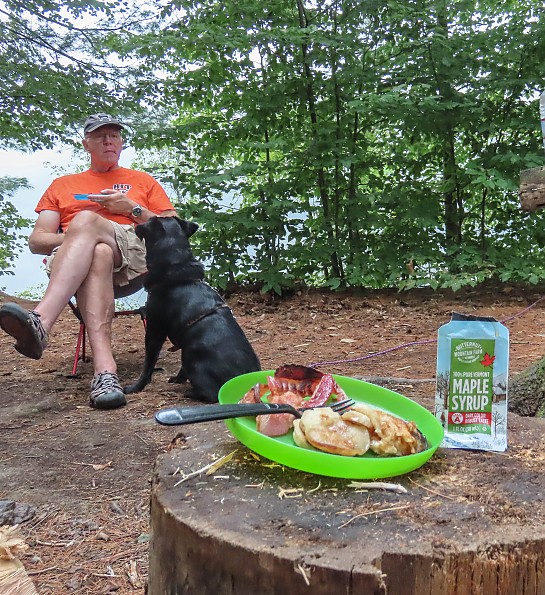 Maple syrup can be purchased in small 1 oz. glass bottle nips...though bottles can be re-used, the glass makes it problematic for camping, and they also can get messy and sticky. Small 2-4 oz. plastic jugs are another option, but if not used up, the remaining syrup can leak from the container.
The Butternut Mountain Farm syrup pouches are so easy to use, and there is no wasted syrup. A 1 oz. (liquid) pouch is perfect for one person, is 5.5 x 2.5 inches in size, and weighs approximately 1.5 oz. The pouch  is easy to open, and after use can be rolled up to squeeze out the last precious drop, and the put with trash to be packed out. The pouches are made of a durable BPA-free material, and have a shelf life of 18 months.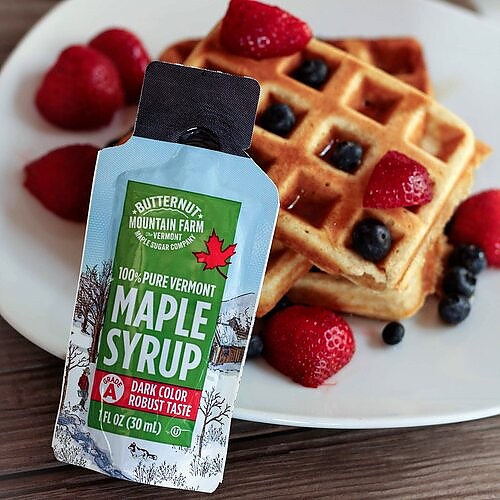 When we pack the pouches in our food kit, we do place them in a small hard shell case...just in case! We have never had one squished, punctured, or opened accidentally, and we'd like to insure that remains the case.
Though we use the packets primarily while canoe camping, when space and weight are an issue, these small syrup pouches (from Butternut Mountain as well as other producers) have become popular with other users. Endurance athletes carry these pouches in lieu of gel packs that may not be as natural, or as tasty. In fact, one brand labels the pouches as "athletic fuel". Emergency medical personnel are also carrying these type pouches instead of glucose gel, for cases of diabetic emergencies.
Each 1 oz. pouch contains approximately 2 TBSP (30ml) of Grade A, dark robust, non-GMO pure Maple Syrup...no added sugar, no preservatives, just natural syrup. No fat, no sodium, and 10% carbohydrates. There are 24g. of natural sugar in the syrup.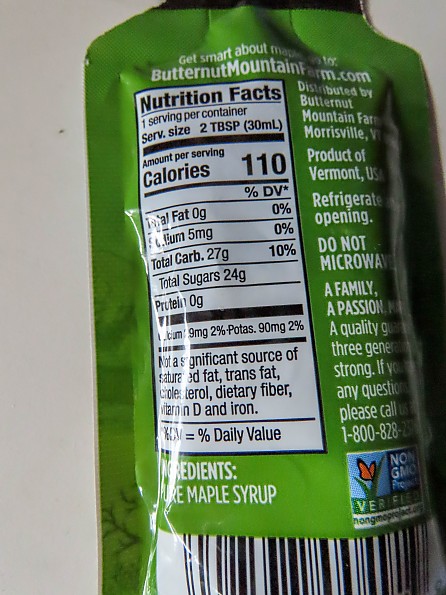 Butternut Mountain Farm is a family owned company, that actually cares care about its products and customers. The syrup pouches can be purchased at many Vermont grocery stores and specialty food shops. Some of their products are available online, i.e. from Amazon, but as yet, not the pouches. The pouches are not yet widely distributed, but can be ordered online from the company's retail store  http://www.marvinscountrystore.com/
The MSRP for a single pouch is $1.25. Not the most economical way to purchase maple syrup, but very reasonable for a niche item, and it prevents any wasted precious golden maple syrup.
We hope you get the opportunity to put a little extra special something on your breakfast while camping or backpacking!
Experience
We are lifelong campers, who recently have focused on canoe camping. As any camper knows, food preparation can be a highlight, or downfall, of any trip. As longtime Vermonters, we appreciate being able to safely and compactly bring along real, true, actual maple syrup to supplement camp breakfasts. We have used these syrup packets for over two years, on many trips, and can acknowledge that they provide the "real deal" in terms of maple syrup quality.

Source: bought it new
Price Paid: $1.25

You May Like
Recently on Trailspace