Cabela's Meindl Perfekt Light Hikers

The Meindl Perfekt Light Hikers has been discontinued. If you're looking for something new, check out the best hiking boots for 2023.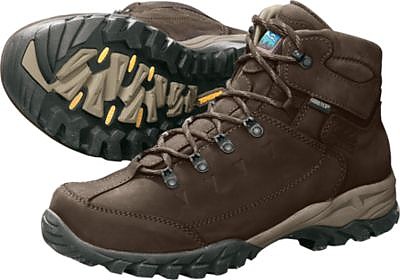 Version reviewed: 8"
The only reason I'm taking off a star is because ultimately these boots didn't fit my wide feet. I'm putting this review up as an aid to people who might have similar problems finding a fit for their high-instep, wide at the ball, long-toed, narrow heeled feet.
These boots are quite impressive. The uppers are a combination of smooth leather around the laces, with a rand made of rough-out leather. The lacing system is well done.
The boots are tall for a hiking boot, at 8", which gives them great ankle support for their weight. The soft Achiles tendon cutout area is well-designed. I didn't feel any constriction at all.
The very comfy footbed is made of cork, is very nicely supportive and provides great cushioning. It's supposed to mold itself to the shape of your foot, but I didn't keep the boots long enough to be able to confirm this.
The stitching seems very solid, and the (glued-on, molded) sole looks tough, even though it's a Meindl sole, not a Vibram or Skywalk.
I would be giving these boots a solid 5, except that they just didn't fit me. I have wide (EE) feet, with a not-so-big heel and ankle (shaped sort of like a slice of pizza with a high instep). This makes it very tricky for me to find a boot that fits. This boot came very close, except that there is a seam on the inner lining that goes right over the bony area at my pinky toes. The boots feel like they place a tight ring wrapped around the widest area at the ball of my foot. After a couple of hours, this makes my feet very uncomfortable. It's not that the toe box is small, because it's actually quite roomy (another indication of a very intelligent design). It's just that the area right where the lacing starts over the ball of the foot is very low. I guess I have too high an instep for these boots.
I would imagine that if you have more normal-shaped feet, these boots would be a great deal at their current sale price ($60 less than the new 2005 model). They are very well made and look like they should last a long time.
Cabela's offers a return policy where you can try the boots out for up to a couple of weeks on rugs or other non-challenging surfaces and return the boots if they don't work out for you. This is quite fair, but not the best you can do.
L.L.Bean and Sierra Trading Post offer a 100% guarantee that allows you to return boots even if you've taken them out on the trail. I'll be trying a pair of Alico boots from Sierra...
Right now I'm breaking in a pair of Danner Mountain Light II, and I'll report on how these do once I've taken them out on the trail.
To those of you who can simply go to your local sporting goods store and find lots of boots that fit you: I envy you!
Materials: Combination smooth leather and nubuck leather
Use: Meant for "extensive walking and moderate trekking"
Break-in Period: A couple of days of walking around
Weight: 3.6 lbs.
Price Paid: $130 (on sale)

Absolutely the most comfortable boots I've ever worn.
Pros
Memory foam lining fits every foot
Cork footbed is supportive and comfortable
This sole has soul!
I bought my boots at Cabela's....and I paid the price. I was a little surprised that they are a bit heavy for a "light" boot (compared to my weekender Renegade and day hike Breeze boots), but the memory foam heel cup and toe area was a huge benefit—NO BREAK IN AT ALL!
After the first two extended excursions, I'm sold! These are the most comfortable and supportive boots I own. Other brands aside, the Meindl Perfekt Light is well made, warm, and form fitting. The rocker style sole and the 4-layer cork footbed make walking in these like a cruise, even with a 40lb pack. The Gore-Tex membranes keep my feet dry, even after kicking through streams and on the hottest days. 
What's not to like?
Hm...well, I noticed this in the store—they do have sort of a funky odor, right out of the box. That quickly went away, but dang, it was a weird, almost mink oil meets glue smell.
So...do what I did—air them out!
Source: bought it new
Price Paid: $239

Very nice hiking boots made by Meindl. They have a replaceable footbed made from cork/poron that molds to your foot over time, though I have replaced them with Ed Veistures, Sole footbeds (wich I would rate at 5+ stars).
The boots have held up great over time and I would definitely buy another pair when they wear out. I tip the scales at 205 and am 6'2" and usually carry a pack between 30-40 pounds, I believe they carry the load great. The ankle support and stiffness of the sole are great and provide plenty of traction and anti roll on hills. The size 12 I have is true to fit with plenty of room in the toe box area and have a great laceing system holds the heels firm both uphill and downhill.
I could not find Meindl boots in the US, but I understand they are available in Canada. I understand these Cabela's/Meindl boots may be the same as the Colorado GTX that Meindl sells as their own. If I had the ability to shop models, I would have liked to have tried out the Island Pro or the Burma models. Some friends from the Netherlands had these boots with them last time they visited and said they were very popular in Europe. They held up well for them in our hiking in the Olympic Natnl Park. Great Boots I would rate them as very high quality,comfort and workmanship and they are made in Germany.
Materials: Leather-Nubuck-Gore-tex
Use: Trekking/Hiking
Break-in Period: 3 Weeks
Weight: 3 lbs approx
Price Paid: $190

I originally bought these boots for a hunting trip and found that they were probably the most comfortable boots I had worn in a very long time. Many days and mile spent at higher elevations in the Colorado and Utah Rockies as well as a Grand Canyon rim-to rim hike with never so much as a hot spot. I would definitely recommend them to others!
Pros
Cork footbed molds to your individual foot
Very sturdy to hold up to whatever you can dish out
Cons
Not as light as other boots
Source: bought it new
Price Paid: $225 USD

I have had these boots for a few years, and have put a lot of miles on them. I have hiked 14ers, I have hiked Half-Dome, and have hiked to the bottom of the Grand Canyon in them. I have hiked in them with a heavy pack. So far, I haven't had any blisters or other complaints whatsoever.
Unlike the other reviewer, I kept the original footbeds, and have found them to be satisfactory. The boots look great, are very comfortable, and have held up very well, in spite of tough trail conditions.
If you like traditional heavy leather hiking boots, like I do, you will like the Cabela's Perfekt. The Germans know how to make stuff.
Materials: leather, Gore-tex
Use: long day hikes, heavy backpacking
Break-in Period: little or none
Weight: 3.6 pounds
Price Paid: $185

Cons
Apparently German people have drastically different shaped feet than the rest of the world.
I have never seen shoes with off set toe boxes like these.
As far as the cork footbed, after much use, the cork just collapses and provides no benefit to comfort.
And as another commenter mentioned there is something very uncomfortable that runs across the top of my little toe that progresses from discomfort to blisters after a days hike.
I may be wrong but I attribute this to the very strange and radical shape of the toe box area.
Unless they have changed the shape since I owned mine, the toe box dramatically hooks inwards, anatomically making them very pigeon toed and uncomfortable to walk in for any length of time.
Purchased these boots from Cabela's 
Source: bought it new
Price Paid: $200

Your Review
You May Like
Specs
Price
Historic Range: $239.99
Reviewers Paid: $130.00-$239.00

Recently on Trailspace