Camillus Trench Pocket Tool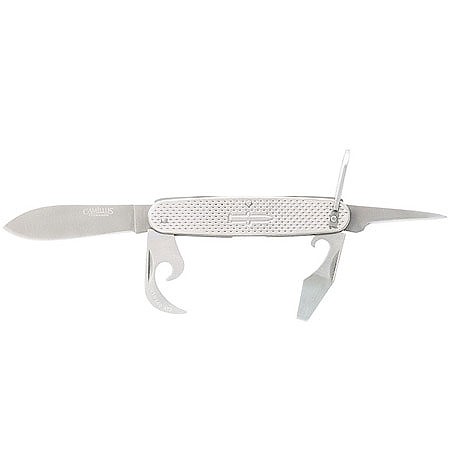 Reviews
1

review

5-star:

0

4-star:

0

3-star:

0

2-star:

1

1-star:

0
A 5-feature tool that won't break the bank, but has some flaws to consider.
Pros
Strong
Sturdy
Lifetime warranty
Cons
Bulky
Not enough tension
Intrusive bail
Thumb notch placement on blade
Pins catch on fabric
Conditions: 
I've used this 4.75 oz. (135g) multi-tool for a variety of functions for a 3+ month window in which it has been in my pack for day hiking, multi-day hiking, setting up and tearing down camp, fishing, kindling making, meal preparation, and general picnicking. I've also used it around the house and in the garden when applicable.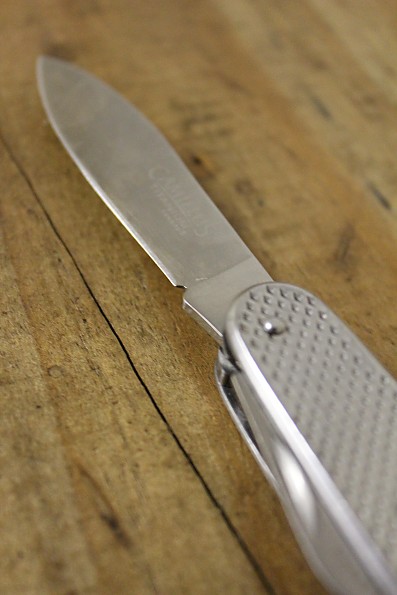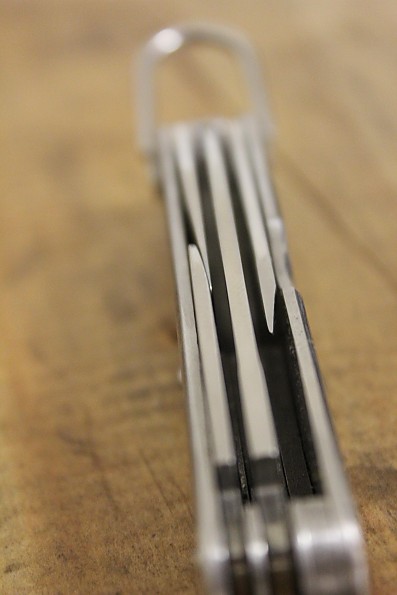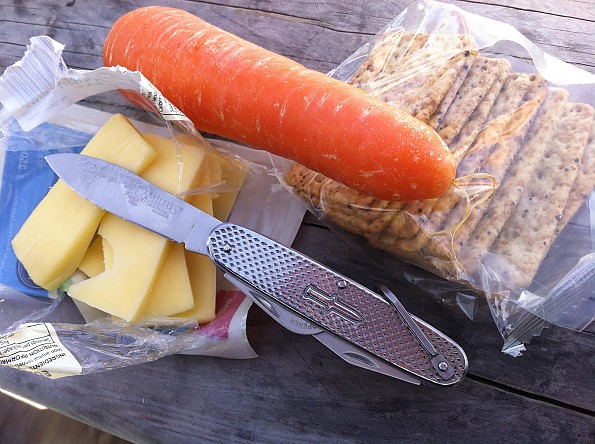 The giant carrot required a serious blade. 

You may need a multi-tool just to get this out of the secure packaging. 

Five main features: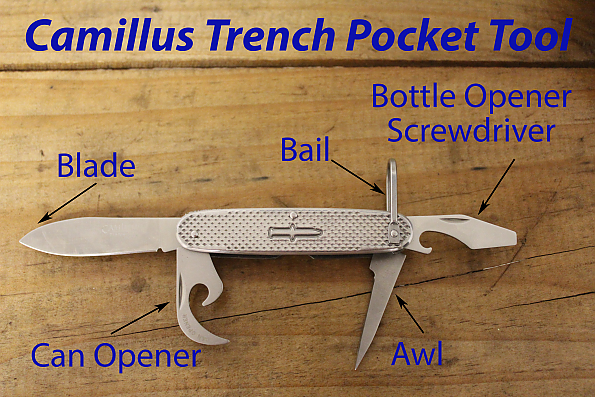 Blade: 
As long as the user recognizes this is a basic blade and doesn't try to do anything macho crazy with it (hint: no batoning), it will meet the needs of the basic user just fine. Ideal uses are normal hiking/camping activities like food preparation, cord cutting, shaving kindling, etc. 
The blade is made from Sandvik 12C27 steel. It has shown no signs of corrosion or excessive wear, but has dinged a little bit due to use. From my perspective, a dinged edge is to be expected for amount I've used it and for a tool at this price. Since it takes well to being sharpened, I don't fault it any for its blade. 
Bottle Opener:
It's not often that I take bottles into the backcountry or even picnic site with me. I'm more of a can fan, but on the few occasions I've needed a bottle opener around the house, this tool does the trick with ease. The wide, sturdy handle allows for good bottle-opening leverage. 
Can Opener:
I rarely found a use for this. Perhaps that speaks to my food choices, but rarely am I opening a can of anything. When I do, many cans today come with easy pull-tab lids. I'd personally like to see this feature replaced with a more useful feature (i.e. saw, pliers, scissors, etc.). 
Flathead Screwdriver:
This certainly works well, but only when the screwdriver fits the screwhead. With such tiny screws on many of today's gear and gadgets, there were many times I needed a screwdriver but this one was simply too wide. 
Awl: 
I haven't found many ongoing uses for the awl aside from the sporadic hole punching or scraping dirt out of things. The sucker is sharp and pointy though, as any good awl should be.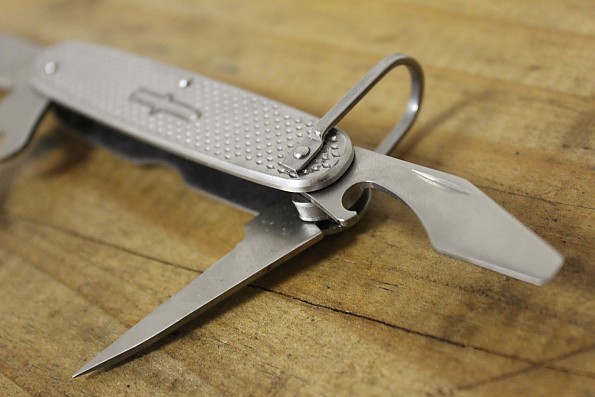 Concerns:
One major concern: 
Without a lockout mechanism, I find the tension is too loose on the knife blade. This can lead to accidental closures. During my 3+ month testing period, I learned how and when to accommodate for this loose tension and have not had any negative results. However, when handing it to someone else to use, I have to mention the loose tension for fear of an accidental closure leading to a cut. 


Three lesser concerns:
1) Thumb notch is on wrong side (for us right-handers anyways): this causes me to either have to change hands once the blade is open, or open with my left hand, which is rather unnatural for me.

2) Bail (metal loop) is in the way: in almost any position, the bail is in the way, either on the grip or covering the blade housing thus restricting proper closure. The bail could be slimmed down to be less intrusive.

3) Pins are slightly jagged and catch on fabric: the bottom pin that both the blade and the can opener pivot on is rough to the touch instead of smooth and has caught on fabric (i.e. pulling it out of a pocket). 


Conclusion: 
The Camillus Trench Pocket Tool is a serviceable five-tool option for those looking to save some money up front. The aforementioned tension issue, as well as the overall bulk of the tool, are two reasons that hold me back from reaching for this as my primary tool, but there are several good uses for it nonetheless.    
Acknowledgment: Many thanks to both Trailspace and Camillus for the opportunity to test this tool.
Not a good photo of the knife, but I had to share this photo anyways because it was the tastiest thing I've cut with the knife — goose sausage and peppered havarti on crackers. Delicious! 

Source: received for testing via the Trailspace Review Corps (Sample provided by Camillus for testing and review)

You May Like