CampFare Brown Rice and Red Quinoa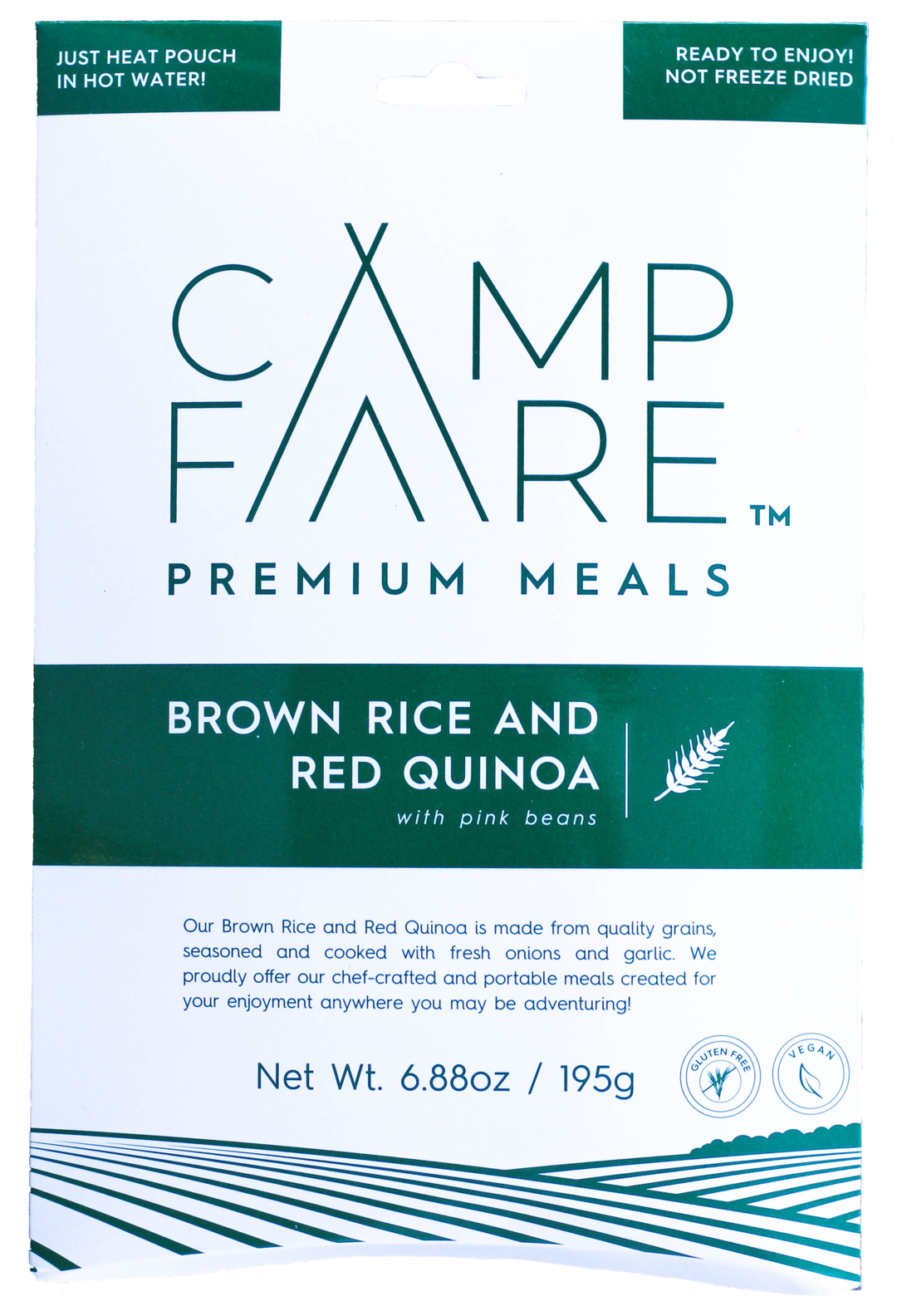 Specs
| | |
| --- | --- |
| Price | MSRP: $8.99 |
| Weight | 7 oz / 6 oz with outer sleeve removed |
| Dietary | Vegan and Gluten Free |
| Servings | Single serving |
Reviews
3

reviews

5-star:

0

4-star:

2

3-star:

1

2-star:

0

1-star:

0
Easy to make, but not worth the price
Pros
Super easy to heat in the bag in hot water
Good serving size
Easy to pack
Cons
Overpriced for being more of a side dish
Pretty dry
Being an avid backpacker and a vegan I've spent a lot of time trying out different camp meal brands and unfortunately I don't think this brand got it right enough for me to purchase this particular item again.
Let's start with the pros: easy, packable, decent serving size. All you have to do with the meal is throw the bag in hot water. The packaging is such that you could toss the outer cardboard envelope and just pack the boil bag to save space. The amount in the bag was not skimpy. Two or three servings easy or a nice sized serving for those 15 plus Mile days. 
As for the cons: the directions are a bit vague so you're not really sure how hot the water should be. Normally it's boiling but this one just says hot. The only vegan option in the line is this one and it wouldn't really be considered a meal and thus more items needed in your pack.
The taste wasn't bad but it was pretty dry so I'm not sure what to do with that? The price for the product was a bit high. Possibly OK for the other items that sounded more like a meal but for this, not so much. 
Overall, I'll keep my eye on this brand and see if they expand to any vegan meals. If they do I may give them another try, but not with this current product.
Experience
I'm always excited to try new backpacking brands and this one, if they expand to actual vegan meal options, will stay on my radar.
Source: tested or reviewed it for the manufacturer (Keep)

Disclosure: The author of this review received a sample of the product from the brand or its representative in exchange for a review.
Great for tacos!!
I went camping with my husband and kiddo in Colorado and was excited to try some of these! We are avid backpackers and I thought the idea of these only having to be warmed was genius!!! I hate having to sit and watch noodles or rice boil.
We used these as a taco filler and I will admit after a long day of hiking, there was no way near enough for the three of us in one package. Definitely a 1-pack to 1-person ratio. Also, if you are backpacking and in need of high calorie food, this is not the way to go. Definitely a more healthy, less processed option!
Where we were camping there was no potable water, so it was nice to have to not use a lot of water to boil and heat these. They did heat up fast and the pouch is super convenient! The smell was amazing after opening up and it did have a lot of flavor!! Super impressed!
The only thing negative is that we did find it quite dry, but we just ending up putting a couple tablespoons of water into the pouch and all good! :)
Experience
I have tried many backpacking/ freeze dried meals.
Source: tested or reviewed it for the manufacturer

Disclosure: The author of this review received a sample of the product from the brand or its representative in exchange for a review.
I was extremely impressed with these camping meals and plan to use them again for future trips. I hope they start making more varieties and types because having something this tasty that is this easy to prepare opens up so many new options for backcountry meals.

Pros
Freshly prepared
Lightweight packaging
Cons
Unclear shelf life
Limited meal options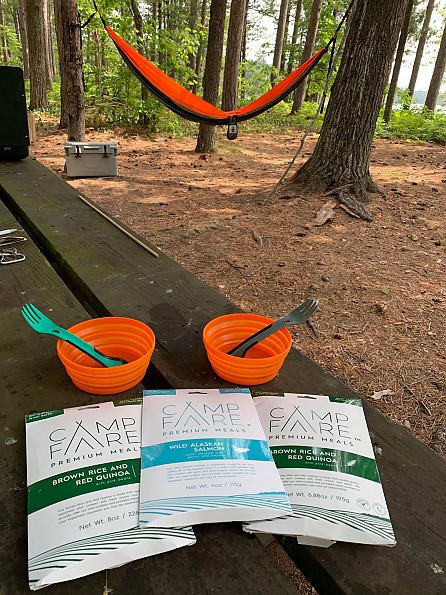 I was super geeked to try out these gourmet camping meals. I do a ton of backpacking, pack-rafting, and camping trips, so I am always looking for ways to step up my meal planning.
The meals came in a few different options—chicken, beef, fish, veggie type category. I chose to go with one of the salmon and two of the rice with quinoa. I figured those gave me the most diverse options for preparing/mixing them into other meals.
The packages arrived in a pretty standard size pouch as far as backpacking meals go. One huge difference I did notice with these meals was that they were not freeze-dried. This was interesting and very different from anything I have tried so far. I immediately wondered what was in them that would make that possible, so I looked into the packaging to try to and find nutritional information but nothing was listed.
I also had difficulty finding an expiration date, which I thought was rather important since I generally store my meals for long periods between trips. This time it didn't matter because I was super pumped to test them out and planned to use them that upcoming weekend, so it was no biggie. Although, this is something I would look into before purchasing large quantities for my camping storage. 
The following weekend I took my meals up to a rustic campground in Northern Michigan's Upper Peninsula. This trip was not a full-on backpacking trip, which meant we did have access to a cooler and some other supplies that wouldn't normally be present in the backcountry. I figured this was the best way to test anything new before I go all in.
The meals had a few well-written instructions on the outside of the packaging for preparation. One option was to boil in a large pot. We went with that option. Luckily we had one during this trip, but that isn't something I would normally bring backpacking. The other option was for a microwave. I found that to be somewhat strange. I don't know what kind of camping other people do, but I can't think of one time I had access to a microwave during any type of camping trip.
Nevertheless, the meals came out of the package looking incredible, and smelling amazing! Especially the rice! I would take that particular package everywhere because it would mix well with just about anything. Since the meals are pre-cooked, you could use alternate options to heat them, even if you didn't have a large pot to boil water. So that wouldn't be a problem if I decided to travel with them in backcountry environments.
I actually tested this on one of our backpacking skillets the following night, and it heated up great. So don't think you are locked into rigid preparation instructions.  I think there would be plenty of ways to make these work in the backcountry. 
Experience
I had a pretty good experience my first time around. I would use this product again on another camping trip.
Source: tested or reviewed it for the manufacturer (Kept it.)
Price Paid: $0.00

Disclosure: The author of this review received a sample of the product from the brand or its representative in exchange for a review.
You May Like
Recently on Trailspace