Canada Goose Snow Mantra Parka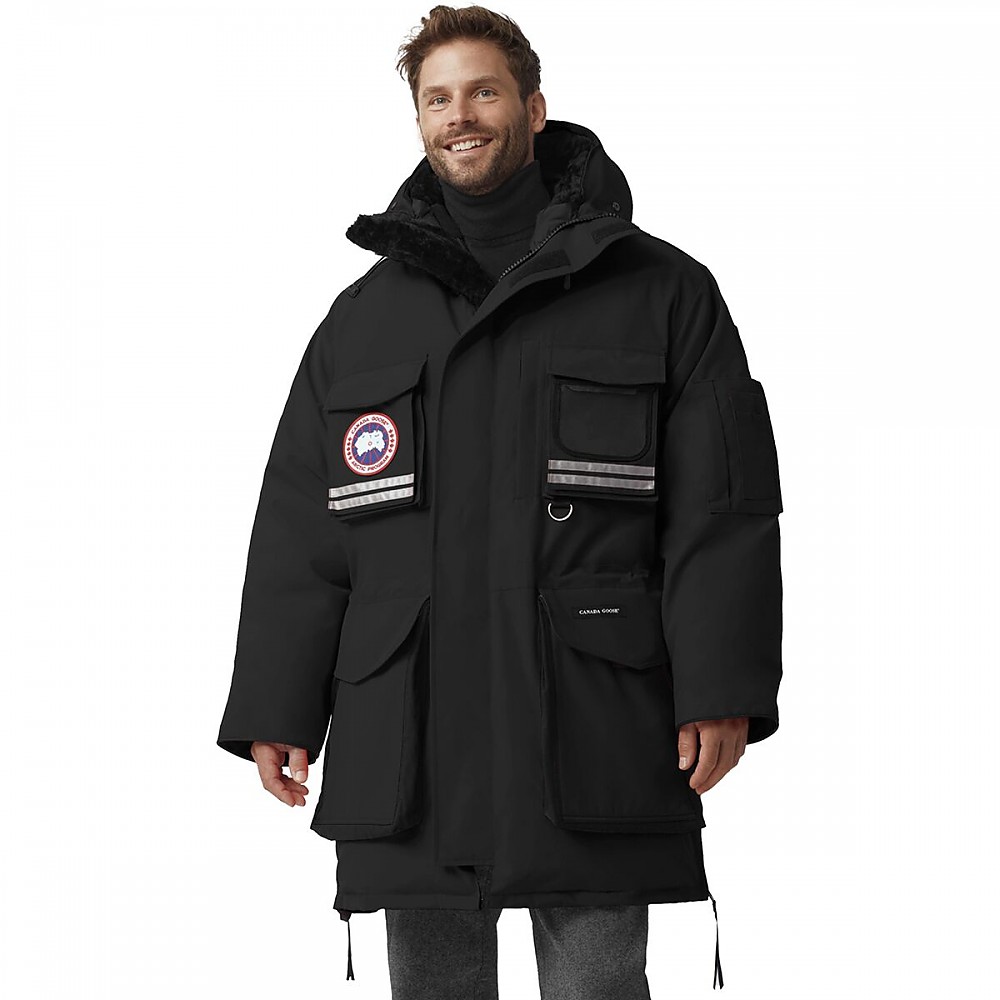 After buying many parkas I bit the bullet and bought this one. I like the others, but when I opened the box the day it arrived I WAS IN SHOCK. This parka is a beast and I wished I had found one years ago. It has everything that a parka should have, some things are in excess but like everything that is made west of the Pond it's built big, tough, and doesn't say sorry.
Pros
The hood is perfect for all weathers
It feels like it was made for the job
The quality has the heart and soul of the people who made it
Still made in the country of its birth
I am very happy with this parka, and at least I now own a coat that is the real deal. I have spent a lot of cash on parkas, just trying to get it right, I have been that cold I have had ice build up on my chest, frostbite, snow blind and more. So I have done a lot of research into my equipment and because of all of the above.
This parka is no fashion statement, it's a valuable tool to help you get the job done and go home alive. It's not about looking pretty. It is very warm and well made. I went up one size because of layering up and the fact that the next size up is only 2 inches bigger than I am according to CG size chart, maybe that wasn't a great idea maybe it was, who cares. It's warm and a Large in my other parkas gets uncomfortable around the armpits in a large if i wear a woolen pullover and a fleece, so that's why I went up to an XL.
The down is well placed. The zippers are easy to get hold of when you need em. I have often wondered about velcro, as one of my parkas has buttons on it and the other has press studs/ poppers on it and I know velcro can be a pain, but buttons come off, poppers break and come apart so I guess velcro is the only answer.
On the parka itself there are more pockets  than you need but at least you have them just in case. I see other folks here dont like it, but that's fair comment too, because it won't suit everyone, but like me when you have tried them all there comes a time when you have to go for broke.
Canada Goose have always made products that people rely on in the coldest places on earth and it's nice to know that these products are available to us, the general public. I would have paid double just for the peace of mind in knowing that this parka not only does the job but exceeds all expectations weather it be quality, finish or function. It's made in Canada and made with pride.
If you're the type of person who has been told by many to buy this or that parka and just about lost focus on why you wanted a parka in the first place then buy this parka, "WHY?" It's simple. This is the LAST WORD in cold weather protection.
Don't buy cheap CG's from ebay, ALWAYS GO TO CANADA GOOSE'S website and get a list of their dealers/outlets and you won't get stung. If you find a dealer who is not on their website then forget them, even if they are charging the regular price for them. YOU work hard for your money and deserve to get true value when you spend it.
Anyway, stay warm folks and if you want to talk to me ask the owner of this site for my details.
PS. I don't work for Canada Goose, they just made a dream come true.
Source: bought it new

This parka has a great reputation, but I find the styling and materials are antiquated. There is so much better out there.
Pros
Lots of pockets if you need them.
Moderately warm but not great.
Cons
Incredibly expensive (over 1000 dollars in 2012)
Not baffled construction; cold spots
Low grade 675 fill down.
Heavy, around 10 pounds
Too tight around the neck
Hand warmer pockets not insulated
Too stiff and boardy, straight jacket effect
Too many D-rings, haul loops, name tag holders, etc. None of which contribute to warmth
Cheap poly-cotton shell which is not water proof nor very durable.
Sure, this parka may have been made for people working in the Arctic (like me) but rest assured they usually have a warm place to go to close by. And it's a good thing too because every winter I have to wear this thing and every winter I find fault with it.
First of all, this thing weighs almost 10lbs (I weighed it myself) and is mostly pockets and excessive layers of reduntant materials. Sadly the weight does not reflect the warmth which is sub-par to say the least. There are large areas across the shoulders and in the hood with no insulation in it at all. The "Arctic-Tec" shell is nothing more than cheap polycotton, which is neither waterproof, windproof nor as durable as nylon.
All things being equal, nylon is 5 times stronger than polycotton. And the down, (which is only 675 fill down as advertised) is not held in place with baffles (you would think at this price it would be) but only sewn through quilting.
The arms are not articulated; a standard feature on expedition grade clothing for the last 20 years, meaning that the insulation compresses at the elbows. I have yet to zip up the hood all the way because the zipper keeps getting stuck while the zippers on the sides won't stay closed and the reinforcing on the elbows seems to be made out of lighter material than the shell!
The hood is also a snorkel type that was popular in the 1950's but which I find silly and restricts my vision too much. Also, while on a snow machine, it tends to funnel in the wind. The Coyote fur around the hood is also useless in my opinion and does not add much to the insulative value of the parka. I also do not need all the pockets, haul straps, ID tags and D-rings; they seem superfluous and the seams are a potential leak for wind and water. They also do not add to the insulation, but make a conveniant place to snag and rip the outer material.
The pictures below are of my Snow Mantra Parka and Feathered Friends Rock and Ice. The Rock and Ice weighs about half as much and packs down much smaller. It is also warmer.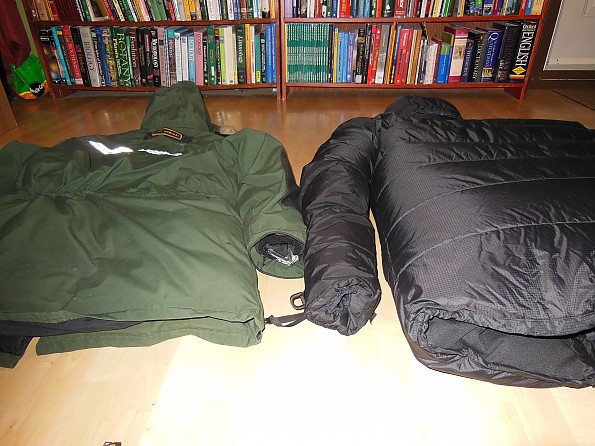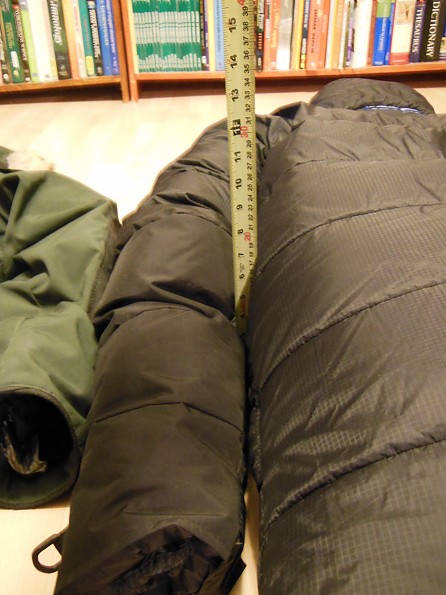 A previous writer had commented on the hand warmer pockets and I concur; they are useless with only a layer of some kind of polyester "fun fur" for insulation.
I could go on but I should say that this is an authentic, Canadian made product, purchased at a registered dealer, but for the cost there is so much better out there. This parka may be fine if you need to crawl under your car in the winter to change the oil, but for full on expedition use, my old NF parka — twenty years old and well lived in — is still far superior than this and still twice as thick.
At this price your money is better spent elsewhere.
Fabric: Polycotton
Fill: 675 fill down.
Source: It was regular issue for my job.
Price Paid: $800

This parka is unsuitable for any athletic exploits, save for low-exertion walking/skiing. I have one — and it lives up to the hype as far as warmth and durability, but it really is an extreme condition parka meant to be warm above all other considerations, such as visibility, freedom of movement, weight and so forth.
It is a fantastic parka for its intended purpose, and I certainly wouldn't give mine up, but that purpose is specific and you would probably regret taking this parka on any extended climbing or hiking trip unless you are on flat ground and will never need to stow it in a pack.
The Snow Mantra is heavy — I use it when working up north in the winter when I need to be outside in ridiculous conditions and may be standing around without exerting myself much. It will stand up to abuse, and makes for a great "industrial" jacket for this sort of exposure, but falls short when you are either working hard or doing anything athletic or requiring much dexterity or situational awareness.
I also am an avid mountaineer, but choose to use other products more suitable for that purpose which are not as heavy, easily stuffable, and cut to facilitate easy movement. I have a light down vest that I use under a waterproof / breathable shell for moderately cold conditions, and a Feathered Friends Rock & Ice parka as a belay jacket and for for extreme cold / high wind / summit attempts. The warmth of this one is on par with the Snow Mantra, but it is much more suitable to purpose, being lightweight, stuffable, and easily accomodating movement while wearing a helmet or harness. This is my go-to parka for mountaineering, for sure. Of course, by the same token, I wouldn't wear the Rock & Ice for working in a northern oilfield or as a daily wear item in the arctic — it would get destroyed in short order.
Bottom line: excellent jacket for the purpose, but make sure that purpose matches what you intend to do with it.
Price Paid: $600

I'm thoroughly impressed with the Canada Goose Snow Mantra Parka. I bought it in Anchorage, Alaska, in 1999 and it's the parka that ALWAYS keeps me warm in the coldest of weather. I've worn it in Canada during harsh arctic weather, in various places in Alaska during very windy arctic conditions and this parka does not let you down. The parts of my body not covered with this parka (i.e. my legs) -- I wore Gore-tex pants with some Arctic boots rated for -60F. In other words, yes this parka is absolutely fantastic -- but don't forget the rest of your body!!!
I love the overload of pockets -- well placed too! Usually with gloves, etc, I was able to get to whatever gear I needed in my various pockets. There is an inner waistband that connects with velcro to prevent cold air from getting to your upper body -- in extreme cold -- that was helpful.
In extreme cold weather -- you can fire up the two handwarmers (that come with the jacket -- just under the armpits -- but I have yet to do so. Wherever I went to in Alaska, Canada or even bitter cold of Nebraska -- this parka always has kept me warm. Anyone who sees it or tries it wants it (and they are *not* getting it)!
Fabric: See manufacturer's details
Fill: Goose Down
Price Paid: $550

I'm living and working between Arctic Norway and Finland. I feel so much better this winter after buying a Snow Mantra Parka and wish I had invested in one earlier than this. Excellent heat and flexibility as well as looking sharp.
Pros
Warm
Windproof
Plenty of pockets
Snow clearing and hanging around for hours winter ice fishing with temps down to -35 have not bothered me as  much with this jacket. In fact the drawback is that I overheat in subzero temps with it and a few layers on.
Great fit and I feel it looks great, especially like the coyote trim with the wire. Apart from making me look like Southpark Kenny it keeps the blizzard snow out my eyes.
Good investment for the years I will be living here.
Source: bought it new
Price Paid: 700 euro

Came across this site looking for international prices for this parka as I am about to buy my wife one as well. Wherever you might buy it it is expensive. Anyone crazy enough to pay inxs of $800 would probably NOT leave a negative review (!!!) but I know for a fact that any one of the reviews written here are true!!
I have my second SM at present. Not that it´s poor quality or anything. Not by far. But they can be worn out! My first one lasted for 6 years and was used about 8 months a year. I live in Norway and spend a lot - and I mean a lot - of time outdoor with my dogs and sledge. Have used my SM in some of the coldest places on this earth (Svalbard/Grenland) too. Have actually spent some nights out sleeping with my dogs just wearing my SM and sleeping bag covering my legs in -30 derees Celsius!!
Do not hesitate if you want the warmest parka on this planet. Rugged, heavy and expensive....but the best there is. No doubt....
Price Paid: NOK 9000

Version reviewed: Parka
I've been working up in Artic Canada now for three years and I have yet to find a parka better than this. Never once have I found myself getting cold in this jacket, despite working outside hours on end in the harsh cold winters the artic gets (especially due to windchill).
Though it is a pretty thick jacket it is still pretty easy to move around in and it has more pockets than you will have stuff to put in them. Heck it even came with charcoal handwarmers standard. Of course this is a seasonal jacket (like any parka) but if you decide you want to go camping in the Appalachians in mid january, this will keep you nice and snug.
Although the price is not cheap, the quality of the manufacturing is surely exceptional (not made by cheap labour in some Hongkong sweatshoplabour factory) and it will last you for many many years.
If you have any questions about it, or hell even about the far north, give me a shout! G'day!
Fabric: Cotton Blend with Teflon (really durable and wind resistant)
Fill: Goose Down
Price Paid: I got a deal, but reg $600 (CDN)I think

I purchased this jacket in 1999, for the price you pay you better get a good product. Well, this jacket was a great investment, it's now 2011 and the warmth of the jacket has never went away.  
I live in Winnipeg, and on occasion travel beyond the tree line in the winter. I would not go without my Canada Goose. It has never let me down and it looks as good today as it did 12 years ago, you pay cheap you get cheap, you buy quality and it will last, Canada Goose does just that.  
I have to mention the fur trim on the hood is amazing, has yet to freeze (i believe it's some type of wolf or coyote). You will never go wrong, invest in one of these jackets, you will not be sorry.  I'm hoping for another 12 years of wear or more, so that breaks down to just a few bucks a year.
Unfortunately I can't go more than five stars, but if I could I would.
Price Paid: $475 I think, it was a long time ago

I've just used the Snow Mantra jacket in Alert at the very top of Ellesmere Island in Canada for 2 weeks with intensive days of work outside. This is a fantastic jacket, well-built with lots of attention to detail. Even though it was -30 and we are often out snowmobiling (adding a lot of windchill to the equation) I was never in any danger of getting cold. The jacket it bomb proof and knowing its warmth capabilities was always comforting when getting dressed to take on the elements outside.
It can get too warm during intense physical activity outside - but I would simply open up the zipper or take the jacket off during that time, then put it on again as things slowed down. It worked out very well.
Expensive but a jacket that is absolutely worth the money paid for.
Price Paid: 800 euros

I grew tired of outerwear that these days are made more for fashion statements than anything else and always leaves you cold. I wanted the best, bar none.
I have yet to face any cold weather this parka does not laugh at. My co-workers who have worn it tell me it's like wearing a portable shelter. In short, this parka is the best. If you absolutely do not want to be cold, this is worth every penny.
Just don't think about wearing this parka above 20 degrees and doing ANYTHING other than sitting still. You will get hot fast. I actually keep a lighter parka for days above 20 degrees.
Fill: premium down
Price Paid: $600 US

So far on a typical winter day in northern Ontario, where temperatures reach on average - 20 -30 degrees celsius, no that's not including the wind chill factor, this jacket, is definitely worth its weight in gold. There has not been a day where I have been cold, actually I found that if you are wearing this parka and are doing any type of activity, it just might be too warm! Actually what am I saying? Too warm in the winter! I guess one can never be too warm.
Fill: goose down
Price Paid: 820

If you buy a genuine Canada Goose Snow Mantra, you will own the warmest parka on the planet. Combine the parka with either the down filled bibs or tundra pants and you can't get anything warmer. I have spent several hours at a time in sub-zero temperatures with this combination, wearing just a T-shirt and shorts underneath and was NEVER cold.I've tried other parkas and as far as I'm concerned, you just can't buy anything better than Canada Goose.
Fill: Down
Price Paid: $540

Spent four years working in the Arctic and only got cold once and that was because I didn't bring my Snow Mantra with me! Has all the small attention to detail that can make a day very comfortable or being stuck out for a night survivable. If you're going to work in the Arctic get the Snow Mantra, or wait 10 years and global warming will take care of the cold for you.
Price Paid: $499

I was looking for a jacket I could wear for lots of cold weather activities. I live in Washington, USA, and although it won't get to be -50 degrees here, it is usually cold as hell 7 months out of the year.
I stumbled across this coat for sale on an eBay store based in China. It was priced at $215, brand new, shipped. I have yet to understand how I received this great deal, but just a week after I ordered it, a small ball wrapped in a Chinese newspaper and tape about 7" wide, showed up at my doorstep. I barely poked it with a paperclip and it exploded out into my face with massive force, and immediately begun to warm me while just sitting there on my lap.
I proceeded to wear it up to the mountain, and found in 5 degree weather plus wind it was just too hot to move around in too much. I do not recommend this jacket for snowboarding or skiing, or any activity you might work up a sweat, you will fry like an egg. If you are looking for warm, but might be doing some extreme exercise or work, perhaps go with a lesser model that Canada Goose has to offer.
When you slide your bare arms into the parka sleeves, it instantly feels nothing like anything you've ever worn before. Like it is not a piece of clothing, but a tool, with a function. You can wear it with the hood down, and go about your day like you are beside a toasty fire; but then it has the hood, and the built in scarf. with nothing but a t-shirt underneath, if you decide to deploy the parka's hood zipped up all the way, and the scarf, and the ties, it then goes from toasty fire to burning oven.
This jacket will keep you warm no matter where you are on this Earth, and perhaps in outer space as well. Although I know none of you will snag even a similar deal from what I got, if you are looking for a coat to keep you warm anywhere, anytime; this is absolutely the warmest parka there ever was.
Price Paid: $200

For the purpose, there is simply nothing better.
It is too heavy for active work, don't wear it if it is not at least -25C.
There are few negative points I would like to see improved.
Do not count on the hand warmer, they are mediocre at best. The pockets can fit the coal powered warmers that will last up to 8 hours (6 real hours) or 3 hours with double power (light both sides).
For that price of a jacket I would have expected a bit better manufacturing quality, I am losing few feathers by the seams. The seam thread ends aren't well finished.
I have ripped the lower back outer nylon skin by going over some tree. I will make a local leather worker add a complete layer of leather. Fortunately there is a another blue nylon(?) layer keeping the feathers in.
Best for:
Sled dog -30 to -40C
Northern lights photography -25C to -40C (maybe colder)
Motorsledge -25C to -40C.
I say -40C because I have personally tried it at that temperature, I would expect it work even better if I would wear more than a T-shirt under.
Price Paid: 750 Euro

Took awhile to convince myself that a jacket could possibly be worth $500. Waited two weeks for MN winter to come through to test it. Not to be disappointed, soon had -5 F weather with -25 F windchill to test it with.
With this coat I am totally comfortable. No words could describe how warm it is. I would never have believed wearing only a polyester short-sleeved work shirt and the Snow Mantra in -25 F would be comfortable. Best part is that it isn't hot driving with it on. Was afraid I would have to drive to work with all the windows down or the air on.
If you are looking for a winter jacket that will handle absolutely anything winter can produce this is it.
Fabric: Teflon coated
Fill: goose down
Price Paid: $501

Perfect parka!
Cons
Definitely not warm enough
Just wish it was even much warmer. Where I live, even if it never freezes, I wear my CG Snow Mantra from end of September till April. With two giant mohair sweater.
Despite all this, I am never warm enough. So my dream would be a Snow Mantra for minus 100°C, much thicker and with complete fur inside, sleeves included. Maybe once my dream will come true.
Source: bought it new
Price Paid: $1000

Your Review
Where to Buy
Help support this site by making your next gear purchase through one of the links above. Click a link, buy what you need, and the seller will contribute a portion of the purchase price to support Trailspace's independent gear reviews.
You May Like
Specs
Men's
Price
Current Retail: $1,695.00
Historic Range: $574.95-$1,695.00
Reviewers Paid: $200.00-$1,000.00

Shell Fabric
195 gsm, Arctic-Tech 85% Polyester / 15% Cotton blend with a DWR finish.

Lining Fabric
55 gsm, Nylon plain weave treated with a WR finish.

Fill
675 fill power white goose down

Women's
Price
Current Retail: $1,695.00
Historic Range: $734.97-$1,695.00