Chaco Beckwith

The Beckwith has been discontinued. If you're looking for something new, check out the best backpacking boots for 2022.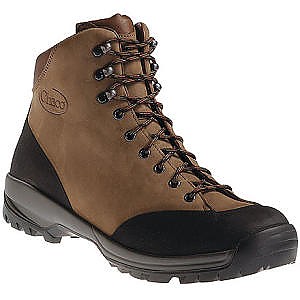 Specs
Men's
Price
Historic Range: $71.95-$240.00
Reviewers Paid: $40.00-$275.00

Women's
Price
Historic Range: $30.91-$167.95
Reviewers Paid: $99.95-$150.00

Reviews
20

reviews

5-star:

12

4-star:

3

3-star:

0

2-star:

0

1-star:

5
Beyond terrible.
Cons
The design
The customer service
The material quality
The Chaco Beckwith is hands down the worst piece of outdoor equipment I've ever owned. Despite spending 3 hours in the store with weight, on an actual trail these boots caused the worst heel blistering I've ever encountered, derived entirely by a reinforced heel cup that was as inflexible as steel.
Any incline whatsoever forced the heel into this cup with brutal efficiency. Three miles into my first hike and my heels were bloody nubs.
Not only was the Beckwith terrible, the company did little to try and make things right. I'm not entirely sure why folks like Chacos, but my experience was miserable and I will never purchase their products again.
Source: bought it new
Price Paid: $275

Comfortable boot that falls apart without much use.
Pros
Comfortable with good support
Cons
Falls apart with little use.
Boots provided firm but comfortable ankle support, however the rubber layer that's in between the sole and the boot crumbled and turned to powder after a recent hike.
Very disappointed that Chaco does not honor its lifetime warranty.  
Experience
Great support during hikes on rocky trails. Poor quality construction.
Source: bought it new
Price Paid: $200

Good looking torture device.
Pros
Stiff
Traction
Easy to clean
Cons
Hot
Uncomfortable
Blisters
Much like several other users have found, these don't fit my feet at all. I bought these 12 years ago and have less than 150 miles on them. I tried to break them in but the pain was too much to handle. Now to start off I walk 5 miles a day at a minimum, and often with a 20+lb pack. I have worn many different boots over the years and these are the worst. Even the cheap Hi-Tecs I bought were more comfortable. 
I can typically hike 15 miles a day with a full pack and no issues. With these boots I can barely walk 3 miles and my feet are sore and I have hot spots around my heel/ankle. I have recently tried to revive these boots with a new insole. It has helped a little but still is not a comfortable boot. 
Source: bought it new
Price Paid: $200

Best boots I have ever had. Great from day one.
Price Paid: $100

These are hands down the best boots I've ever stuck my tootsies into. Why? Mainly the contoured footbed. My first Chacos were flips. I swear they make me walk better, w/better balance. Maybe it's a pronation thing, but when I wear either the boots or the flips, I feel like I'm walking like God intended. Unbelievable comfort and ease.
Plus, I like the looks. Just plain function.
Materials: see description
Use: day hikes so far; expect even better performance on longer hikes
Break-in Period: zero
Weight: see description
Price Paid: $150?

This is hands-down the worst pair of boots that I've ever owned and perhaps the worst piece of gear, period. The leather uppers are flimsy and offer about as much ankle support as a pair of tennis-shoes. Despite being leather boots with a reinforced toe, my feet got completely soaked any time that I hiked through snow or shallow puddles.
Speaking of the reinforced toe, the rubber reinforcement makes it impossible for a cobbler to stretch the toe box to accommodate a wider forefoot. The narrow toe box, combined with a worthless pair of insoles that fail to keep the foot in place resulted in quite a few blisters - even when I wore hiking socks and liners. Replacing the insoles helped mitigate this problem. By far, my biggest gripe is that the soles had virtually worn smooth after only 500 miles of hiking. I understand that newer versions of this boot feature a Vibram sole that doesn't wear away as quickly.
If you must hike in this boot, replace the insoles immediately and make sure that you're buying a pair with a Vibram sole. Avoid this boot at all costs, especially if you have a wider forefoot. Chaco should stick to making sandals.
Materials: Leather
Use: on-trail backpacking and off-trail dayhikes
Break-in Period: 1 week
Weight: ??
Price Paid: $100

When I saw the Beckwiths in Mountain Chalet, I was delighted to find what looked like a good, simple one-piece leather boot. However, I was skeptical of the lining which was glued and not sewn. My skepticism was well founded. The lining started to come unglued very soon. The boots are too soft for rough terrain. They fit well in the store and around the house. But, on the trail they always gave me serious blisters very quickly, no matter what socks I used. The longest I could ever endure them was about six miles. In over 50 years of hiking and mountaineering, these are the worst boots I've ever had on my feet!
Materials: leather
Use: rough trail and off trail
Break-in Period: forever?
Weight: 4 pounds
Price Paid: $230

Far and away an awesome boot. I purchased these on a massive sale and consider myself really lucky to own a pair. Very comfortable and supportive. Tight heel yet enough room in the front to keep your toes from cramming. They have provided me with awesome stability and the footbed keeps your feet from getting sore even with 55+ lbs on your back. One piece leather is great. Highly recommended.
2 complaints: After at least 1,000 miles in them from week-long trips to dayhikes, they still squeak that brand new leather sound (You won't need a bear bell to warn the wildlife you're approaching). Second complaint is they seem to be unusually slippery on wet rock, even for a boot.
Materials: Leather
Use: easy dayhikes, rough trails, long hikes and significant elevation gain
Break-in Period: 25-30 miles
Price Paid: $140

I would rank these boots as the second best pair of boots I have owned. The break-in time is about the same as other all-leather boots (a couple of weeks) and your feet will hurt until a) the boot is broken in and/or b) your feet are broken. The construction materials are top quality but some of the design features are annoying. The overall fit of the boot is excellent (nice narrow heel, wide toe box).
I do have a few complaints. 1) The tongue migrates to the outside of my feet as I walk, this could be alleviated with a fixed tongue or some sort of lacing system through the tongue that would make it immobile. 2) There is essentially no padding on the sides and if you are crawling around on rocky terrain and happen to hit the side of your foot on a rock it really hurts.
I have yet to put in an all-day hike with them completely wet, but I am pretty sure that I would get blisters.
Overall these boots have been a good purchase and it's too bad that they have been discontinued.
Materials: leather?
Use: off trail wandering, moutainous terrain, 10-20 mile hikes
Break-in Period: 3 weeks
Price Paid: $140

The boots fit great, and are sturdy enough for long hikes. Haven't gone backpacking with them, but don't know if they are rugged enough for a week-long trip in the Sierras. The sole pattern is "interesting". I do like the leather around the top interior.
One thing about these boots is that they are very "loud"! They squeak like they're wet, with every step. It gets kinda weird--like a chinese water torture--hearing that squeak all day out in the quiet of nature! The insoles that are provided are very nice too.
Materials: leather
Use: day hikes
Break-in Period: none
Price Paid: $40

This is a high quality boot; definitely worth what I paid for them (and more!). They are made in Italy, which speaks volumes for the craftsmanship that is put into them. I wore them on a 220 mi trip on the Appalachian Trail. I could've gotten by with a lighter, less rugged boot, but I am happy with my purchase because I know I will have these boots for life.
The boots fit me perfectly; made with a narrow heal and spacious toe box, they dried quickly after getting soaked, and the ankle support saved me from a bad twist many times. I also appreciated the extra set of Chaco insoles that came with the boots.
I had a tough time breaking in the boots. For the first week of hiking I had many blisters, and the week after I had aches and pains in my feet. Next time I will buy a pair of smart feet insoles because the Chaco insoles did not correct my over-pronation, making the break-in time longer and probably more painful.

Materials: Full grain 3mm Leather Uppers
Use: rough trail with heavy pack
Break-in Period: about 60 miles
Weight: 2 lbs 14 oz
Price Paid: $99.95

I have owned a pair of Beckwiths for a little over two years now and they are truly superior footwear for hiking and backpacking. But it pains me to say that they will no longer be made, Chaco has discontinued them due to the manufacturer's desire to move to China. Other than change the quality of their product, Chaco has stopped making these amazing boots.
However, for those of you still interested in getting a pair and under the 225 dollar price tag, call Chaco's customer service. Chaco is selling off whatever stock they have left for 65 dollars, that's right, a 225 boot for 65. I picked up two pairs to put away for if anything happens to mine.
I hope this helps someone out, it's a great deal, it just sucks that they're discontinuing them. Keep hiking.
Price Paid: 65

These boots are really great. Comfy right out of the box. Nice narrow heal and wide toe box. Very ugly boot, but worth its weight in gold. I twisted my ankle some time ago and had painful tendonitis daily. After wearing my Chacos for two days I had no more pain! They come with their own inserts like Superfeet. I didn't want to use them because I have custom orthotics, but my ankle was still killing me with them. So, I decided to try the Chaco boots with their own inserts and they worked like a charm.
The boots are hardy and squeak a bit, but that is a small price to pay for curing my tendon problem. Also, I got them on sale at Zappos. Can't beat their shipping and return policy (free). I was lucky because after I bought the two pairs, they went back up to the original price. Phew! I would not say they are heavy duty boots though because I am used to hardier boots for backpacking. Also, they have a skywalk sole vs. vibram and I am not sure how long these types of soles last. Time will tell.
So far I love these boots. We'll see if they last as long as they are supposed to.
Materials: 3.00mm nubuck
Use: hiking
Break-in Period: none
Weight: < 2 lbs
Price Paid: $80

Until my recent acquisition of Chacos, the last great pair of boots I purchased was in 1978. These boots are amazingly comfortable and well made. A bargain at twice the price. I am considering picking up a second pair now because something this good won't be available in the future. Corporate Amerika will discover them and kill the quality, never fails.
Price Paid: $160

Over the past few years, I have spent a lot of time and money in my quest to find a very comfortable boot designed for backpacking (with good ankle support). I tried close to a dozen boots from various manufacturers, including most of the big name brands with $200-$400 models.
The Chaco Beckwiths are the most comfortable boot that I have found, by a significant margin. They seem to be the only solid hiking boot that is appropriately shaped for what my feet want: a snug fit at the heel and middle portion, with a nice and wide toe-box. Definitely worth the $230 list price.
Materials: 3mm nubuck leather
Use: Rough trail w/ heavy pack
Break-in Period: 1 week
Weight: 4 pounds
Price Paid: $150

I bought these to backpack and after 10 months, I find that I wear them almost everywhere. They have plenty of toe room (most important for me) and leave my heels where they belong. They look like the day I bought them and feel like a part of my foot. I forget I am wearing boots which I used to be very aware of with other heavy hikers. The rubber toe rand looks a little strange compared to the Chaco Garvin but it does the job wonderfully. I wore these as my only footwear on a trip to So. America in December and I thought they might be a little warm for summer but they were just fine. Worth whatever you pay for them.
Materials: leather
Use: walking the city to heavy packs in rough terrain.
Break-in Period: 2 weeks of constant use
Weight: 4 lbs.?
Price Paid: $175

I've tried various hiking boots, and these are by far the best I've ever purchased. I paid $100 as they were closeouts from $240 - apparently, Chaco made a minor change to them. These boots are made of a one piece 3mm nubuck leather, with glove leather lining in the heel. They also do not have Gore-tex, which I can't stand for hiking in warm weather, as it just does not breathe as well in boots without it. They have a wide forefoot, so your toes do not feel cramped together, and a narrow heel, so your heel stays in place. With the round eyelets, instead of the usual D-ring type, it is very easy to tighten them exactly as you want. The sole is fairly deeply lugged, and made of a somewhat sticky rubber compound. This is a very well designed and constructed boot.
Materials: 3mm nubuck, non Gore-tex
Use: dayhiking and backpacking with medium loads
Break-in Period: several days of continuous wear, very thick leather
Weight: 3.25 pounds per pair, size 9
Price Paid: $100 on closeout, $240 retail

I own quite a few hiking boots. For the price i paid nothing can beat the Chaco Beckwith. Out of the box comfort, great support and style. I love them.
Materials: leather
Use: rough trail, icy conditions
Break-in Period: One day hiking
Price Paid: $99.95

Having tried over the years more boots then I care to count I have finally found a boot that fits my foot. I have had some heel problems for about 3 years, and as a former Search And Rescue Volunteer my feet really gave me problems on searches. Wouldn't it figure that after I got out of search and rescue that i would finally find in my opinion the best boot made, at least for me anyway.
Right out of the box they fit like a glove and in about a month of heavy use they have conformed to my feet. I also use them with custom made orthodics that really help with the heel problem. I wish these boots were available 10 years ago i would have been one of the first to buy them. Living in central Oregon a place where a lot of outdoor activity is, I have only seen one other person wearing Chaco Boots and they were recommended to him by me. This boot really needs to get out there as far as advertising, or they can just speak for themselves. In my opinion the best boot made period.
Sincerely,
Dennis R Fehling
Materials: Leather
Use: all types of hiking
Break-in Period: 1month
Weight: 3.5 lbs
Price Paid: $240

I've owned Pivettas, Vasques, Limmers, Merrell Wilderness. These new Chacos, which I bought outside Zion this spring after raising nasty blisters in my Merrells, are far and away the best-fitting, well-designed boots I've ever worn. They grip tight around the ankle and have scads of room in the toebox. One piece of thick leather, protected by rands fore and aft, and a wonderful footbed that fits like a soft orthotic make these boots a joy to wear. But they seem to be a secret, unlike the Chaco sandals, which everyone's wearing. Try them on just once, and you won't want to take them off!
Materials: all leather
Use: rough trail/off trail
Break-in Period: three days
Weight: 3 lbs. 4 oz.
Price Paid: $240

You May Like
Recently on Trailspace