Chaco Lowdown Sandal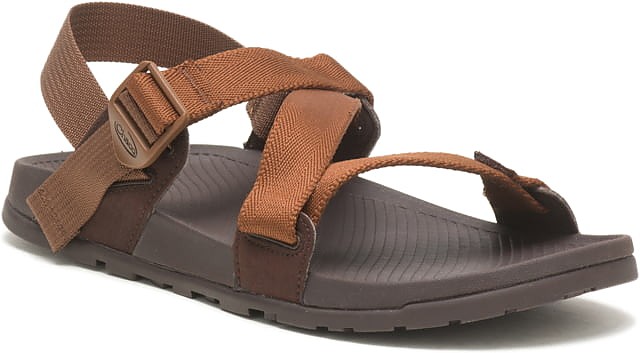 The Lowdown Sandal is a lightweight take on the familiar Chaco design. It's very comfortable, though the strap system could be improved. The Lowdown is great for all-day wear, and a very serviceable camp shoe.
Pros
Good torsional support
All day comfort
Good traction
Lightweight
Quick drying
Cons
Straps don't stay snug
Poor foot stability
Straps longer than they need to be
Strap tab by the inside arch can rub
I have long been a fan of Chaco sandals. I have a couple of pair of Classic Z-1 and Z-2 sandals, which have served me well for some years. However, I don't usually take them into the backcountry, because they are so heavy and bulky. So, I have usually relied on an ancient pair of Teva sandals, which have seen much better days.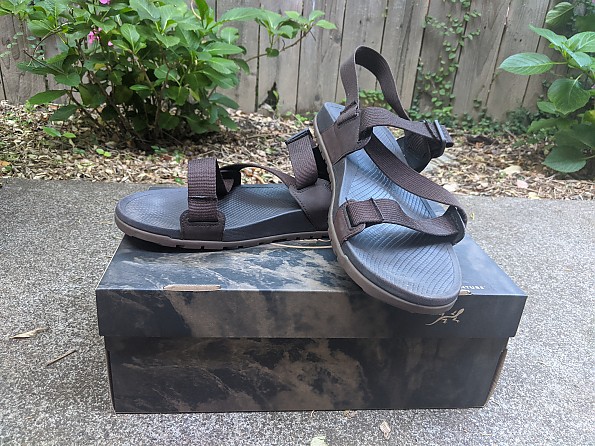 When I saw that Chaco was releasing a new take on their classic sandal, at nearly half the weight, I was very interested in trying them. I was interested in them for two reasons: first as a comfy "camp shoe," and for walking during a long planned (and now delayed!) trip to Europe.
Chaco also offers a Lowdown Slide and Lowdown Flip.

Fit: Out of the box, the classic Chaco "Luvseat" footbed is still there in the Lowdowns, but the sole thickness is significantly less, which is obviously one way they are saving weight. I do think that they are sized a little large. I am a solid size 14, and found that there is a lot of extra space on the footbed. I am thinking that a size 13 might be a better fit.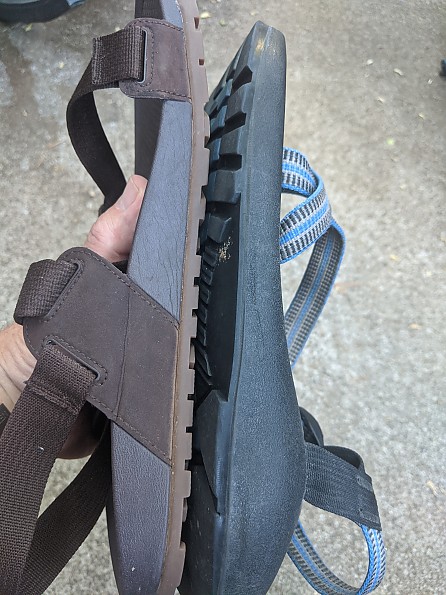 Comfort: The Lowdown sandals have that same familiar Chaco feel, with a great arch support, and comfortable top. The EVA footbed is definitely made for a full day on your feet, and I never found myself feeling like I needed to take them off. I was concerned with the thinner footbed/sole, that I would feel more poking from rocks and sticks and things under my feet. But they are solid enough that it really wasn't an issue. 
One thing that caused some discomfort, most especially on my right foot, was that when the strapping was cinched down really securely, the inside tab pinched and rubbed against the side of the foot. I got a small blister from this the first time I wore them. However, I have really problematic feet, so this might not be an issue for everyone. And just for reference, I have not experienced this particular problem with any other sandal I've owned.
Stability: With the traditional Chaco strap system, the straps are usually fed through the sole underneath the footbed. In the Lowdown design, the polyester jacquard webbing is threaded through leather-like synthetic tabs. At first glance this seems to make sense. However, my feet didn't feel secure in the sandal. Once I got the straps adjusted the way I liked, they didn't stay put. They would gradually get loose, and I found that my foot would slowly make its way to the back of the sandal, my heel nearly hanging off of the back, with a big space in front. So, I'd tighten them up, and go through the whole process again. This would happen repeatedly while wearing them.
I haven't had this problem with other Chaco sandals I've owned. Having the webbing feed into the sole under the footbed seems a lot more secure than threading them through the tabs. I am also wondering if the thinner webbing is less secure than the traditional thicker straps.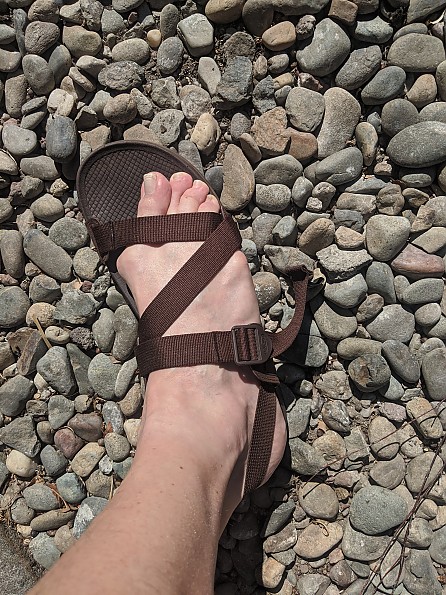 I also found that when I had the strap snugged securely, the end of it was dangling well below the sole, and dragging in the dirt. Unless one has a really large volume foot, there is much more strap length than there needs to be.

Traction: One of the things I loved about the original Chaco sandals were the Vibram outsoles which they often had. They were super grippy, and I knew they'd stick to whatever surface I was walking on. They are now using their own thinner non-marking ChacoGrip rubber compound, which worked great. On a recent trip to the Trinity Alps, I used them as camp shoes. Walking down to the Stuart Fork to get water, the footing can be a little sketchy in spots, but the soles had good traction, and I felt confident that the sandals would hang to the sandy rocks I was balancing on. Chaco specifies a lug depth of 3 mm on the Lowdown, compared with 3.5 mm for the Classic Z1. 
I know many folks like Chaco sandals for water-based activities. Other than walking into a mountain river, I can't really speak to that. But again, the traction was good, and the webbing dried quickly.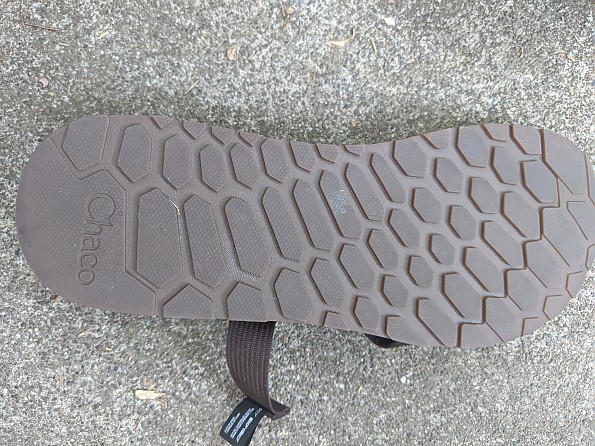 Weight: Chaco claims a weight of 15.4 ounces. My size 14 weighed in at 1.4 lbs (22 oz) which is slightly heavier than that. My classic Z1 pair weighs in at 2.7 lbs (43 oz), which is a significant weight savings for the Lowdowns. I do think the lighter weight contributes to them feeling a little less "clunky" than the heavier models, and seemed to be less fatiguing for all day wear. And they are definitely more packable for a few days in the backcountry.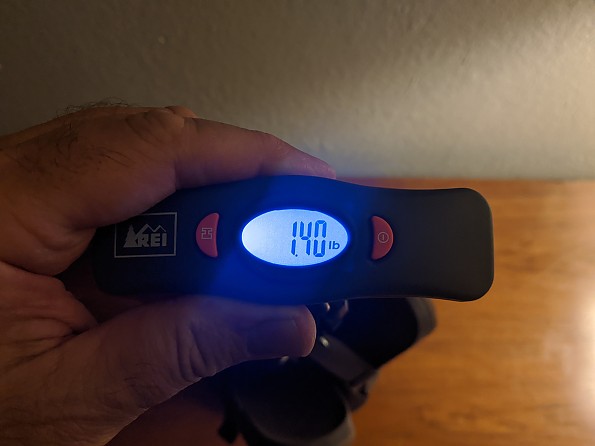 Durability: After a couple of months of nearly daily wear, the sandals still look like new. I think that they are pretty solidly made, and should get lots of years of wear.
Conclusions:  There is a lot to like about the Chaco Lowdown sandals. The weight-savings and bulk-savings really work. The traction is good. And that familiar supportive footbed still does the trick. But I ended up being a little disappointed by the strap issues, and resulting foot instability. If they could fix that, I think that these would be a first rate sandal.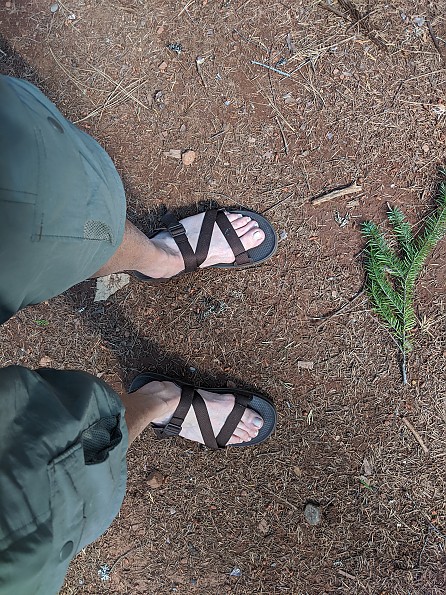 Experience
Wore them almost daily for two months—around the house, out to the winery, on hot days at work—as well as on a recent backpacking trip in the Trinity Alps Wilderness.
Source: received for testing via the Trailspace Review Corps (Sample for testing and review provided by Chaco)

Your Review
You May Like
Specs
Men's
Price
MSRP: $85.00
Current Retail: $41.83-$85.00
Historic Range: $41.83-$85.00

Upper
Adjustable polyester jacquard webbing with injection molded ladder lock buckle and synthetic trims

Midsole
LUVSEAT Care+ EVA midsole

Outsole
Non-marking ChacoGrip rubber compound, 3.0mm lug depth

Women's
Price
MSRP: $85.00
Current Retail: $63.71-$85.00
Historic Range: $32.00-$85.00

Upper
Adjustable polyester jacquard webbing with injection molded ladder lock buckle and synthetic trims

Midsole
Women's specific LUVSEAT Care+ EVA midsole

Outsole
Non-marking ChacoGrip rubber compound, 3.0mm lug depth

Recently on Trailspace