Churchill River Canoe Outfitters Nylon Campfire Tent 5x7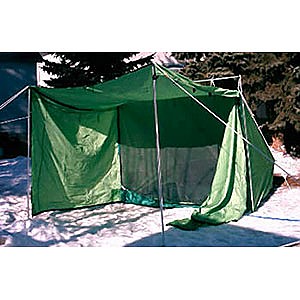 Specs
Price
MSRP: $840.00
Reviewers Paid: $660.00

Weight
15 lb (with poles)

Height
5 ft

Width
7 ft

Depth
5 ft

Reviews
1

review

5-star:

0

4-star:

1

3-star:

0

2-star:

0

1-star:

0
Whatever you call it, Mason Tent, Campfire Tent, Modified Wall Tent or the classic name of Baker Tent, it is not a tent for everyone, nor will it claim to be. But if you want a tent that you can live in for weeks without feeling confined, or enduring hardship, this might just be the tent for you.
Pros
Roomy
Comfortable for multiple days
Well ventilated
Durable
Simple, time tested design
Cons
Heavy for a two-person tent
Pole and guy line hungry
Learning curve for proper set up
Price is high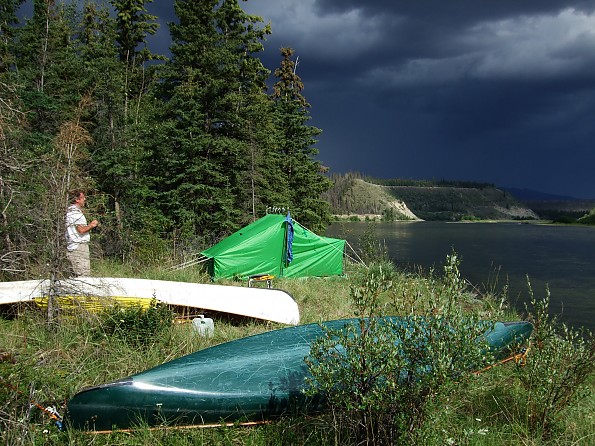 Campfire Tent rigged for rain and wind. Pelly River, YT 2007.

Background:
Like many wilderness canoeists, I had read the books of Bill Mason, and heard about his "Campfire Tent". The design goes back to at least the early 19th century and it is said that the term "Baker Tent" derives from its similarity to a "Yankee Baker" or what we call a reflector oven today. In fact, in its cotton forms, the Baker Tent works well to heat the interior when a fire is built near its front. Henry David Thoreau described one in detail.
But the tents of the 19th century have mostly all gone, and in the late 20th and early 21st centuries, we have light weight and snug little tents that are easy to set up and very compact. So why invest in a heavy tent that uses large poles and requires multiple guy lines to set up?
On my first canoe trips, and sometimes today, I will take a lightweight mountain tent that is compact and easy to set up. But after reading canoeing guru, Bill Mason's comments that rather than "camping" he was "living outdoors", I started to take notice of his beloved tent. Mason was famous for spending his summers canoeing from break up to freeze up. So he wanted a shelter that he could use day in and day out for months on end. The Baker Tent was his choice. And it quickly became mine for long canoe trips in Canada's north.
I made my first Baker tent myself, out of 3.5 oz egyptian cotton, using a pattern from one of Bill Mason's books. It is a 7 X 7 foot tent, big enough to hold three people comfortably with an additional 7 X 7 foot vestibule for holding gear. But before a paddle trip on the Yukon's Pelly River in 2007, I decided I wanted something lighter, just for two people.
Ric Driediger of Churchill River Canoe Outfitters had made a couple of Bill Mason's tents and started production of them in the 1980s. Besides spending his summers outfitting canoeists from his Saskatchewan base, he also manufactures gear. By the early 2000s, quality egyptian cotton was getting difficult to come by, and the heavy canvas available for tents made Ric look for a lighter alternative. He decided to make a nylon version of the classic Baker Tent.
Initial Impression:
My 5 X 7 Baker Tent, or as Ric calls it, Campfire Tent, weighs 15 pounds with all the poles. Certainly not light by any means, but for canoeing, not too heavy. And this includes five shock-corded poles; a ridge pole, two support poles for the ridge and two adjustable poles for the vestibule or awning. And while it is not a light tent, it is spacious with a full five feet of headroom, a 5 X 7 foot sleeping area, and a 5 X 7 foot vestibule.
The sleeping area has a floor and mosquito netting, and the entire tent is made from heavy urethane coated nylon. The large open front and two zippered and netted windows at the back help in ventilation. The mosquito netting at the front is zippered at the sides and a flap at the floor keeps the bugs out and can be lowered for sweeping out sand and debris.
Adjustable poles for the awning allow it to be lowered to nearly ground level if the wind and rain threaten your comfort. Pockets sewn into the walls hold head lamps, socks, watches and whatever small items you might want to keep handy. Plenty of ties on the ridge allow the mosquito netting to be tied up. The same ties are also useful for hanging wet clothes to dry.
In the Bush: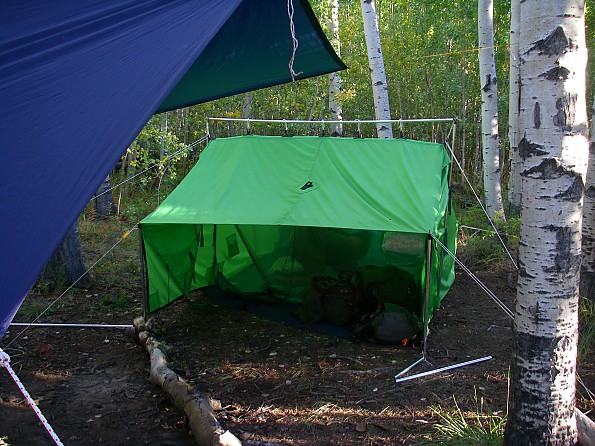 The first thing you learn with any Baker Tent, is how useful those high school geometry classes were. Since the Baker is not free standing, it relies on properly tensioned and run guy lines for a quality set up. Do it wrong and you'll have sags. Do it right and you'll have a tight set without puddles in the roof. It does take a bit of practice, but I wonder if such practice is part of a lost skill set among people in the outdoors today. 
Campfire tent being erected. Pelly River, YT 2007.

After a short learning curve, the tent can be set up by two people in under five minutes. That includes five poles, one ground cloth, four stakes for the floor and seven guy lines. And an advantage to its single wall construction, is the tent goes up with a dry interior.
There are several things that make Ric's Nylon Campfire Tent, and any Baker Tent a pleasure to have on a long trip. One is the room to stand. I have spent many years in small mountain tents and really appreciate being able to stand and stretch in the morning and get dressed. As well, being able to look outside without actually going outside is a pleasure when the weather is stormy. Having a large picture window, with a big front porch, helps to feel less confined and more a part of the outdoors, rather than like a hermit in a nylon cave.
Unlike its cotton cousins, I'm reluctant to build my fire too close to my Nylon Campfire Tent, lest a stray spark burn a hole. With the cotton versions, I have built a fire outside the vestibule and banked it with river rocks and have felt the heat reflecting off the roof, heating my outdoor home.
In heavy driving rain, I have had some condensation occur on the inside of the tent and run down the roof into the back of the tent. This follows other experiences I have had with single wall coated tents. As it is not free standing, I generally prefer sites that have firm enough ground so that I can erect it tightly. I tend to avoid sand beaches as campsites for this reason.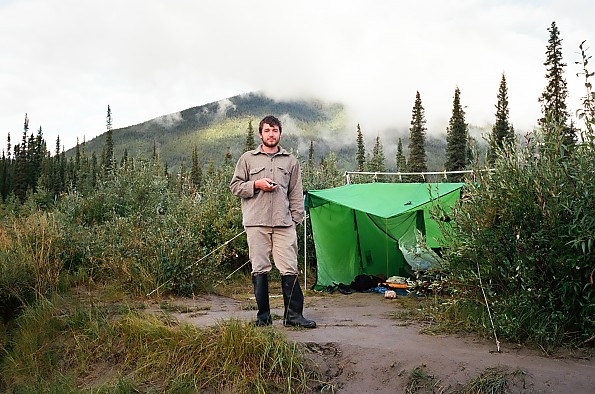 Campfire Tent after a hard rain. Big Salmon River, YT, 2013.

Will this tent keep the driving rain out? Certainly and it does it especially well when the awning is lowered and the wings brought it. This still gives a roomy vestibule to keep the muck out of the main tent.
I wouldn't recommend this tent for four season use where heavy snow is anticipated. However, cotton versions are frequently used in winter in the Far North where they are hauled on snow machines or dog sleds.
It is quite stable if well set up and I have had it in winds to about 40 mph. Because of its large flat sidewalls, I would not recommend this tent for conditions where I expected constant winds in excess of 50 mph or above tree line.
In the six years I have owned this tent, I have used it for nearly 60 days. There are a few holes, now patched, in the mosquito netting, but aside from that, the tent looks and performs like new.
Conclusion:
Is a Nylon Campfire Tent or other Baker Tent for you? For situations where you have the luxury of being able to carry a 15 pound tent, it is a good alternative to a mountain tent. It would be ideal as a base camp tent, where you can use a boat or pack animals to establish the base. As well, for extended trips where you want to have a comfortable shelter to live in for several weeks, it is ideal. With some practice, it is relatively easy to set up.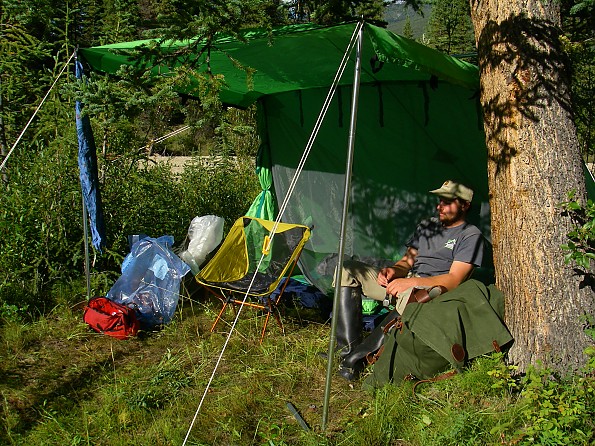 Campfire Tent, Big Salmon River, YT 2013.
My Experience:
Since the early 1960s I have hiked, climbed, skied, and paddled over much of the Northwestern part of North America. In the early 1990s I retired from more extreme mountaineering and now spend a large portion of each year canoeing in Canada's Far North.
Source: bought it new
Price Paid: $660

You May Like
Recently on Trailspace