Clark Ultralight Jungle Hammock

The Ultralight Jungle Hammock has been discontinued. If you're looking for something new, check out the best hammocks for 2022.
Specs
| | |
| --- | --- |
| Price | Reviewers Paid: $179.00 |
Reviews
3

reviews

5-star:

0

4-star:

2

3-star:

1

2-star:

0

1-star:

0
Solid choice for a first hammock.
Pros
Well made, solid construction
Storage pockets underneath
Integral bug netting
Mosquito resistant fabric on bottom
Entry from either side, Full zip
Good visibility from either side
Cons
The supplied poly ropes are a bulky suspension system.
Too short for very tall people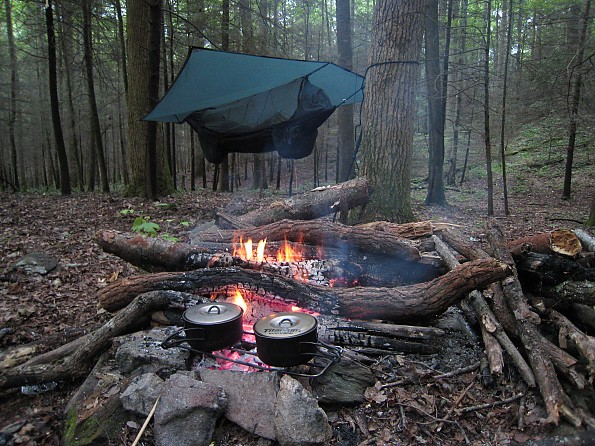 I bought the original ultralight model from Clarks about 14 years ago.  Since then, I've also had two other Clarks models (Tropical and NX-150), as well as a few other hammocks from other cottage industry manufacturers.   The ultralight remains my favorite of the Clarks models.
Getting off the ground is HUGE. In the past there were countless times when I woke up in a tent with my head in a puddle of water and everything inside soaked from ground water. I can honestly say that since switching to hammocks I have never been wet again while in the woods. I also find that I'm getting too old to sleep on tree roots and rocks! A non-issue when suspended off the ground.   ;)
While I appreciate some of the bells and whistles of other makers, and the options on fabric and color choices, I still think anyone looking to try hammock camping should consider the Clark. At first glance it may seem more expensive, but dollar for dollar it is the most full-featured hammock on the market. It comes complete with tarp and suspension.
As one gains experience it is likely that changes will be made. The supplied suspension is a poly rope (about 3/8" diameter) and is attached to the trees with bowline knots. Sometimes it is a matter of trial and error to get adjusted or centered between the trees. The ropes though not heavy, do have some bulk.
My personal preference is to switch out for tree straps and "whoopie slings." They pack up much smaller. This is a simple matter on a gathered end, sewn channel hammock.
The standard sil-nylon tarp works fine. I'd recommend that if placing an order it's better coverage to ask for the XL tarp at a slight upcharge. They are available in a forest green or woodland camo. Originally, Clarks used a sculpted rain fly that was integral to, and sized and designed specifically for the hammock. They have now gone to an independent tarp system that allows one to use any tarp. I generally prefer my standard cuben fiber tarp with doors from HammockGear.
As with all Clark hammocks, entry is possible from either side. That can be a big deal!
I have one hammock (Warbonnett Blackbird) that only has entry from the left side and that can be a PIA. It restricts hang options and limits the view from the hammock. With the Clark you can orient the hammock in any direction to get the view you want, and then enter/exit from whichever side is most convenient.
The Clark has the best visibility on both sides of any hammock I own.
Another feature of the Clark hammocks is the big pockets under the hammock, convenient for storing clothes, yet within easy reach. The pockets actually form a double layer of fabric under the hammock. They may be filled with insulating material such as down jackets or vests, reflectix, foam pad, or even leaves or bubble wrap. Anything which creates dead air space will make the sleep warmer.
I can attest to Clark's customer service. Although it happened with my Clark NX-150 instead of the ultralight model, I had a tear in mosquito netting where it attaches at the hood. I sent it back to Clark and they repaired it free of charge.  They didn't even ask for return shipping.
I'm not saying there aren't other nice hammocks. I particularly like the Thunderbird from Dream Hammocks.  You can custom configure every aspect of your order. Fabric choices, single layer, double layer, fabric weight, a multitude of colors, bug nets, storm shield, etc. They also are much longer and will be more comfortable for taller people.
But if you are under 6 feet and want to make the move to get off the ground, Clark is a good place to start.
Source: bought it new

This hammock was an experiment, and it works better than I imagined. It's cooler than a tent in hot weather, plenty warm in cool weather, and sleeping with your feet up feels good!
Pros
Durable
Versatile
Comfortable
So the first thing is that to use it as a hammock, you need trees, or picnic shelter posts, or something. But if a few days of your hike in the woods end up where there is nothing to tie to, you can set up the fly using two hiking poles, or some other sort of sticks, and it makes a fine little low to the ground mosquito netted sleeping spot sheltered from rain.
The hammock bottom is not waterproof, which is why it is cool in hot weather, but on the ground, you need a plastic sheet and not too much water on the ground to if the floor is going to stay dry. I use a short closed cell pad in the hammock for under me on cool nights, so I have that to sleep on when I end up pitching it as a tent on the ground.
I'm 6'4" and so there is really only one sleeping position for me when it's a hammock—but it works fine, and I really like how my feet feel in the morning, well rested! The other great thing about a hammock is that you don't need flat, or soft, or dry, or brush free, ground. It really is great for spur of the moment camping. And you can sit on the edge of it while you eat and stuff, and it is more comfortable than sitting on the ground, or on wet stuff. 
I like the ability to unzip the netting, but after two summers of backpacking, I haven't actually used it open, so maybe that's not such a benefit, or worth the weight. 
Source: bought it new
Price Paid: maybe 200?

I recently used my hammock in the Chisos Mountains in Big Bend NP and was thoroughly impressed with its ability. Super easy to set up, although I recommend a practice run before getting out in the great outdoors.
The hammock is especially easy to set up if after initial set up you untie the head end and roll entire thing (fly and guy ropes) up into itself and when you reach the other end untie and wrap that rope around the body. This allows you to tie the foot end to a tree, unroll and tie the other end without it ever touching the ground.
The mosquito netting was truly a blessing with its safe haven from the bloodthirsty masses. The ultralight version only has two pockets on the body and proved more than adequate for shoes, headlamp and water with plenty of space left over. Total weight with hammock, fly and guy cords, right at 2lbs.
I had a surprise thunderstorm blow in on me and stayed awake just waiting for the ensuing wetness, but it never happened. Tying the fly out right was definitely the key to this. And it felt pretty good looking at the tent pads near 3am and seeing at least an inch of water covering them, and I was no where near it.
The fly also made for a great shady spot to take an afternoon nap to escape the heat. I also think one of the benefits to this hammock over the Hennessey brand is that you can sit in this one like a chair. You don't have to go through some sort of rebirth everytime you want in or out or your shelter.
Overall this is a great product, and I would recommend it to any solo hiker willing to try something a little different than the standard tent.
Design: hammock
Sleeps: 1
Ease of Setup: Hammock has four total knots. Fly has two to four considering conditions. Super easy and takes only minutes.
Weight: 2 lbs
Price Paid: $179

You May Like
Recently on Trailspace