Cleanwaste Go Anywhere Toilet Kit Wag Bag

The Cleanwaste Go Anywhere Toilet Kit Wag Bag has all of the basic elements needed to handle, treat, and then transport your poop while in the outdoors.
Wag Bags are also a great way for you to help keep the popular outdoor areas you visit a joy for others by enabling you to properly dispose of your waste in areas where mother nature just doesn't have the capability to do it for you.
Pros
Simple, light, and does the job
NASA-developed absorber really works
Easy to use
Reasonably secure for carrying out your waste over multiple days
Cons
Potential loss of Poo Powder if not careful when handling the larger bag
The toilet paper included is very thin, so I would recommend supplementing with some of your own
On a section hike of the John Muir Trail this last summer, I exited my hike out through Mt. Whitney portal which required me to pass through what is referred to as the "Whitney Zone," and in general covers the area from Crabtree Meadows to Whitney Portal if you're hiking on the JMT.
Due to the high altitude and lack of soil in the Whitney Zone, human waste doesn't decompose very well and because such a large number of people visit this area (it's a cool place to visit if you haven't been there before),  you are required to pack out all of your solid waste (i.e. your poop and paper).
To help encourage people to follow this requirement, Wag Bags are sometimes provided at the backcountry rangers cabin at Crabtree Meadows and at the Whitney Portal trailhead. WAG by the way stands for Waste Alleviation and Gelling.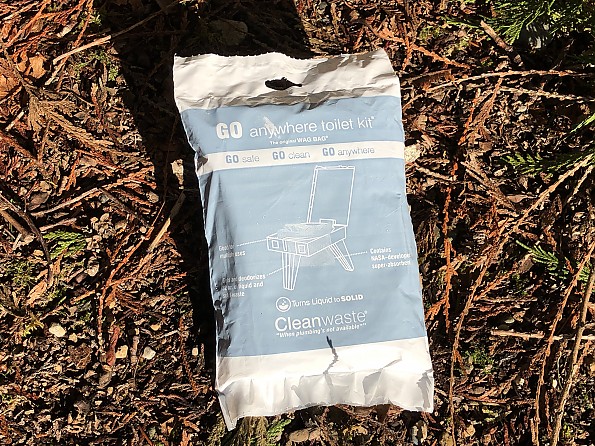 I had picked up a Wag Bag, which was made by Cleanwaste, while I was in the Whitney Zone. I didn't have to use it while I was there, but I had left it in my pack and found it recently while going through things and planning for this summer's trips and thought I would open it up, see what's in it, and then do a little test. 
The overall package is about 4 inches by 5 inches and weighs in at 2.5 ounces. The backside of the package has all the basic instructions needed on how to use the kit when nature calls.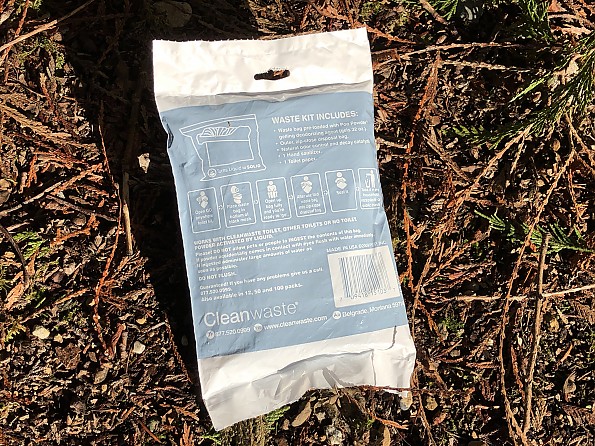 Inside of the package there is a large bag with the NASA-developed Poo Powder, a smaller bag with a zip-lock type closure, and then a small package of compressed toilet paper and a single hand sanitizer.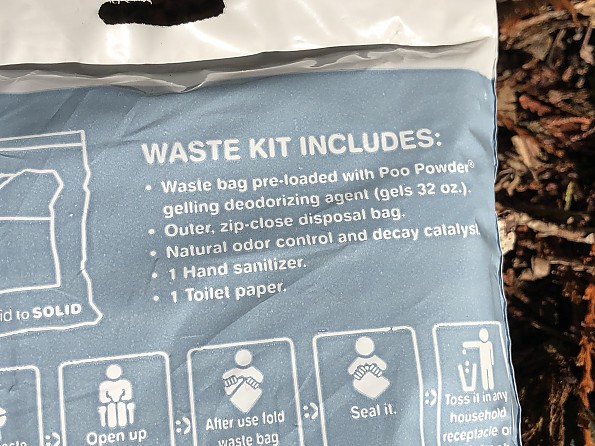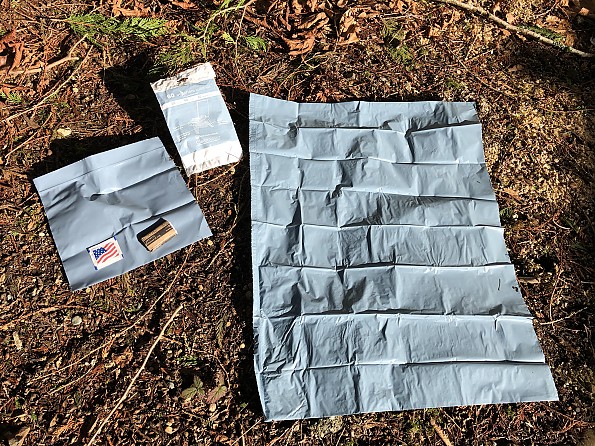 The large bag with the poo powder is approximately 21 inches by 27 inches and actually opens along the longer side, and if you weren't careful or it was windy, there is a risk you might dump out or loose the poo powder as I think most people would assume the opening would be along one of the shorter sides.
While Cleanwaste makes a foldable stand that can be used with the Wag Bag, most hikers will just be using what comes in the kit to do their business. 
To use the kit, or at least how I would use the kit, you would first take the larger bag with the poo powder and arrange like I have shown in the picture below. The resulting receptacle is about 14 inches across, so it should make for an easy target for most people.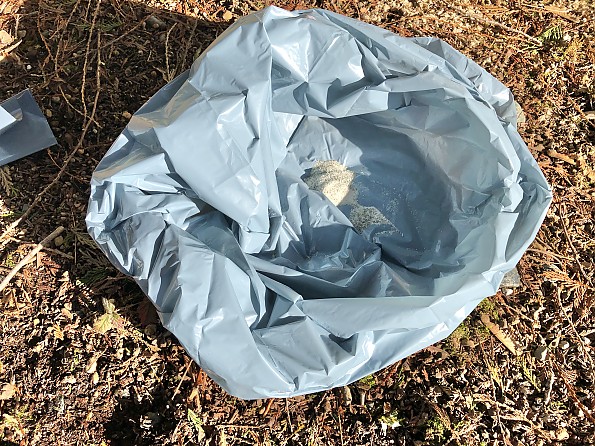 Here is a close up of the poo powder. The poo powder has deodorizing agents and decay catalysts, which I'm sure the engineers at NASA who develop this thought was really important.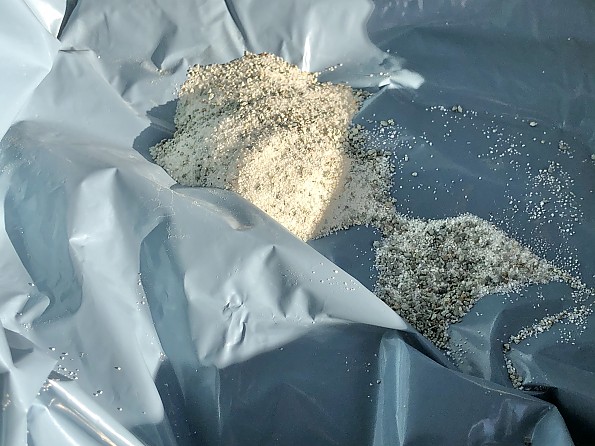 As you can see, there is only about a small handful of the poo powder in the bag. I wanted to test the poo powder, so instead of real human waste, I thought it would be more palatable for this review to use some stand-ins which are shown below.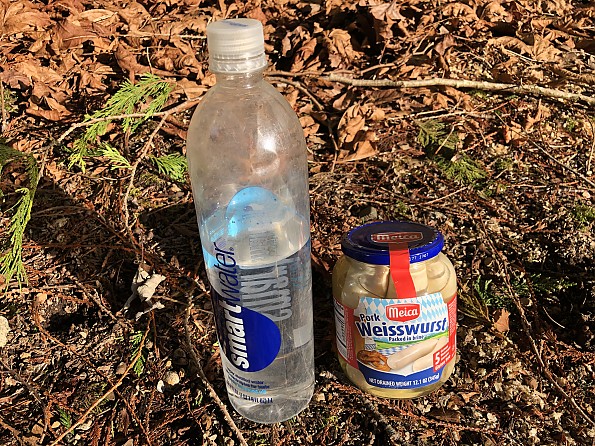 The Wag Bag is advertised as being able to handle 32 ounces of liquid and solid waste. For my test I had about 20 ounces or water and two of the pork Wiesswurst sausages.
I first dropped in two of the sausages and nothing much really happened.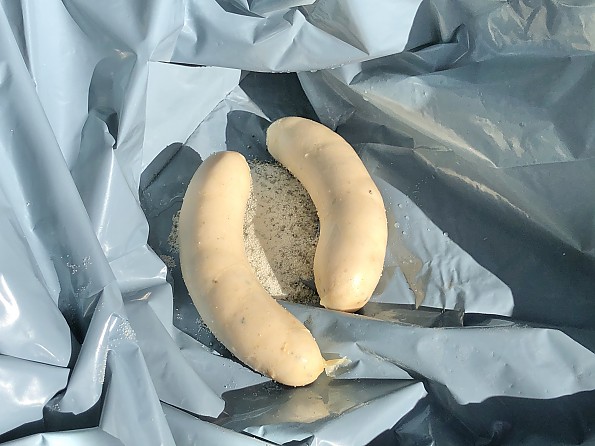 But when I poured in about 15 ounces of the water those NASA engineers really delivered as the poo powder almost instantaneously did their thing to capture all of the water and turn it into a gel like substance (we're talking real science here!).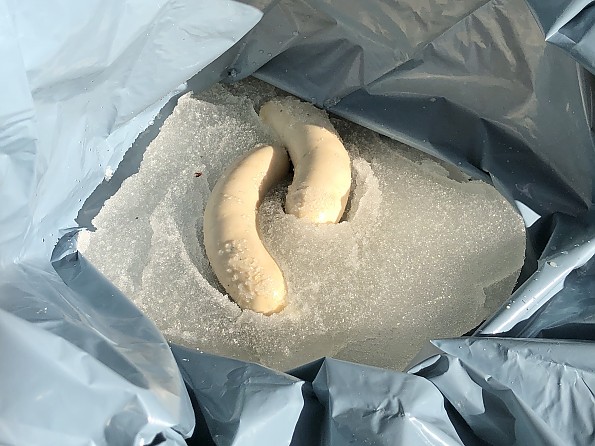 To see if the transformation of the poo powder to a gel was a one shot deal I proceeded to add the remaining 5 ounces of water and it was quickly absorbed into the gel without a problem.
I tested to see if by massaging the gel or pinching it with the plastic bag, I could cause the water to come back out of the gel and no matter what I did the water stayed retained within the gel. I tilted the bag and could not find any signs of free liquid that could be a risk for future leaks.
I wondered if the gel would ultimately harden, but I checked and even after about 10 hours it still was a soft gel like substance.
The instruction are not very specific, but after you have done all of your business in the big bag and the poo powder has worked its magic, you can take the large bag, twist it closed, and then tie in a knot with the excess bag which there is plenty of, and then place that in the smaller zip-lock style bag.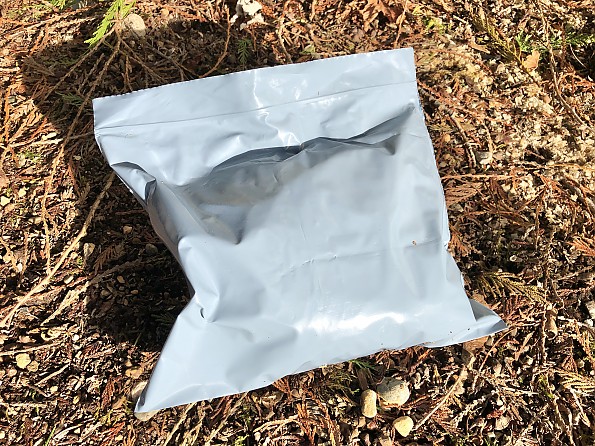 While the zip-lock closure is pretty typical, the smaller bag seems to be made from a nice tough material and I wouldn't have a second thought about carrying this in my pack if I had to for a couple of days.
The other nice thing with the Wag Bag, is that once you have used it you can officially dispose of it in any normal garbage receptacle.
The Forrest Service has a nice picture at this link that explains everything you need to know on how to use the Wag Bag and it's much simpler than my explanation above.
It's probably with mentioning that the toilet paper included is a nice gesture, but not much more than that. While there are about 25 sheets, they are incredibly thin, so it would be advisable to carry some regular toilet paper to supplement what is included.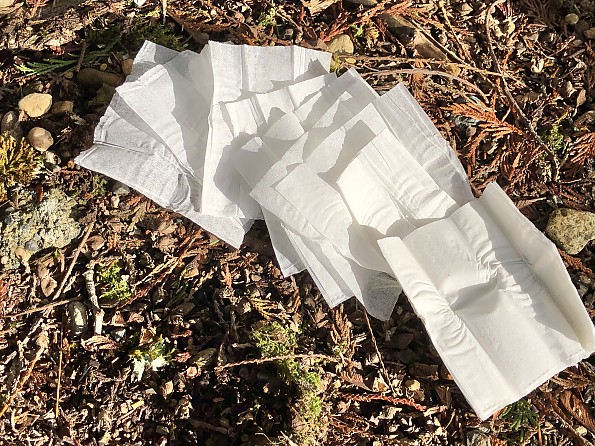 One positive aspect with the toilet paper packet included in my kit was that it was made by Lighthouse for the Blind and Visually Impaired.  It's nice to see companies like Cleanwaste working with and supporting non-profit organizations that benefit the community.
Overall, I think the Wag Bag from Cleanwaste does a really good job at providing you all of the basic items needed to do your business in the woods and then safely transport it back to where it can be properly disposed.
I would whole heartedly recommend and encourage anyone going into an area that is sensitive to human waste, to always carry, use, and most importantly, pack a Wag Bag back out so it can be properly disposed of.
Background
I've used wag bags and blue bags a few times over the years, but this is my first time trying out the wag bag from Cleanwaste.
Source: received it as a sample, freebie, or prize (Inyo County National Forrest/Sequoia National Park)

Your Review
Where to Buy
Help support this site by making your next gear purchase through one of the links above. Click a link, buy what you need, and the seller will contribute a portion of the purchase price to support Trailspace's independent gear reviews.
You May Like
Specs
Price
MSRP: $31.45
Current Retail: $2.95-$304.95
Historic Range: $2.48-$304.95

Each Kit Includes
WAG waste bag, Poo Powder gelling/deodorizing agent, secure puncture-resistant zip-close disposal bag, individual toilet paper, hand wipe

Capacity
Each waste kit gels up to 32 oz, making it a multiple-use bag

Recently on Trailspace