Clif Shot

#5 in Gels and Chews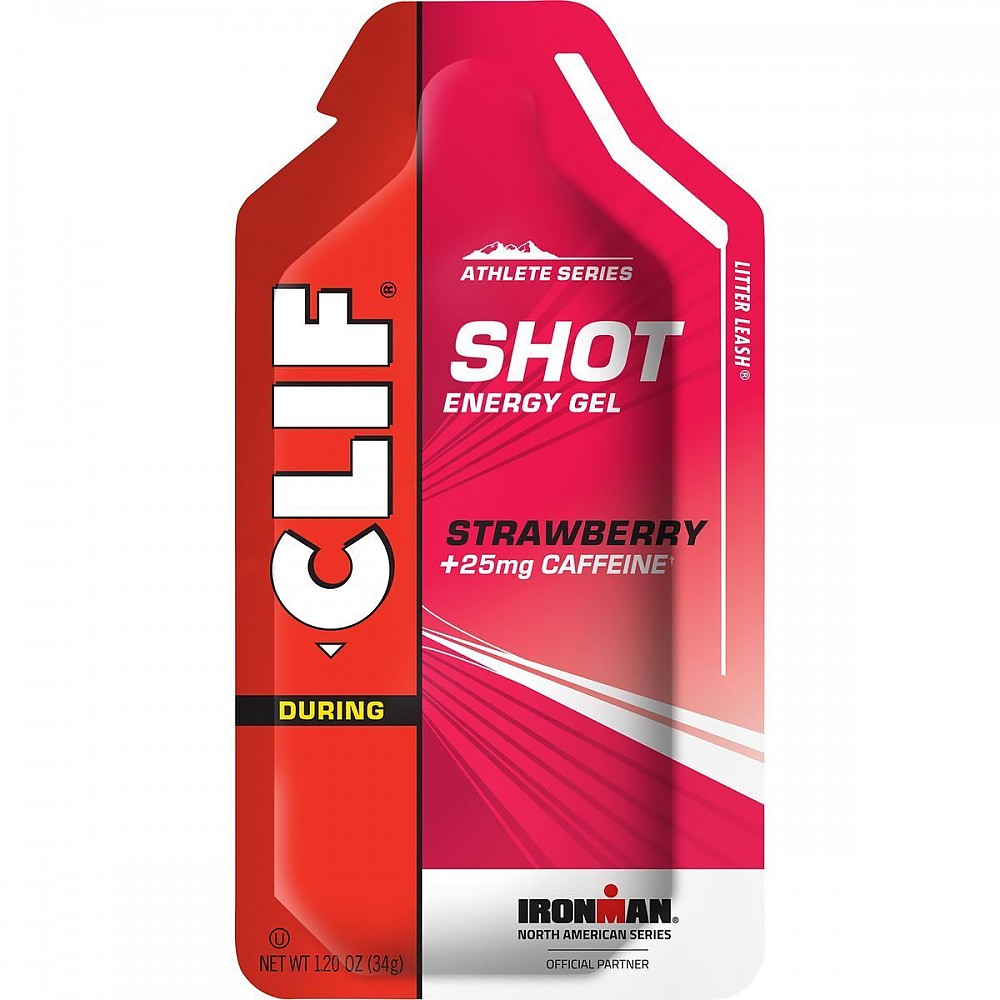 Version reviewed: 2011 Formula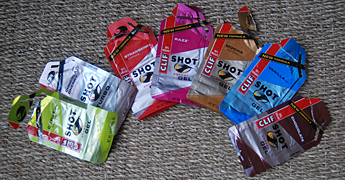 The full lineup of Clif Shot energy gels.
I tested the new (2011) formula of Clif Bar's Clif Shot energy gels while hiking, snow-biking, and road biking in a variety of conditions. These convenient little foil packets taste relatively good overall (though some flavors are better than others), and provide a noticeable boost in energy, though they do little to relieve hunger.
Clif Shots aren't meal substitutes and won't make you feel full, but will give you the energy you need to get where you're going.
Pros
light
tasty
convenient
"leash" prevents litter

Cons
hard to extract all the gel
some flavors taste weird

Best For:
Clif Shot gels are best for any endurance activity (hiking, biking, running) longer than one hour that requires more energy than a pre-activity meal provides.
These gels shine most on endurance activities longer than two hours though. During such activities, solid food isn't practical (BLT during a trail run, anyone?), and Clif Shots are light, digestible, convenient sources of quick energy.
These gels also are useful for emergencies when you need some extra energy to get where you're going or for pre-dawn starts when you don't have the time or appetite for a full meal.
FLAVOR                 CAFFEINE   FAT   CALORIES   SUGAR   SODIUM   POTASSIUM   TASTE
Chocolate Cherry  100 mg       1.5g    110              12g         60mg        85mg              7
Notes: Great cocoa-cherry flavor. Thick, satisfying, and rich.
Chocolate              0mg           1.5g    110              12g         60mg        80mg              8
Notes: Good, solid, cocoa flavor. Thick, satisfying texture.
Citrus                    25mg          0g       100              12g         90mg        55mg              3
Notes: Odd, metallic zing.
Double Espresso   100mg         0g      100              12g         60mg        55mg              10+
Notes: Rich, smoky coffee!

Mocha                   50mg           0g      100              12g         60mg        85mg              9
Notes: Incredible.
Razz                      0mg            0g      100               12g        90mg        55mg               5
Notes: Bright, slightly chemical flavor. Not bad, just odd.
Strawberry            25mg          0g      100              12g         90mg        55mg               2
Notes: Overly sweet, chemical cough syrup flavor.
Vanilla                   0mg            0g      100              12g         90mg        50mg               7
Notes: Mellow vanilla, reminiscent of cake batter.
Packaging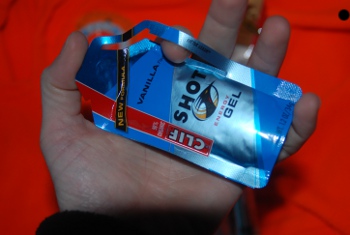 Litter Leash pre-use.
Clif Shot energy gels are 1.2-ounce foil and plastic packets, featuring a "Litter Leash," which prevents the little foil tab at the top from becoming litter after being torn off the top. This system works and the loop also enables the packet to be anchored onto a variety of sternum straps, key-leashes, etc. prior to use.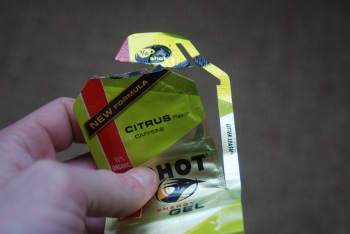 Litter Leash after use.
Squeezing the packet delivers the gel smoothly, though perhaps a bit slowly. Unfortunately, a noticeable amount of gel remains in the packet. Despite squeezing, rolling, and kneading the packet, it's hard to get that last teaspoon of gel out. This may because the gel is viscous and sticky, but I suspect the "Y" shaped bottom retains the gel. I resorted to pouring hot coffee in the mocha, and swishing it around. I can highly recommend the flavor of the result, but this process isn't practical for endurance sports.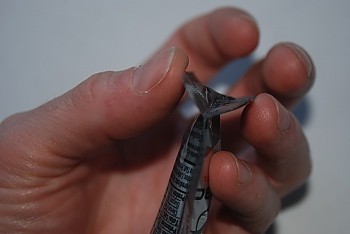 Does the "Y" bottom hold too much gel?
To test their freeze resistance, I placed one gel in the external pocket of my shell during a long, cold ride. The gel was exposed to temperatures between 6 and 20 degrees Fahrenheit for approximately six hours. Despite being exposed to temperatures far below freezing, the gels did not freeze.
Energy versus Filling
I first tested the vanilla energy gel as a meal replacement.
First thing in the morning, I got up and drove to a small mountain nearby. With an empty stomach (except for a cup of coffee) I ate the vanilla energy gel, washed it down with water (as suggested by Clif on the packaging), and waited a few minutes before I started my hike. The vanilla Shot tasted pleasant, like canned cake frosting.
The taste didn't linger, and I found the energy to hike a brisk pace for about two miles, despite having eaten nothing for approximately 12 hours. Ordinarily, I would have been cranky and had a headache, but the 100 calories were sufficient to keep me moving. After about two miles, the grumbling in my stomach became too much and I ate a granola bar.
Conclusion, Clif Shots are energy, not food, and don't have enough bulk to make you feel full.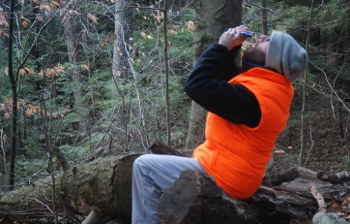 Me enjoying a Clif Shot.
I retested the Shots on a 30-mile bike ride, adding a caffeinated gel mid-ride.
This time I had my usual breakfast (oatmeal with flax, whole wheat toast with peanut butter, and a cup of coffee), waited an hour, then pre-dosed with the chocolate gel 15 minutes before the ride. I got going a little slower than usual, and after five miles I was slightly hungrier than usual!
A little more than an hour into the ride, I was more than ready for another gel. This time, I had the mocha with 50 mg of caffeine. It was completely delicious, with a mouth-filling texture, and gave me a jab of energy within 10 minutes. I was ravenously hungry, but had enough energy to stand up on my pedals. The caffeine had upped the ante.

Just Energy
These gels show their true colors only if you have sufficient food. So, I tested Clif Shot gels in combination with solid food.
On a recent February bike ride, I had the opportunity to ride 30 miles of packed snow on a rail trail in eastern Maine. The terrain was easy, but the snow provided a lot of resistance. Temperatures varied between 6 and 20 degrees Fahrenheit, with a cold headwind. 
I consumed approximate 2,000 calories of pretzels, granola bars, and mixed nuts during the ride, after a full breakfast. I consumed food at a steady pace during the approximately six hours it took me to ride.

With five miles to go, the sun setting and the temperature plunging, I found myself sad and weak, with tingling extremities. I was not hungry — just hypoglycemic and perhaps a little hypothermic.
The Razz Clif gel (no caffeine) had a noticeable effect within 10 minutes. My toes stopped tingling, and I had the energy to stand up on my pedals and pick up the pace. I got to the car with daylight to spare.

Other Advantages
Clif Shot gels contain a small amount of sodium and potassium (approximately 50 to 90 milligrams, depending on the flavor), plus electrolytes that are important to maintaining muscle function and preventing cramping. For comparison, a banana has more than 400 milligrams of potassium.
I noticed the gels provided some relief of my usual calf cramps on rides more than 30 miles (about two hours, for me).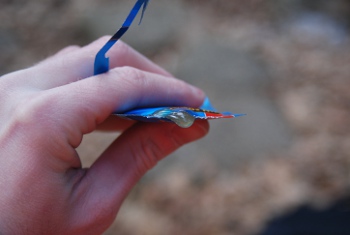 The last gel in a Clif Shot.
Some of these gels contain caffeine. The highest level is 100 milligrams, about the same as an 8-ounce serving of ordinary coffee. The caffeine certainly provided an extra boost for me, but would probably be much stronger, or even unpleasant, to someone who doesn't have a high tolerance for caffeine. 
One advantage of this additive is the dual purpose: breakfast and coffee in one! I grabbed the double espresso Clif Shot before a pre-dawn ride. This was too early for me to stomach solid food, and the added caffeine let me skip my morning double espresso.
Note: People sensitive to caffeine should avoid these, and all should be cautious mixing them with coffee or tea, which could result in an overdose.
Conclusion
I found the Clif Shot energy gels to be a useful addition to endurance actives, and a handy backup energy source for day hikes. These gels aren't a meal substitute; they are a convenient source of easily digestible energy in a small package. I will now carry a gel with me on day hikes, as part of my 10 Essentials, and will add a gel to my emergency bike kit too. 
I plan to use the caffeinated gels on long (two hours or more) rides and hikes, and am eager to see if the performance benefit is as obvious in warm weather as it is in cold weather.
Testing Conditions:
I tested these energy gels in a variety of conditions:
During a 5-mile hike on a small mountain at approximately 20 degrees Fahrenheit.
During a 35-mile mountain bike ride on a snowy trail, at temperatures between 6 and 20 degrees Fahrenheit.
During a 30-mile road bike ride on level pavement at temperatures of approximately 30 degrees Fahrenheit.
During a 20-mile road bike ride on hilly roads at temperatures of 40 degrees Fahrenheit.
During a brisk spinning class in a warm room.
Source: received for testing via the Trailspace Review Corps
Price Paid: Samples provided by Clif for testing and review

I love these Clif Gels! They are amazing for cardio. I should warn you not to consume the Double Espresso Gels or any others that contain 100 mg of Caffeine less than 6 hours before bedtime.
Pros
Do not contain as many chemicals as other pre-workout supplements.
Do not cause exhaustion post workout.
Easier to consume.
Cons
If you take any of the gels with more than 100 mg of Caffeine less than 6 hours before bedtime you may experience night sweats, nightmares, and insomnia.
I love these Clif Gels! They are amazing for cardio. I should warn you not to consume the Double Espresso Gels or any others that contain 100 mg of caffeine less than 6 hours before bedtime. I took one last night around 5:45 pm, went to bed around 10:30, and woke up at 1:30 in the morning soaked and cold from night sweats.
I'm 25 years old and I had the air conditioning on and was wearing shorts and a tank top. I'm a 25-year-old girl who is very active and I highly recommend only consuming the gel packs that contain 25 mg at most. Especially if you plan to work out in the evenings. Otherwise, expect sleepless nights with night sweats. 
If you have problems with the texture, one of the best ways to eat these gel packs is by taking in very small amounts at a time and letting it sit under your tongue where it will break down quicker and become less thick. This will not only allow the gels to enter your blood stream quicker, but it will also lessen the thickness of the gel so you can have an easier time swallowing it.
Flavor wise the citrus, strawberry, and raz are the best. I actually love the way they taste. Even the Double Espresso was yummy (I just highly advise to stay away from it due to its high amounts of caffeine).
Source: bought it new

The Razz flavor is kinda like sweet raspberry jam, I'd eat it in a PBJ but it's not my kid's favorite, or my wife's.
The mocha is a hit with us all. It tastes like awesome chocolate mocha frosting. The caffine level (50mg) is safe for my kids in moderation and my 9-year-old boy and I climbed 3,000 feet in elevation after splitting one of these and we had great energy almost the whole way. 
Didn't try the other flavors but these two are our favorites.   
These are NOT meant to be filling and anyone who thinks the 100 cal in these will be filling is a fool. 
The litter leash is cute and works for me but the kids have trouble not ripping it off, less muscle control. 
These are an addition to food, not a meal. Saying that, they rock.
Walmart carries them.
Price Paid: .97

I give the Clif Shot gels a 5 star rating on what it was designed to do: give you energy! Each pouch has lots of natural energy that can give you a quick pick-me-up when its needed the most. It's also a good recovery snack that can tide you over until a meal, without a 'crash'.
However I give it 0 stars on taste. It's made with brown rice syrup, which explains why it tastes like 2lbs of raw brown rice condensed into an ounce of gel. It has an intense brown rice 'musky' flavor, that's very unappetizing; not to mention a gooey consistency. It helps to have water handy or this taste will be stuck in your mouth for longer than you will want.
I'm told that if you use energy shots enough you get used to the taste. This product delivers, its' true to its name and is worth the weight, just beware of the taste.
Price Paid: $1.50

Your Review
Where to Buy
Help support this site by making your next gear purchase through one of the links above. Click a link, buy what you need, and the seller will contribute a portion of the purchase price to support Trailspace's independent gear reviews.
You May Like
Specs
Price
Current Retail: $1.25-$42.96
Historic Range: $0.49-$42.96
Reviewers Paid: $1.50

Recently on Trailspace