Cloudveil Ice Floe Jacket

The Ice Floe Jacket has been discontinued. If you're looking for something new, check out the best soft shell jackets for 2023.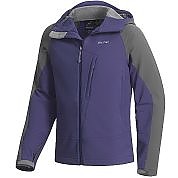 This jacket is basically a hooded version of the Serendipity, with a few differences. The Ice Floe has handwarmer pockets as opposed to the Serendipity's chest pockets. The Ice Floe does have one diagonal chest pocket in addition to the handwarmer pockets. The Ice Floe is also cut a little roomier, and is longer in the back. The extra length in the back is a big plus for anyone who does any winter bushwhacking.
The hood is very functional and comfortable, and does not impede vision. Cloudveil chose to line the hood with a lightweight nylon. The idea was to create a nearly windproof hood. In this they suceeded, but the effect is to create hood noise. It's not nearly as bad as the hood noise associated with Gore-tex, but I may cut the lining out of the hood down the road. It really is nice to be able to carry on a conversation with your fellow hikers without having to shout.
I don't think you can beat Schoeller fabric for moderate to strenuous winter activity. The fabric breathes exceptionally well and kept me warm down to 5-10 F with only a midweight polypro shirt underneath. The hood is fantastic. Just flip it up if you get chilled or have to plow through some dense brush covered in snow. No need to stop to get out a hat.
Your skin really does stay dry, which means you don't get chilled from your own perspiration the moment you stop. I've heard people say you can wear Schoeller 90% of the time and I believe them. On my last few winter hikes, I haven't made a single clothing change, while my hiking partners stopped two to three times each. I've tried out the new encapsilated shell jackets and they don't breathe nearly as well as the Schoeller in my opinion. They are lighter though and do offer slightly more wind protection.
You may find that you need slightly more insulation with Schoeller than with Gore-tex because it breathes so well. Your best bet is probably to carry a very lightweight waterproof/breathable shell with you as well. If you find that you are cold, just toss it over the Schoeller. No need to remove layers to put new ones underneath.
The fabric is incredibly durable. I fell very hard on my knee on my last hike. It wasn't until I got home that I realized that I had put a pencil eraser-sized puncture in my knee all the way to the kneecap. Fortunately, there was no damage to my knee. Incredibly, the Schoeller pants I was wearing didn't even have a scratch on them. Pretty unbelievable.
One last thing on the Ice Floe. The company specs list the jacket's weight as 19 oz for a size medium. This is an error. My medium jacket weighs 26 oz, a significant difference in my opinion, but the jacket is definitely a keeper.
Fabric: Schoeller Dryskin Extreme w/3XDry
Price Paid: $185 (REI sale)

The Schoeller fabric is wonderful! The company is now having the coat put together in China, and the lack of quality definitely shows. The seams at the cuffs, around the velcro closures are uneven. There are loose threads here and there. The collar is large enough to get an arm through once it is zipped all the way up.
The concept of the jacket is really great, but the Cloudveil execution of the concept leaves a lot to desire. If I were to wear this in the outdoors, I would have to dress for drafts. The velcro on the cuffs is large enough to shread several pairs of wool gloves, and would be better replaced with a bit of elastic.
I would have given it the one star rating (useless) if it weren't for the fabric. It was not even worth the half price, end of season sale from Cloudveil. I returned it.
Fabric: Schoeller Dryskin Extreme 3X
Fill: none
Price Paid: $175

This has to be one of my favorite spring/fall jackets (by itself). It breathes and repels water/snow. I have used it snowshoeing and it is sure to be great for x-country skiing and winter backpacking.
Price Paid: $295

Your Review
You May Like
Specs
(no Gender)
Price
Reviewers Paid: $175.00

Men's
Price
Historic Range: $129.95-$274.99
Reviewers Paid: $185.00

Women's
Price
Historic Range: $99.99-$274.99
Reviewers Paid: $295.00