Cloudveil Rayzar Jacket

The Rayzar Jacket has been discontinued. If you're looking for something new, check out the best soft shell jackets for 2023.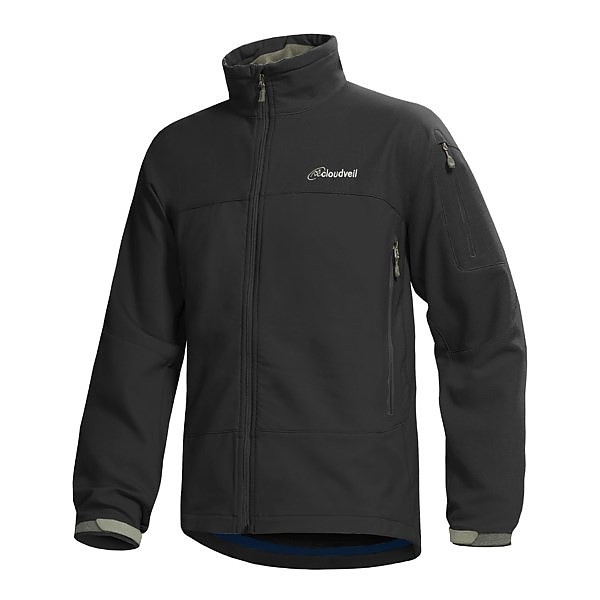 Excellent technical jacket, mostly aimed at backcountry/off-piste skiers, but be aware when purchasing, as jacket underwent big changes over a few iterations.
Pros
Lightweight
Blocks elements
Well built
Cons
Various versions may cause confusion when shopping used
First, as of 2015, Cloudveil is still in business, but their flagship store in Jackson Hole, Wyoming closed, and they no longer seem to manufacture much of anything. Perhaps they will bring this jacket back, but it's more likely you're going to find it on a closeout, or used.
Before you get too far, you need to know that this jacket went through I believe four different design changes over the course of several years, all under the same "Rayzar" name. Every version had a primary aim by Cloudveil towards backcountry skiers, though the jacket worked very well in other activities as well, which I'll touch on later.
Early versions were made with Scholler WB400 on the top shoulders, and Schoeller Dryskin on the bottom part and arms. These two fabrics together created a jacket that blocked a good deal of wind, shed snow extremely well, and even blocked some light rain well, thanks to the WB400. The second iteration seems to have a slightly larger cut, and different chest pocket, making it even harder to determine which to buy after-market.
The final version of the jacket underwent more major changes, used Gore Windstopper instead of the Schoeller fabrics, added wrist zips instead of velcro at the cuffs, and moved the chest pocket to the shoulder. This is the jacket you see pictured in the Trailspace entry.
Why the change? My speculation is that Cloudveil wasn't so concerned with the brand name of Razar matching fabric, as they were keeping the target customer. Backcountry skiers likely felt the earlier versions didn't block enough wind (though I think it's quite good at it), and weren't thermal enough. Thus the Windstopper version.
Which to buy? Well, that depends on what your activities and expectations are. Windstopper does not breath as well as the Schoeller fabric. But it does block all wind, all of it. It also tends to be warmer. The Windstopper versions I have found also have a hood.
Back to function. While Cloudveil aimed this at backcountry skiers, it's definitely capable of performing in many other activities and sports. The Schoeller versions are light and stretch well. This makes them good for any cool temperature activities, from cross country skiing, to mountain biking, to hiking, to rock climbing to you name it.
If you're looking for something thicker in the Schoeller fabrics, take a look at Cloudveil's Serendipity, which is even more durable and offers better thermal properties. Or for even colder weather, their Zero-G. If you're looking at the Windstopper version, it may indeed be the most refined for backcountry skiing, but you have more alternatives to consider from other brands as well when looking for an overall Windstopper garment.
It should be known that none of these versions are aimed to be layered underneath a larger jacket, though they work pretty good under down. They are designed to be soft shell, topmost, and lightly layered underneath, to allow for a lot of movement. Cloudveil has a reputation of their garments being made about a half-size up. So if you normally wear a large but have some jackets that are medium, you'll probably fit into a medium okay.
As to the Cloudveil quality, that goes without question. They were one of the very best manufacturers of outdoor clothing over the last 20 years. Let's hope they can bounce back.
Source: bought it used
Price Paid: $70

I recently bought this jacket just for backcountry skiing and now it's become a staple for pretty much so everything apart from heavy rain and really windy conditions (downhill, climbing, cycling...). I had heard rumors of Cloudveil and the quality stuff they produce and being shorter and female, I'd also heard that they were great in designing women's pieces which were actually tailored. Great colors, great fit but on a technical side -- totally holds up, incredibly breathable and great little details in terms of pocket placement and the cinching of the jacket. A new favorite ;)
Fabric: Schoeller softshell
Fill: none
Price Paid: $275

Your Review
You May Like
Specs
Men's
Price
Historic Range: $69.99-$350.00
Reviewers Paid: $70.00

Women's
Price
Historic Range: $69.74-$169.99
Reviewers Paid: $275.00

Recently on Trailspace