Cocoon Air-Core Ultralight

Top 25 in Pillows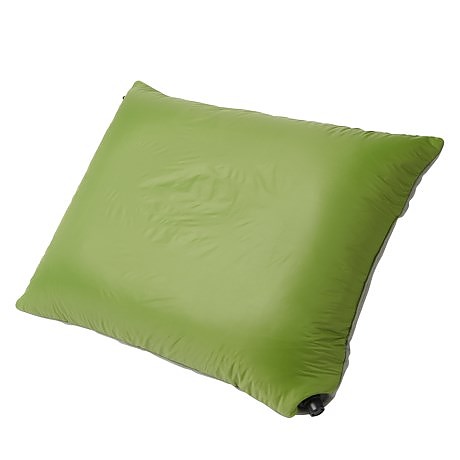 Lightweight and compact pillow that is perfect for backpacking since it is not only comfortable but also ultralight. Rounded top keeps the pillow securely tucked into your mummy bag without sliding around.
Pros
Lightweight
Packs up very compactly
Rounded top to fit into mummy bag
Easy to inflate
Cons
May not inflate completely evenly on both sides
I purchased this pillow at the last minute at REI right before my last backpacking trip. Previously I had been using a larger, non-inflatable Coleman pillow that had simply worn out. I wanted something very lightweight and compact.  
It folds up into its very small stuff sack that I would compare it to the size of half of a Nalgene bottle.  Both the nylon and microfiber fabrics are very soft and smooth. I actually put the microfiber side down facing the sleeping bag to prevent it from slipping during the night. The rounded pillow top also fits perfectly into my mummy bag.  It is incredibly easy to blow up and takes around 5-6 breaths.
At less than 4 oz. even an Ultralight backpacker would be willing to bring this along for the comfort it provides. In addition to a week on the AT, I have used this pillow about 4-5 times since then and I still love it. Occasionally I will notice that it fill not inflate completely evenly on both side of the pillow, but it is truly barely noticeable.
Source: bought it new
Price Paid: $26

Absolutely essential for comfort and a superior night's rest. Highly adjustable for precise comfort. It is perfectly sized for any sleeping pad. Super lightweight, you will not know you are carrying it.
Pros
Super lightweight
Adjust to any comfort level
Keeps you warm on cold Sierra nights
Inexpensive
Soft
Packs tiny. Flattened, rolls right into your sleeping bag
Fills fast, empties fast
Cons
Can get a little too warm
I tried using my clothes, down jacket, boots, day pack, and just about everything in my pack as a pillow. Sure, many people make that stuff work. But I really wanted to sleep as comfortably as possible to be ready for the next days big hike.  many of the above items were OK for a little while but I spend half the night trying to readjust and fluff the flats sports and remove lumps.  There had to be a better way...
And so I searched for a camp pillow on the popular outdoor sites. Wow! So many! Yay! I read the reviews here on trailspace.com as well as the forums posts about pillows. Folks are kind of weird and pretty opinionated with some suggesting you are not supposed to be comfortable, you are camping. To that I say PHOOEY!
The Cocoon came in around 20 bucks on Amazon Prime. I had it in two days which was that day before my trip. I am sure stores had it for a similar price but I needed  it NOW.
The first night, I simply removed it from the tiny stuff sack and a few puffs of air and it was done. I adjusted it a bit and found about 2/3 rds full was perfect for me. I would start there and add or remove a bit of air until you are comfortable. Too full and I think you will have neck pain the next day.
The soft synthetic fill can be felt when it is deflated but with air in it, it just adds a nice layer of warmth to retain from of the face heat. Completely inside my mummy bag, the cheek on the pillow did get a bit warm a couple times.  having to get up and pee a time or two a night took care of any chance of being too warm.  You can flip it over if needed.
I have used it 5 nights in the cold Sierras nights. I found zero issues or defects. I assume I will get many more nights from the pillow. It is made in China. Not sure if that means inexpensive or prone to failure.
If you are camping or backpacking, I encourage you to get this one another backpacking pillow. It is just a couple ounces. There is no need to be uncomfortable backpacking especially at this price and weight!
Source: bought it new
Price Paid: $20

Light, comfy, great!
Cons
Bit of baloony feel takes adjustment and getting used to
It's an air bladder inside, so it will never be perfect, and took getting a little used to. I had to play with the air pressure to get a sweet spot that didn't feel too baloony, or mushy, but when I got it, it's quite comfortable.
The fabric feels good on the skin and it's easily washable. Don't sit on it or put a lot of weight on it, the bladder is not invincible, as I found out myself. I managed to open and repair it.
The Cocoon Hyperlite is also great, but the fabric feel on this is a bit nicer. 
Bought this pillow at an REI Garage Sale trying to find a small, lightweight pillow for backpacking. Was fairly disappointed because I didn't like the way the air moved around inside when trying to sleep on it.
Pros
Small, packable design
Lightweight
Material on the outside was comfortable
Cons
I like a soft pillow so deflating it to my comfort level caused too much movement
OK, I'll admit it. I'm a really picky pillow person when it comes to camping. I really like my big down pillow when I car camp and I'm struggling to find its equivalent when backpacking.
At a recent REI Garage Sale they had several different pillow to choose from and since they were all marked down to less than $15 I bought a couple, one being this Cocoon Hood Pillow and the other being the Quixote Goose Down Pillow.  
This thing is really lightweight and compresses down to a small baseball sized bundle. Like the Quixote, I really wanted this pillow to work because I need a pillow when I sleep. The traditional bundled up clothes kit never worked for me and every other pillow I tried was never "quite right".
This pillow felt OK when it was inflated pretty firmly, but after laying on it for a while the firmness was too much. As I deflate it to make it softer, the air inside it moves around too much and is really annoying. Feels like my head is on a water bed.
The pics below show a good presentation of this pillow so no need to replicate them. If you like a firm pillow, you'll probably like this pillow. Sadly, I didn't, but more because of my preference than the pillow design itself.
Update (July '14): I decided to take this pillow with me on a 4-day backpacking trip along the Colorado Trail/Continental Divide Trail because it packed really small. I found out that using this pillow with just a small amount of air in it and placing it on top of my clothes bag, it actually worked out pretty well.
With a small amount of air in it, it didn't squish around as much and was actually pretty comfortable. Raising my Star rating to 4.
Source: bought it used
Price Paid: $12

Compact, lightweight, quiet.
Let me start by saying I have bad knees. So bad my orthopedic surgeon is planning his next big gear purchase around my next surgery date. I have spent hundreds of dollars over the years cutting down the size and weight of my pack and it would only make sense to go with the long time standard of stuffing clothes in my stuff sack rather than pack a pillow.
But... This little gem is worth every little gram and cubic inch it adds to my pack. It's tiny, weighs almost nothing and it's a pillow. Not a plastic air bag or lumpy stuff sack. It's a little pricey for occasional campers.
I bought it near the end of this summer and have slept 12 nights on it so far. I expect to have around 30 nights on it by the time it's a year old. Not a bad investment for a better night's sleep.
Source: bought it new

It's light. It's bouncy. It slides across the tent floor.
When I saw this I thought that it'd be a great solution. I tried it in the store for a moment and it seemed fine. It was a different story in a tent. 
The pillow weighs a little less than 4 ounces, has one side that's microfiber (nice) and the other that's coated ripstop nylon. The nylon side doesn't feel so good against the skin. It's sticky and hot. When you put the nylon side down it slides off sleeping pads and across the tent floor every time you roll over. I put it inside a T-shirt and it slides around inside the T-shirt.
This may just be me, but I don't like the rounded and bouncy character of the thing. My head has to be centered exactly or it's not comfortable, and as I mentioned it will go flying across the tent. Also, after lots of inflations the pillow will have more and more moisture inside from my lungs.  It will weigh more and be less insulating. 
I work at REI so I very much hesitate to return items so I'm sort of stuck with this pillow, but I won't use it. It's retired. A far better option for me is the 4-ounce REI Travel Pillow, and it costs $5 less.  It stays in place, feels ok against the skin, self-inflates, and doesn't have that rounded and bouncy feel. My REI doesn't usually have these in camping. Instead they're in travel.
Source: bought via a "pro deal"
Price Paid: Can't say. It's $19.50 retail.

Bought this pillow for comfort camping out of truck and will now make room for it in the pack every time. Shouldn't even say 'make room',  stored in its own stuff sack it is still smaller than a 12 oz. soda can. At a scant 3.7 grams this has perhaps the highest weight to pleasure ratio in my pack.
As for comfort, yes! I am a restless sleeper and constantly changing positions, having a full pillow to roll around on really helps. I used to use a jacket in a stuff sack like most people but this is FAR superior. One suggestion would be to leave it slightly under inflated so that it is a little more supple under your head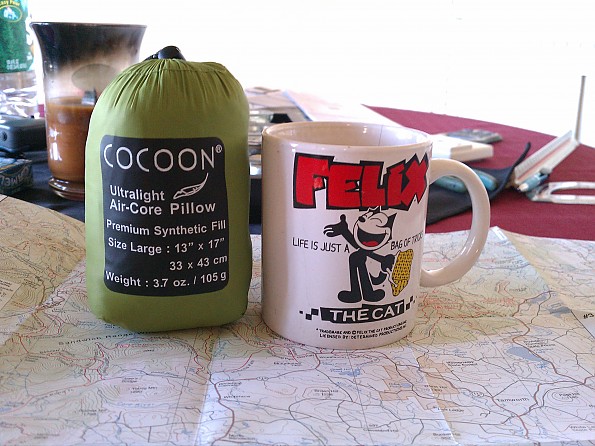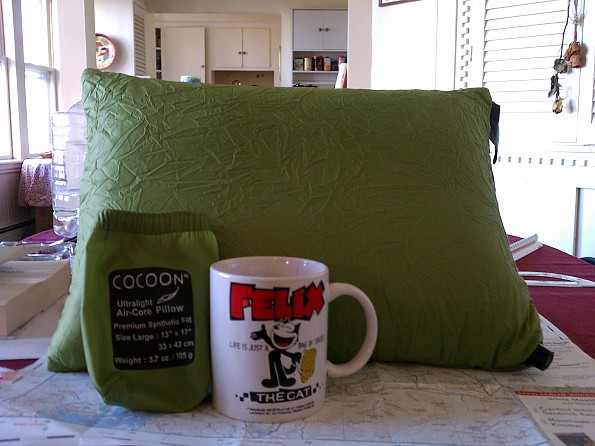 Price Paid: $24

Your Review
Where to Buy
Help support this site by making your next gear purchase through one of the links above. Click a link, buy what you need, and the seller will contribute a portion of the purchase price to support Trailspace's independent gear reviews.
You May Like
Specs
Price
Historic Range: $9.99-$40.95
Reviewers Paid: $12.00-$26.00

Recently on Trailspace