Cold Cold World Chernobyl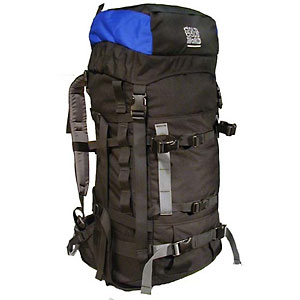 Specs
small
regular
Price
MSRP: $175.00
Historic Range: $174.95
Reviewers Paid: $180.00-$190.00

Weight
3 lb 4 oz / 1500 g (regular)

Capacity
2600 cu in / 43 L
3000 cu in / 49 L
Torso length
14-16 in / 36-41 cm
18-21 in / 46-53 cm
Reviews
2

reviews

5-star:

0

4-star:

2

3-star:

0

2-star:

0

1-star:

0
This pack is tough as nails. Its single-minded devotion to vertical adventures limits its usefulness for other activities, but that's not really a drawback. This is a great climbing pack, pure and simple.
Pros
Durable
Comfortable — perfect amount of padding
Great for climbing and snow sports
Gear loops on hipbelt are great when you need them
Solid for carrying ice tools and skis
Cons
No ventilation
Takes a while to order
Not multi-use
Gear loops on hipbelt can get in the way when hiking
Foam backpad is awkward
Fit: 
This pack comes in two sizes and is not adjustable. The small is for torsos from 15 to 17 inches, and the regular is for 18 to 21. If you fall in between, or you're exceptionally tall or short, you might be out of luck unless you order it custom made.
This is a unisex pack. That means that it's made for guys, like most climbing packs. Women will find that their mileage may vary.
Comfort:
The amount of padding is just right on this pack. It's not luxurious, and it's not minimalist. It's perfectly adequate for a frameless 50 liter pack. The foam backpad is necessary for comfort and structure — it's meant to use as a bivy pad, and I wouldn't remove it even if I was desperate to save weight. The simple back has no venting whatsoever. The hipbelt is adjustable for a wide range of waist sizes, but if you're rounder than most then you will wish you had more padding.
Capacity: 
I got a size regular, meaning 50 liters. I believe it. The spindrift collar provides additional room, even though filling it up to the brim makes for an awkwardly tall and funky looking pack. But when you need that extra room for a puffier jacket or sleeping bag, you won't mind.
Minimalists should have no problem fitting everything they need for a several nights out in the woods. Still, you might have trouble fitting more than an overnighter's worth of gear if you're also carrying climbing gear. In winter, this works great as a daypack or for a minimalist overnighter.
Organization & Accessibility: 
This pack has two compartments. There's a top lid pocket with enough room for some snacks, a water bottle, and a hat. Then there's the main bag, which is just that - a big bag. Access is from the top only. I honestly wound't want more compartments in this pack.
I like to be able to stuff it with whatever I need, whether it's a warm sleeping bag, a climbing rope and gear, or the ordinary essentials for backpacking. Seriously, just read up on how to pack. You'll do fine without a ton of compartments.
Ride: 
The foam backpad and effective compression means that your load is right on your back. It's perfect for climbing and skiing. For on-trail hiking, it's more of the same - close to your back and secure.
Packing it well is important. You have to structure your load just right, which can be difficult with heavy misshapen stuff like climbing gear and a rope. It's easier with a traditional backpacking load. Still, you'll still have more of the load on your shoulders than you would with a frame pack.
Compression: 
You can compress this thing to where it's almost flat. I took it up Mt. Sneffels in the summer with a tiny load. Even though it was way bigger than what I needed, it never felt awkward. Good compression is obviously important for a stable ride, and the straps also help with carrying extra stuff like tent poles or skis.
Ease of Use: 
Learning to pack is an art, and some people might not want to put the thought or effort into making this thing carry the load well. Similarly, access from the top only will drive some folks nuts.
Features: 
The universal ice tool attachment system, which incorporates straps and buckles instead of the regular ice axe loops, makes for rock solid tool carry. I wouldn't want it on a backpacking backpack, where it would be overkill, but it's great here. The top pocket is removable, which is nice for carrying smaller loads. The compression straps on the front of the pack can be routed over the top to clip into where the top pocket usually attaches.
One thing I'm not a big fan of the pull up adjustments for the shoulder straps. It just seems unnecessary, and it's not like the traditional method doesn't work just fine.
Construction & Durability: 
500d Cordura. Enough said, right? If not, then know that this pack is made in the USA with care. The manufacturer has obvious pride in the product. I've had this pack for about three years, and I've noticed no significant wear and tear.
Conditions: 
This has been my climbing pack. I've mostly used it for long day hikes and overnighters in the Colorado Rockies in the winter and summer. I've used it for backcountry skiing and even once or twice for just traveling when I wanted people to see my pack and think I was cool.
Conclusion: 
If I was more hardcore, this pack would be perfection. It's simple, tough, and lightweight considering its durability. It's made by a small manufacturer, which really ups the cool factor. For me, however, the limitations of the frameless design have led to me not using it all that much.
I use a smaller pack for day hikes, and I prefer my lightweight and highly compressible 60 liter internal frame for most overnighters and beyond. Even for climbing, I will usually grab something else. Either I'm not carrying enough to haul around a 50 liter pack, or I'm carrying so much that I appreciate the frame. 
Still, that's not a flaw of this pack. People who are far more accomplished than I am sing its praises. And I like knowing that I have the pack, because I know I always have the option of a sturdy pack that is incredibly stable and won't let me down.
Source: bought it new
Price Paid: $190

Great no frills 1-2 day alpine pack.
Pros
Simplicity
Nifty buckle system for ice tools/axe
Crampon buckles
Cons
A bit shy of padding on the shoulder straps
So I love to try out small business gear and off brand stuff. I decided after hearing about CCW online from a few East Coasters to call up Randy at CCW. Super friendly and very easy to do business with. I wanted a Chernobyl based on cubic inches of my last pack. After a few days the pack showed up well packed.
My first impression of the pull up style adjustment for the shoulder pads was a bit odd and took some getting used to. After two years I really like the pull up adjustment now; just pull the straps and the weight of the bag gives a perfect tightness every time.
Top pouch fits really well on the pack. The elastic trim make sure that nothing shifts at the wrong time. The pockets are well thought out. The bottom of the top pouch has a map and other small item pocket for things that need to be kept dry.
The main pack does not have a frame but a heavy pad that can be used as a bivy cushion. Pro is that is you get a really lightweight pack. Con (kind of) you need to plan a bit when packing so your cargo "makes the frame".
On the exterior there are two buckles that hold the handle of ice tools or axe, the blade of the tools has a reinforced sleeve that the head of the tool/axe slid in to. Simple and hold your gear well.
I decided I wanted a crampon pouch, it's sewn in the middle of the pack with heavy fabric and drain holes, that was an add-on I asked for.
My only grip is that when geared up for a 2-day trek, the amount of gear and such for winter climbing and camping is heavy. The shoulder pads are a bit thin. I find this to be more of an issue on warm days when Im not wearing many layers. Cold days when I'm padded up it's not a problem.
I have only had this pack since 2010, but ice climbing and alpining is hard on any pack due to all the sharp pieces of gear. My Chernobyl has held up well.
I would say for the money, it's an incredible pack. I highly recommend.
Source: bought it new
Price Paid: $180-ish

You May Like
Recently on Trailspace