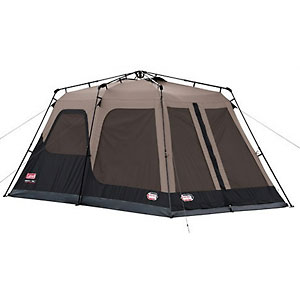 Specs
Price
MSRP: $299.00
Reviewers Paid: $209.00-$250.00

Reviews
7

reviews

5-star:

0

4-star:

0

3-star:

1

2-star:

3

1-star:

3
Leaks in moderate to heavy rain and tent corners break easily. If someone could make them out of metal it would be a great tent.
Cons
Corners and need a rain fly
Used camping, worked good, setup was easy. Then the deluge hit and the tent folded sideways, broke three joints.  With all the comments found researching this part why doesn't Coleman either make these available and affordable or make them better?
Source: bought it new

The setup and take down is pretty good, unless the tent is wet. Then you can't dry it out. Everything in between however is suspect. Any rainwater comes in the tent poles have started to come apart the bag doesn't fit. Basically a good idea poorly executed.
Source: bought it new

Cons
Corner joints break, impossible to replace since Coleman is out of stock and has been for almost a year.
Tent bag is too small, hard to get tent back in.
I will never buy a Coleman product again. They use to be the number one name in outdoor stuff. Now nothing lasts. Used the tent twice before two corner joints broke. Bought two air beds, both lost air in a matter of a few hours. 
Source: bought it new
Price Paid: $209

Great tent, easy to put up, but the only problem is the plastic joints break and are hard to replace.
Cons
Plastic joints break easy
Parts are hard to replace as none are in stock
Great tent, easy to put up. But the only problem is the plastic joints break and are hard to replace. I had one joint break which happened to be a corner joint and no parts were available and that they would be back orders for over a month.
In other words I would get the part after I came back from camping vacation. Damn Chinese made crap needs to be re-engineered and made in the U.S.
Source: bought it new
Price Paid: $250

Pros
Large and roomy
Ease of setup
High quality materials, except for the plastic corners
Cons
Poorly engineered plastic corner pieces break too easily
Ditto the last two reviews — the tent is great but Coleman NEEDS to re-engineer the crappy plastic corner pieces. A 10 cent aluminum die cast piece would be far superior to what they currently have.
When I emailed Coleman asking about these, they were on back-order from China; 3 months later now they show that they sholuld have some in a few weeks....we'll see if this is true because so far their service is as poor as their engineering.
Source: bought it new
Price Paid: $250

Cons
cheap plastic corner brackets
I agree with the last reviewer...tent looks good, setup is really nice, but the plastic corner brackets break way too easy, metal ones and this tent would be awesome. I like the weatherctec system, on most Coleman tents seems they stay dry even in heavy rains. 
I would love to have a roomy eady setup takedown tent that you can stand up in and get dressed. But those cheap plastic corner brackets make this tent useless...By the way the preplacement coleman part #5010000851. If they even have them in stock.  Like previous reviewer said customer service is lacking...Peace
Source: bought it new
Price Paid: over 200 dollars

Great idea, but crucial parts break very quickly, hard to get replacements.
Pros
The tent goes up fast as advertised and is roomy and comfortable
Cons
Essential plastic corner joints break extremely easily.
Last year I bought a Coleman 8 Man Instant Tent, since I usually camp alone it looked like a good product. I spent three weeks going up the Arkansas river valley in Colorado from Salida to Leadville prospecting for gold. The first day I set the tent up the wind blew it over while I was setting it up, 3 "Knuckle" joints broke instantly, they are a part of the tent poles that allow the tent to "pop up". This was not a strong wind, more like a gust in a breeze and should not have injured the tent at all. During the course of camping all 6 of these joints broke and I used duct tape to hold the poles together (which was far superior to the cheap brittle plastic joints that came with the tent).
I ordered the parts from Coleman after spending far too long on hold only to be informed a couple weeks later that my order was being cancelled because it was taking too long to get the parts, so back on hold for what felt like forever just to tell them not to cancel my order. All in all, if the plastic parts were switched out with steel or something with a little stregnth to it, the tent would be worth it, but brittle plastic parts that break under normal wear almost instantly coupled with the companies uncaring attitude and difficulty with getting replacement parts, makes me give it a thumbs down.
I cannot recomend this tent, the ease of putting the tent up stops as soon as these crucial parts break which happens almost instantly. Will I ever get the replacement parts? Will those parts break as well? I may just end up making my own parts out of aluminum or steel.
Source: bought it new
Price Paid: over $300

You May Like
Recently on Trailspace