Coleman Acadia

The Acadia has been discontinued. If you're looking for something new, check out the best trail shoes for 2023.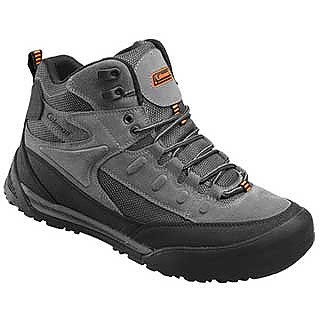 Not bad. Did 8.5 miles in them over rocks, and I am still walking!
Wore them today, first time. An 8 1/2 mile hike along Phoenix trails. Lots of rocks, needless to say. I was a little unsure because of the tread. At first glance, they looked more like forest hikers than rock hikers, but after 8 1/2 miles I would say they're not too bad. 
Source: bought it new
Price Paid: $29.95

If you are searching for a boot designed to be snug as a bug on your feet. If you are the type that fancies yourself a "hiker" or "bushwalker" but in reality you prefer a nice wide travel loop around the lake. If you are Dad and well let's face it... you just aren't up to par....
THIS IS YOUR BOOT... comfort is it.... style... is there...
durability is quite the opposite..
This boot was destroyed on its first ascent over 2500 meters from sea level... NEVER AGAIN...
Price Paid: Blocked it out

These bootes are ideal for walking on paths or grass but that is about all. When walking up a decent hill such as Pen-y-Fan in Wales I was absolutely astounded at the amount of times I slipped on the wet mud. If it wasn't for my trekking poles I would have been on my back (or worse) a good few times.
The grip is quite good on wet grass though.
Do not attempt to wear these boots in any rocky areas as they just do not have any support in them for this type of activity.
I have actually RUN in them downhill in an attempt to get home out of the rain and they were quite comfortable for this.
I have never found them to be "Waterproof" as the label states and after every time wearing them on rather wet ground or through puddles, my feet and socks have taken a soaking.
Materials: Leather
Use: Grass or Dirt trail
Break-in Period: None
Weight: Light
Price Paid: £40

These boots are like slippers - so comfy I often wear them in place of trainers around town etc. This is due to a padded mesh inner and removeable polystyrene footbed, both of which have the added benefit of making the boot quick-drying. The waterproofing is quite good, and can tolerate submersion and prolonged rain showers, athough the mesh tongue leaks afer a couple of hours. As a foot - kind summer boot though, these are a class act.
Materials: Waterproof Leather
Use: 2 season trekking/backpacking
Break-in Period: Less than a week!
Price Paid: £45

I have used these boots for walking and trekking around hilly areas, and found them to be comfortable, sturdy, and with adequate grip.
HOWEVER, I have found them to be EXTREMELY DANGEROUS, in that the open metal eyelet loops near the top of the boot (around which the upper part of the lace winds) sometimes lock into those of the opposite boot, or attach themselves to the fabric loop at the back of the opposite boot.
Either way, this causes one's two feet to suddenly be attached together! On normal flat ground this can be irritating, sometimes causing one to trip or fall, but this has happened to me several times when out walking on difficult and steep terrain (on one occasion someone caught me), at the side of the busy A6 road about to cross (I fell into the road) and at the top of my own home stairs (I was lucky to be able to grab the bannister).
As the boots looked perfectly normal, I was constantly checking the loops and making sure that they were not open or sticking out before each use; I also cut off the rear fabric loops. They still lock spontaneously from time to time.
Now, I wear them solely for gardening.
Price Paid: about £45

Your Review
You May Like
Specs
Women's
Price
Reviewers Paid: $29.95

Recently on Trailspace