Coleman Canyon 32

The Canyon 32 has been discontinued. If you're looking for something new, check out the best 3-season synthetic sleeping bags for 2023.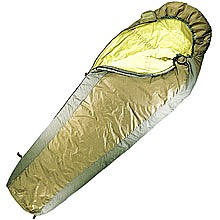 I have had this bag for several years. Let me first start by saying, this is NOT a 32 degree bag. The cold sucks right inside the bag and you will be freezing at 32 degrees in this bag. I am a cold sleeper and my husband is a hot sleeper and even he got cold in this bag (at 11,000 feet and the temp dropped to 32 at night).
This bag is great for summer camping.... not in the mountains. It is light weight and durable. However I think that Coleman needs to get a grip on their temperature ratings on their bags because I would rate this bag as a 40 degree bag only.
Design: mummy

Staying "Just Right" when sleeping on a campout.
Our Troop camps out year round. In the summer you don't need a heavy sleeping bag and in winter you'd need a sleeping bag that rolls up bigger than a small car to stay warm. From a lot of camping experience I have found the perfect combination for year round comfort.
For 70 to 50 degrees I use the $10-$15 fleece rectangular sleeping bag from Walmart/Kmart. From 50 to 30 degrees I use the Coleman Canyon 32 degree bag.
This bag is inexpensive ($75), lightweight and stuffs down very small. It's made from Thinsolite, which is used to line gloves and coats, and is very thin and light for the insulation that it gives you. Even when it's wet it will keep you warm.
The Canyon bag stuffs so small that it doesn't take up all the room in your backpack. From 30 to 10 (and lower with clothes on) you put your fleece bag inside of your Canyon bag. I've used this combination for 6 years and taken it down to 3 degrees under a fly.
Happy comfortable camping!
Price Paid: $65

I don't consider this a 3-season bag. It may have the fill to rate that but my problem is the shell. It's tissue paper. The slightest breeze cuts right through it, sucking warmth away. Yes, I prefer to sleep in the open, no tent, or in my Hennessy Hammock. Same problem in the hammock. I've been cold in this bag at 40 degrees.
I've had this for about two years. A lot of folks write off Coleman - let's be honest - their products are really hit or miss. But this was a good find. It's fairly light for the price. (I've seen above freezing bags around 1.5 lbs) and perfect for summer or spring/fall in the south. But it's really closer to a 45 degree bag unless you sleep with your clothes on.
Another option is the Canyon 15, which is more like a 25 degree bag. It's a little bigger, but I picked it up for about $75 and it's pretty snuggly.
BTW, I just discovered an inside pocket near the hood.
Design: Mummy
Fill: Hollofil
Temperature Rating: says 32, but more like 45
Weight: 2lbs 9 oz
Price Paid: $50

Two years old and still keeps me warm in Alaska. Great bag, stuffs small, lightweight and the stuff sack is just right for a pillow. Wish I had bought two at the sale price. Highly recommend this bag for warmth and lite hiking.
Design: mummy
Fill: Micro Loft
Temperature Rating: 32 degree F
Weight: 2 pounds 11 ounces
Price Paid: $60

I bought two, wish I had bought four. The best summer bag for the buck, and I highly recommend for scouts for its multiple use in spring, summer, fall, and on backpacking trips (compact, lightweight). My winter bag only sees nights in the igloo now. Agree with earlier review that temp rating is a little lower that it really is. Needs a liner around freezing.
Design: mummy
Temperature Rating: 32 F
Weight: 2 lbs 6 oz
Price Paid: $59.99

The stuff size is impressively small along with its price tag that it doesn't make sense not to own one as a warm weather bag. As an inexpensive, lightweight, warm-weather bag, it has few worthy competitors. I do feel however that its temperature rating is fairly generous. Most of my backpacking friends and I agree that the bag really only works in temps bottoming near 40-degrees.
I have to say for a bigger guy this bag is one great match. The weight is about 2 pounds and a few ounces. The compactability is great for packing. The zipper will never get caught up in the fabric, which is one of my pet peeves. They have created a zipper barrel that protects it snagging the surround material.
Anyway, the price is right and the bag is spot on in design... They say it packs to 7 X 11 inches but I think with some smart compression you can do better than that. When it is unrolled it spans 32" x 86" and the room is nice for comfort. Broad shouldered hikers this is right up your trail... With a good liner you could probably get to a 20 degrees or so...
Design: Mummy
Fill: 16 oz. Thermolite® Micro fill
Temperature Rating: 32 Degrees
Weight: 2 Lbs 11 Oz
Price Paid: $44.99

Your Review
You May Like
Specs
Price
Historic Range: $54.97-$74.99
Reviewers Paid: $44.99-$65.00

Recently on Trailspace