Coleman Exponent F1 Ultralight Stove

The Exponent F1 Ultralight Stove has been discontinued. If you're looking for something new, check out the best compressed fuel canister stoves for 2022.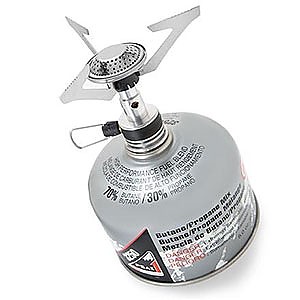 Specs
Price
Historic Range: $39.99-$49.95
Reviewers Paid: $19.00-$45.00

Reviews
11

reviews

5-star:

5

4-star:

5

3-star:

1

2-star:

0

1-star:

0
After all the research on fancy stoves I bought a Coleman. Go figure.
Pros
Cheap
Works with any fuel canister
Lightweight
After getting into hiking, I moved away from the Walmart special equipment in favor of more well designed gear. I found that in a lot of cases, you get what you pay for. This stove, however, is an exception to that rule.
It weighs in at 2.7 ounces and works flawlessly. I'm not into alcohol stoves and cut up Pepsi cans. I like the convenience of a canister stove. This one has worked for me at any temperature or elevation I have been in. It folds up nicely and takes up almost no room.
I never thought that I would revert back to my car camping days and recommend a Coleman product again, but for the price you can't beat this stove.
Source: bought it new
Price Paid: $19

I sometimes use this stove as a backup.
Pros
Quick & easy set upgrade
Good price
Ignites good in cold weather
Cons
Doesn't burn as hot as I like
Not stable enough by itself
A friend bought one of these stoves and really liked it. I picked me one up @ wollyworld.
Setup is quick. Lights very quickly as there's no priming.
Flame control is easy and will simmer real good.
Boil time for mine is very slow. I was boiling water by the cup for a group camp I was with and was using the f1 ultralight and an old Coleman 400. I could boil 2 cups of water on the 400 to 1 cup with the f1.
The wind blows it around as with any stove. It takes a tall piece of tinfoil for a windscreen. As with any stove this effects the boil time greatly.
The canisters are not as stable as I like, so I had to buy a canister holder ($12) to help this, which made it even taller.
I've had it for a few years but don't use it but a couple times a year. The stove packs up well but you have to deal with the canister. Fuel consumption is not that great either.
All in all its a good backup stove. It will ignite in pretty cold weather and is very durable.
Source: bought it new
Price Paid: $25

Was looking for a lightweight stove. Picked this up at the end-of-season Coleman warehouse sale. powerful stove in a small package. Found I had to carry some folded aluminum foil to use as a wind shield.
Great stove at a great price.
Price Paid: $19

Good flame as far as canister stoves go. Good flame control too. Very light. My only gripe is that its a little tricky to set up potholders into corresponding tabs, even broke off one tab, but stove still works fine. A good buy if you can get for around 30 bucks.
Price Paid: $29

Loved it. It's small but really puts out the heat with a nice, even flame. Gets water boiling really quickly.
Price Paid: $35

An excellent stove for the money. Weighs nothing, fires up every time and provides good heat.
Like all uber-light canister stoves, it has a small burner, which can create a hot-spot on larger (2 lt and up) pots, so stir often if your cooking for a group. Fairly good flame adjustment for simmering.
Just make sure you pack it in your cook kit, because it's so small and light it will disappear into your pack otherwise.
Price Paid: $25

I've been using this stove for over two years with outstanding results @ or above 11,500 ft. Not only does it provide 16,400 BTU's, it weighs in @ 76g + 11g for the stuff sack. The flame forms an even ball of heat as compared to hot spot stoves that could possibly burn or scorch food and leave a difficult clean-up. The F1 is also extremely wind resistant and simmers @ an amazingly low setting while all along being fuel efficient, approximately 11-12g of fuel per usage.
The three pot supports are very stable and are positioned by unscrewing the burner head then re-tightened. Works with all fuel canisters utilizing a "screw on" type, Lindal valve assembly. Highly recommended!!!
*As it is with all stoves, do not boil and cook @ the highest setting. Balance the blue flame for maximum heat & efficiency.
**Overall stove stability can be improved with the use of a fuel canister support stand.
Price Paid: $34.95

Great little burner. Found it at Wal-Mart of all places, so was a little skeptical at first. Used it on a 3-day trip in the Black Hills on Harney Peak. Lots of wind but the burner put out a good little flame and heated a can of soup in a few minutes. Mountain goats seem to love it too :)
Price Paid: $25

Excellent little canister stove that burns hot and is very small and light. Much more wind resistant than most canister stoves. Smallish burner, but simmers well. The burner must be unscrewed to deploy the pot holders, which is somewhat tricky, but not a problem once you get used to it. No piezo lighter, which I prefer. Some plastic parts, but stove has held up well in one year of use. I have several canister stoves, and this is my favorite. Made in France for Coleman.
Price Paid: aprox $45

I have used this stove on numerous occasions. I love it. Its size is amazing and the amount of heat it puts out is better than most brands I have seen. I use the iso-butane in the winter and regular butane-propane in the warmer months. I have used this in the winter down to abour 6-8 degrees. I belive I could tell a difference in the heat output but not enough to make keep from eating.
I highly recommend this stove. Everything I need packs up into my Snow Peak cup (stove, matches, lighter, fuel canister, base, fork, spoon, knife, sponge and bandana). Awesome.
Price Paid: $36

2016 update: Ten years on and this is still my main stove when using a canister fueled stove. It's never failed and still boils nearly a liter of water in between 2 and 4 minutes depending on the water temp, air temp, wind and altitude. I'll still often carry this as a second stove (I almost exclusively use my homemade alcohol stove) as it and a cannister of fuel add less than 8oz and take up virtually no room in my pack.

I still love this stove.
Original review: I'm impressed. Of all of the tiny untralights, this one has one of the largest burner heads and covers more of the bottom of the pot with flame. Boils enough water for a meal for two in just over two minutes. LIGHT AND SMALL!!! Packs inside my titanium cooking kettle (800ml) along with the fuel, legs, spork and towel.
If you have the need to simmer your foods or are planning on cooking fresh foods this may not be the stove for you even though both are very possible.
Source: bought it new
Price Paid: $40

You May Like
Recently on Trailspace