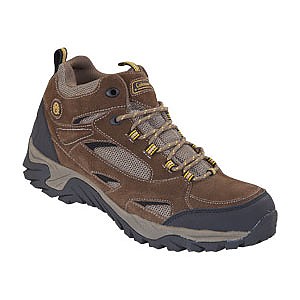 Specs
Men's
Price
Reviewers Paid: $29.00-$50.00

Reviews
5

reviews

5-star:

1

4-star:

2

3-star:

0

2-star:

2

1-star:

0
Soles wear down quickly and allow water seepage.
Cons
Cracking soles
Water leakage
These shoes are comfortable and support my feet well in dry conditions.
They don't last long however. The soles are poorly made and crack allowing water and rocks to seep in. I have gone through two pair in two years.
Source: bought it new
Price Paid: $35

These Coleman boots are awesome.
These Coleman boots are awesome. My son and I wore these just once for six miles before going on vacation. We then hiked out of the Grand Canyon from Phantom Ranch to the South Rim—one of the toughest trails in the country.
No blisters or hot spots. The long range models are the best boots I have ever had.
Source: bought it new
Price Paid: $50

Not for avid hikers. Should be good for street wear.
Bought the women's hiking boots. Great deal at $29.92. Good looking, lightweight.
Only problem and reason I'm going to return them is the sole is so thin that I can feel every rock and twig that's on the trail. Not good at all.
Source: bought it new

Good hikers for the price. Unless you're doing much more serious hiking than me (and I put pretty tough miles on my hiking boots) they are a good pair of boots. Surprisingly good grip even on wet surfaces. Mine fit about half a size too large, so take that into account.
Pros
Price
Grip
Ankle atability
I bought these at Big 5 on sale for $29. They aren't top of the line, but $200 hikers don't make the views any prettier or the deer any bigger. 
With normal Nike socks on they fit about half a size too large, so take into account whether or not you'll be wearing thicker hiking socks. If so, they'll fit about right. 
They're actually more comfortable than I expected they'd be. They took about 8 miles to really break in, but now that they fit my foot they are pretty nice and quite stable as well. 
You will want to buy a waterproofer if you're going to be anywhere wet or if you'll be hiking when there is a dew on the ground. The tongue and sides have small mesh, but simple spray on waterproofer worked fairly well for me. (I spray more on every few miles, depending on how wet of conditions I've been hiking through.) 
Traction is awesome, much better than I expected from a $30 pair of hikers. 
Source: bought it new
Price Paid: $29

I bought these at Big 5 for $29. I doubt they'll last as long as boots costing ten times the price, but for the price you can't beat them. They weigh only a pound.
Pros
Price
Lightweight
Stability
They weigh only a pound but are quite comfortable on the trail and stable. I never slip or slide, even on wet rocks or sand.
Don't waste money on more expensive boots unless you plan to hike Mt Everest. Don't be an equipment snob with the latest brand name stuff. A tent is a tent. Boots are boots.  Stop trying to impress other hikers with your imaginary "good taste". No one cares what kind of pack you have or what boots are on your feet.
Source: bought it new
Price Paid: $29

You May Like
Recently on Trailspace