Coleman Max 65

Top 50 in unisex Weekend Packs
The Max 65 has been discontinued. If you're looking for something new, check out the best weekend packs for 2021.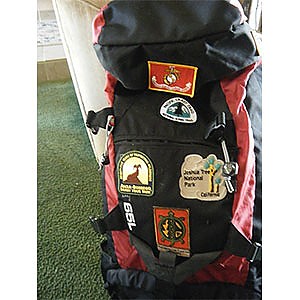 Specs
| | |
| --- | --- |
| Price | Reviewers Paid: $15.00-$70.00 |
Reviews
11

reviews

5-star:

5

4-star:

4

3-star:

2

2-star:

0

1-star:

0
I bought this from Walmart out of curiosity to try on my shorter trips around Florida. I also liked it because it was bright orange and much of our best hiking weather is also during hunting season. I took it on a 4 day 60 mile trek in Ocala National Forest in December 09. I had it stuffed and was waiting for seams to pop because it was a Walmart pack. It greatly exceeded expectation and handled the load and occasional rough trail conditions perfectly.
I know some of my backpacking colleagues wouldn't be caught dead seen toting a Walmart Coleman backpack. But I have a great pack and a couple hundred more bucks in my pocket!
Design: Coleman Internal Frame
Size: 65L
Max. Load Carried: 42 lbs.
Height of Owner: 5;7"
Price Paid: $60

Was apprehensive about buying a Coleman pack for multi-day excursions, but my concerns were quickly put to rest. This pack is—especially considering the low cost—awesome! It fits my average 5' 10" frame perfectly and is fully adjustable.

The pack is well constructed and has stood up to five years of beatings. I have had a few of my "gearhead" friends roll their eyes but hey, I got what I needed at a price anyone can appreciate.
Pros
Well constructed
Low price
Plenty of storage, internal and external
Cons
Weight
Side mesh water bottles difficult to access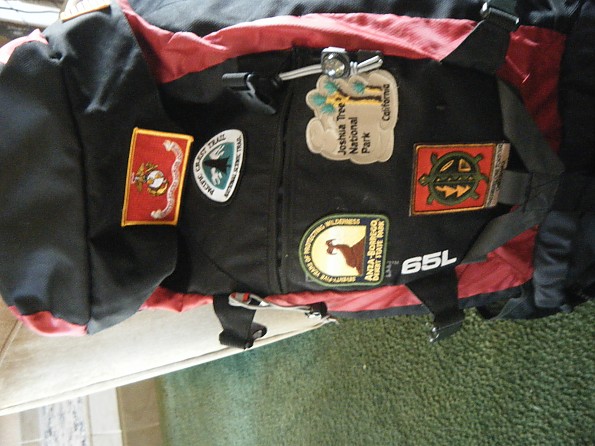 Source: bought it new
Price Paid: $55

Withstood my tests with ease. Wonderfully built and designed!
Pros
Multiple options
Well built
Rainproof (with rain cover)
Only a couple of pounds empty
My brother and I each bought one of these at Wal-mart clearanced at $59 and recently took them out on a 3 day hike and camp. I am speaking for both of us when I tell you this pack is AMAZING and we are both very pleased.
Each pack easily held about 70 lbs of equipment(which we will never need that much again, just wanted to test them), also supports itself along your back and waste very nicely. We went through rough thick vegetation and it withstood about 6 hours of rain with the rain cover, no saturation whatsoever.
Overall very, very pleased.
Source: bought it new
Price Paid: $59

Great pack for the price. Load bearing is adjustable for comfort. Shoulder straps and waist belt have thick padding which eases the load and don't cut into the shoulders or hips like other padded strapes and belts have done.
Pros
Roomy interior
Padding actually provides comfort
Pocket for hydration bladder
Cons
Not the lightest pack on the market with the aluminum frame but doable
Bought this back pack to go on an overnighter with the Scouts and really had this thing loaded up. I've used this pack serveral times since.
As far as issues with the zipper on the sleeping bag compartment, I've always lubricated pack zippers with parrifin wax so I haven't any problems. I've had packs with internal aluminum frames in the past so the weight of the pack wasn't an issue. I was able to use the bladder out of my hydration pack in this pack with no problem.
I did have a plastic pull loop break off on one of the zippers so I replaced it with a piece of 550 paracord. I had planned on replacing the plastic pull loops with paracord anyways, so this was no big deal to me. 
Source: bought it new
Price Paid: $60

I love this huge-roomy rucksack. It has an estimated 4,000 cubic inches, by the way.
I use it going hiking and in other activities and fun stuff.
Bought at Walmart for $65 and you simply can't beat this!! For like a pack-this big it would be more expensive somewhere else.
Great product price and size!!! It is 30'' tall-(packed). And 14''-wide and by 8-9 thick or so.
Pretty neat. Pretty hefty and seems to really-"hold-up" and all the weight is nothing overbearing because of the well made padding.
If there's any cons-the bottom zipper is a little tricky- so be gentle.
Price Paid: $65

I am fairly surprised at this backpack. Really cheap but has held up well so far. Did a few overnighters and a 4 day with it and still going strong.
I like all the pockets most of all. I baby the zippers especially around the sleeping bag compartment. A lot of the features are found on expensive packs so that's nice. I have a cheap Jansport too and its comparable to that except without all of the pockets.
Shoulder straps are really comfy and it has all kinds of loops and straps. You may want to trim those down to cut the weight. It is heavy, the only drawback to me. Thinking about leaving the lid off and putting something waterproof over it.
It has a camera pocket on the waistbelt... I like that. Side mesh water pockets are almost useless as others said. I use it to store trash I see on the trail. Pretty comfortable and adjusts well. It didn't squeak or creak for me. Nice room inside.
It is bladder compatible, it has a hole on top. I wish the pocket for the bladder was taller. A third of my bladder sticks out. I like to see it tucked away when i open my pack. I'm always afraid I might puncture it with something in my pack.
Price Paid: $70

The good news is that this is a full featured pack with all of the bells and whistles for a very reasonable price. 65 Liters of space, a zippered sleeping bag compartment, two bellowed external pockets with compression straps, inner and outer lid pockets. Ladder adjustable. Load stabilizer straps at the the shoulders and hips.
There are two elastic pockets lateral to the bellows pockets, I believe intended for water bottles, but they do not work when the bellows pockets are utilized. It is hydration bladder adaptable. It includes a rain cover.
I packed this for a weekend @32lbs. Bear in mind I'm 6'6", 270lbs, with size 15 to 16 shoe. This was packing light for me. If you measure, I have a 22 to 22.5" torso.
This pack fit me well loaded at this weight. The pack was very a very comfortable carry for the weekend, but maybe just a touch top heavy. Some of my companions mentioned the shoulder harness was too narrow and too stiff but I did not have issue with that.
The seams are well stitched and the fabric appears very durable. Some people mentioned that the divider zipper was sewn in wrong, but that, I believe is intentional for air escapement while using the compression straps. All in all, the quality is very good for an "off the shelf" Walmart item.
The bad starts with ... IT IS HEAVY weighing in at a feathery 5lbs 10oz with rain cover. I expected to be able to use the water bottle pockets but they are of no use when the external pockets are loaded.
The zippers are very finicky. None were one hand operable. Therefore, none of the pockets were accessible while the pack was on. With use I think the zippers would have loosened up. The deal breaker was that this pack squeaked and creaked with every step I took.
For, the price I was willing to overlook some of the shortcomings but not the constant squeaky door hinge. It was returned after the three day trip and replaced with a Deuter 60 Zero.
Design: top load with lower bag zipper
Size: 65
Number of Pockets: 5
Max. Load Carried: 32lbs
Height of Owner: 6'6"
Price Paid: $70.00

Found this pack mis-labeled for $15 when I stopped in to grab some stove fuel. Couldn't pass up the deal, so I picked it up. I gotta say, this pack has some nice features. More pockets and stashy spots than my 'big name' pack. The stitching is very sound, the material very rugged. Feels like this thing could be dropped off a cliff and be alright.
The only downside is that it's a tad heavy. Oh and the zippers are not snag free. That really urks me, especially around the sleeping bag compartment. BUT for the price i can live with my neon orange eyesore. It's a good size for 1-3 day adventures, so long as you don't overpack. Lots of straps to compress load and daisy chain to attach any gear that wouldn't fit inside. It even sports an attached rain cover.
Bottom line, this pack is great example of Coleman tryin to get back into the game with their MAX line of equipment.
Price Paid: $15

Bought this on a whim when I needed a little more space for a backpacking trip, and didn't have time to shop around for something more spendy...I was in Walmart and it was there.
Lots of space, separate zippered compartment for bag, lots of attachment points for strapping things on the outside, two very useful outside pockets. compression straps, hydration bladder sleeve, double drawstring top with integrated rain-cover.
The load system was similar to most higher-end packs, with ample adjustments for shoulder straps, which are wide and comfortable. Wide comfortable hip straps, load adjusters top and bottom. I had about 40lbs in/on the thing and was surprised how comfortable it was. Not the lightest pack, but take the $180 you save and buy yourself a nice lightweight sleeping pad and stove!
Really a very good buy, if you're pressed for time your local Walmart has a backpack that you can use without fear of discomfort or pack failure.
Size: 65L
Max. Load Carried: 40lb
Height of Owner: 6'
Price Paid: $70

I bought this product at Walmart because it was the right price and the right size. The reviews had been good so I thought I might "get lucky" on a good deal. After purchasing I found that 2 other people in my Boy Scout group had also made the same purchase. We loaded down for a 5 mile hike and 1 night camping with full gear. All 3 of us had problems with our packs.
After loading the packs with about 20 pounds of stuff 2 of us found that no matter how our packs were adjusted they squeeked as we walked. Imagine a 5 mile hike and squeek with every step! The third person had no sqeek but shoved a water bottle into the side mesh compartment and the mesh tore at the seam. He may have overdone the shove to cause the rip so I can't blame Coleman for his problem but felt I should mention it.
All other aspects of the backpack were great for my needs. I think if Coleman could redesign the fitting system to remove the squeeks they would have a winner. Walmart had no problems with my return and I've moved up to the North Face Terra-65 for $135. 10 mile hike this weekend minus the sqeeks I hope!!!
Design: Top loading internal frame with upper, lower, and side pockets.
Size: 65 Liters
Number of Pockets: 4 outer pockets with zippers. 2 mesh pockets. Inner pockets in the main cargo area.
Max. Load Carried: 20 pounds
Height of Owner: 5' 11"
Price Paid: $70

This pack has ALL the features of the more expensive names. Adjustable ladder type suspension, load lifters, height adjustable sternum strap, etc, etc. It has a waterproof internal bladder storage area that will contain any stray leaks.
Separate generous zippered sleeping bag compartment on the bottom. There are side zippered compartments for smaller items, and on the outside of these are stretch mesh pockets for water bottles, wet stuff, shoes, or whatever. Top compartment lid has two areas on zippered to access from the outside, which also contains an attached rain cover(works!), and one accessed from inside which is suitable for maps and such.
External ice axe loops and loops for other gear. This pack has well padded hip and shoulder straps that have made carry of 35 lbs comfortable! Might be a pound or so heavier than others but you can't beat it for the price.
65 liters for less than $70!

Design: top load internal
Size: 65 liter
Number of Pockets: 5
Max. Load Carried: 35 lbs
Height of Owner: 5' 11"

You May Like
Recently on Trailspace