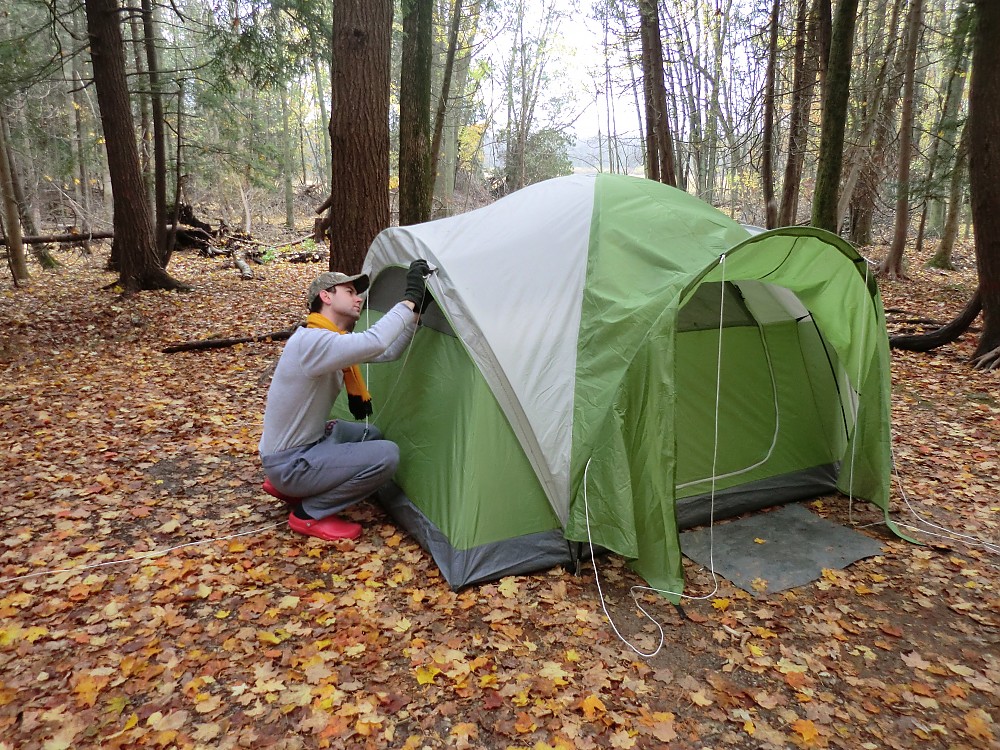 Specs
Price
MSRP: $109.99
Historic Range: $59.95
Reviewers Paid: $99.99

Reviews
1

review

5-star:

0

4-star:

0

3-star:

0

2-star:

0

1-star:

1
If bologna's name is "Oscar Meyer," disappointment's name is "Coleman." Easily the most poorly-made, unnecessarily-heavy, and least water-resistant tent I've owned. If you own one, be sure to tape and seal your seams and apply a generous treatment of DWR to all the fabric.

Any points Coleman earns for affordability are lost for their complete and utter disregard for quality. You get what you pay for, and sometimes, it's better to make an investment than to save a few bucks. This is the camping purchase I regret more than any of my others.
Pros
Inexpensive and affordable for entry-level or beginner campers
Durable and waterproof bathtub floor
Readily available at non-specialty retailers
Cons
Low-quality materials and construction
Ventilation all at the upper level and none at the lower level
Fabric is not water resistant and will soak through
Steel stakes heavy and easily bent
Fiberglass poles heavy and prone to cracking
Carrying bag too small
Does not fit more than 2 adults comfortably
Every camper learns from his mistakes.
When I went on the first camping trip of my adult life, I bought this tent.
And that's my first mistake, right there.
Now let me tell y'all what I learned from it: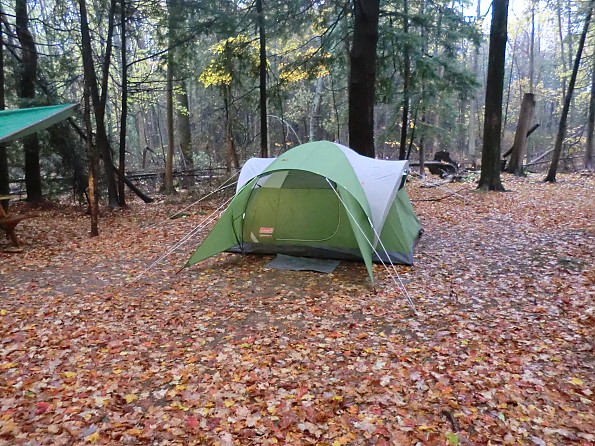 PRICE, PURCHASE AND VALUE
Coleman has made a name for themselves in that they make cheap camping gear. They make camping gear affordable and accessible to people who otherwise couldn't afford it, while at the same time, making it poorly and with cheap materials.
The Coleman Montana 4 currently retails on Amazon for a little less than $140, and I found mine on Ebay a couple years ago for about $100, brand new. At the time, I wasn't sure if I'd like camping as much as an adult as I did when I was a kid. This was a utilitarian purchase, looking to accomplish the bare minimum of requirements at the bare minimum of expense.
Well, as the saying goes? You get what you pay for.
CARRYING CASE AND STORAGE
The square-shaped, zippered carrying bag is comically small. It took some serious effort and all of my body weight to cram it back in. Why they didn't simplify into a stuff sack with a cinch closure and/or compression straps is beyond me. My only guess would be square-shaped packaging is easier to keep balance on big-box store shelves, which is usually where Coleman tents are sold.
The carrying cases that comes with higher-end tents tend to be constructed like a duffel bag that has a drawcord cinch at the opening, rather than a zipper. This style bag is made larger than the contents it is designed to carry, easily fitting them inside without making a wrestling match of it. Coleman ought to consider this style case for the future tents.
ASSEMBLY
A pain in the @#$, in so many words. Not because it's complex, but because it's a job that requires more than one person. One of my main rules in buying a tent - no matter the size - is that I'm able to put it up by myself, without help. The poles supporting the main dome go in easily, but trying to balance the non-freestanding poles that support the side wings is a losing battle, especially on a day with the slightest of winds. It could almost be made a rule that, the more inexpensive the tent, the more difficult and time-consuming the assembly is going to be.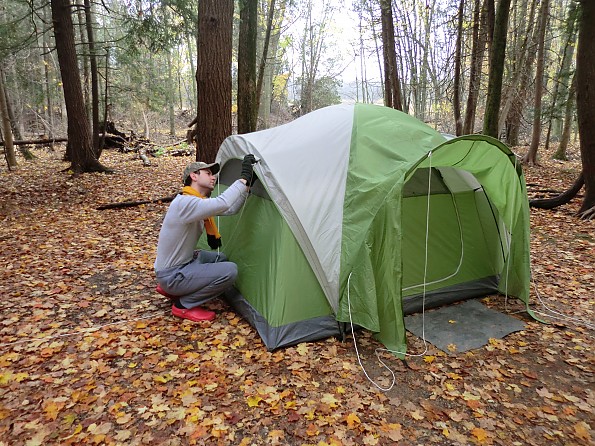 POLES: 11mm Fiberglass
Weak. Heavy. Fiberglass. And cumbersome in both terms of weight and ease of assembly. Mine started cracking even before I brought the tent home from its first trip. The quality is a point of concern, but moreover, the safety is, too. I don't much care for wood splinters, yet alone fiberglass ones. 
The poles all slide into sleeves, and there are no clip attachments. These are fairly simple to insert with the exception of the pole that threads through the front "porch." The porch has only a partial sleeve.
The pole ends aren't convex and don't insert through grommets, like the majority of tents do today. There is no "Jake's Foot," either. The pole ends are hollow and concave, and fit over steel rods that are attached to keyrings at the bottom of the tent canopy. They sit loosely atop these points and easily slip out. These concave points tent to get dirt and small rocks stuck inside them, further loosening the fit, and once they're stuck inside, they're very hard to remove. 
CANOPY: Polyester 68D Inner Tent
The canopy of this tent has an entirely mesh ceiling, with additional mesh on the front door and at the tops of the two side "wings." With the exception of the ceiling, all the other mesh windows were able to be zipped shut. The fabric was heavy and didn't seem like it had been seam-taped, sealed, or waterproofed in any such way. It felt like a plain fabric. The bathtub floor, however, was ridiculously robust and I didn't even both using a footprint with this tent, that's how thick the floor was. Ironically, the leaking we experienced didn't come from the floor. It came from the ceiling.
RAINFLY: Polyester Taffeta 75D
The single biggest point of failure on this tent. Before I rate its performance, let me discuss the assembly of it. It secures to keyring-shaped loops at the bottom of the canopy, via plastic hooks tied to elastic cord. I much prefer attachments that aren't as flexible and can be adjusted to be as taut as possible. The fly secures to the poles with inconveniently-placed velcro loops on the underside of the fly. This are both difficult to get to and are time-consuming to secure. Pitching in the middle of a downpour, I opted to first hang a tarp, and then pitch the tent beneath it so I could take my time and not worry about rain flooding the tent.
STAKES
Typical, inexpensive, bent steel stakes. You'd think they'd be robust for as heavy as they are, but the truth of the matter is they'll bend the very first time you use them. Am I surprised these are what they included with the tent? Not one bit. Am I still disappointed by them? Very much so.
I used this tent for one, four-day-long trip to Door County in Northern Wisconsin.
It rained non-stop for the first two days without a single break. 
Up until the moment we went to bed that first night, the tent held up fine and stayed dry.
However, when we woke up the next morning, it wasn't because an alarm clock: the rain saturated straight through the rainfly and had dripped all over ourselves, our sleeping bags, our gear, and right down onto the floor.
Our camp kitchen was torn-down so we could take the tarp and use it as a temporary rainfly to cover this tent for the remainder of our trip.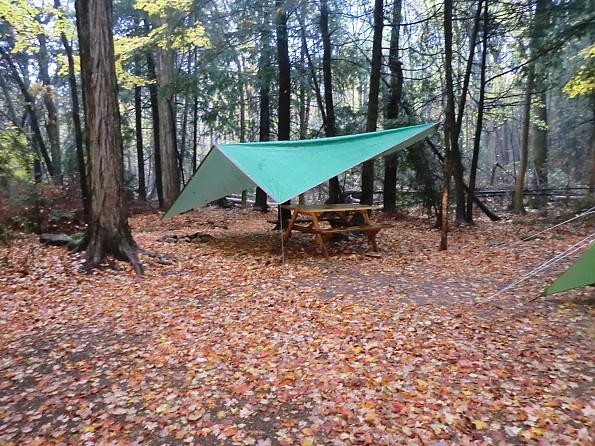 Ironically, that $20 hardware store tarp did a better job of waterproofing than Coleman's ever did: the tent never leaked a drop after we placed the tarp atop it.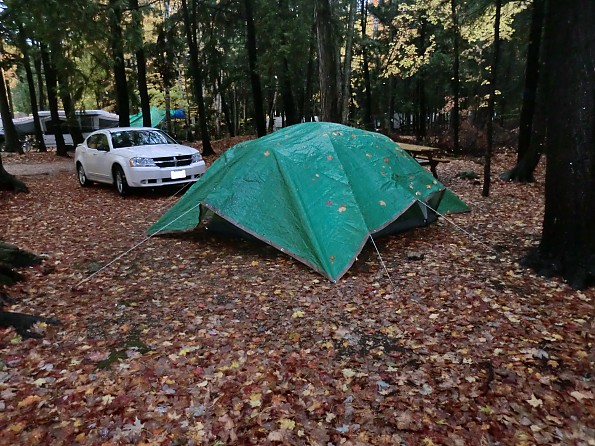 FLOOR: Polyethylene 1000D-140g/sqm, "4-Person" Capacity
The 7' X 9' footprint was too small for our set of Coleman cots. Not only did they monopolize almost all of the floor area, but they placed our bodies too close to the tent walls, enabling water to come through the rainfly if our feet made contact against the wet fabric. It - by no means - is a four person tent. We eventually climbed over another to get in and out of the tent. Both uncomfortable and inconvenient. Even if we didn't have the cots, the amount of occupied floor space would remain almost the same. This is a 2-person tent and absolutely no more than that. 
CEILING
Ironically, for what it lacked in square footage, it made up for with a 59" ceiling height. We could sit up on our cots without hunching our backs or touching the ceiling. One of the very few perks of this tent.
ENTRANCE/EXIT
You've only one way and one door with which to enter and exit the tent, which made our sleeping situation all the more awkward, especially if one of us needed to step outside in the middle of the night while the other was sleeping. The zippers on the door were difficult to operate and required two hands. I practiced pitching this tent at home before my trip, and no matter how I did, the door always had spots that were too loose, and others that were too tight.
PRIVACY VS. VENTILATION
The tent (at least the one I bought) had no floor-level windows or vents. Aside from the mesh ceiling, the top half of the door can be unzipped to reveal a mesh window, and there are additional mesh windows at the tops of the side "wings" of the modified dome. These can be zipped up for the sake of privacy or to create a warmer tent. However, when I wad camping in late October, the mesh ceiling let too much a draft in that no matter how zipped-up the rest the tent was, it was still too cold. I cannot rate how this tent handles condensation because of the intense rain and the fact it compromised the waterproofing on the fabric (if there was any at all on it). I don't know how this tent would perform in warmer weather, but it failed in colder weather (low's in the upper 30's and highs in the 50's).
INTERNAL AND EXTERNAL STORAGE
Internally, there are two mesh pockets midway up the tent walls for small items. There is also a small plastic ring at the very top of the dome for hanging a lantern. Externally, the "front porch" they advertise does very little to shelter gear, shoes, etc. and leaves the front door of the tent exposed to the elements when people are entering or exiting. I kept all my gear inside the tent, under our cots, and our shoes in what little floor space was left.
One nice feature was a small zipper just adjacent to the front door, near the floor. This is designed to run an electrical cord through. The same could be accomplished through the door, but I suppose they figured this would keep it out of the way of traffic flow.
It also includes a "Door Mat" with a couple stake loops on the side to secure it to the ground. This is made from the same material as the tent floor. While a nice idea, it seems to do nothing more than retain water and dirt you don't need hanging around the front door.  
MY TWO [AND THEN SOME] CENTS
Coleman is a company I've a very love-hate relationship with. I've had several spats with their customer service department, which has sent me too few parts, defective parts, and the wrong parts altogether. This is, of course, after waiting much longer than someone should to hear back about their complaints. I have since promised myself that I'll never buy a single thing from them again. All my business now goes to The North Face.
If you have yet to buy this tent?
Don't.
If you own this tent already?
Waterproof the living heck out of it in any and all ways you possibly can, and even then, bring an extra tarp in case you need a spare rainfly that actually does it's intended job.
One star, only because I needed something to hold that tarp up the last three days of my trip.
Source: bought it new
Price Paid: $99.99

You May Like
Recently on Trailspace