Coleman Northern Nova

Top 50 in Fuel-Burning Lanterns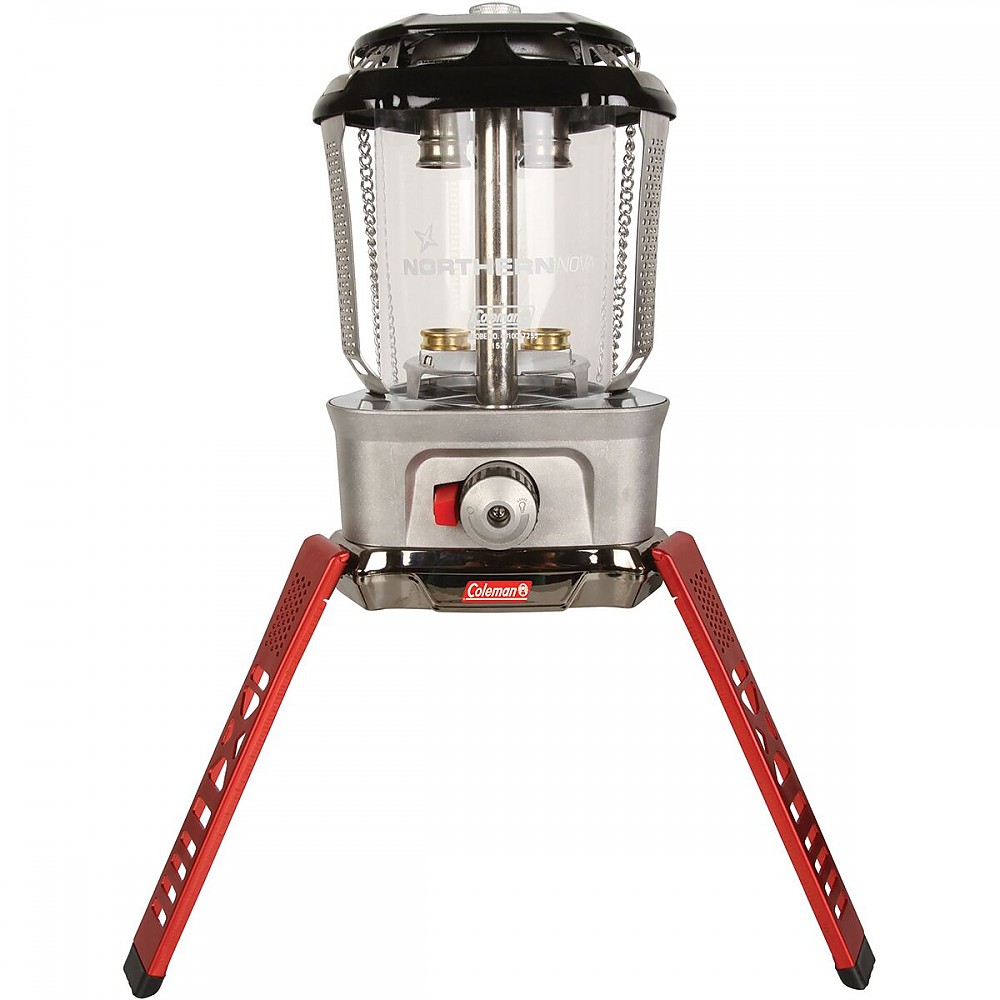 Specs
Price
MSRP: $169.99
Current Retail: $159.95-$179.99
Historic Range: $119.93-$179.99

Lumens
3000

Dimensions
6.800 x 9.250 in

Reviews
2

reviews

5-star:

0

4-star:

1

3-star:

0

2-star:

1

1-star:

0
Your left, your left, your left right left. Company Halt ...Yep, you are in the Army now. Introducing the Coleman Northern Nova Propane Lantern, the official lantern of the National Park Foundation.

The Coleman Northern Nova Propane Lantern is the tank of propane lanterns. This lantern is built to last and take a beating like no other.

Unlike other typical propane lanterns that will offer something in the 150-350 lumen range or higher end lanterns that reach 1000 lumens, the Coleman Northern Nova Propane Lantern produces a whopping 3000 lumens of brightness.

This lantern is perfect for campsite camping, night time family gatherings, Boy Scout outdoor adventures, Base Camp lighting, and Search & Rescue operations.

At 3000 lumens this lantern shines light over 32.5 meters (approx. 106 feet) vs high end propane lanterns casting 15.25 meters (~50 feet).
Pros
Very bright boasting 3000 lumens
Extremely well built (it's a Tank)
Carrying case provided
Uses Insta-Clip mantle (no tying)
Push to ignite button
Can be attached to a full size propane tank using convertor
Cons
Heavy weighing at ~ 7 lbs.
Short burn time on high
Mantles are expensive to replace
Mantles more fragile then others
Cost of lantern $$$$
Noisy on high settings
Never before in the decades that I have used lanterns have I seen one as bright as the Coleman Northern Nova Propane Lantern. This lantern is built like an M1 Tank with a high temperature and crack resistant globe and a heavy duty metal globe guard that will provide extra protection from impacts (trust me it works as I have already accidentally dropped one of mine and it came out without a scratch).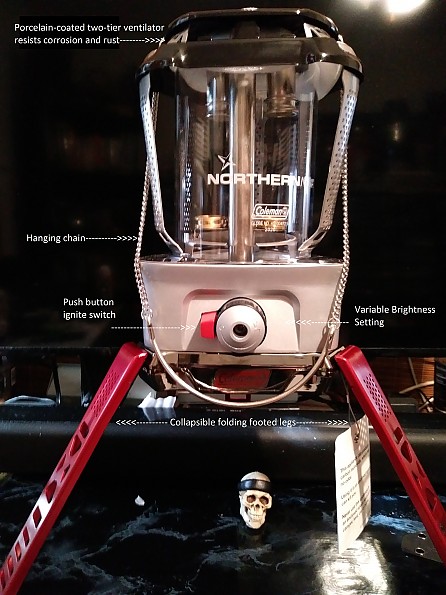 Typically in extreme conditions and high altitudes propane lanterns fail unlike this Coleman Northern Nova Lantern. Its PerfectFlow Technology allows for constant brightness where other propane lanterns would occasionally spit out light at times of colder weather or windy conditions. 
This lantern was as bright as when 1st hooked up to a new propane tank as it was up until the very last minute of burn time. Neither wind nor weather affected the light output.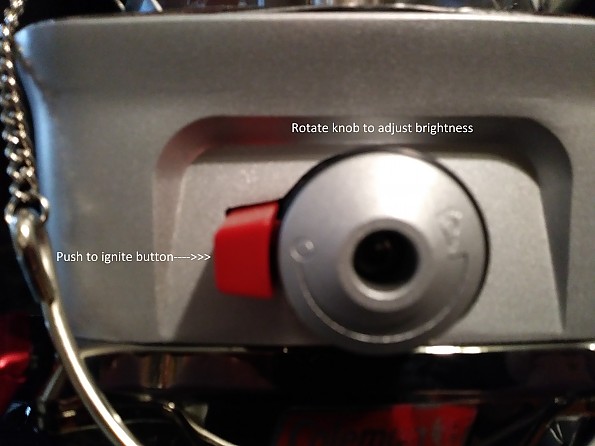 Sadly, this extreme brightness of 3000 lumens is at a cost of short burn time. This is not a manufacture defect or something that was overlooked, but a limitation of the size of portable propane tanks (think of a classic '60s Mustang with a lot of horsepower that used up a lot of gasoline). Using a BBQ grill's large propane tank and a converter would allow for a much longer uptime for this lantern for those of you using this at family gatherings.
Coleman boasts that this lantern can cover up to 106 feet, but I found this lantern to actually cover further ground when used at my condo complex. It seems that the buildings surrounding the courtyard reflected the light covering a much greater distance vs. using in the outdoor wilderness where the surroundings have nothing to reflect back the light.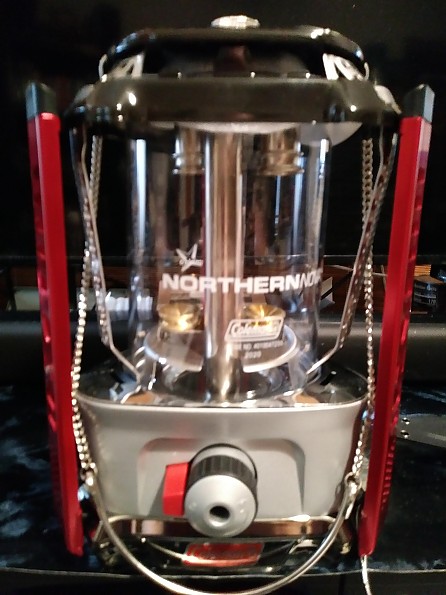 The lantern gives 360-degree coverage of light and has multiple placement options including standing upright on its own using its tripod like metal legs which fold up against the lantern when hanging. What is even better is that the higher you raise the lantern the greater the distance you get of light coverage (with diminishing returns at some point the higher you place it). To move the lantern's leg to the down position slightly pull the leg at its base and twist allowing the legs to turn down and lock into position. To close do the same, but in reverse.
I only wish that there was a slightly larger portable propane tank for lanterns like a 22 oz. tank as I find many evening outings last longer than three hours and at high settings this means that one will need to swap out propane tanks during their evening.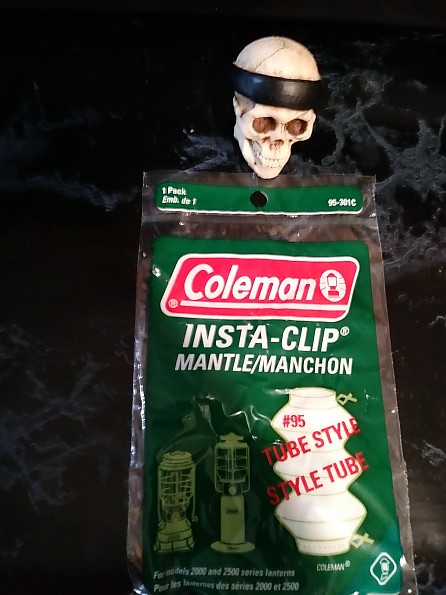 The two Insta-Clip 2 #95 mantles that are included with this lantern are a godsend for those of us that have difficulties using our hands to tie a mantle to a lantern. The mantles use a metal clip that clips on to the lantern that one simply has to squeeze to widen the opening to the mantle to slip over the lantern and then once you let go of the clip the mantle holds in place. All that is now needed is to light the mantle to form an ash. 
Unlike most propane lanterns where the mantle only attaches to one gas exhaust tube, this lantern's mantles are connected to a top and bottom gas exhaust tube allowing for larger beam of light.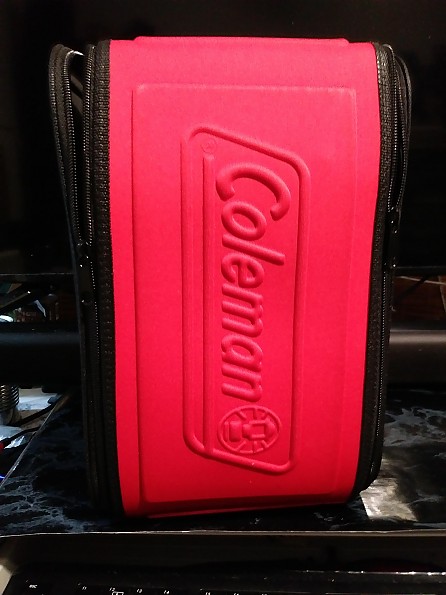 This lantern even comes with a sturdy hard cover carrying case with the Coleman brand name log. The lantern easily fits into the hard shell case and then Velcro shut.
                                                  Conclusion
This is by far the brightest and most durable lantern that I own.  I have an abundance of camping gear. A majority of my gear are lanterns, flashlights and headlamps. I have candle torches, oil lamps, propane lanterns, kerosene lanterns and duel fuel lanterns  and even your average LED lamp and high end LED lanterns. Not one of my other lanterns  gives anywhere close to the 3000 lumen output that this Coleman Northern Nova Propane Lantern puts out. I would also like to say that this is one of the easiest lanterns to use and set up too. 
The only real downsides to this lantern is how loud it gets ( due to pumping out 3000 lumens, can't really avoid that part ), and the cost for replacement mantles which is much more costly then prior Coleman Lantern mantles.
The Coleman brand lives up to their reputation of being a high end product developer with a top notch no BS warranty. I can attest to their no BS warranty as I received this product as a warranty replacement for an older propane lantern that I owned that was damaged and no longer had available replacement parts and no longer in production. My older lantern cost me under $25 dollars and these Nova lanterns range from $159- $179
Coleman is a brand that I have been using all my life and for good reason. They produce high quality gear, and a wide variety at that. Coleman stands by all their products and their customer support team are the best. I highly recommend this lantern and the brand that makes them.
                                                Specifications
Operates in extreme conditions & high altitudes
Insta-start matchless, push-button ignition
PerfectFlow technology
Produces 3,000 lumens
Uses 16.4-oz. propane cylinder
Provides up to 3 hours of light on high setting & up to 6       hours  on low
Adjustable brightness settings
Casts light up to 32.5 meters when using high setting
High-temperature crack-resistant globe
Metal globe guard provides added protection from impacts
Porcelain-coated two-tier ventilator resists corrosion and rust
Collapsible leg footed base
Convenient, easy-to-hang bail handle
Insta-Clip® 2 #95 mantles (included)
7 lb. weight
consumes 8000 btu
Experience
I am an avid outdoor camper with over 40 years of experience in the outdoors. I have used every type of lantern imaginable from candle torches, oil lamps, kerosene lamps, gasoline and white gas lanterns, propane lanterns, and LED lamps.

I have only owned these 2 Coleman Norther lantern for a few months now and in that time I have found them to be by far the brightest lanterns I have ever owned or seen. Realize that for me going to an outdoor gear store is like taking a child to Toys R Us or FAO Schwarz in NYC. When I am not outdoors I am indoors at places like REI, EMS, Dicks Sporting Goods, or I am online at outdoor gear websites.

I am not easily impressed but these bad boys from Coleman really shined...

( on a different note I also do my own repairs and have seen numerous videos on numerous gear of how to dismantle, rebuild and repair gear including stoves, lanterns, grills, etc etc. so when I say this lantern is built like a tank I mean it.)

a note to readers:
Sadly my cell phone camera was unable to take a photo of this lantern in action due to the phones camera limitations and due to this lantern being so !@#$ bright. Also I did not give it a 5 star review due to burn time which is not a fault of this lantern as that 3000 lumens burns through propane like a classic Mustang or H1 Hummer burns through gasoline.
Source: warranty replacement for a different lantern no longer in production

I have two Northern Nova Lanterns, I could not find mantles that would stay together. I called Coleman and they did not have mantles or solutions to fix the problems so they sent me another lantern?
Pros
The heart of ANY gas lantern is the mantles. If they don't function the lantern does not either.
Cons
The mantles provided with the new lantern are 95-301C, the thing is you can't buy them anywhere.
I ordered my lantern the Northern Nova that produces (supposedly) 3,000 Lumens. Very Bright.
The mantles you buy are Coleman Tube style Clip-On mantles that start with a gap in the clip that flames shoot out of. NOT GOOD right off the bat. While after you install them all fluffy and put a match to them they SHRINK very FAST and in the process I paid over $100 worth of mantles I burned up and not one worked.
I decided to call Coleman, maybe I was doing something wrong. They could not figure out anything after I explained my procedure and they had no tube mantles to sell me. So, they sent me another lantern. I rebuild the older models that take white gas. I have at least a dozen on top of my desk with the help of a long board.
Back to the Nova, I use American Mantle 111's on my gas lanterns and they are 500 candle power, I think close to lumens, so I took two and placed them on the Nova. BANG!! They lit BRIGHT!!! They are not tube mantles but I was waiting for three different models of tube mantles to arrive. Remember I have two Novas, the 111mantles held up to at least 20 lightings during the time I was waiting for the tube mantles.
Today, Monday, the China tube mantles arrived. These I examined and they had wire ties on each end. I struggled to put them on, but I did. I lit them to burn and they wouldn't burn with a match. So I went and got my propane torch. I burned them good!! I let them cool and turned the gas on and they lit dimly. Not tearing, But not as bright.
So I let them burn a good 10 minutes and during that time I lit the other Nova with the 111 mantles and put them next to one another. Guess which was brighter ?  ----------The one with the American Mantles 111 was brighter. The tube mantles did not rip but did not have the brightness as the 111's. I offered my brother-in-law one and if he would like one. He just smiled.
Experience
The old white gas lanterns are better I believe and don't use fuel as fast.
Source: bought it new
Price Paid: TOO MUCH!!!

You May Like
Recently on Trailspace