Coleman Outdoorsman Tent

The Outdoorsman Tent has been discontinued. If you're looking for something new, check out the best three-season tents for 2021.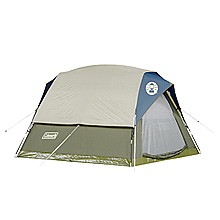 Specs
Price
Historic Range: $119.99-$124.00
Reviewers Paid: $69.00-$119.00

Reviews
5

reviews

5-star:

2

4-star:

2

3-star:

0

2-star:

0

1-star:

1
Well, I have owned this tent for 17 years now. I'm 34, thus I have had this tent for half of my life. It still keeps the rain off, keeps the bugs out, and I haven't used a sealer once.

This has by far been the best tent I have owned. My shockcord is bad, replaced it, and one pole hook broke, but aside from that I would love if Coleman would bring back this tent. I love my old one and would probably keep it, but if Coleman would bring back this gem I would buy it!!!!

I only noticed a Eureka tent that looked the same. A friend had it, but thinks it's a pain to put up. The Coleman is as easy as they come. If only they also made a scaled-down version for hiking as well, I would be set for life I think!!!
Pros
Easy to set up
Durable
Functional
Basic features like pockets, which is all one needs camping!
Cons
Shock cord didn't last 17 years, but hey, the tent still pops up enormously well!
If Coleman makes this tent again I'm buying one or two. This tent has been by far the best tent I have ever owned!!!
Experience
17 years with this tent. I have owned others, I don't own them anymore if that answers your question!
Source: bought it new
Price Paid: Less then $75 I think on sale at a Kmart

Has been one of the best tents I have ever owned! 13 years and still does not leak a drop!
Pros
Weather proof
Long lasting
Easiest tent to set up!
Cons
Had to replace shockcord after 10 years,i f you can even call that a con?
I purchased this tent back in 2002 when the Ames Department store was going out of business. Believe it was 70 or 75% off original price. Could not pass up the deal, even thinking it was probably not a very good tent.
Boy was I wrong. Have been using this tent for car camping for almost 13 years now. Must have slept in this over 100 times, probably more?
I have maintained it well, sealing seams every year, Kiwi Camp Dry spray every other year and this tent still does not leak a drop in rain! All the zippers still work, floor still solid, one pole cracked during a hail storm in upstate NY a few years back, but I honestly thought the tent was going to be destroyed that day!
I have replace the shock cording twice and epoxied the cracked pole section and just spent another two nights in the Outdoorsman again this past weekend. During the hailstorm we had emptied the tent and after the storm passed, we had 3" of water flowing through the campsite. The tent was staked, but the floor center was floating! We had less than ten drops of water in the tent!  
I don't see any reason why I won't be using this tent for another 10 years. Bought a new Eureka Timberline 6 Outfitter to replace this three years ago. Have used it a couple times, but will continue to use the Coleman Outdoorsman for the foreseeable future.
Thank you, Coleman. I have owned more than 15 tents in my lifetime, some I still have, some I don't, but this gem has been the most reliable tent I've ever owned, regardless of how much money I've spent!
Source: bought it new
Price Paid: Don't remember, was 13 years ago?

Pros
Very roomy
Can stand up inside
Easy to set up
Pretty good rain resistance
Cons
Shock cord is wimpy
Rain fly needs to cover more of tent
Tent stakes stink—need steel pegs.
I've used this tent for a year now. Great tent. I've used it on 10 camping trips. I've lived in it for a week-long camp twice. In each of those trips (yep, every one of them) it has rained like the heavens opened up. The last time we received eight inches of rain in one day!! Worst rainstorm in 15 years. Very high winds, lightning, tree branches on the tent, the whole really bad weather situation. The tent held up very nicely.
I did get some water in the tent, but literally the water was almost up to the top of the water resistant floor and the rain fly had begun leaking due to the incredible rain. Even so, it was manageable.
I'm 6'4" and can stand up in the tent—Big Plus. I even use a camping chair to sit in and read while waiting for sunshine.
It's easy to set up. BUT, I already have had problems with the tent poles. Second trip I had the shock cord snap, making it a real pain to get together. Returned the whole tent and got a new one. No problems for the last year.
Design: A frame type tent
Sleeps: 2
Ease of Setup: easy
Price Paid: $119

Original Review: October 14, 2002

I camp quite a bit from March-November (20F+) and I have found this tent to be quite a value! I have put this tent through the test with kids, buddies, and must say this tent offers a heck of a lot of value for the price I paid.

The tent is basically a modified one-pole A-frame and setup is a snap. You set up the frame, and the tent clips to it. The frame is quite beefy for fiberglass poles. Offers tons of space for gear, heater, etc....

The tent is waterproof, easy to set up (even with one person), and spacious. I like Coleman's products and would not hesitate to recommend this model to someone who wants to take the kids out, or camps regularly. Too large for backpacking, but I personally like to camp near the car.

I have listed its strong points and weaknesses below:
Pros
Price is great ($129 list, I bought on sale for $69 locally)
10'x8' offers tons of room for 2 / 4 can sleep comfortably)
Quality, waterproof construction with PVC type floor (I like that, don't need a floor saver or waterproofer.)
Ease of setup is excellent for a tent this size.
Cons
Rainfly on 9x7 Outdoorsman model goes to ground, 10x8 model goes midway down the outside. ????. (Still waterproof), but I would have preferred the fly to cover the tent 100%.
Coleman does not offer vestibules for their tents (at least not that I know of). I would buy one if they offered one for this tent.
Door is inverted U-shape that zippers down, would have preferred it to zipper up, so you don't walk on it when you walk into the tent.
Rating out of 10:
Ease of setup 8.5/10

Waterproof 9.5/10(7or less being unacceptable)

Construction Quality 9/10 (if only the rainfly was 100% covering...)

Comfort/Roominess (9.5/10) Unbeatable except for a wall-tent.
Overall, this an exceptional tent at an exceptional value. Perfect for my type of camping!
Update: June 20, 2003

This is an update to my previous posting concerning this tent.
On a recent trip to Shenandoah National Park my buddy and I stayed in a developed campsite in Loft Mountmain campground. It stormed for 14 hours solid! The tent did well that night (all night long). No rain came into the tent, and the frame did OK.
The next morning it began to clear and I toured Skyline Drive, while my buddy went down the Blue Ridge Parkway on his new motorcycle.
I returned to the the campsite two times during the day. On my second return, I found the tent mangled. The center ridge pole had shattered in one section.
I wasn't happy.
I returned and called Coleman only to be told that "wind" is not covered under warranty. I explained that according to page 10 of the instruction manual, "Acts of God" are not covered, but it said nothing about wind damage. I can see if a volcano erupts, and earthquake happens, a tree falls on it, etc...
I view a pole shattering in a developed campground on the side of a mountain with the tent set up ACCORDING TO MANUFACTURER'S DIRECTIONS not an act of God!
I am very disappointed with the inability of Coleman to see my point of view. I did not want a free tent, I wanted a free section of pole so I could repair it myself.
Furthermore, according to Coleman's WeatherTec video on their website, there is a piece on how wind resistant their tents are. With winds starting at 20 mph and going up.
I just wanted to share that apparently Coleman has re-defined their customer satisfaction processes, and since they decided to "stick" me with a broken (which I consider a manufacturer's defect, since only one section shattered under stress) tent pole and want me to buy a new pole for $29 plus shipping, that perhaps someone reading this my appreciate it.
What they honestly should have done is replaced the pole section and I would have praised this company to the ends of the earth. But no, they wanted their $29 for a part that failed in real life conditions.
I think that is extremely POOR customer service in this particular case.
I would have paid for shipping, I would have paid for handling, I would have / could have / ....
Honestly, I am so disgusted at this situation that I am considering NOT buying the pole from them and getting a different brand tent!
So, the tent did great in the storm, the tent broke the next day in the wind, and the company that manufactured it decided to "stick" me!
Take that into advisement.
Coleman doesn't appear to be the company it once was.
Design: modified dome tent
Sleeps: 4
Ease of Setup: 1 pole - easy
Weight: about 15 lbs
Price Paid: $69 on sale

You May Like
Recently on Trailspace