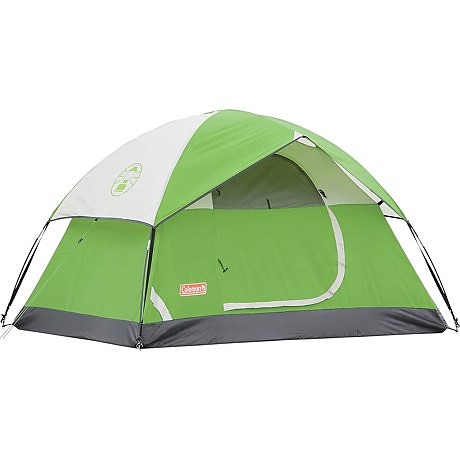 Specs
Price
MSRP: $84.99
Current Retail: $79.99-$209.99
Historic Range: $54.95-$209.99
Reviewers Paid: $34.00-$70.00

Reviews
6

reviews

5-star:

0

4-star:

4

3-star:

2

2-star:

0

1-star:

0
This is a decent 3-season tent, it's not great, but it's not bad either. Somewhere along the middle as far as quality goes. It's easy to set up and pack up, and has a few nice features as well.
Pros
Price
Easy Setup
Easy Take Down
Good Size for Two
Easy Transport
Cons
Small Fiberglass Poles
Ventilation Could Be Better
Short Rain Fly
Coleman is a trustworthy name in camping that has been around for many years.  Their products are generally reliable and usable by anyone.
The Sundome doesn't seem to be any different.  It is a nice tent that isn't too hard on the wallet.  Sure, there may be better tents out there in this size, but they come at a harder to pay price as well.  That being said, if you are looking for a tent that will see heavy use throughout the year, like camping every weekend  or for weeks at a time use, you may be better off buying a more expensive better built tent.  However, if you are just doing the occasional holiday or one weekend a month type of camping, then the Sundome will serve you well.  
The Sundome 9'x7' is advertised as a 4 person tent.  It's not.  Sure, maybe four really good friends or close family members will fit in the tent, if they are below average size.  They will be cramped though.  If there are four people in the tent, there will be absolutely zero space for anything else.  
This tent is great for two people though.  With two people there is enough room to set up a queen size inflatable mattress, and still have room for extra gear you may want to store in the tent with you.  There is a mesh gear pocket to store things like you wallet and phone in to keep them off the ground.  You'll also find a zippered opening near the door to run an electrical cord through so you can run a fan, or C-PAP machine in my case.  Also, in the rear of the tent there is a privacy vent, the outside tent fabric covers the mesh vent material near the bottom and it is partially adjustable by setting a stake closer or farther from the tent to hold the window more open or closed.  
Even with the added privacy vent, I find ventilation for this tent to be a little less than impressive.  The front and rear windows are fairly small, only covering the top portion of the tent.  There is good size ventilation mesh on the ends of the tent, but once the rain cover is in place those are also covered.  It is good for privacy though.  With the rain fly on, and the front and rear windows down, it will still be difficult for anyone to look in on you while changing clothes, and it's easy enough to zip the front and rear windows for complete privacy.  With the rain fly off, it will be difficult to maintain privacy since those mesh areas will not be covered.
Set up of this tent is super easy.  I can do it by myself in around five minutes or so.  Taking it down is just as easy.  My one complaint in this area is the flimsy fiberglass tent poles.  I'm not a fiberglass hater, but these are a little on the thin side.  I can see it being easy to form cracks and break, although in over a year of use I haven't done either as of yet.  I still carry materials to make a repair though, just in case.  I haven't got caught in a strong storm yet in this tent, but I imagine it will be easy for the wind to blow the tent in on itself because of the poles.
The storage bags for the poles, stakes, and tent are all great.  They hold the gear well.  I like the make of the storage bag, it is zippered instead of being made like a stuff sack with a draw string.  With the zipper open it is easy to fit the tent, poles and stakes back inside.  
The rain fly seems to work well on this tent.  I did seal the seems when I bought it, a practice I do with all my tents.  So, in the couple of rain storms I've experienced I haven't any bad leaks.  I did have a bit of mist blow in through the ends, since the rain fly doesn't actually come too far down the tent.  As I said earlier, I haven't had this tent in a bad storm yet, I think heavy winds would possibly blow more rain in and make water inside the tent an issue.  
Reading back through this review, I seem to view the tent in a negative light.  I want to make sure you know that's not the case.  This tent is a great tent with some neat features.  It will be great for light to medium duty use, but is not a heavy duty camper.  For fair weather camping it will be hard to beat.  Especially in its price range.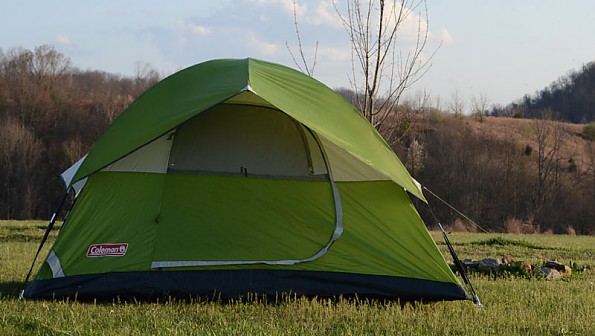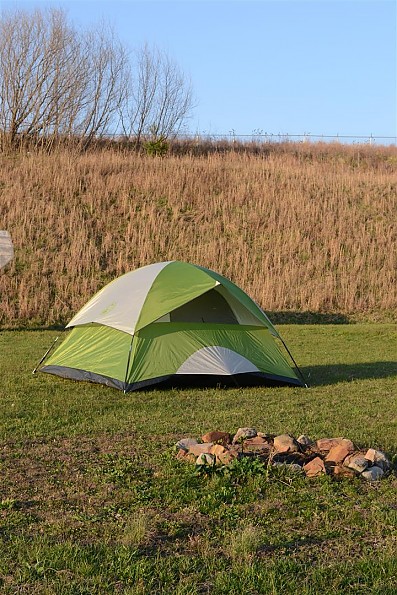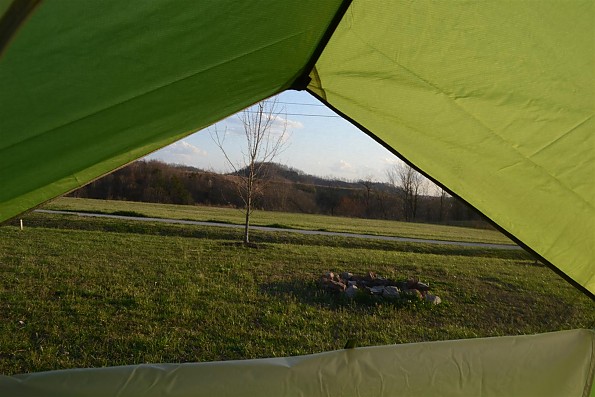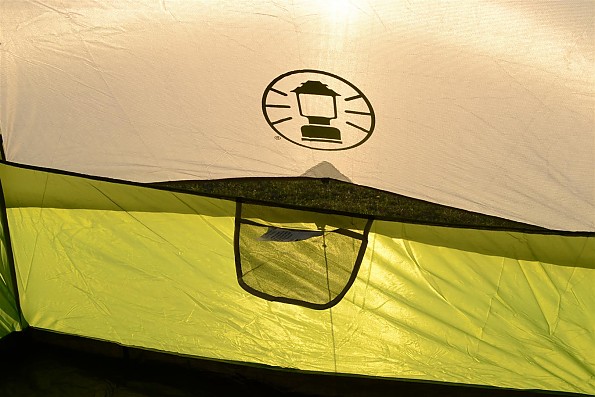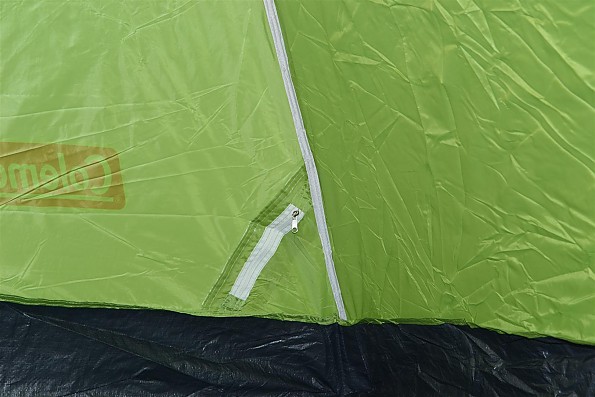 Source: bought it new
Price Paid: $50

Sports Authority has rebranded this same tent as the Coleman Rangeview - 9' X 7' and we got it on sale $45 plus that week the store had the 25% off coupon, which brought price to $34. KEY POINT: often best deals on the 9' X 7' Sundome (Rangeview) can be had at sales like that.
We recommend this tent when you can get it for similar pricing, as it is a good cheapie car camping tent (too heavy & bulky for backpacking). This model also has essentially a waterproof tarp forming the bottom 6" like a bathtub, keeping groundwater out.
This is also a good tent for a family/couple who only does light camping once or twice a year, or less. NOTE: we consider this size tent appropriate for max TWO ADULTS with gear, plus maybe one child.
The reason you only buy a sale-priced Rangeview/Sundome as a backup tent (say for tent-less friends who wanna join you camping) is that its quality and reliability is much lower than say a quality dome such as a Eureka (we also own a Tetragon 9, which is 9' X 9' dome)
But when you pick up the Sundome for ONE THIRD the price of the slightly larger Tetragon 9, you can put up with a lot of little bothers.
Stuff that mostly didn't bother us due to low price of this Rangeview:
1) Cheapie front door zipper had to be waxed by just to get it working without binding, allow single stroke opening of zipper door
2) Stakes are junk, so immediately replaced with the $4/set Coleman metal stakes
3) Very thin fiberglass dome poles, seem fragile
4) Rain tarp will not stay centered unless you also reach under and individually wrap the many Velcro ties around the dome poles
5) This style dome does have the sleeves (2) which you must walk back and slowly feed the dome poles through during set up. That's always a pain, especially in the dark.
6) First time put up rain tarp, all the knots popped out of the four elastic ties, so we had to re-tie the factory knots back in them. I guess the Chinese factory workers hands were too tired to tie good knots!
KEY POINTS: worth buying for ~$40 on sale as a backup tent. Don't buy this tent as a mainstay dome you plan to use for life; it won't hold out that long. Don't ever pay full price ($50 or more) for this tent.
Design: cheapie car-camping dome tent
Sleeps: 3
Ease of Setup: OK, not great, poles must be fed thru sleeves
Weight: est. 11 lbs
Price Paid: $34 on sale

Cons
Cannot stand
Zipper can catch
Holds up to wind.
Nice size.
Source: bought it new

Excellent for Scouting, camping, and overnights at the beach. Too big and heavy for hiking. Easy to put up and put down. Good value for a small family or a couple.
Pros
Easy to put up and down
Price is right
Everything but hiking
Family 'roughing it' outings
Cons
Maybe a little too big for a quick get-away
Low headroom
I bought this tent for "just in case" events and also for the infrequent times we go camping. I was thinking about a two-person tent for my wife and I, but after reading a ton of reviews, decided something bigger was the better decision.
My only (minor) complaint is the headroom is kinda low, but you get used to it. This is not a backpacker's ultralight, it is more of an urban dweller's portable cave.
Source: bought it new
Price Paid: $70

This is a great three-season tent. Perfect for Boy Scouts. I have used this tent in the wind, rain, snow, and sun without any problems. The bathtub floor is very durable.
Pros
Strong
Bathtub floor
Inexpensive
This tent is a breeze to set-up.  Even in the breeze.  Stayed warm in ice rain and snow.  Great tent for the price.
Source: bought it new
Price Paid: $60

Our Experience: We purchased it at Sports Authority when it was on sale, and took it, for the first time, camping in April 2010 near Big Sur, CA. Unfortunately, a storm blew in on Saturday night/Sunday morning that brought high-velocity winds and gusts (25-40 mph?), lots of rain and downright chilly temperatures. We knew there was a chance of showers so we already had the rainfly on, tent staked down tightly, and all fabric was nice and taught. Everything inside the tent stayed dry; however, the tent was bending and folding over on itself in the wind (see pic below), which made it really hard to sleep, since the tent kept folding down on top of our faces!
Also, the design of the rainfly allows wind (and even breezes) to blow right under the rainfly and through the mesh. This caused the fly to flap incessantly in the wind (very noisy) and brought that cold wind stright into the tent. While we were eating breakfast Sunday morning, the winds were picking up, and it eventually fractured one of the poles.
We bought a replacement pole for the tent when we got home, but have since turned this into the backup/extra tent for when we take friends. For ourselves, we did what we should have done all along - Spent the money on a quality tent that will last us many years of camping (We bought the REI Base Camp 6).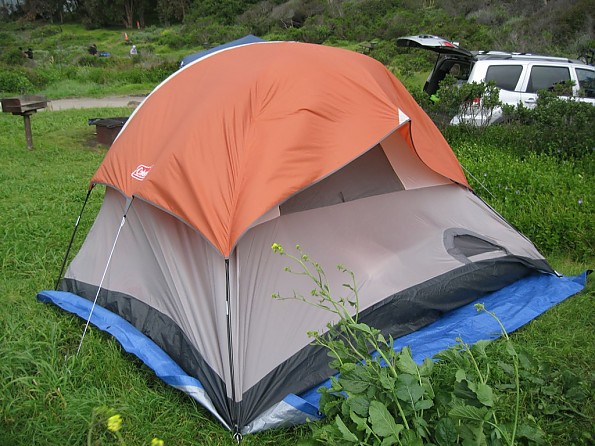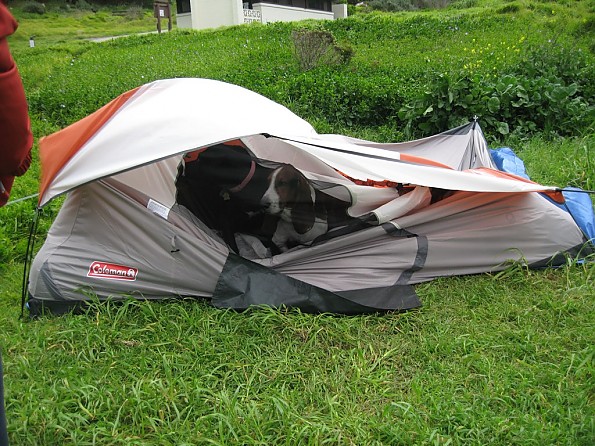 OVERALL: This is really only a 2-season tent, late Spring thru early fall will be suited for this tent when little-to-no adverse weather is to be expected. In those conditions, it should be just fine. But, I would still recommend replacing the fiberglass tent poles with aluminum poles, or bringing the tools to make a repair if needed. All in all, this tent is not a total waste of money, but if you camp often or camp where unexpected (or expected) storms may be experienced, then this is not likely the tent for you.
SETUP: Quick, easy, no problems. One person may have a little bit of difficulty, but could still manage it.
SPACE: It easily slept my husband (he is 6'4") and I (I am 5'6") on an air mattress plus our two large dogs and our duffel bags. I think it could easily sleep 3 adults with a little bit of gear. We did decide to buy a 6-person tent as this one's replacement, mostly because of the headroom for my husband, he can stand fully-upright in the REI Base Camp 6)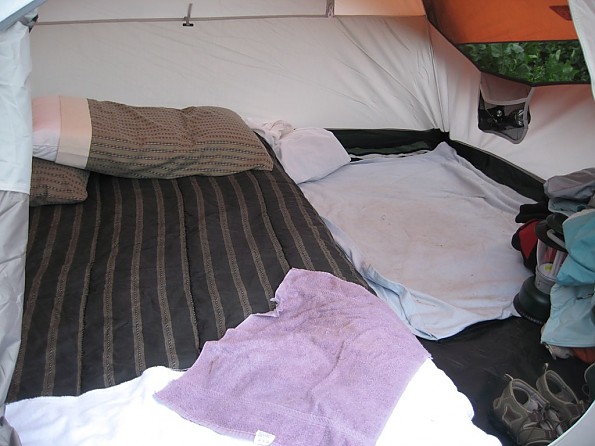 FABRIC: I think the fabric is decent quality, can resist tears and sangs. The dogs did sratch at the doorways at night when they needed to go outside, and we had no snags or tears in the fabric or the mesh as a result.
TENT POLES: Not the strongest (See pictures) We replaced these and will be bringing a repair kit anytime we use this with friends.
WATERPROOF: We had no problems with rain getting into the tent, even though we were dealing with wind-blown rain. The rainfly did a good job of shedding the water (no puddles on top of the tent) and the bathtub floor design did not let any water in from below.
WINDPROOF: Not really. Anything more than a breeze will have this tent moving around quite a bit, causing quite a bit of noise from the flapping of the fabric and discomfort if the tent walls happen to lean in on top of you at night.
Design: More like a 2-season, freestanding dome tent
Sleeps: 3
Ease of Setup: Easy
Price Paid: $45

You May Like
Recently on Trailspace