Coleman Xpedition Powermax Stove

The Xpedition Powermax Stove has been discontinued. If you're looking for something new, check out the best compressed fuel canister stoves for 2022.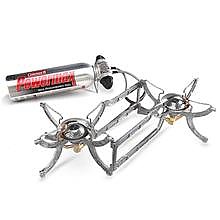 Specs
Price
Historic Range: $69.95-$88.00
Reviewers Paid: $75.00-$87.00

Reviews
5

reviews

5-star:

3

4-star:

2

3-star:

0

2-star:

0

1-star:

0
This stove is the best two-burner design I have seen or used. Fantastic performance in the broadest range of conditions.
Coleman has however (incredibly, I might add) stopped production of the proprietary PowerMax fuel canister that powers this stove, and has made a "consolation" adapter that costs $26 to acquire. Without the adapter, or a secret supply of PowerMax canisters, these exceptional stoves are useless.
As a testament to their performance, they are still being sold, though in many cases, it's probably old "new" stock. Coleman, thankfully, still sells the maintenance kit for the stove. Be aware that if the stove is purchased, you WILL have to buy the adapter to use common 70/30 fuel cartridges. Some eBay sellers, attempting to take advantaged of the uninformed, are selling this adaptor for as much as $96.
The sentiment toward Coleman is mostly harsh as it relates to their decision to discontinue the production of the PowerMax fuel cartridge. Perhaps they will relent and restart production, as a result of consumer feedback. A revival may translate into demand that makes it a profitable decision for Coleman. One can only hope.
I am disappointed in the excessive price point of the adaptor, but I like the stove so much I bought the adapter. My sentiment toward Coleman has been diminished, however, followed closely by my trust. I was one of their biggest fans, and patronizers. And I was not alone.
Price Paid: $87

I dearly love this stove, but it has two drawbacks: It isn't light, although for a two-burner winter stove it's probably lighter than any two stoves as good (and it uses one fuel bottle), and the two burner model does not work well with a windbreak like the single burner versions.
In winter blizzard conditions I have dug a two-foot long 10-inch wide trench a foot and a half deep and set the stove in the bottom, to protect it from the wind and blowing snow, but the cold does not affect its operation.
One problem is that the plastic tubing inside the fuel bottle can become very rigid and hold the metal fuel tube above the level of the liquid fuel. To get around this, push the bottle into the snow either vertically or within 45 degrees of vertical.
How else can your pasta and sauce be hot at the same time? Each burner has a separate control valve and of course it only takes one fuel bottle for two burners, offsetting the weight of the stove. One can melt snow on high while you cook breakfast on the other.
Jim S
It's very lightweight, stable, and boils a quart of water and/or heats up a pan of corn oil in a few minutes. Having a second burner is convenient and adds stability. The PowerMax fuel is clean, lightweight, and efficient.
In calm conditions it's a 5 star stove. In wind it's 3 stars — big drop in heating ability and big rise in fuel use. On one canoe trip I had to improvise a wind shield which I keep with the stove.
It is sturdy (should last a lifetime), the smallest two burner stove I've ever seen.
One of the complaints about this stove was that you had to purchase PowerMax fuel only which is made by Coleman. The fuel is about the same price as other isobutane types and lasts as long or longer; although, it can be hard to find. But now there is a solution! You can now purchase from Coleman an adapter to run standard isobutane cartridges so you would never be stuck.
This is my primary motorcycle and family camping stoves. It also uses standard cookware unlike some of the new water boilers. It does not have nor is there a provision for an igniter; that would make it even better.
Overall a great purchase. If you buy the PowerMax fuel purchase it in the case. It is much cheaper.
UPDATE - Product discontinued.  
I can't believe that Coleman discontinued this stove and the Powermax fuel canisters. This has to be one (possibly the only one) of the best backpacking two burner stoves. They do sell an adapter to use the lindal value fuel containers that most backpacking isobutane stoves use. BUT, the mixture is a little different...so you won't quite get the same results as the Powermax. What a bummer...
Price Paid: $75

If you are in the UK don't bother with this stove. It is brilliant, but the cartridges are near impossible to find.
Price Paid: £30

Best stove around. Works all the time, everywhere. We have had this stove now for better part of five years, I have never had a problem with this stove (although fuel canisters are hard to find).
Did I mention that it has TWO burners and it is made for backpacking? The two burners are a godsend. It allows for so many more options than a single burner stove. We live in Canada so it's cold at night even during the summer. The stove works flawlessly. Highly recommended. 5 STARS for sure. I'd give it more if I could.
Eric

Price Paid: $85 CDN

You May Like
Recently on Trailspace