Coleman Xtreme Powermax Stove

The Xtreme Powermax Stove has been discontinued. If you're looking for something new, check out the best compressed fuel canister stoves for 2021.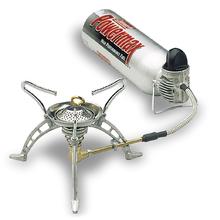 Specs
Price
Historic Range: $59.95-$71.99
Reviewers Paid: $59.95-$70.00

Reviews
9

reviews

5-star:

3

4-star:

5

3-star:

1

2-star:

0

1-star:

0
Great stove, and great companion to my 2-burner model. I haven't used it for awhile because I, um, don't have it anymore. Looking for replacement.
Pros
Super-light
Easy lighting
Good heat
Cons
Fuel availability
Structural strength
I've read that fuel is no longer available. True? I haven't used my single or two burner for a few years, but have lots of fuel saved up.
My single burner model lost a leg (broke), and when I took it to a buddy to have him tack it back together with an aluminum welder, one of his guys accidentally threw the whole thing out. I'm hoping to find a replacement, but haven't found one anywhere.
If you have one you would part with, please let me know. tom@trailguards.org
Source: bought it new
Price Paid: Around $60

This stove rocks! Sucks that they don't make the fuel anymore.
Pros
Ease of use
Reliability
Adjustability
Weight
Durability
I've got three or four canisters left and then I guess it is a paperweight. BUT, I will say I hope they reissue these because this is hands-down the easiest, fastest, hottest burning, and most adjustable backpacking stove I've used. 
I've had mine since like 1999. Works great in the cold.
Source: bought it new
Price Paid: $60

Excellent stove.
Pros
Very lightweight
Fuel was generally available in most areas
Very reliable.
Cons
It's been discontinued and the Powermax fuel is nowhere to be found anymore
I've used my stove for many years and it has far surpassed my expectations. It performed flawlessly on a winter camping trip when the temps dipped to minus 18 and many other people's stoves would not work.
What a shame it's been discontinued. Now what will I buy?
Source: bought it new
Price Paid: $59.95

I've used this stove in temperatures ranging 70 F down to -5 F on approx 10+ backpacking trips in the White Mountains of NH and on several canoeing trips in north-western Maine.
It's easy to setup, lights quickly, runs great, and heats 1 liter of water in about a minute. I've found it to be very durable (never once had to repair or use a tune-up kit) and it packs well. After use, just disconnect the canister and stow the stove…
If you're camping in cold temps (below 20 F) it's a good idea to carry a couple of full fuel canisters so you're always running one that a more than half full. This is because the performance drops off in the cold temps unless the canister is still relatively full.
NOTE: This is a limitation of the fuel and not the stove. What I end up doing is using up the half empty canisters on a summer or fall hike when it's warm. I discovered this drawback during a trip in the winter when the stove couldn't produce enough heat to melt snow after the fuel canister sat out in the cold all night.
Luckily my companion had a liquid fuel stove so it wasn't a big problem. After that I always seal the bottle in a plastic bag and put it inside my sleeping bag with me so it stays warm. When time comes for breakfast I heat my water as soon as I get out of the bag. This has worked well.
Price Paid: $59.99

Blazing heat: 14,000 BTUs. Superfast to assemble and get cooking.
I have an Optimus 8R, my very first backpacking stove (1973).
Went with MSR later, including a multifuel Whisperlite Internationale, terrific for overseas treks.
I would never have considered "COLEMAN", purveyor to car campers as a maker of backpacking stoves. But then a friend of mine pulled out his Coleman Exponent, got the water boiling in half the time it took me assembling pumping, priming and firing up the MSR, and it also did a superb job frying trout.
So I got one.
Before purchasing it, I looked at the Jetboil, but at the time it only heated water for freeze-dried food (spring 2005).
Is the current multi-function Jetboil better than the Coleman today? Yes, and no. Jetboil's fuel efficiency and heating speed are tops--but only when used with Jetboil's FluxRing-welded pot and pan. You can't cook with your old pots and pans without converting the Jetboil to a slow-heating, low-BTU stove.
Coleman PowerMax canisters are widely available. You can even get them at Wal-Mart. So, for domestic trips, the Coleman is a really good stove.
Summary: Lightweight, easy-as-pie workhorse.
This stove has all the things you want from a compressed-fuel stove, plus performance that's better than liquid-fuel stoves, and light weight.
Operation: Take stove out of storage-bag, attach fuel canister by pushing into fitting and giving a quarter-turn to lock into place. Spread the legs while putting down on to flat surface. Turn valve until gas sound can be heard. Light stove. Adjust flame and use. No pumping, no priming, no flare ups, no servicing or replacement of parts, no varnished parts from liquid fuels.
Performance: I generally boil about three-liters of water in a one-gallon aluminum pot, which takes about six to seven minutes or so depending upon water temperature. With outside temps above about 60 degrees, cannisters run nearly full-blast till over 95% exausted (nearly empty). At around 40 degrees, stoves will run nearly full-blast till around 2/3 expended, but remaining 1/3 still useable if cannisters are allowed to rewarm between uses (just let them sit for five to ten minutes, or warm them in your hands if impatient). Below freezing, cannister performance is still excellent for first six minutes or so of use, until rewarmed. Cold-weather performance increases with altitude.
I have been using a trio of these stoves for close to ten years as a backpack-trip leader for a local group of Sierra Club. With these stoves I have lead an average of six trips a year ranging from weekend-jaunts with ten participants up to eight-day back-country trips with twelve. I use the stoves for boiling water for morning hot cereal and coffee, and evening dinners, soups and hot drinks. You can simmer them, but they require constant attention to keep the flame alive.
All together my trio of little-workhorse stoves have cooked for upwards of over three-thousand meals (per person, per meal). And except for an early, manufacured defect that was replaced, these stoves have not needed servicing EVER--not once.
The only drawback is the proprietary fuel cannisters. But, nearly all compressed-fuel stoves have this issue. I have been able to find this fuel everywhere I have gone in the lower 48. Almost any outdoor-recreation store will have them, but call ahead to identify your supplier if flying somewhere.
Very solid performance. Easy to use. Reliable.
Price Paid: $70

I'm not really a review guy.. sorry. But I felt compelled to write this.

I've had this stove for almost 7 years now and it always performed flawlessly. I'm both a backpacker and an expedition kayaker up here in Canada. The stove went from extreme marine environment to january -30° winter outings without one moment of hesitation. Simmers beautifully but requires a wind screen to be consistent at low power. Then again, all stoves require wind screens to be truly effective. There is a time lag when adjusting the flame (the control knob is at the canister, not at the burner). So, don't bring it down too fast, it could die out on you.

The fuel could be hard to come by if you're out in the regions. I'm in Montreal and have plenty of retailers that carry the powerMax fuel, so, it's a non issue for me. But it should be taken into consideration.

At 13 and some ounces, it's a bit on the heavy side. It's a trade off for a stove that has the capacity to handle big pots and quite a few hungry team mates. I do have the Snow Peak Giga Power for my easy condition, light hiking trips, but, unless you have something like the Markhill Stove base adapter which permits to turn the canister upside down and transforms it into a liquid feed stove, it's pretty much useless in cold weather (as all pressurized canister stove are). The Xtreme is a liquid feed to begin with, thus the great cold weather performance.

Do keep an eye on the little rubber "O" ring that seals the canister to the stove. Carry some extra if you plan on being out for long. It's the only part that's susceptible to loss and/or wear. Resist the temptation to leave the canister hooked up over night. It puts useless wear on that little gasket. You might also want to tie the "green key" to the bag somehow. Although it's a good idea, it's also very easy to loose (a tent stake does the job of piercing the empty canister so it can be squished flat).

So, all in all, all the advantages of a liquid fuel stove plus all the advantages of a canister stove; not a bad deal!

Éric G.


Price Paid: Can't remember

2016 Update:
I almost never use this stove anymore as the need to carry the adapter for it makes it EVEN HEAVIER. This WAS a great stove and the two burner model I have still gets used when camping or backpacking with large groups, but it's sure heavy. Any more I usually only take my homemade alcohol stove or, on rare occasions, my PocketRocket-like Coleman F1 ultralight that runs on standard canisters and I still LOVE.
Cons
Can't get the proprietary fuel any more
Pros:
Boils enough water for two meals in less than three minutes with a decent wind screen,

Very adjustable flame,

NO PUMP which means no pumping and no associated pump problems,

Lightweight in comparison to many "backpacking" stoves,

Small enough to fit inside many pot and pan sets,

Works very well at both high altitudes and in cold weather (I've used it in the high Sierra in winter at about 5 degrees and above 10,000 ft).
Cons:
Too heavy for my liking (at 13+ ounces, it weighs in 10 ounces more than the stove I carry now),

Powermax fuel is expensive and not available everywhere.

Overall:
It's been a good stove and has served well, but
1) I don't simmer very often,
2) I can't drive 50 miles every time I run low on fuel, and
3) I'm getting older and don't want to carry any more weight than I have to.
If you've been carrying a Peak 1, Feather 440 or similar stove, this one will blow you away. If you'd like to be even more blown away, go ultralight. After all, all you really need to do is boil water, right?
Source: bought it new
Price Paid: On sale, but don't remember the price

I'm sure they are available all over eBay and Whiteblaze now for a song. I've got 4 1/3 cans of fuel left. Will save them for trips of at least a week long in winter weather. I switched to a titanium Esbit stove with the Coughlan or Esbit solid fuel tablets for most of my backpack trips.
Pros
Easy and as fast to heat as any canister stove
Stable base
Works much better in cold and altitude than "stove on top" canisters
Cons
The connection between the canister and connecting cap gets worn with time so you have to replace a plastic part or else hold the connection tight to get fuel flowing
Well, I bought the last canisters for it last year; pricey when discontinued!
Not as light as Esbit stove and fuel for short trips
Source: bought it new
Price Paid: ?? on sale as already discontinued

You May Like
Recently on Trailspace