Columbia Cougar Flats II

The Cougar Flats II has been discontinued. If you're looking for something new, check out the best tents and shelters for 2021.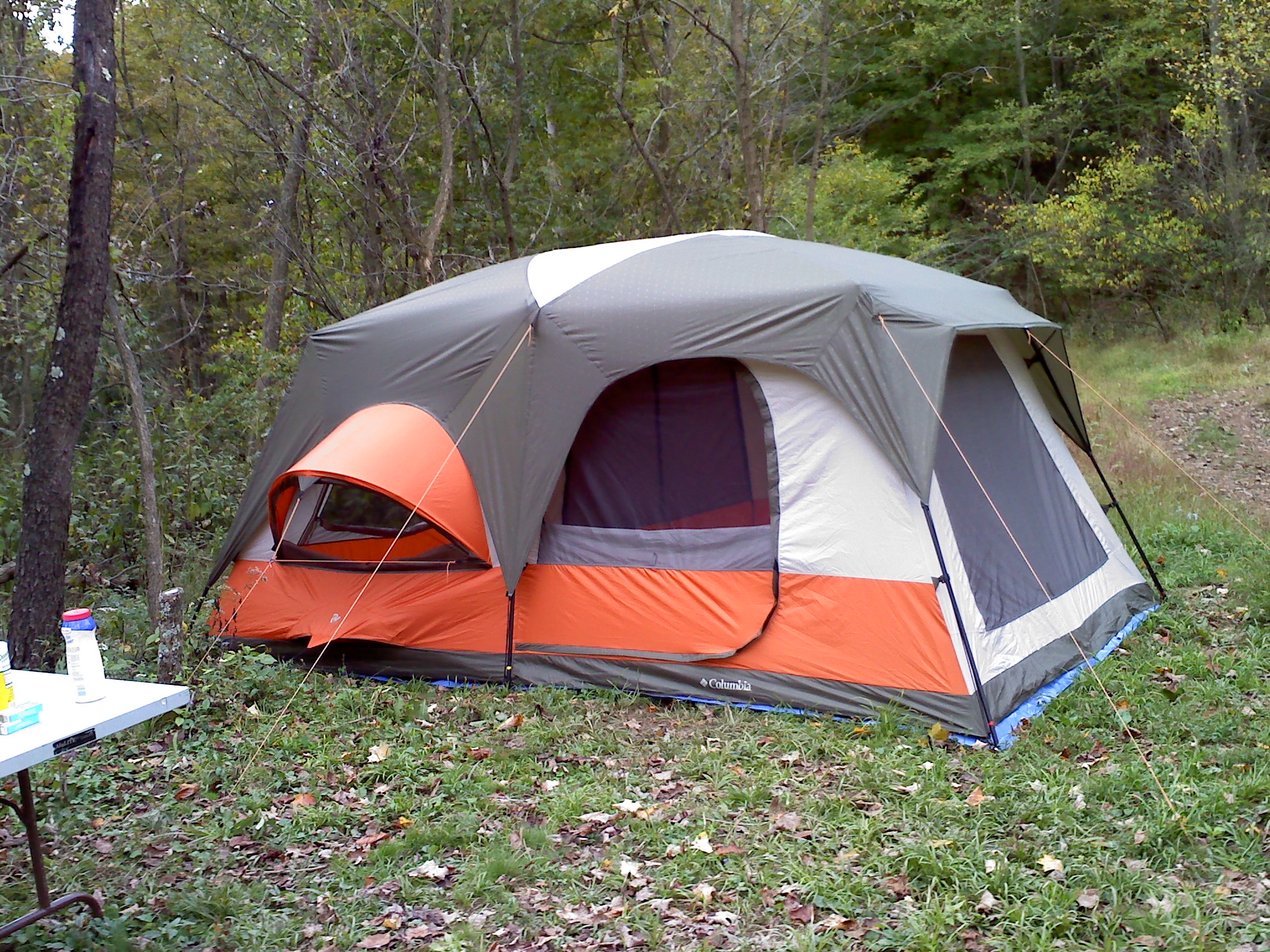 Specs
| | |
| --- | --- |
| Price | Reviewers Paid: $90.00-$250.00 |
Reviews
5

reviews

5-star:

2

4-star:

2

3-star:

1

2-star:

0

1-star:

0
Roomy and has lots of ventilation.
Pros
Headroom
Two doors
Has a room divider
Cons
Both doors are on the entry room. The divider is between the entry room so the back room has no doors.
Mine was the first version of the Cougar Flats. I think I bought it new in 2005.
This tent has lots of room. At 10 x 15 feet the two rooms are equal in size. You get two rooms of 10 x 7.5 feet. Just enough space for cots to avoid the sides of the tent.
We have used it in cold weather. It was snowy a bit in September when we camped with the church group. There were 15 people in our tent trying to avoid the snow. Once we were all in it was warm enough to be moderately comfortable. We nicknamed it the chapel tent because we had church inside on the first use of the tent.
You do need to be careful stepping over the room divider because it is about 8-10 inches high.
The tip out bay windows are fantastic in rainy weather because the rain cannot get in but you still get ventilation. That is a good thing on a hot day, trust me.
It held up well in some really windy weather, I suspect due to the steel support poles on the side and the sturdy thick poles that cross over the roof. If you suspect wind use ALL of the tie downs to secure it. It will shake and make noise but it will hold against 40 mph winds.
It did not leak when new but did after a few years. I sealed the seams and it did not leak anymore, so seal the thing if you want to stay dry. I suspect using it and the rolling and folding of it causes the leaks to appear.
The flex poles have held up well. I have not needed to replace any as of 2017. However I intend to buy replacement poles to include in the bag before we use it again. The poles are not hard to replace if you get a kit with the poles. You do need to saw at least one pole to get the overall length correct. For a friend's tent, I had to cut two poles so we didn't have one really short piece. A piece about 4 inches long does not bend easily and will split in short order. I always buy poles in a larger size then what came with the tent.
Experience
This tent is awesome. Good strong construction and water tight.
Source: bought it new
Price Paid: $125 at a fall closeout

Just got model cb-9001-10, the latest version with improvements, gave it only 4 stars, until i see how well it lasts.
This tent is well designed, and provides maximum air flow, you can easily use one room as a screen room, and the other as sleeping quarters. Bay windows and vents allow for air flow without sacrificing privacy. Also the awning can provide shade while outside.
This tent also comes with a 3 tier hanging shelf, 2 hanging cup holders, and a large gear loft. The rolling tent bag is a nice asset, as this tent is approx. 56 lbs.
With 30 yrs. of camping experience i have had many tents, but this one truly has me excited, upon arrival i quickly assembled this tent. It may best be described as a mixture of a dome and cabin style tent.
I love the size and open feel of this tent. If you're serious about your tent camping, your gear should also be serious, and this tent has that attitude!
Price Paid: $230 (amazon)

I love this tent. It's huge, on our first trip it accommodated five adults, and two children. I had three queen-size double chamber air mattresses inside of the tent and it would have easily accommodated a fourth.
I had three relatives, all 60 or older, who stayed with us on this first trip, because I had such a large comfortable tent. On our last trip the weather was quite cold, and with just a propane lantern I managed to keep the entire tent comfortably warm.
I am 6'2" tall and weigh 350 pounds. I have pretty bad back pain and getting in and out a small tent has become problematic, not to mention the difficulty of changing in one. Me, my wife, and five-year-old son are tailgate campers. We needed something that would comfortably accommodate us without the expense of camping trailer. This tent has made this the best summer of camping we've had in a while. Even my wife enjoys camping once more.
I set the tent up for the first time by myself and it took over an hour to do. The rain fly was the most difficult part to get on by myself because the tent is so tall. Once you have set it up for the first time it is much easier and faster to set up. It's a little difficult to figure out at first.
Here's a hint, start with the flexible poles. When it says the red poles, the instructions are not referring to the black holes with the red stripe. It is referring to the solid red, flexible poles. With the help of my wife, I can assemble this tent in under 15 minutes.
The other great thing about this tent is its storage bag. This bag is wheeled, so it is very easy to move this 54 pound tent around. The bag also opens up more to accommodate placing the tent back into the bag. Once the tent is back inside the bag, you can zip it up further compressing the bag and the tent for more compact storage.
I have not had to use it in heavy rainy weather yet. We have had a few rain showers, but nothing intense. So far, the tent has remained completely dry. One thing I would recommend is either a tent saver or a tarp to place under the tent to protect its floor and extend the life of the tent.
Design: freestanding cabin tent
Sleeps: 6+
Ease of Setup: easy to moderate, depending on if you have helped or not.
Weight: 54 lbs.
Price Paid: $249

I have owned this tent for about 2 years now. This is a wonderful tent, big and roommy. As the other reviewer stated, be careful with the poles for the bay window. They will break. Got a replacement and let my b/f put them in now.
There is a lot of room. We have a queen size air mattress and two end tables in one room with plenty of room to walk on both sides of the bed. In the other room we have a table and two chairs. Last time we camped with his family it started raining. There was 3 other tents and we all ended up in our tent. It was the only one not leaking.
One more thing, be careful opening the door. The zipper can get caught in the tent and tear the tent.
Ease of Setup: 2 person about 15 min
Price Paid: $250

I have one of these that I use as my car camping shelter. It really is a great tent for what it is and what I paid for it. I can set it up myself (30min) and it is very weather resistant....AS LONG AS YOU SEAM SEAL IT (2 bottles of Kenyon!!!!) At 54 lbs this is a great backpacking tent...j/k.
On a serious note. It is a good tent. Held up to a week of steady rain in the backyard because the neighbor's grandson wanted to camp and yes I got drafted (people in my neighborhood sometimes view me as the local outfitter, and I really don't mind.) It rained the first night and kept raining all through the week. Tent stayed dry.
I left it up because I didn't have an aircraft hangar to dry it out in...It is a nice tent for a party of oh 50 but I like the little guys I can throw in my pack and disappear with, my wife on the other hand wanted room... Well I thought this fit the bill (10'x15' of room with a divider+7ft. ceiling height)...Now if I could only get her to put it up...hmmmmmm.....8 steel poles, 4 fiberglass for the roof, and 2 for the bay windows. Oh and enough guyouts to tie off the USS Enterprise. The joy.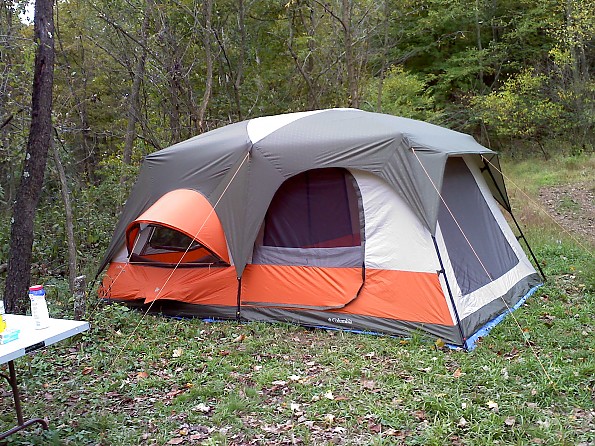 Oh, just a heads up. Yes, some of the bay window poles will break due to a bad resin mixture. The manufacturer is aware of this problem. There is a tag on the tent that has a contact number to call. North Pole sent the replacements out in a week and I have had no further problems.
Design: cabin/bc condo
Sleeps: 6+
Ease of Setup: solo-30min
Weight: 54lbs
Price Paid: $90 (ebay)

You May Like
Recently on Trailspace