Columbia Ice Dragon Parka

Top 25 in men's Component Jackets
The Ice Dragon Parka has been discontinued. If you're looking for something new, check out the best component jackets for 2023.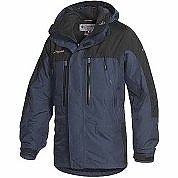 Great jacket on the outside, poorly manufactured on the inside and could be a health risk!
Pros
I live in Canada and this jacket is warm and toasty even at -20 degrees. The weight for such an incredibly warm jacket is Perfect for long distance halls. The black blue color makes it seem part of an expeditionary force!
Cons
I parked this iconic jacket for a few years to preserve it and was disappointed to find it did not stand the test of time sitting in my closet. When I did get back to experiencing it, I was constantly brushing particles off the upper areas. Unfortunately the gold interior coating started disintegrating and man was it a mess! I also worried if this stuff was a health risk if breathed in!
When I saw this jacket displayed in Sportmart, I had to try it on. The black trim on blue is awesome! All the bells and whistles like extra large secured waterproof zipper pockets and wind proof waist strapping, ventilated under arm zips and storm/squall hood, couldn't ask for more.
To bad about the gold interior coating. This should not have happened, now it is fit for the pit!
Experience
Canada's extreme northern outback
Source: bought it new
Price Paid: $190 Canadian on promotion.

I too love my Ice Dragons.
My only complaint centers on the plastic zippers. They seem brittle and prone to losing teeth at the bottom. Also, Columbia has done a shit job of insuring new liners are compatible with the zip-in system of the Ice Dragon.  
The shells are great for wet environments or where maximum freedom of movement is desired.  For use in the absence of physical exertion in bitter cold conditions I turn to my North Face Vostock parka.  
Don't forget your base layers!  
Price Paid: $250

This jacket is a tank. Although it is an older model now, I swear by it.
I work at a ski resort in the North East during the winter season and I am outside in the cold and wind all day. Whether it is a driving wind, rain or snow, the shell keeps you dry and warm. I can shovel my driveway wearing just the shell and break a sweat doing it.
Plenty of pockets and the Columbia 3-in-l system is a charm. The fleece is great for fall days, comparable to the North Face Denali without the pockets. Pick one up if you can find one. Got mine on Ebay and it is the best jacket I have owned by far. Great for layering.

Price Paid: $90

That's a great jacket, I would say! I live in a raining city in Norway, which means, it rains most time in the year. When it is winter time, without a good jacket, aha, freezing wet ass you've got!! So everybody on the street has a shell. That gives me an opportunity to compare all different kinds of shells. Finally I chose this one. It fits all seasons here. I have been to a snow mountain trip wearing it. It gave me a great memory, warm and dry in a raining evening. It is certainly not for K2, but quite enough for a winter weekend hiking trip. And also, the price is amazing. I am happy that I have made a right choice.
Fabric: Omni
Fill: Fleece
Price Paid: around $250

Okay, for what it's worth, I first bought my wife an Ice Dragon Parka, Men's Medium, paid about 280 at an end of the season sale. I liked it so much I bought the shell, at Campmor for about $170, then got the insert later at a sport specialty shop for about $80 more.
It is by far the best Columbia jacket or outdoor ski jacket I have ever worn. I have compared countless jackets, and the exterior on this thing is like a turtle shell. It is solid, not like the stuff on lot of shelves that feel like women's nylon stockings ready to tear at the slightest sneeze. This Ice Dragon wears like a champion. It has seen our washer at least 3X in two years and still looks as new as when I first got it.
If you decide to buy it, make sure the inserts fit the shell, if you buy them separately. Columbia changes the inserts every so often, as I was told, so make sure the color of the tag, eg, red, matches the insert tag (red).
Hope this helps. I have not seen this jacket around anymore, so I hope Columbia continues to produce it. They got a winner.
Fabric: Omni Tech Nylon
Fill: Fleece Liner
Price Paid: $170

A superior parka. Very comfortable, warm, versatile. I would put this jacket up against anything else on the market.
Simply the best! This Titanium Parka is the best jacket that I ever wear. I was doing some research around and I was in between The North Face Mountain Light XCR and The Ice Dragon, I bought both and took them home to compare one with each other. The quality and features of the titanium is so superior over the Mountain Light, and if you have the shell and the fleece for $250 vs. just the shell of the north face for $300 you don't have anything more to think about it. This Jacket Rocks!!
Price Paid: $249.95

Your Review
You May Like
Specs
Price
Historic Range: $95.99-$319.99
Reviewers Paid: $90.00-$250.00

Recently on Trailspace