Columbia OutDry Ex Diamond Shell Jacket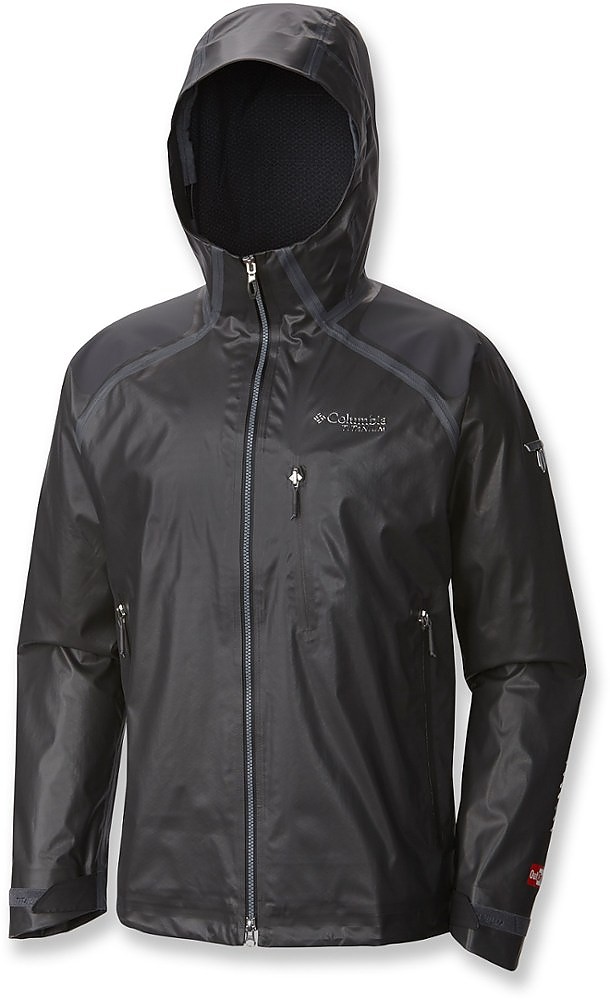 The Columbia OutDry Ex Diamond Shell is an extremely waterproof shell that uses an innovative design to keep you dry by putting a waterproof-breathable membrane on the outside of the shell instead of the traditional method of sandwiching it in between two layers of fabric with DWR on the top layer. The Columbia OutDry Extreme is the first series of rain jackets to have a membrane on the outside of the jacket. While I am not crazy about the texture of the jacket, the concept is a really innovative idea.
Pros
Completely waterproof
Very durable
Doesn't lose waterproofing over time/doesn't wet out
Fits well
Dries very quickly
Cons
Hood doesn't cinch down enough or easily enough
Hood is not helmet compatible
Expensive ($400 retail price)
Feels like a rubber rain slicker
As I mentioned earlier, the Diamond shell uses Columbia's OutDry Extreme external membrane, which is basically an inside-out version of a typical waterproof-breathable shell. Most membranes used in today's industry would be too delicate to put on the outside of a jacket, but in order to make this jacket work, Columbia designed a very durable, abrasion-resistant membrane.
The result is a permanently waterproof outer shell that rain rolls right off of. There are no chemicals (or DWR) to wear off the outer layer, therefore it never wets out and you never have to treat it. Not only is the OutDry Extreme membrane extremely waterproof, it also has miniscule pores in it to allow air to pass through it, making it very breathable for its weight.

With its visibly taped seams, shoulder patches, flashy logos, shiny zipper pulls, and bright color, I would describe the Diamond shell to look "techy." I would be hesitant to wear this out on the town because it is so loud. However, there are some other color options that aren't so bold.
Design
The Diamond shell has pretty much all of the features you would expect out of a waterproof-breathable shell, such as pit zippers for ventilation, pockets, adjustable hood, and adjustable drawcord hem at the waist. It also has re-enforced shoulder patches to reduce additional wear and tear while wearing a pack, which is something I've never seen before.
My women's medium sample weighed 14 oz, which is pretty reasonable for the strength of the shell and all its features. One other noteworthy design feature is that it has an extended rear section (my test sample measured 28") to cover one's bottom.
Pockets
The Diamond shell has two mesh-lined hip pockets, one mesh-lined chest pocket. I found all of the pockets to be sufficiently sized and placed. Some may wish that they are higher to make access easier when wearing a pack, but they sit at about the same place that most pockets on shells sit. Some of the pocket is still accessible with a pack on, so that's good enough for me.
Water-resistant two-way pit zippers for ventilation
Hood
I am not the biggest fan of the hood. I feel that it didn't cinch down close enough to my head/face. It uses a very simple pull cord with a stay for the facial area adjustment and a Velcro tab stay in the back. It did not cinch down close enough nor did it stay in place enough for my liking. Not only that, it wasn't exactly easy to adjust either.
I was also disappointed that it wasn't helmet compatible. During testing in high winds and rain, the hood did not stay in place and I had to use my hand to secure it.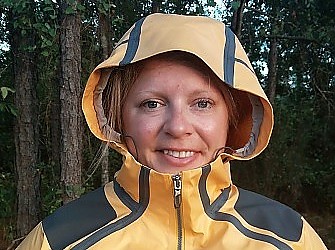 Floppy Hood – doesn't cinch tight enough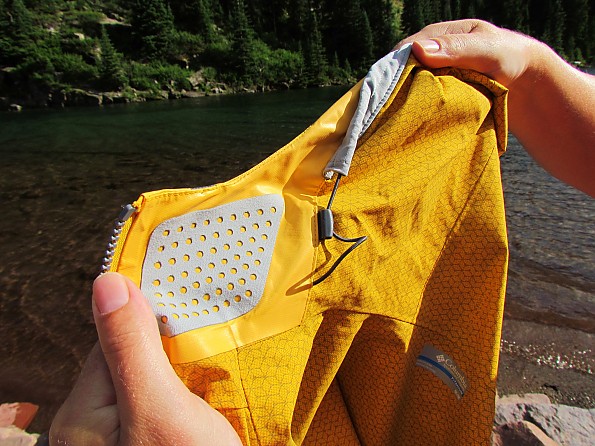 Here, you can see the simple adjustment system.
The inside flap of the chin area has a ventilated microfiber patch for extra comfort and wicking. I thought this was a nice touch of added comfort.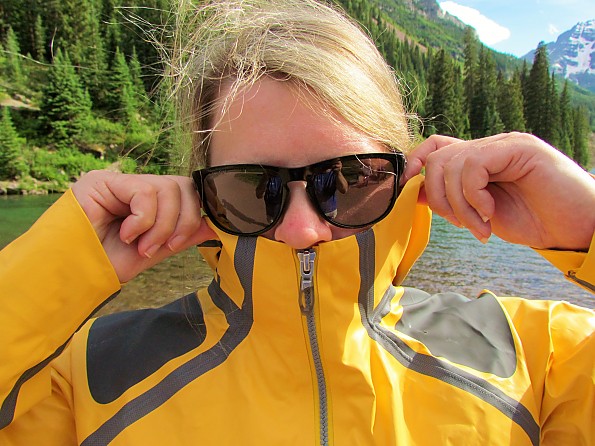 The chin area of the hood is tall and provides adequate facial protection when necessary.
Cuffs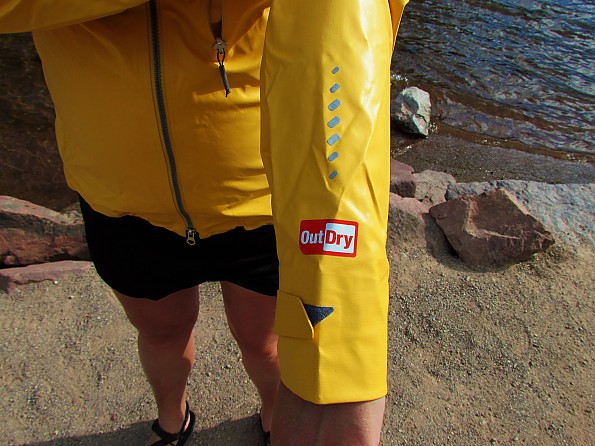 Reenforced shoulder patches
Shoulder patches help protect from wear and tear when wearing a pack.
Waist hem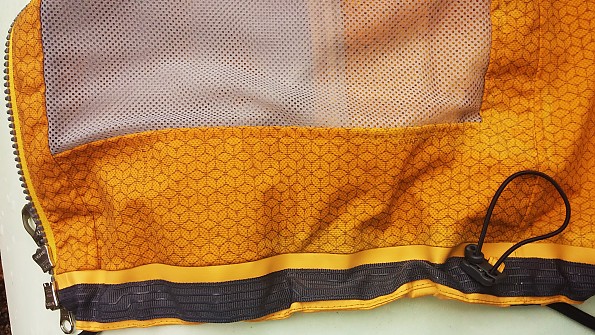 The waist hem features a toggle for adjustability and silicone grip to ensure the bottom of the jacket stays securely in place.
Interior
The interior of the Diamond shell is lined with a very breathable, wicking fabric that greatly increases the comfort level of the jacket. It added a very necessary softness to the jacket and felt comfortable against the skin. In addition to the wicking fabric, the core is lined with mesh to keep the jacket from sticking to you and keep you cooler.
Waterproofness/Technology
The OutDry Ex Diamond is as waterproof as any rain shell I've ever used. In their marketing material, Columbia accurately described the Outdry Extreme to be a "force field" to water. When the water touches it, it just rolls right off of it, like a force field.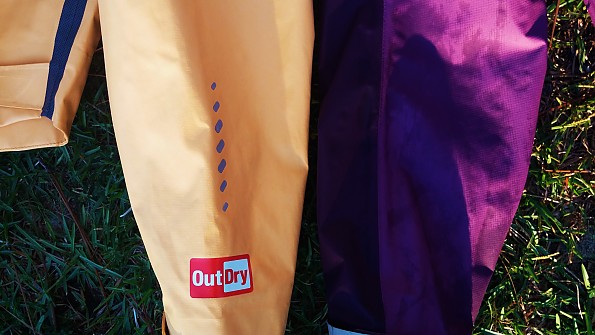 Here, you can see the sleeve of a Gore-Tex shell soaking through, but the OutDry Extreme Diamond shell doesn't absorb the water.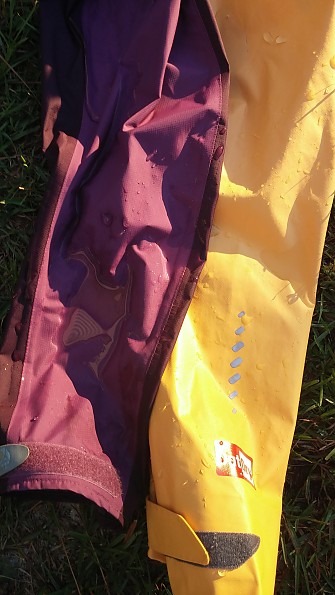 There is no option for water to soak into the fabric, even if it is sitting for a while. Even the best Gore-Tex shells have vulnerable spots that can wet out if exposed long enough because they are made of fabric that can absorb water. The rubbery Diamond shell does not absorb water, it only repels it, making it dry very quickly.
If you scratch the surface of a shell treated with DWR, you can actually scrape some of it off and that spot will be vulnerable to getting wet. Since the OutDry Extreme membrane doesn't use chemicals, you can scrape it all day and it will still perform the exact same. This is a really important feature for the backcountry, as hikers are constantly exposed to trees, brush, and even rock.
Breathability
I found the Diamond shell to breathe well for its weight. There is no doubt that Columbia had breathability as a top priority when they designed the Diamond shell. It has pit zippers under the arms to dump heat, the interior of the jacket is lined with a wicking fabric that doesn't stick to the skin, and the front core/pockets section has additional very light mesh lining.
Not only that, but the shell fabric itself is very breathable. I've worn it through winter, spring, and summer. While it is very breathable for its weight, don't give it unreasonable expectations and think that you can go hiking in 70-90 degree weather and not sweat up a storm. It is not meant for those conditions, it is more for spring, fall, and winter activities.
Fit and Comfort
I found the fit to be a "regular" cut and it fit me well. I am in between a medium and a large in most jackets, but the medium fit perfect. Because it is a generous cut, there is adequate room for layering. I was able to fit a Patagonia Capilene 2 baselayer and my Arc'Teryx Atom LT Hoody underneath it while I snowboarded in West Virginia. 
The overall length was appropriate and the length of the sleeves was perfect for me. As for comfort, I can't say I ever really felt comfortable in the jacket because I really had a hard time getting used to the rubbery feeling of the shell.
There was one feature that did improve the overall comfort and feel of the jacket, and that is the inner wicking fabric. A lot shells of have a rubbery/vinyl feel to the inner liner and so I was really appreciative to see the soft, wicking lining. The interior fabric is smooth and it did not cause any hang ups when layering underneath.
Packability
Just in case you are wondering, I found the Diamond shell to be just as packable as any other shell in its weight range. It doesn't have a stuff sack or stuff into its pocket, so I just roll it into its own hood.
Testing Conditions
I've tested the Diamond shell from February through September. I had a very hard time finding rain in the backcountry during my testing, but I feel 100% confident in my assessment due to wearing it as an everyday rain shell because it kept me dry in some insanely rainy conditions.
One of the times that I was most impressed with it was when it was pouring rain at my work one day and I stood under a roof drain with a constant flow of water dumping on me (just for testing purposes). I came out bone dry where the jacket was, but my shoes and skirt were completely sopping wet.
Since I couldn't find rain on a weekend in the backcountry or on my two-week Rocky Mountain excursion, I opted to test it out while paddling the Saluda and Congaree Rivers in Columbia, S.C. I was very pleased with the results. I went through several soaking rapids and my upper body stayed completely dry. I honestly liked the jacket the most when paddling. It felt very natural, like that's what I should be wearing.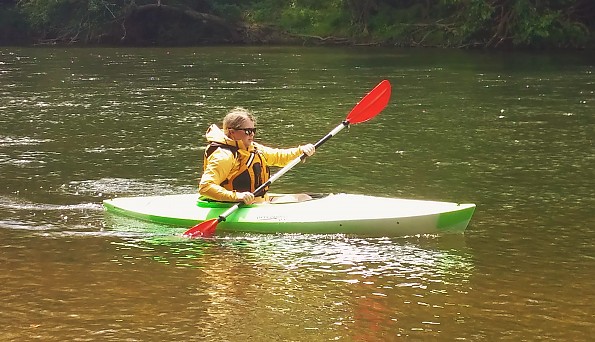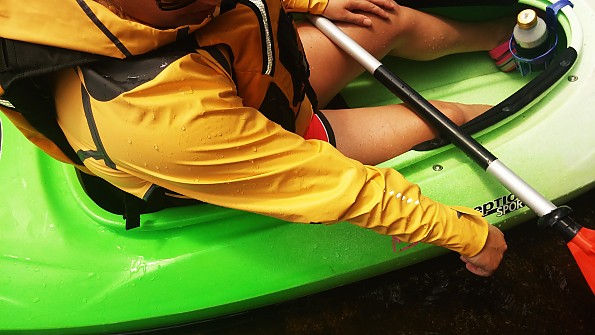 I also attempted to test it while snowboarding in 7 degree weather in West Virginia, but it just felt weird wearing a rubbery shell snowboarding, so I took it off and put on my regular shell. What I can say about that test is that I get very hot when snowboarding (I fall and get back up a lot), and it did breathe very well on the runs that I wore it on.
The Ex Diamond was tested in temperatures ranging from 7 degrees all the way to 95 degrees. I personally liked it best in temperatures below 70 degrees, but that would be consistent with any non-ultralight shell for me. What I found most impressive over the testing period is that through seven months of regular wear, it is still as waterproof as it was the first day I wore it.
Hurricane Matthew came to my home state of South Carolina over the weekend. We had a lot of heavy rain and very strong winds at around 35 MPH and gusts over 50 MPH where I live. My puppy decided he had to go out to relieve himself during the heaviest part of the storm, so I wore the Ex Diamond out there with him. I stayed completely dry except in the head and face area because the hood would not stay in place. I wore it more throughout the day when the rain and winds calmed down to less than 20 MPH to give the hood the benefit of the doubt. It still wouldn't stay in place and I had to use my hand to secure it.
My Rating
I rated the Ex Diamond Shell at 3.5 stars because the waterproofing technology is so impressive and it kept me dry at all times, but I did not find it to be comfortable. If I were to rate waterproofing and performance alone, I would have rated it 5 stars, but I deducted a star and a half for lack of comfort and for the hood not cinching tight enough.
Conclusion
If you are looking for a very durable, breathable, and extremely waterproof rain jacket, this one is definitely worth considering. However, I highly recommend you try it on in a store before buying. I had a hard time getting over the rubber rain slicker feel, but you may not.
Source: received for testing via the Trailspace Review Corps (Sample provided by Columbia for testing and review)

The Columbia OutDry EX Diamond Shell Jacket is a waterproof shell that does great keeping the rain out, but places form over function.
Cons
Breathability
Cost
Plastic finishes
Form over function
I tested the Columbia OutDry EX Diamond Shell during the winter and spring of 2016 in the White Mountains Region of New Hampshire. The temperatures were above average and precipitation was more often rain or wet snow than anything else.
I had planned on testing this jacket as an alpine touring and skiing jacket, but with the low snow levels I ended up mostly using it for hiking. While this was disappointing in terms of winter activities, I think it was a benefit to the jacket because I do not think it would perform well as a backcounty skiing shell.
As I reviewed this jacket I constantly debated the rating I felt was best. On one hand, it was highly waterproof, some might call it extreme, which is great and is exactly what Columbia designed the jacket to be. However, on the other hand, I never enjoyed wearing it. The material that makes the jacket waterproof also makes it feel like the plastic rain coat I had when I was growing up. This causes it to move in a stiff manner and does not allow for a smooth range of motion found in other waterproof shells.
I also looked at how the jacket was designed to be worn versus what I felt it was best used for. Based on the marketing materials you would suspect that the jacket was designed to use during four seasons of hiking and skiing. However, my experience makes me feel that it is best for front country resort skiing and little else.
Finally, the retail price gave me pause. For those that have read my Review Corp posts in the past you will notice that I rarely mention price. I feel that I cannot dictate what someone decides is expensive versus inexpensive. The only time I discuss price as a pro or con is when I feel a product does not match the price point.
This jacket currently retails for $400. If I were to only look at the waterproofing component I would say that that price point is appropriate since other highly waterproof shells made with high end materials will hit that level of cost. However, there are a number of other things to take into account when it comes to looking at a jacket and I found that many of the features I look for in a $400 jacket simply were not present in the Columbia OutDry EX Diamond or they were done using inexpensive materials.
All of these issues will be discussed more fully in the review.
Fit and Comfort:
The Columbia OutDry EX fit me well. At 5'10" I fall well within the range for a size medium jacket. The arms fell just below the wrist, which is ideal and allows for continued wrist coverage even when reaching. The hood fit over a beanie or ball cap well.
I was disappointed to find that the hood was not helmet compatible.
This is a big deal for me because many of my winter activities, as well as some summer activities, involve the use of a helmet. To not have helmet capability really limits the use of this jacket to only low angle, low risk activities.
The inside of the jacket is lined with a soft fabric that I found to be comfortable against the skin and prevented some of the sticky feeling that I have experienced in other shell jackets.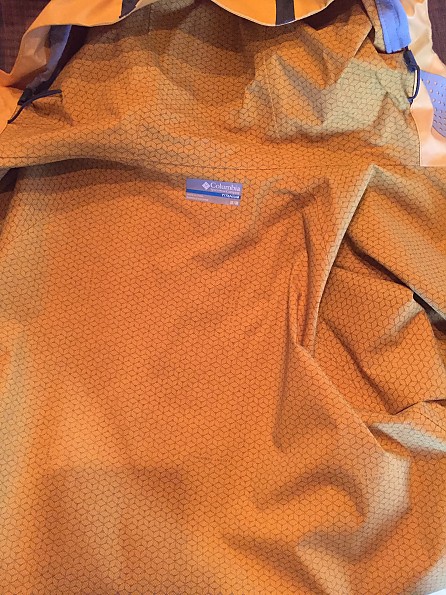 As mentioned previously, the outer material reminds me a lot of the rain jacket I had when I was a kid. It is slippery and does not move as freely as other materials. I noticed, or at least felt, that I was making a lot of noise while moving. It also created a situation where I never forgot I was wearing the jacket and did not ever enjoy putting it on.
Adjustability:
This jacket has rather limited adjustment options. The hood has a simple pull string on either side of the front to close the opening around the wearers face and only a hook and loop tab on the back to adjust for head size.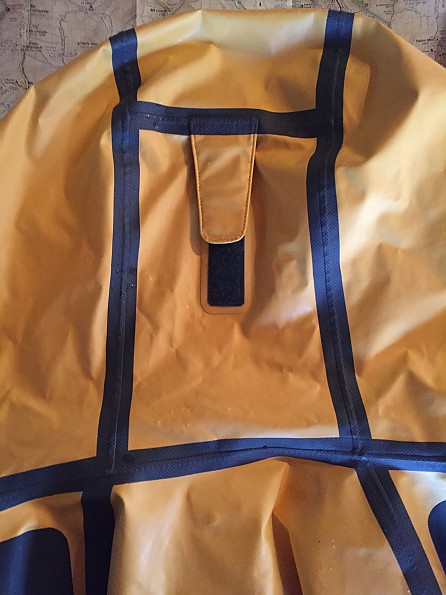 This does not allow for much custom adjustment. I found that I never moved the adjustments because the fit did not change much and was just not worth the effort.
There is a drawcord on either side of the waist to close the bottom.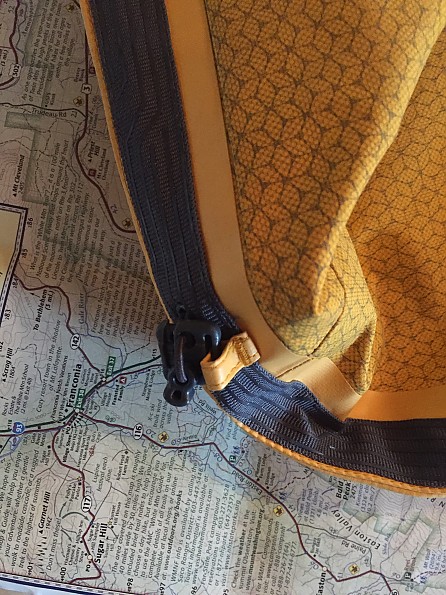 Again, I did not end up adjusting this because it was not worth the effort for the small gain I would receive.
Finally, the wrist cuffs have a large amount of adjustment to tighten the cuff around the hand or glove.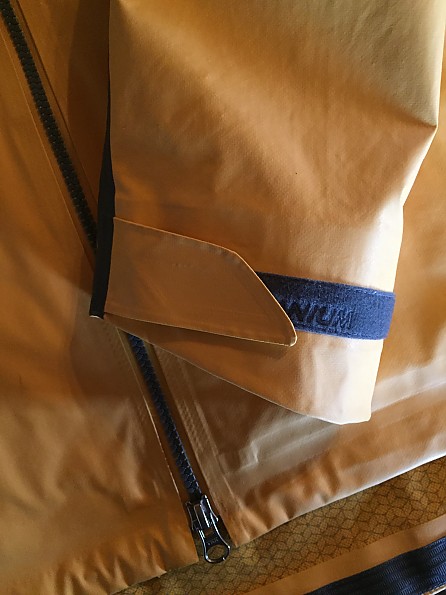 This feature worked well and allowed for some nice customization.
Water Resistance:
The water resistance was the best feature of this jacket. The OutDry EX material sheds water and snow and I never experience any wetting out. Also, based on the feel of the fabric I don't think it would ever lose its waterproofing ability. This is a great feature in a waterproof jacket and the Columbia OutDry EX Diamond exceeds expectation in this category.
Breathability: 
The constant and continued struggle with outerwear is the balance of waterproofing and breathability. Over the years I have had many shell jackets and they all fall somewhere along a spectrum that ranges from 100% waterproof/0% breathable to 0% waterproof/100% breathable. This jacket falls closer to the 100% waterproof end of the spectrum.
I found that when I began hiking uphill and building up my perspiration the inside of the jacket got rather warm and steamy. This happens with most shells but I found it happened with this one even at temperatures between 30 and 40 degrees. Columbia does provide underarm zips to help dump some heat. This is helpful, but I found that the zips were much shorter than I was expecting.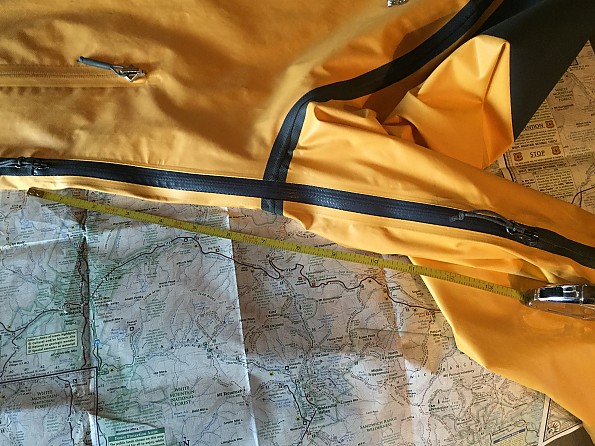 It is a little hard to see in the picture but the zips only measure 14 inches from top to bottom. Most other shell jackets I have that come from a comparable price point have zips many inches longer and some extend from elbow to waist. Extending the zipper length would go a long way to help this jacket have a little more breathability.
Moisture: 
I mentioned earlier that the inside material was soft against the skin and helped prevent the sticky feeling that sometimes occurs while wearing waterproof shells which was appreciated. 
Warmth:
As an outer-shell with no insulation I did not expect this jacket to keep me warm by itself because that is not how it is designed. With that being said, it did trap body heat and retain it for extended periods which kept me warm when it was cold out, but also kept me warm when it was not so cold out.
Layering:
I found that the jacket was designed very well as an outer shell. It had enough room to comfortably fit an insulating layer and maintain that layers loft for warmth and did not feel too big when worn without additional layers.
Abrasion:
The OutDry material is rather slick allowing sticks and other abrasive objects to slide off without issue. I have long-term concerns for the branding labels because they are raised and attached with adhesive and I assume they may begin to peel off overtime.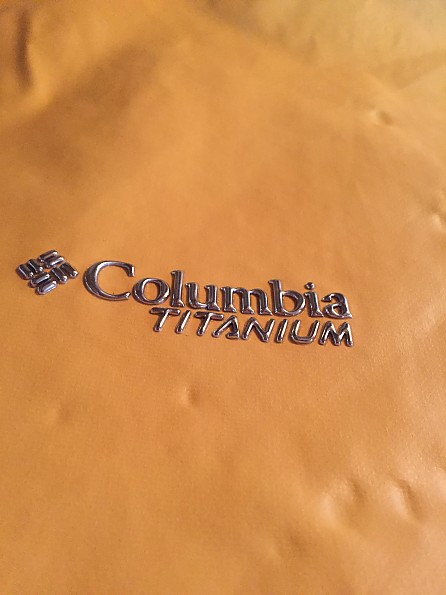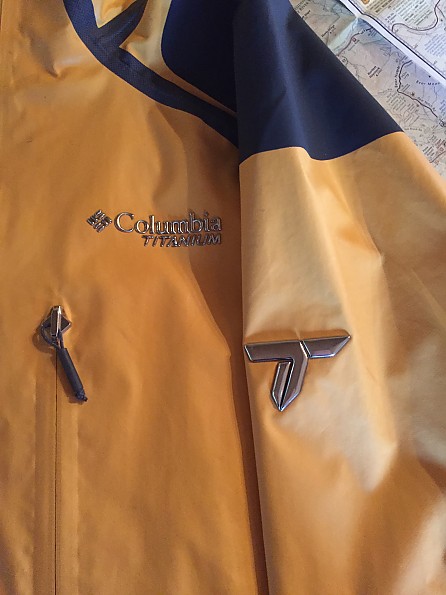 Function:
I feel that this jacket was designed with style before function. There are a number of "cool" looking lines and features that catch the eye but do not provide anything towards the function of the jacket, like the shoulder material and the branding.
The shoulders on the version I tested were a different color than the jacket itself. This makes for an aggressive look that makes one assume the material is more durable in that area. I found that it is the same material as the rest of the jacket and is not reinforced. It is simply for looks.
The branding is raised and has a polished silver look. Again, this catches the eye, but it also will catch backpack straps and frames, and branches. One of the branding labels is in between the shoulders on the back. This is a great way to tell the person skiing behind you what jacket you have on but if you are wearing a pack it will eventually press against your skin causing discomfort or just wear off entirely because of your pack.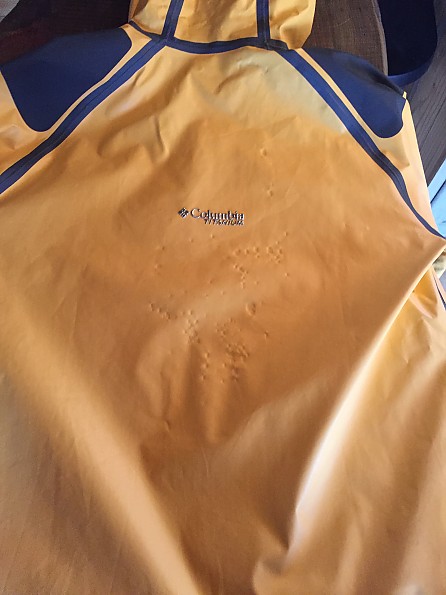 There are also stylistic features that I feel impede the function and performance. These include the zippers, pocket locations, and lack of hanging loop. The only YKK metal zipper on the jacket is the main zipper up the middle. This is great since it is the one that gets the most use. However, the pull on that zipper is was enlarged enough to include a small "T" which is in reference to the product. For those counting ounces this is an example of something that would have been lighter if it was just a nylon pull cord.
All other zippers on the jacket are shiny and look nice from across the room but they are simply plastic. As anyone who has spent a lot of time in the backcountry knows, thin plastic will break.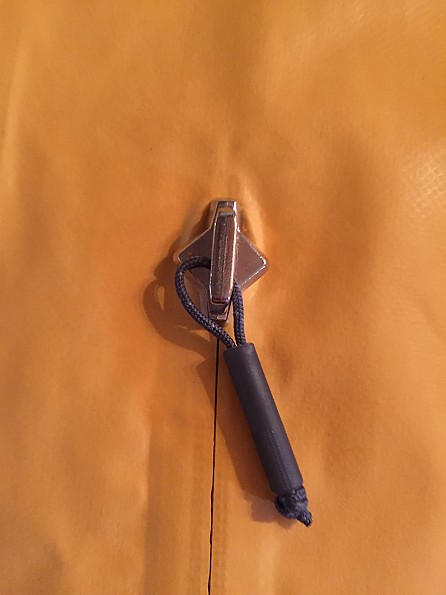 The front pockets are not designed for a hip belt. I found that every pack I tried with this jacket had the hip belt land halfway between the top and bottom of the opening rendering the pocket useless.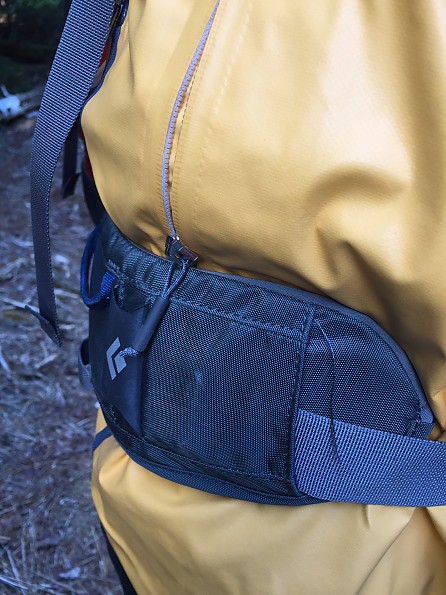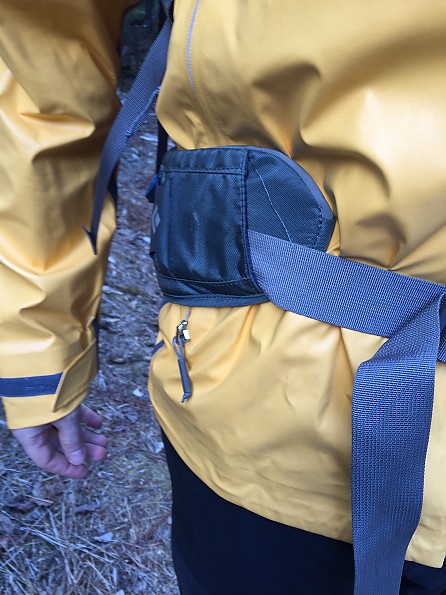 Moving the zippers up slightly would eliminate this issue. However, I know that many people who do not backpack would find the height of the pockets odd. My assumption is that the target audience for this jacket is not a seasoned backpacker and therefore the placement of the pockets was designed for traditional hand location versus interaction with other outdoor equipment.
A small feature missing from the jacket is a loop so that it can be hung from a hook.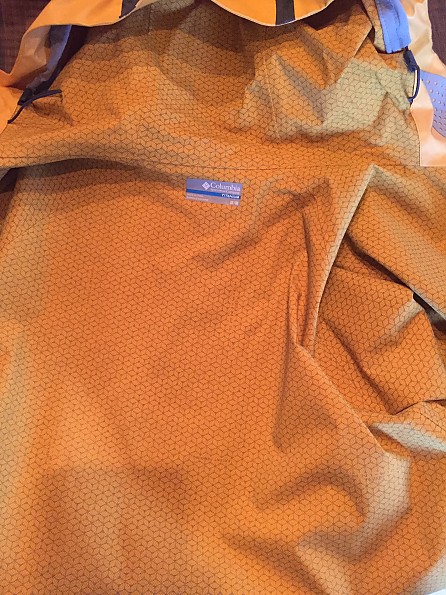 My assumption is that this was done to keep the inside looking "clean." However, this is a problem when it comes to trying to hang a jacket up. You can hang it from the hood but it then hangs low and is not secure on the hook since the hook does not pass through the hood. I know that this is not a big deal for everyone but I find it very frustrating. 
Construction and Durability:
The shell material on the OutDry EX Diamond jacket is well made and does what it is designed to do. My only concern is that I have not been able to identify if there is a way to repair this material in the field or at home. Many other waterproof fabrics have patch kits but I have not found one for the OutDry material. Columbia does repair or replace outwear that is damaged as long as it occurs within the expected lifetime of the product.
Besides the shell material I found the construction of finishes to be weak. My biggest concern is that the zippers will fail since they are made of plastic.
Conclusion:
The Columbia OutDry EX Diamond Jacket does not fall high on the list of my favorite shells. While it was waterproof, I found that style was put before function and does not match in quality to other jackets at its price point. I think that it is perfect for a resort skier who is looking for a waterproof shell but will never put on a pack and head to the woods.
At its current price point, those looking for a hardworking, functional, waterproof/breathable shell that will perform in harsh backcountry scenarios should look elsewhere.
Source: received for testing via the Trailspace Review Corps (Sample provided by Columbia for testing and review)

Your Review
You May Like
Specs
Men's
Price
MSRP: $400.00
Historic Range: $199.83-$399.95

Women's
Price
Historic Range: $180.00-$400.00

Recently on Trailspace