Specs
Men's
Price
MSRP: $65.00
Historic Range: $31.73-$75.00

Women's
Price
Current Retail: $36.99
Historic Range: $29.98-$64.95

Reviews
1

review

5-star:

0

4-star:

1

3-star:

0

2-star:

0

1-star:

0
The Columbia Men's Pilsner Peak Pant is a good pant for hiking, backpacking, and rock climbing for three seasons. They wick well, making them comfortable for warm weather use, with enough stretch to work well for climbing. They are somewhat water repellent. They are, however, a very slim fit for their nominal size.
Pros
Comfortable fit
Some stretch to fabric
Gusseting along legs for flexibility of movement
Wicking, so dries quickly ("OMNI-WICK" fabric)
UPF-50 rating ("OMNI_SHADE")
"Knife pocket"
Cons
Very slim fit for nominal size
Limited to warmer weather — even with thin base layer is very tight
"Grey Ash" color shows dirt readily
When wearing climbing harness or pack waist belt, threads abrade faster than desirable, making front have "dirty" look
Zipper is only 10 cm/4.5 inches long, so pant is short-waisted (rides low)
Rear pockets lack zippers, hence vulnerable to pickpockets in some countries
Some Background:
Pants and other clothing for outdoor activities have only a few basic functions to fulfill: weather protection (sun UV, warmth/cooling, cold wind and breezes), protection from potential abrasion from scratchy branches and "road rash", pockets to carry a few items readily retrieved, durability enough to last through at least a season's worth of hard use, as well as the ability to make the moves needed for the particular activity.
Some people would include "style" and "fashion" as well, though after a few days on the trail, scrambling up a rock route, skinning up and skiing down slopes, along with hauling gear in your pack and/or sled, "fashion" becomes a negligible factor.
Trailspace readers already know that my activities include a lot of hiking (day hikes and extended backpacking trips in various corners of the planet), plus rock climbing, mountaineering, skiing, and high altitude mountains. Sometimes, this entails hot weather and sometimes it entails sub-zero conditions. The extremes of temperature demand layering, so it is a big plus if clothing can fit into a rational layering scheme.
First Impressions:
I got an email from Alicia offering the Columbia Pilsner Peak Pant to be tested for a Trailspace Gear Review Corps review. Columbia has been selling outdoor clothing for quite a while and has a fairly good reputation (despite being one of a number of subsidiaries of a large conglomerate in the field of outdoor products). With another gear item review in progress and one of my treks abroad doing environmental research as part of the American Climber Science Program looming in the near future, I figured I could just work the pants into the scheme of things with no problem.
Alicia told me that the sample was size 32 waist by 32 inseam. My normal pant size is 30 inches waist by 28 to 30 inseam, so this pair of pants sounded as if they would be a bit on the large size. Of course, we all know that nominal sizes are often different from one manufacturer to another, and even within a manufacturer's line.
The pants weighed 10 oz/286 gm on my calibrated scale. They can be rolled to a quite small size for packing for those expeditions to far away places.
When I received the pants and tried them on, I was more than a little surprised to find (1) the pants were very much a "slim" fit (Columbia's website calls the fit "Regular", with a comment of "slightly small"), with the waist feeling more like my 30" waist pants and (2) the thighs a fairly tight fit. OK, I know, I spent many years commuting on bicycle to and from my work before retiring, plus my spouse and I were amateur bicycle racers for many years (both spending most of our racing careers winning the regional championships in road, time trial, and criterium categories).
I still bicycle a lot in the local hills. So I have the typical bike racer's thighs, added to many miles of hauling big loads of gear into the backcountry and in mountain ranges on all seven continents, which also helps build leg muscles. Nonetheless, the waist and thigh are a very close fit. The Pilsner Peak is somewhat stretchy, though not like Spandex. 
Below is a short video clip taken from my gear review of the Cascade Trekking Poles, so you can see how the pants look when walking.
On the other hand, the inseam length is definitely too long. In early hikes in the testing, I just rolled the bottom of the legs up into themselves to shorten the leg length. Later, I had Barbara play seamstress and permanently shorten the legs.
The legs are gusseted, which helps prevent the pant legs from binding. Unlike many outdoor pants, the pockets are very basic and conventional. That is, there are two front pockets with slanted openings and two rear pockets that are basically sewn-on rectangles with no zippers. Since I travel in countries known for locals with light fingers, I would prefer that the wallet and passport pockets have zippers (my Patagonia Alpine Guide pants have such zippers).
Of concern to male users (there is a women's version available), when I first put the pants on, I felt that they were a bit on the close-fitting side, with the zipper feeling very short. I measured the zipper at only 4.5 inches/10 cm long, with the full rise being 12 inches/30 cm. In dress pants of my size (30 waist x 30 inseam), the rise is more typically 13 inches/ 33 cm and the zipper 6 in/15 cm. This means most men will want to wear the pant lower on the hips.
The right leg has an accessory pocket that is the right size for a Swiss Army Knife, and also just right for the Omron GOSmart Tri-Axis pocket pedometer that Barbara found on one of her morning walks around the block (a bit over 6 miles). Other than the knife and the pedometer, I am not sure what that pocket would be good for. A single Clif Bar maybe??
The fabric of the pant itself is 56% nylon and 44% polyester. According to the hang-tag, the Pilsner Peak is made in Bangladesh. Cleaning instructions call for (machine wash at gentle setting and cold water, washed separately, no bleach, tumble dry low, remove promptly, iron on low heat, no fabric softener, and do not dry clean).
The pant color sent to me is called "Grey Ash", which is a mix of white and black threads in the weave. To the eye, it looks like a greyish white. Columbia's website lists a choice of three colors, none of them the Grey Ash. The choices are "Delta" (brown), Commando" (green), and "India Ink" (dark grey). The official MSRP on the Columbia website is $65, pretty typical for a quality pant in this day and age.
Although I devalued "fashion's" importance in my list of desirable features above, my spouse stated that she felt these pants had a high visual appeal. I will admit that they are reasonable for that fast food stop after exiting the back country.
Details - Field Testing:
Over the period of several months, I wore the Pilsner Peak Pants for hikes and for rock climbing. Some of the training hikes coincided with the rainstorms we have thankfully been getting finally, while other outings were in hot sunny weather, some hot humid weather, and several hikes in windy, cool weather. I was pleased to note that in light rain, the droplets tended to bead up and NOT wet-out the pants. For such a light fabric, the pants were acceptably wind resistant (measured winds on several occasions were in the 8-10 knot range).
I did have a rain parka and long-sleeve wicking shirt on, and hiked fairly briskly uphill, but with lower effort downhill. I did not hike any in snow conditions, so did not determine what the performance in very cold conditions might be. Nonetheless, my impression is that the pant would be adequate as an insulating layer (in place of a longjohn bottom) under a bib or salopette. 
During two of the hikes, both following fairly heavy rainfalls in the Santa Cruz Mountains, the trails included long sections of very slippery wet clay (think "axle grease" slippery). On one of these, my 25-year-old Lowa FGL mountaineering boots, much in need of a re-sole, failed in a couple places to grip sufficiently, so that I went into an involuntary glissade that terminated in a short sitting down slide section.
On the other, I just plain sat down suddenly. In between storms, we had several spells of dry enough weather to turn the trails back to their normal deep dust conditions. The cuff section of the pants collected enough of the dust to show a very different color.
A bit of rinsing off the worst of the mud and a run through the washing machine restored most of the appearance of the pant.
The light color of the pant ("Grey Ash") does show dirt readily. And as noted in the "cons" list, wearing a harness during climbing or the waist belt when carrying a heavy pack during training hikes does result in breakage of some of the black threads in the "grey" fabric. The solution to the color problem is to get one of the other color choices.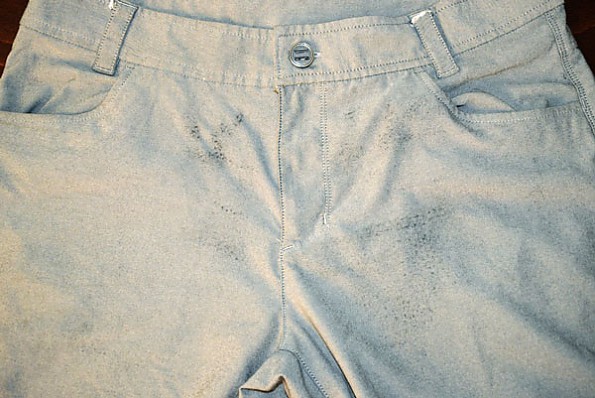 The darker spots are where the climbing harness wore the darker threads
There are several consequences of the short zipper, short-rise design, and slim fit. The waist of the pant tends to ride low — in my case the top of the pant rides an inch or so below the top of my pelvis. When squatting to place tent pegs or cook on the typical backpacking stove, there is a risk of "plumber's crack". This is also a risk during some climbing maneuvers, along with a bit of binding as you stretch for a foothold, although the gusseting helped avoid that for the most part.
If you need to step off the trail to adjust "hydraulic pressure", you may find that you need to unzip, undo the waist button, and unbuckle your belt, possibly exposing more than you intended. Ah, you say, the solution is to buy a larger size. If you are trying the pants on in the store, you can judge the comfort and the fit. But if you buy from the web, getting just the best fit is more challenging. Since inseam length tends to go along with waist size, you probably will end up re-doing the cuffs, as I did, The photo below shows a ruler next to the zipper for comparison to the more standard men's pants zipper length.
The photo below shows how the gusseting reduces the potential binding you often get with slim fit designs.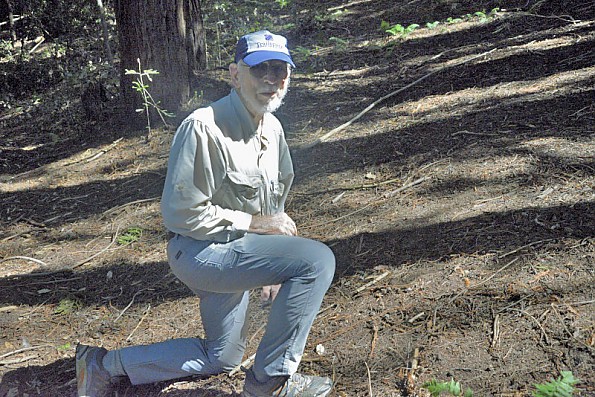 Kneeling or sitting down emphasizes the "slim" fit
One other consequence of the slim fit is that layering with even a very light base layer makes for a bulky fit. If you are going to use these pants in cold weather, you will need to use the pants as the base layer and fit a salopette, bibs, or shell over them for wind, precip, and warmth.
Despite the tightness of the "slim fit" I found the pants reasonably comfortable for the hiking and climbing.
In closing:
I recommend the Pilsner Peak Pant as a general three-season pant. Overall they proved well in my hikes and climbing. The pant is a fairly slim fit for its nominal 32-inch size, in that they are a slim fit on my 30-inch size. The Grey Ash color of the tested pair shows dirt readily, and there was some wear noticeable where the climbing harness or backpack waist belt sit in a much shorter time than most of my other pants.
Overall, I like the pants a lot. However, due to the fit being slimmer than the size would indicate, the more rapid wear than expected, my feeling that they are not really a full three-season pant, and some other minor "nits", I don't feel the Pilsner Peaks rate 5 stars. I debated between 4 and 4.5 stars, but finally settled on 4 stars, which is still quite good.
Source: received for testing via the Trailspace Review Corps (Sample provided by Columbia for testing and review)

Your Review
You May Like
Recently on Trailspace