Condor Tool & Knife Bushlore

Top 50 in Fixed-Blade Knives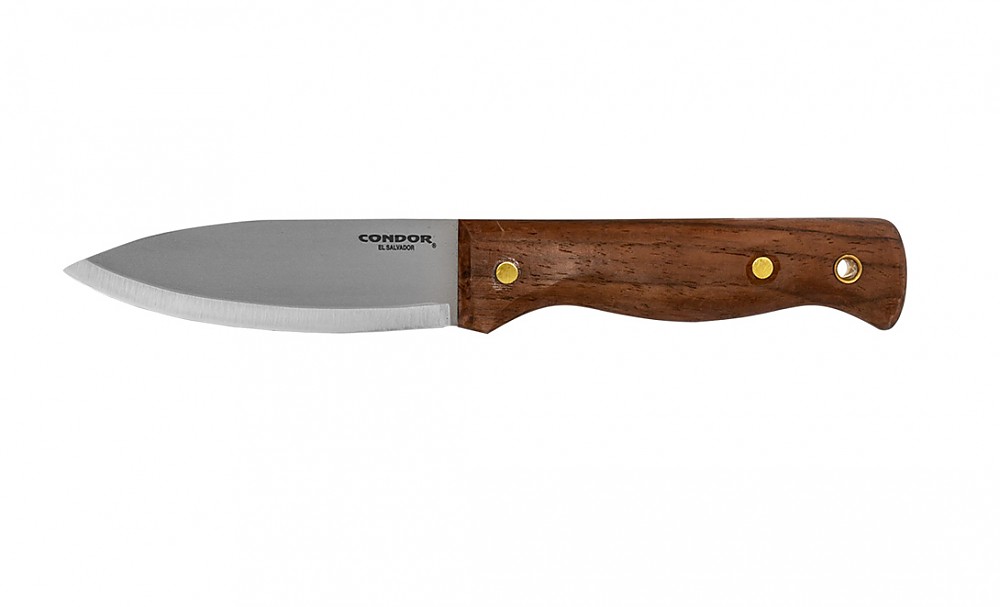 Specs
Price
MSRP: $70.18
Reviewers Paid: $30.00

Designed by
Joe Flowers

Blade
4.3 in / 109.5 mm

OAL
9.3 in / 236,5 mm

Thickness
0.1 in / 3 mm

Weight
6.1 oz / 172 g

Material
1075 High Carbon Steel

Finish
Blasted Satin

Grind
Scandi

Type
Fixed

Handle
Walnut

Sheath
Hand Crafted Welted Leather

Reviews
2

reviews

5-star:

0

4-star:

2

3-star:

0

2-star:

0

1-star:

0
A true bushman's knife for EDC...inexpensive but NOT cheaply made. Great for camping trips. Durable for medium use. Sleek design.
Pros
Good weight
Decent balance
Sharp
Inexpensive
Cons
1/8 thick—can't be used for splitting larger logs
Can't be used as pry bar
Comes with leather sheath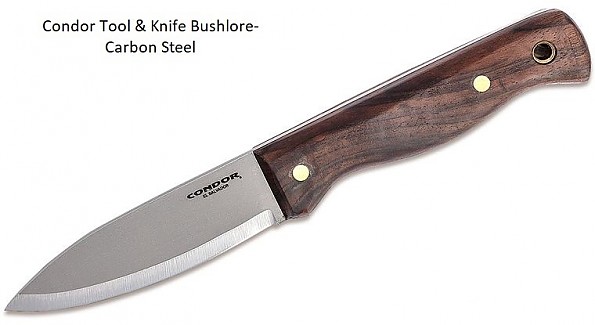 Condor Tool  &  Knife Bushlore
About 7-8 years ago I purchased several different survival knives to test and review with this being one of them. I spent a few months researching and reading reviews of survival/bushman knives.
The Condor Tool and Knife Bushlore is a really good knife, but not at a price that breaks the bank.
The Specs:

Blade

 Length: 4-5/16"

 

Blade

 Thickness: 1/8"

Overall Length: 9-5/16"

Blade

 Material: 1075 High Carbon Steel

0.77 lbs

Handle: Hardwood

manufactured in 

El Salvador
This knife has what I call a retro look. It's the kind of knife that you can picture your grandfather carried back in the day, and then one day it becomes yours.
A few thoughts on this knife:
This isn't a heavy duty knife. It can be used for splitting logs, but at only 1/8-inch thick it will take a little longer and with more energy than knives at a 1/4-inch thickness with a heavier weight.
Some of these knives come sharp right out of the box like mine did, but I have read many had to sharpen them when they first got it.
It is easy to sharpen on the fly and doesn't lose its edge quickly.
This is the perfect knife for going on a months-long trip into the wilderness. It's a great knife to have in your backpack or bug out bag, or in the trunk of your car. It's a great Bushman's knife, but not a great survival knife. 
Now there are different ways people describe what a good survival knife is. My definition is being in a survival situation for an extended time and having a knife that isn't gonna break or rust on you and that can take a beating yet still maintains its' durability, i.e. if you are in the military seeing action abroad this knife just won't fit your needs.
I recommend the CONDOR Tool & Knife Bushlore for hikers, backpackers, campers, and mountaineering, and for anyone assigned kitchen duty in the outdoors. Just remember to dry your Condor after using it and always apply oil to it when putting it into storage.    
Experience
When using this knife while camping I ended up using it for all tasks. Preparing dinner and eating dinner, for splitting small logs and branches, for chopping small dead branches of trees, making tinder and starting the fire to cook what I prepared.

Being a knife collector and one that uses knives daily I can say I have tried, owned, and used many different knives such as this one.

I am actually impressed with the Condor brand and glad I made the purchase. In a survival situation it would be my second knife that I would bring with me at times, with the Ka-bar BK2 Becker as my primary, simply due to its 1/4 thick blade and 1 lb weight.

But when it comes down to it, the Ka-bar being 1 lb was only used for the big jobs, while every other part of my day this knife was in my hands doing the rest. So in the end, thumbs up for the little guy Condor.

My only bad review will be of its sheath. I simply do not like leather or nylon sheaths. I prefer molded, but again that is my personal taste with regard to sheaths.

I do not consider this a Survival Knife. The main reason is it is just not thick enough to be a survival knife, and due to the fact that it is a carbon blade which tends to rust easily, but as a camping / hiking / bushman knife—you are going to be very happy.

I am very particular what I identify as a Survival knife and an EDC or camping knife. When I think of a Survival Knife I am picturing someone like myself in the heart of the wild, deep in the outdoors, miles away from civilization. It could be weeks if not months surviving the harsh conditions of Mother Nature herself. A knife for that kind of isolation you want it to be built like a tank as you will depend on it to save your life.

The Condor Bushlore on the other hand is designed for campers and hikers and backpackers. It will be used for daily tasks, fire making, and even kitchen duty. You would even see me with a fork and Condor when eating.
Source: bought it new
Price Paid: ~$30

Excellent, inexpensive, full tang, fixed blade knife, good for almost all camping/hiking chores. Low cost, well made and good ergonomics.
Pros
Full tang
Easily sharpened, good edge retention
Relatively inexpensive for what you get
Cons
NOT made in the U.S.A
Some minor fit to finish problems
I bought a Condor Tool & Knife "Bushlore" Camp Knife. At $30 it was a good deal. It had a paint coating on the blade that I did not like, so I sanded it off when I sanded the handle. There was nothing wrong with the handle scales, I just wanted to apply boiled linseed oil.
The sheath is made of heavy grade, oiled leather and is both stitched and riveted. Blade Length: 4-5/16", Blade Thickness: 1/8", Overall Length: 9-5/16", Blade Material: 1075 High Carbon Steel. Very nice knife for the money.
I looked over four of these knives at the Smokey Mountain Knife Works, Sevierville, Tenn., because I had heard fit to finish of the handle scales could be a problem, but Condor has really stepped up its craftsmanship. I bought my son a Condor "Nessmuk" about a year ago and it was excellent too. I have bought hand forged blades that cost ten times as much as this knife and I like them, probably too much, but I tend not to use/abuse them.
For $30 I now have a knife that I can baton wood, cut rope, dress game or even lose on the trail and I am not out a lot of money. The sheath alone is probably worth about $30 and it holds the knife very securely.
I am not affiliated in any way with this company. I work as a policeman and am an avid hunter, camper, hiker, fisher, general lover of all things outdoors. If you are looking for a solid, full tang, fixed blade knife, with a good belt sheath, look no further.
I did not give it five stars because it is made in El Salvador, not the U.S.A., but Condor makes well priced, well made knives at a fraction of the cost of a custom blade.
Source: bought it new
Price Paid: $30

You May Like
Recently on Trailspace