Costa Waterwoman 2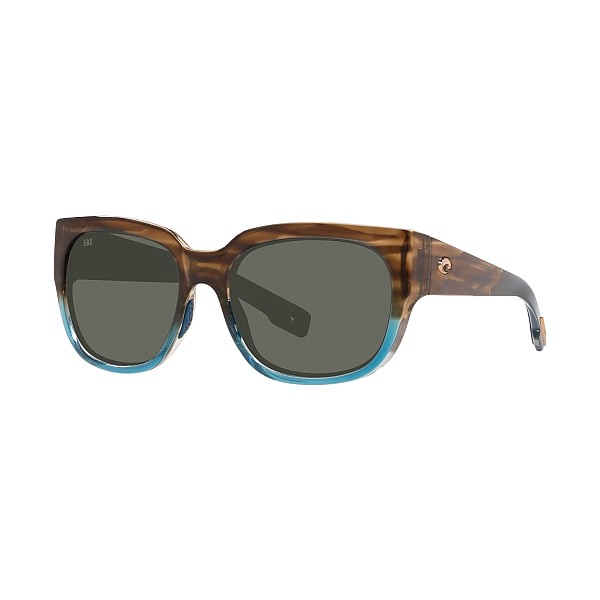 The Waterwoman 2 sunglasses are Costa's widest, largest coverage sport option specifically for women. I've used my pair for more than a year and find them well-made, durable, and comfortable in a range of outdoor settings. As the name states, the Waterwoman 2's are designed for being on the water—fishing, paddling, boating—but don't get hung up on the name. With multiple lens and frame options, plus prescription, I consider them an excellent, versatile outdoor option both on and off the water.
Pros
Lots of coverage
Comfortable fit
Polarized
Stay in place, even when sweaty
Numerous frame and lens options, including prescription
Cons
Large size may interfere with some brimmed hats or helmets
No side protection
Price—$200+, depending on options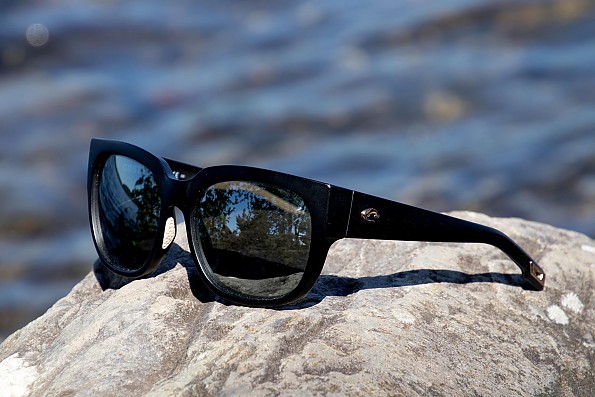 Fit
The Waterwoman 2 sunglasses are a larger, wider version of Costa's original Waterwoman (still offered). There isn't a directly comparable men's model, but Costa offers many men's sports performance sunglasses.
Size: Costa lists these frames as a woman's

 XL size.

 (For comparison, the Waterwoman is medium size.)

Fit

: Costa calls these a wide frame fit. Check out my pictures and note that I don't have a small head. 

 (The 

Waterwoman is a narrow frame.)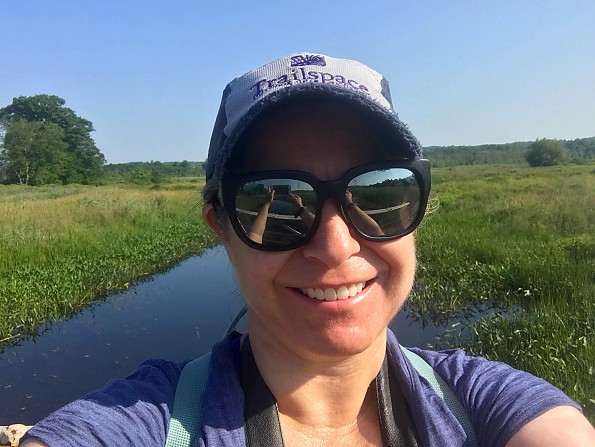 Their size is a standout feature, and at first I noticed how big these sunglasses are. Now I notice when I wear smaller sunglasses and miss the Waterwoman 2's coverage. If you have a larger head or just want maximum coverage, consider these. If you want something medium-sized, look at the Waterwoman. If you want a small, streamlined pair for endurance sports, or with wraparound/side coverage, consider another model. 
I prefer the maximum eye coverage in most daily instances, especially driving, however, be aware that these may not fit ideally with all brimmed hats. Also, while the Waterwoman series may be designed for and marketed to women, like all gear, if they fit you, don't get hung up on the name.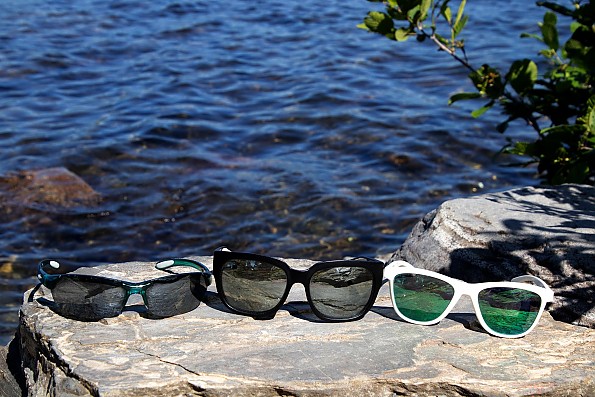 Construction: Lenses and Frames
Costa currently offers the Waterwoman 2 in four frame colors, each with a choice of two to three (out of seven total) polarized glass or polycarbonate lenses. Mine are matte black frames with Gray Polarized Glass (very bright sun, 12% transmission).
Lens Options:
for variable light—Copper Silver Mirror Polarized Polycarbonate, Copper Polarized Polycarbonate, Green Mirror Polarized Glass

for very bright sun—Gray Silver Mirror Polarized Glass, Gray Polarized Polycarbonate, Gray Polarized Glass, Blue Mirror Polarized Glass
Costa also has a prescription lens option
Lens Features:
Polarized—to reduce glare

100% UV Protection

C-Wall coating for extra scratch-resistance and a barrier to repel water, oil, and sweat for easy cleaning.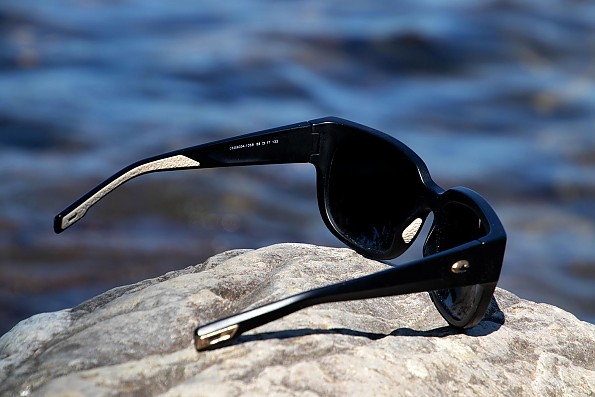 Frame Options: All of Costa's plastic frames, including the Waterwoman series, are made with a bio-resin frame material, instead of petroleum-based plastic. You can read about Costa's Bio-Resin Raw Material Process which uses castor oil. They also offer models with metal and acetate frames, and ones made from recycled fishing nets (Untangled Collection).
Frame Features: The bio-resin frames are durable and grippy and stay in place on your temples and nose, even when sweaty or wet. I've had no issues with the construction or performance of mine.
Accessories: The Costa sunglasses come with a hard case for protection and a cleaning cloth. The case is a sturdy option for travel, but I rarely use it. The cleaning cloth does get use for my smudgy fingerprints.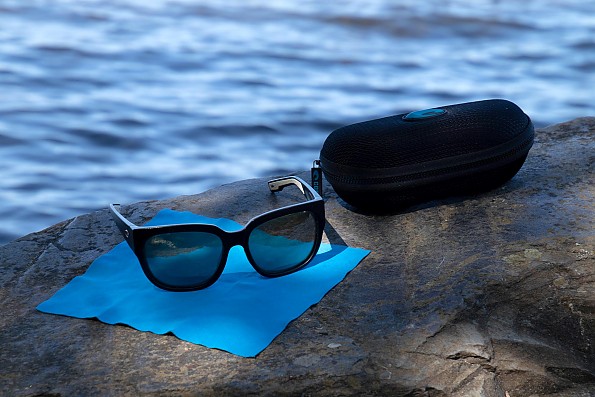 If you're feeling overwhelmed by all the options, check out Costa's Choosing a Lens Color and frame options pages.
So Many Specs (pun intended)
I appreciate when brands simply tell people for what each version is designed, especially when there are multiple options. Costa lists light conditions and suggests sunglasses for offshore versus for sight-fishing and inshore (they work just fine on land too). You also can select by a light condition (Low Light, Everyday, etc).
If you're interested in exact sunglass measurements or want to compare models, Costa provides a lot of info on its product pages—bridge fit (mine are a High Bridge Fit), base curve, frame/lens/arm measurements. You can take a very deep dive into lens properties, light transmission, and more.
And if you feel overwhelmed by the number of options and are suffering from info overload, you can answer three simple questions and see what Costa suggests. It suggested Waterwoman 2 as one of two options for me.
Visual Acuity and Colors
Sunglasses should not only protect your eyes from harmful UV rays (these do), but they also should help you see your surroundings well. I have neutral grey lenses in my Waterwoman 2's so they do not alter or enhance the colors. I find them easy to see with in a range of light conditions—bright sun, cloudy, mixed—and color and contrast remain true.
My grey lenses also are on the darker end of the light transmission range (12%), which I prefer. I would rather have slightly too dark lenses on rare occasions versus too bright ones that result in squinting and tired eyes.
There are many options depending on your use and preferences though.
Use & Recommendation
Overall, I'm extremely pleased with the Waterwoman 2 sunglasses. I've worn them practically daily for the past year—hiking, walking, skiing, bird watching, driving the car, and more. I've even worn them running while traveling, though for that activity I prefer a smaller, more streamlined pair that won't interfere with my Trailspace running cap.
Sunglasses probably get the most use of any of my outdoor gear. I avoid spending time outside without UV eye protection year-round, so I have worn my Waterwoman 2's practically daily. They have no noticeable scratching, just smudgy fingerprints I wipe off. And I have inevitably dropped them on the ground more than I'd like to admit here.
The Waterwoman 2's are the pair I reach for most whenever I leave home. I'm considering buying another pair of Costas as a backup. They are well made, durable, and comfortable for many hours of use. I've never felt pinching on my nose or at my temples. They also stay in place even when you get hot and sweaty or wet. I recommend them for anyone looking for a larger pair of sunglasses.
Below in pictures are some of the times I've used the Waterwoman 2 over the past year (not counting driving):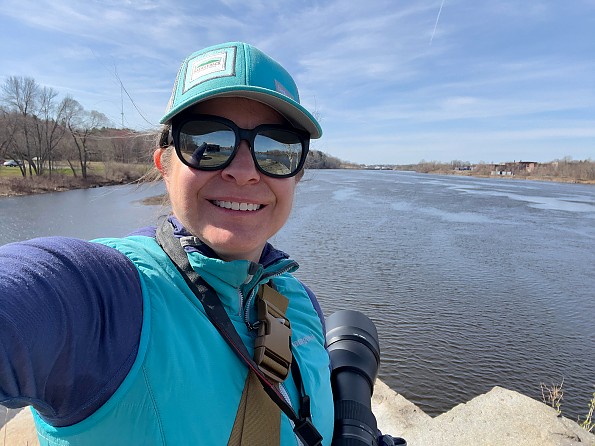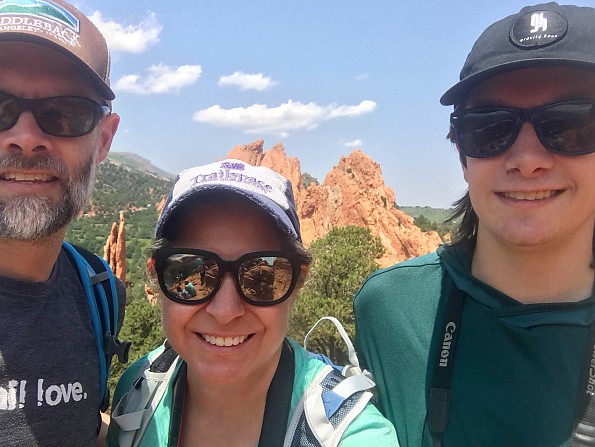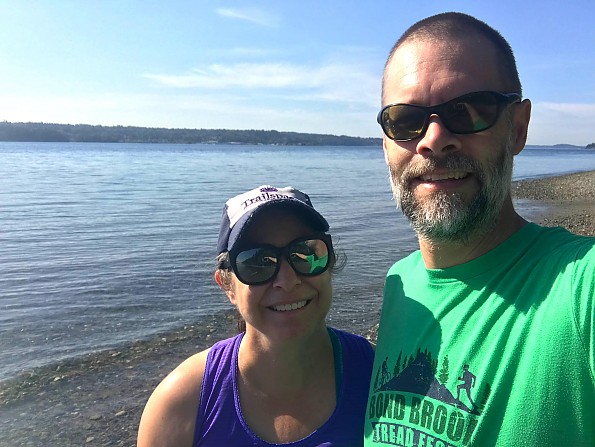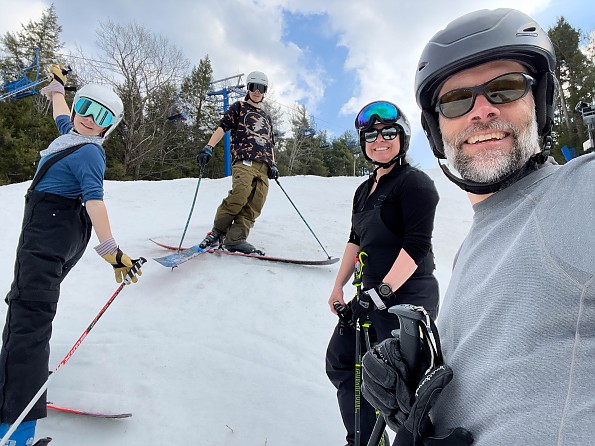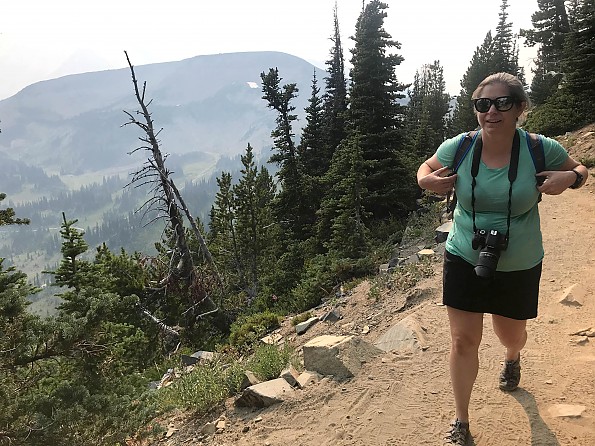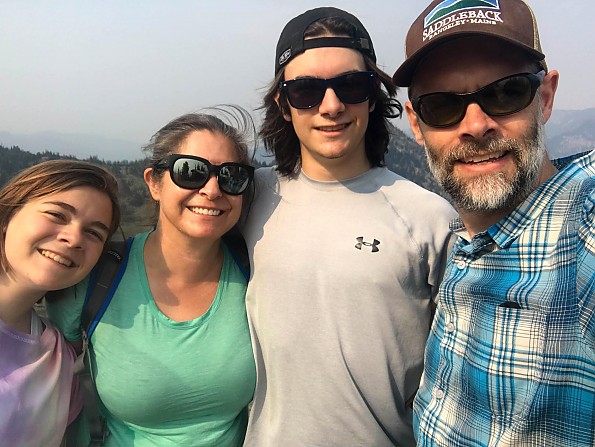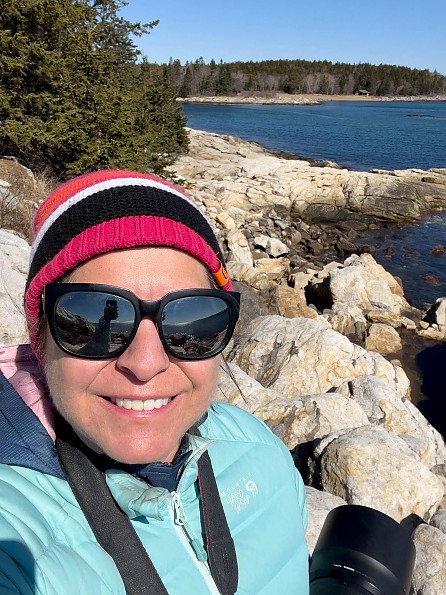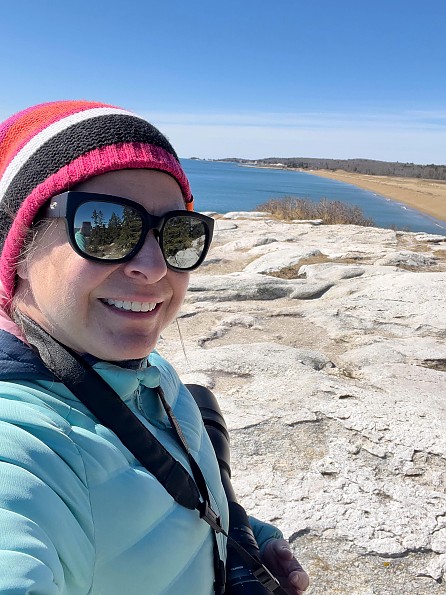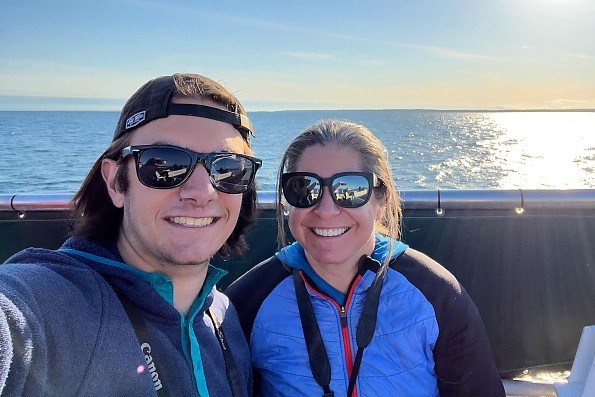 Caveats
I like the Waterwoman 2 sunglasses a lot and reach for them first, but no product is good for everything or everyone.
These sunglasses are larger than your average sunglasses. My biggest caveat is that if you need sunglasses that fit with a helmet (cycling, climbing, skiing) or want a close fit with a brimmed cap, check that these work before buying them. They don't play well with all headwear, though I find them excellent with a buff or winter beanie. And some people may not like the look of the larger size.
Also, paying $200+ for sunglasses is a significant expense for most. However, I've racked up hundreds of days (and counting) using these sunglasses and consider them a versatile everyday option. I rely on sunglasses daily year-round, so for me their value is high both performance- and vision-wise.
Update 4/26/2023: Sadly, after two years of use, I broke these sunglasses by forcibly stowing them away between my wallet and my phone inside a too narrow shoulder bag. When I took them out, I discovered the plastic at the temple hinge broke under the pressure, and it's not fixable. I don't fault the sunglasses for this failure (they come with a hard case for safe stowing), but myself and the shoulder bag I already thought was too shallow.
The testament to these sunglasses is that I have missed them every day since, and have had to make do with others in the meantime. I'll likely buy a replacement for my regular, daily use.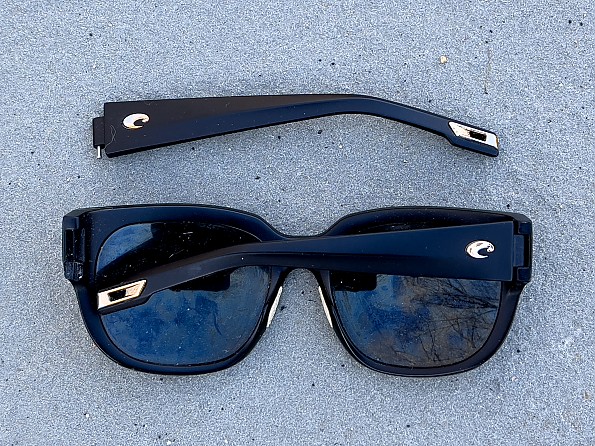 Background
I wear sunglasses whenever I go outside, year-round, so basically every day. I've had many pairs from many brands (all non-prescription) over the years.
Source: received for testing via the Trailspace Review Corps (Sample for testing and review provided by Costa)

Your Review
Where to Buy
Help support this site by making your next gear purchase through one of the links above. Click a link, buy what you need, and the seller will contribute a portion of the purchase price to support Trailspace's independent gear reviews.
You May Like
Specs
Price
Current Retail: $198.80-$284.00
Historic Range: $125.84-$284.00

Frame Fit
Wide

Size
XL

Recently on Trailspace