Crawldaddies Knee Pads

#1 in unisex Climbing Accessories
Specs
Price
MSRP: $60.00
Reviewers Paid: $44.00

Small
Thigh 12-15" Calf 9-12"

Medium
Thigh 15-18" Calf 12-15"

Large
Thigh 18-21" Calf 15-18"

Extra Large
Thigh 21-24" Calf 18-21"

Reviews
1

review

5-star:

1

4-star:

0

3-star:

0

2-star:

0

1-star:

0
Crawldaddies Knee Pads are some of the best cottage industry caving gear on the market. Made by a caver, for cavers, CD Knee Pads are rugged, comfortable, and worth every penny. I mistakenly purchased the short knee pads, and while I wish I had bought the longer version to better protect my shins, I have been entirely satisfied with the quality and durability of the short pads.
Pros
Durable (anticipated 3-4 years of use)
Comfortable
Longer than standard knee pads
Easy to put on/take off
Cons
Pricey
Recommended pre-treatment (see review)
For far too many years, I relied on standard volleyball knee pads for my caving adventures. While these cheap pads spare my knees from bruises, they are difficult to get on over a pair of jeans, and they only last a few trips underground. Additionally, the back of my knees ache after several hours of walking, crawling, and squeezing through passages.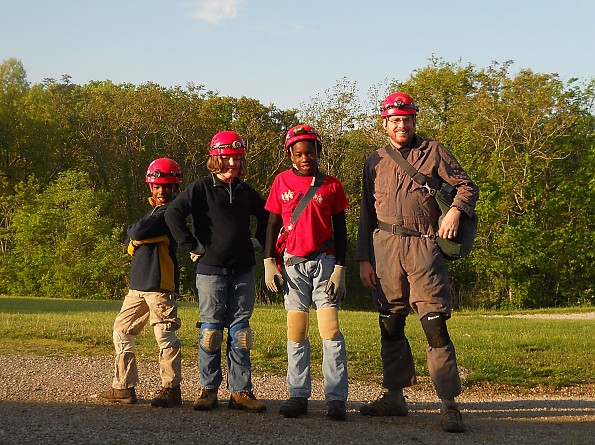 My kids and me in sucky volleyball knee pads.
About a year ago, I purchased Crawldaddies Knee Pads (http://crawldaddies.com/index.html) at the Fall Cave-In on Look Out Mountain, Georgia. They can be purchased on line at Inner Mountain Outfitters.
One of Crawldaddie's competitors, "Dirty Dave," told me the single best way to extend the life of my knee pads by a full year was to cover them with a thin coating of E6000 Multipurpose Adhesive. Given that I intended to use these they same day I bought them, I wish they were pre-treated. But this "con" is a minor one.
In my rush to get caving that afternoon, I stupidly purchased the "short" knee pads. These are still much longer than traditional volleyball pads, but as I discovered at the top of Mystery Falls Cave, they do not cover the shins as I hoped they would.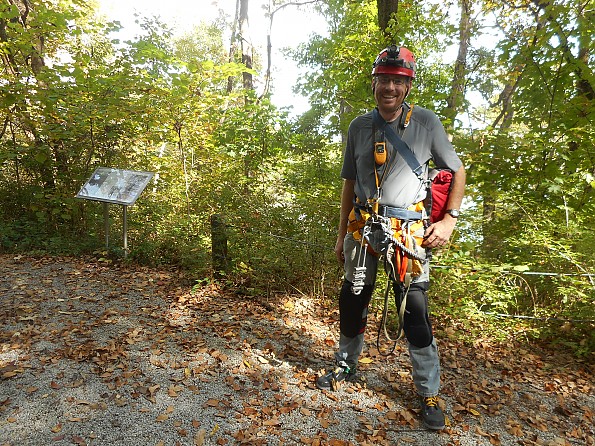 Long pads would have been a shin saver. Oh well.
Fit and Comfort:
The padded portion measures a full 12" long, completely covering the knee from the top to down below the dreaded "funny bone." (Note, in the picture below the pad on the right has just been treated with E6000.)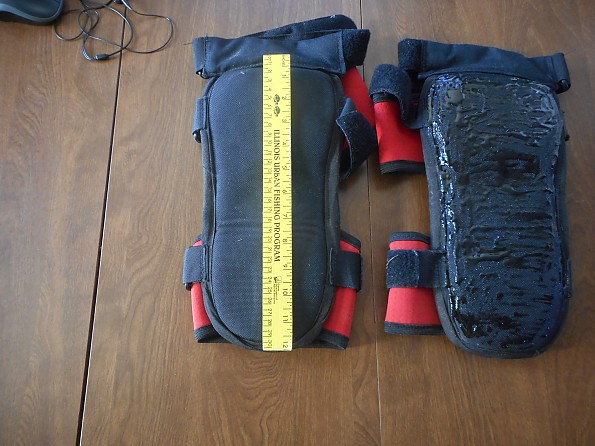 On the back of the pad are two sections of neoprene. The gap between the two sections prevents jeans from rubbing directly behind the knee, reducing the dreaded chaffing that occurs there with regular volleyball pads. Two Velcro straps secure the neoprene to hold each section in place.
A third Velcro strap is at the top of the pad, high above the knee and around the lower thigh. This is the primary strap that keeps the pad from slipping down the leg as a caver crawls through tight passages (another common problem with cheap knee pads). It also keeps rocks and grit from getting in between the pad and the leg. This strap does not require the neoprene cushion, as it is not a pressure point, like the lower straps surrounding the knee.
Altogether, the neoprene and straps fit comfortably and prevent the pad from moving while in use. They also make it much easier to slip the pads over jeans and coveralls.
Quality and Durability
I have found these pads to be extremely well made. The stitching is flawless. The materials are top notch. Even without the E6000 coating, CD expect their pads to last the average caver 2-3 years. I don't cave nearly as much as I would like. So I plan on getting even more life out of them. Time will tell. [2017 update: After 2 years these knee pads are still going strong without showing much wear and tear!]
In the meantime, I am putting them to the fullest of testing...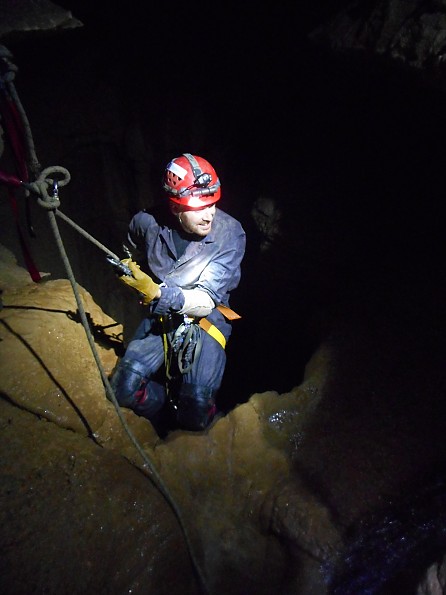 Source: bought it new
Price Paid: $44

You May Like
Recently on Trailspace