Crescent Moon Eva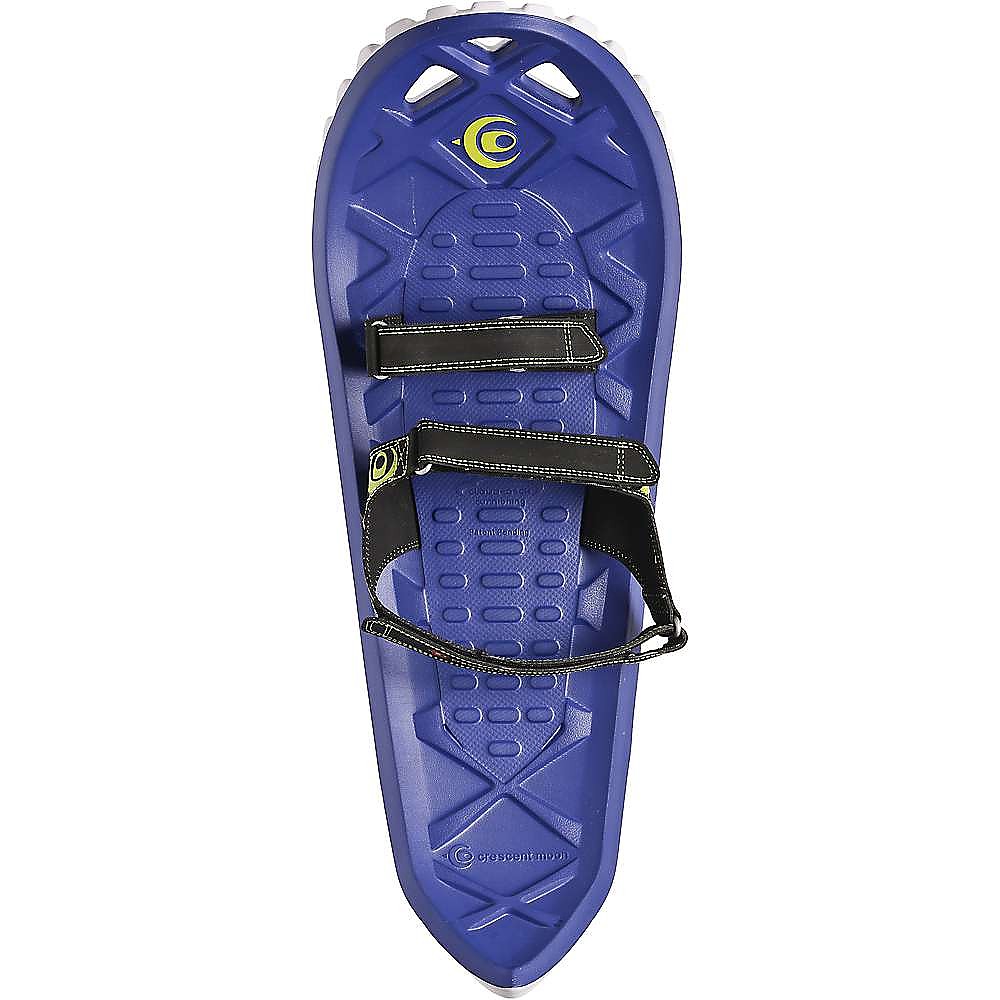 I first saw the Crescent Moon EVA snowshoes at the Outdoor Retailer trade show in Salt Lake City. That first glance was intriguing with the EVA's interesting structure and a very "spikey" bottom. The fact that they are made from a foam structure was even more intriguing.
Pros
The shoes are lightweight at 3.8 lb/1.667kg a pair
Shoe is foam, providing some insulation from the cold snow
"Spikey" bottom gives good grip on packed trails when climbing uphill
Foam structure provides some comfort when running
Cons
Best for snowshoers under 200 lbs
Flotation is limited to lightweight people and packed trails
Flotation is low enough that backpackers carrying heavy packs will find soft new snow awkward
First Impressions:
The first glance was intriguing with an interesting structure and a very "spikey" bottom. The fact that the EVA's are made from a foam structure was even more intriguing. As mentioned above, the unusual configuration and material was interesting, so I was eager to get a pair of the snowshoes to test. Trailspace arranged for a pair to get to me. Because of the lack of snow around here and, apparently many others seeking samples, it took a while to get a pair in my hands.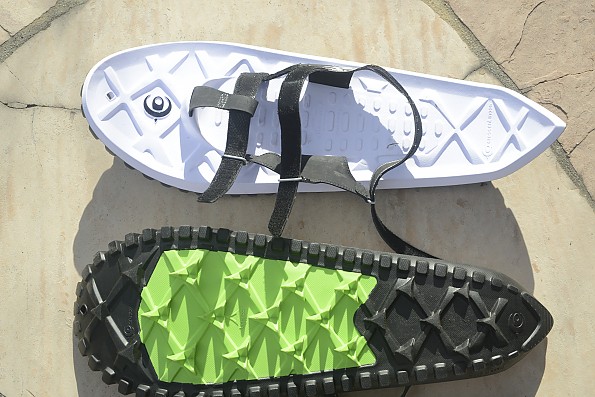 Top and bottom view of Crescent Moon EVA snowshoes. The color of the upper deck of the pair provided to me is white, which seems a bit peculiar for "snow" shoes
Background:
This past year has been full of storms in all parts of the planet. However, snow has not been strewn evenly. Some areas had lots of great snow, such as the area in which the Olympics were held. Some was great for skiing and some was OK for snowshoeing. My part of the planet (the West Coast of North America) was mostly dry (with wildfires) until the late part of winter through early spring.
Then there was snow, lots of snow. For the snowshoer, most of the snow was deep powder, delivered in huge amounts at high elevations. Fun snowshoeing calls for mostly packed trails and open fields. First-timers, kids, hikers, dog walkers, outdoor enthusiasts, and people who just enjoy getting out into the snow find snowshoeing lots of fun. Snowshoe running events are as much fun as XC ski racing.
Despite my having been born and bred in the middle of the Sonora Desert, I have used snowshoes for many years, ranging from my long-used traditional wood and leather shoes to an excellent aluminum-frame shoe designed by a grad student of my next-door neighbor who is a professor of engineering at Stanford University. I have used snowshoes from conditions where there was not enough snow on the ground to justify using them to haul sleds across glaciers through raging blizzards on Denali and Antarctica, and for this gear review, using the snowshoes in deep, soft powder that would be better for skiing than snowshoeing.
 It took a while to receive the sample shoes, in part because of the California drought (ya can't evaluate SNOW shoes on the dirt). But after a long wait and "snow-dances" we suddenly got some small sprinkles, which developed into whiteout and deep powder after several storms. This was just in time for a Winter and Snow Safety course for adult Boy Scout Leaders I was helping train. So I spent several hours breaking trails and digging out our vehicles out of the hip-deep parking lot (full 4WD for some and full chains for the rest).
Details of Testing:
Since we had a great lack of snow for several months (most of the Sierra snow season), I did not have a chance to do a full range of conditions. Nonetheless, it is fairly easy to figure out the conditions in which the shoes would work best. Although I avoided "destruction" tests, it is fairly obvious to that you should limit use of the Crescent Moon EVA to snow trails and snow-covered open fields with at least a foot of well-packed snow on them.
The shoes sent to me have a pure white upper deck with a black and bright green bottom (see the photo above). Somehow, a white deck seems inappropriate for a snowshoe, especially in deep powder (I gather from their website, that other colors are available). If you were to take them off and neglect to shelter them (or at least stand them upright) they could easily get lost. (I did note that one of their snowshoes shown on their website had a blue deck). Much of the time was on fairly level ground, with some climbing steep hills with deep powder (yes, I know, that's risking setting off avalanches, but I stayed in forested areas on the slopes).
Some basic observations—the shoes are 23" (58cm) long and 8.25" (19cm) wide, with a weight of 3.8 lb/1.667kg for a pair. The photo below compares the Crescent Moons with an Atlas running snowshoe and an MSR running shoe that my wife uses on packed trails. The Crescent Moons are significantly lighter in weight than the MSR and Atlas as you would expect since the Moons are formed by injected foam.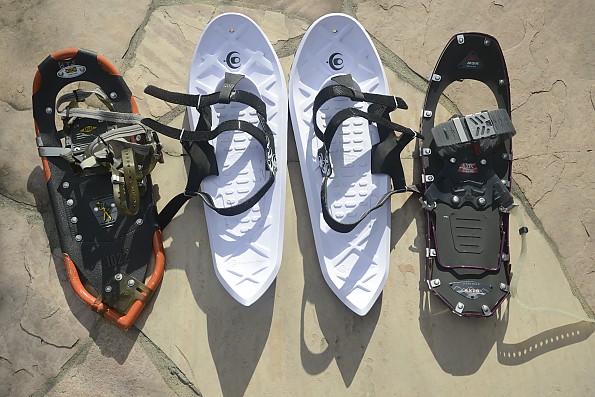 The shoe on the left is the Atlas (4.0 lb/1.8kg), the right is the MSR (3.6lb/1.6kg) per pair.
The material as described to me is a cast rubber foam that gives a bit of flexibility when traversing varying terrain. The Crescent website describes the purpose as behaving in a manner very similar to trail running shoes. Since I was moving on snow, mostly fresh deep powder, plus some packed trails, and mostly using La Sportiva Mountain boots and Sorel boots, I did not get that feel in the snow conditions.
At home, I have a fairly plush sedge. I did get more of a trail shoe feel when running across the lawn and on hard pavement. However, since the snowshoe is significantly longer than trail shoes, jogging with the Crescents on is a very different feel on the lawn. I did try a bit of jogging on the snow trails that I, along with the rest of the crew, had packed down. In the photos of me below on the packed trails, you can see that the narrow trail width also works against a packed wide trail.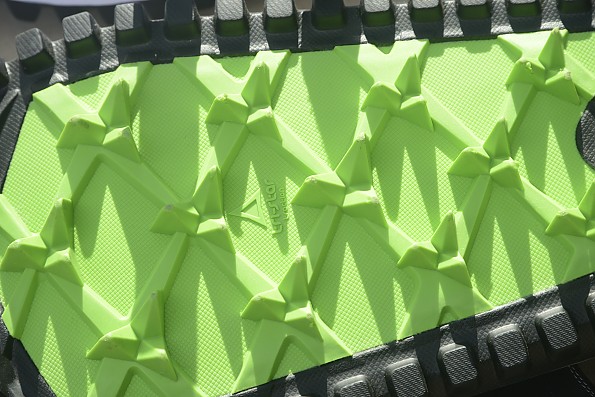 The bottom of the shoe is a spikey cast which provides a good grip in firmer snow or when following a packed track.

The straps are made of a fabric with an interesting variation on "velcro facings". The Velcro facings on these and other snowshoes I have used tend to freeze onto the face of the straps, reducing the grip of the straps. The straps did hold well enough most of the time, since the powder was pretty dry and the temperature cold enough to form hardened particles that reduced the freezing of the snow on the fuzz of the velcro straps.
I did have to do a bit of struggling with the straps to get them to fit closely around the boots for the first few miles of walking with them. In part, this is, I think, due to the very cold weather we had (-20°C much of the time), hence stiffness of the binding straps. The boots I used were Sorels and La Sportiva Mountain boots. Still, one of the larger MSR snowshoes I use a lot has a similar problem with its bindings.
Since I did not want to break or otherwise damage the test shoes, I did not subject them to bending more than a little (however, one of our group did try folding them a little at the toe and heel before we stopped him—don't try this with your wood, aluminum tubing, or steel frame snowshoes—the shoe popped back into normal position).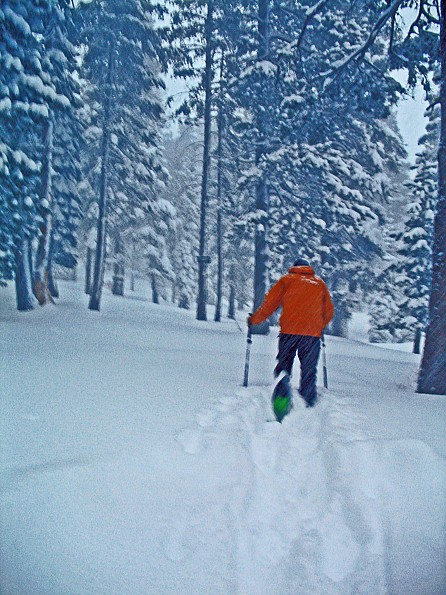 In this photo, I am setting off in the fresh-fallen snow to create a trail out to the campsites. The depth of the trench was a bit over a foot here.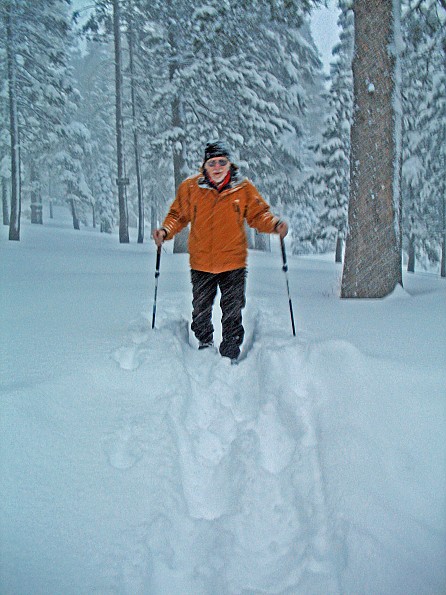 On the return from the first short excursion. Note that the shoes themselves are buried in the powder. People without snowshoes following the trail made a lot of postholes to knee to hip depth, while those with larger snowshoes went to a slightly shallower depth.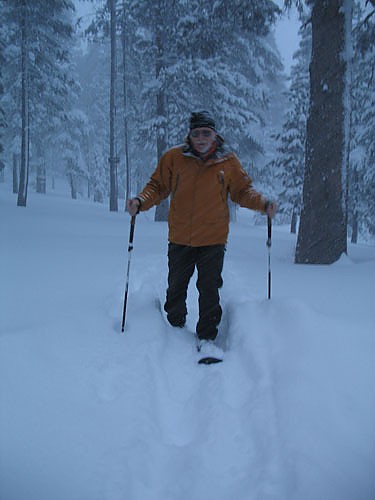 Returning on the same path a bit later in the day.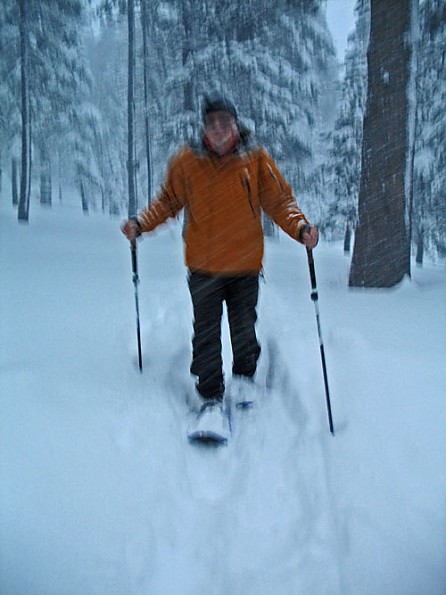 This about as packed as we got the snow during the day after the snow slowed down.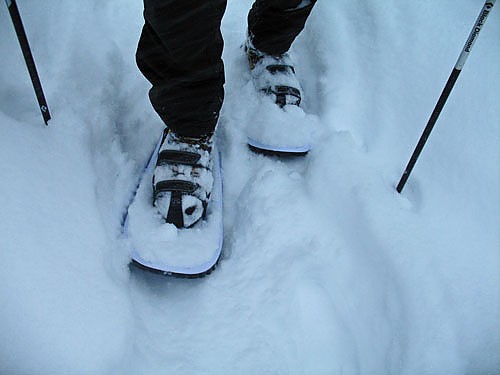 A fairly well-packed trail after a dozen traverses with a light pack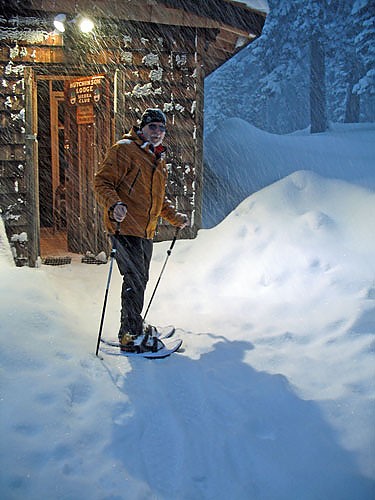 Back at Hutchinson Lodge (run by the Sierra Club, close to Clair Tappaan Lodge)


Conclusions: The Crescent Moon Eva snowshoes are an interesting development. They would work well for people who are lightweight, including children, runners, dog walkers, and hikers on packed trails. On the other hand, I would not recommend these snowshoes for use during heavy snowstorms or in deep powder conditions.
I gave the Crescent shoes 3 out of 5 stars, primarily because their usability is limited to mild conditions. A larger version might be more versatile in the conditions in which it is used.
Source: received for testing via the Trailspace Review Corps (Sample provided by Crescent Moon for testing and review)

Your Review
Where to Buy
Help support this site by making your next gear purchase through one of the links above. Click a link, buy what you need, and the seller will contribute a portion of the purchase price to support Trailspace's independent gear reviews.
You May Like
Specs
Price
Current Retail: $143.16-$169.95
Historic Range: $11.00-$169.95

Recently on Trailspace