Danner Acadia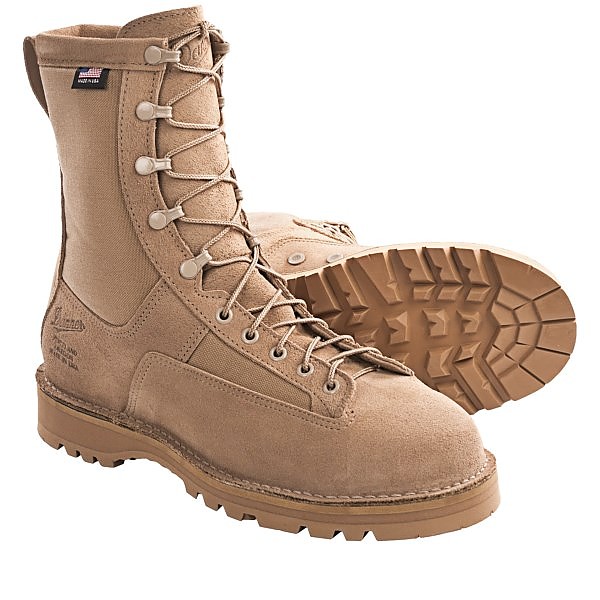 These, like many Danners are incredible boots. I have worn boots over the years from basic inexpensive ones like Hi-Tec, Salomon, Rocky, Carolina, Vasque, Timberland and many more to high-end boots like Kenetrek, Meindl, Lowa and Sportiva.
While the high-end boots are great at what they do many of them today are the bonded soles and very purpose built and always concerned with weight (for wimps I guess), not making them a good choice for everyday footwear but great for their intended purpose.
The less expensive boots, except for maybe Carolina are not built well anymore, do not last long and do not provide proper support for long. Especially the ones that went the way of fashion over function like Timberland.
I use to do a lot of multiday hikes, often being out for a week or more at a time with nothing more than an 80# pack and the cloths I was wearing. Then I often used purpose built boots that were only used for such outings. I would try and find less expensive boots that were as well made and comfortable for daily life.
Then I found the Danners. Not only are they great for work and everyday life but I have done some pretty tough adventures in them and they have always pulled through. Some complain about the weight but I call them well made.
I am a strong hiker and was never concerned with shoe weight, just comfort and proper support. I can wear these all day, on my feet working (dog trainer), hiking, fishing, playing with my kids, shopping with my wife and still be comfortable at the end of the day.
While they are not the most expensive boots they are more than many spend on their footwear, but you get what you pay for. My feet deserve the best. Plus I get them resoled for $45 and can send them back to Danner for a rebuild. Just take care of the leather, not with typical shoe wax but real leather oil and they will last many, many years.
The Danners are built right, provide great support, both in the footbed and ankle and are tough as nails. They use proper full grain leather, not cheap split grain or nubuck that does not breath. The lace to toe lacing greatly helps with proper fit. Keep in mind they start out a little snug but are supposed to as the top quality full grain leather will stretch.
Overall I love these boots as my everyday footwear. Plus they are made in the USA! I also have a couple of other pairs of Danner boots.
Price Paid: $225

This boot was the greatest. Walked in puddles, well actually stood in pudddles and not a hint of moisture. Its sole has no lug which is not good for those steep, muddy inclines and declines, but that really isn't the purpose of this sole. The sole is designed to not snag, since it was brought about for swat type use. Just wish I could have both. I regularly applied danner's own recommended products and I rationalized the extra cost to protecting my investment. Which, was easy to do given my test results. The next winter season came and i was ready.
NOT, IT WAS HORRIBLE the boots failed me. I wasn't able to get the boots dry and my feet got chill blaine, not frost bite. Against Danner's recommendation, I dried them at fire ensuring that they were would not provide protection. The cycle for warmth was dry-warm-work-wet-soaked(skipping cold now since we went to fire) dry. There was about a foot of snow on the ground. After that trip bought some 60 dollar Hi-tex's with sympatex and was much warmer and the Hi-tex were lighter, warmer, more agile and lasted 2 seasons of the same type of use. 3 pairs of Hi-texs, 6 years of use, approx 180 dollars = 1 pair of these Danner's and 1 year of use. I stopped in at the Danner shop, in Portland, OR and told them this. Had the boots they said something like this ) well they have been heat damaged and we can fix them for approx 60 bucks( YEAH right that's another pair of Hi-texs 8 years of use vs. the 2 year Hmmmm?? and yes they were heat damaged to save some toes, Duh. This is sad since I told all my co-workers and friends after the first season how great they were and I liked to support home town Companies. Now, I tell them what I've told you. BUY SOMETHING ELSE.
Fairness-THE boots could have been defective, and they do sell boots that don't pass their standards for cheaper. But, I paid the full price.
Materials: Leather, cordura /goretex lined
Use: rough x-country w/pack
Break-in Period: approx 1mth
Weight: approw 2lbs
Price Paid: approx $230 US

Without a doubt the best boots I have ever owned! Spent six hours walking in 13" snow in the Blue Ridge Mountains with cotton socks, feet were warm as toast and stayed totally dry, "what more do you need?" I have owned these Acadias for 10 years and when these wear out will purchase another pair!
John from North Carolina
Materials: gore-tex
Use: winter hiking
Break-in Period: immediate
Weight: 64 ounces

Version reviewed: uninsulated
I got a set of arcadia's. They seem to size them narrow but the wide fit pretty good especially after 3-4 weeks. The foot support was absolutely spectacular! I could stand 8 hrs on the concrete shop floor without any foot aches at all! The problem I have with them is that it seems that the when the toe leather was sewed on it was too tight and split the leater and it was right where it bends as you step, this caused the stiching to cut through the leather and give a hole. The left boot also developed a 'clicking' right under the arche of my left foot which was REALLY annoying, this seemed to go away after a good year of use (it developed after about 6 weeks from new).
The water proofing was great . . . for about 6 months. The sole gives super grip but doesn't last long, i'd take the grip anyway. I also had the side of the boot, in the outside portion about 2 inches up from the little toe tear there. Totally don't know how that could have happend cept for a flaw in the leather. I saved these boots from mud and salty slush but i'm VERY dissapointed in the quality control of DANNER. These boots only lasted 2 years.
Materials: leather, gortex, cordura
Use: general use on farm (no animals)
Break-in Period: didn't need one
Weight: ?
Price Paid: $180

I have had the same pair of boots for three years. Only had to resole them once. A very comfortable boot that is great both in the snow (with a good pair of socks) and in the summer. Never had any blisters, or any break-in problems. It took about a day of break-in time to get them just right. You can run in them and also carry heavy loads on uneven terrain with them. I have used them to cross streams that were over my waist to hiking in the AZ desert, and in all conditions they kept my feet comfortable.
I guess the best story I have for these is when I was recently hiking on the AT. The group I was with had all the usual toys including some kind of boot that was made just for the AT. About 6 miles into the hike their feet were killing them, while my feet felt great even with my heavy pack. I had no problem in the mud or the various streams we crossed, while others had to stop and find another way around.
Great boots!
Break-in Period: 1 day
Price Paid: $250

I like the boots a lot. They're not designed for winter camping, but if you keep them in de sleeping bag (inside a boot-bag) the leather won't freese.
I've now walked about 900km with them (600 miles) and next spring I will return them for a 45 dollar resole.
I assume they will last another two years.
It is quite an investment, but I have dry feet, I have a sollid boot at my foots and it fits like a sneaker. Great product, high price and no blisters.
Recently I bought the Desser Acadia for next summer. I'm now using them at the office and for shopping. (the long waiting before another shoe is selected.)
Materials: leather, 1000dn Cordura, Gore-tex
Use: daily use at the office, walking in the park, running, swamp, marsh& bog survival, wintercamping
Break-in Period: about a week
Weight: no idea
Price Paid: 250 euro

These are the best boots I've ever owned, speaking from a relatively small testing pool of Sketchers and Doc Martins from my youth. They are the most comfortable boots I've ever worn, but they take about a month like the other reviewer said to break in.
It was raining cats and dogs here today, I was at college and everyone was dumbfounded on how to cross this huge puddle without getting their shoes wet. I just walked through it like nothing, and not a hint of moisture penetrated... I love these boots.
Materials: Leather and gore-tex
Use: Regular shoe
Break-in Period: 30 days
Price Paid: $200

Version reviewed: uninsulated
Cream of the crop! I have had some foot/boot problems in the past and thought it was just my feet (blisters). These boots are comfortable beyond belief in the heat of the Egyptian desert and warm in the Wyoming rockies in 15 inches of snow. They are not designed to be winter boots but perhaps their breathablity helps out. They are very durable and are like wearing tennis shoes with superb foot protection. They are comfortable out of the box but for the true unbeliveable comfort, wear them for about a month.
Materials: leather/cordura 8"
Use: rough trail, heavy pack
Break-in Period: 1 month (realistic)
Weight: 2 lb
Price Paid: $150

Your Review
Where to Buy
Help support this site by making your next gear purchase through one of the links above. Click a link, buy what you need, and the seller will contribute a portion of the purchase price to support Trailspace's independent gear reviews.
You May Like
Specs
Price
MSRP: $280.00
Historic Range: $139.96
Reviewers Paid: $150.00-$250.00

Recently on Trailspace