DeLorme Earthmate GPS PN-20

The Earthmate GPS PN-20 has been discontinued. If you're looking for something new, check out the best handheld gps receivers for 2023.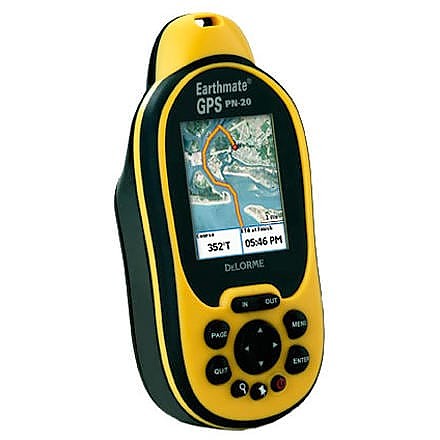 I stumbled into buying this unit after purchasing a very disappointing Magellan Triton 400 and National Geographic Software package. It turned out to be a marriage from Hades, so I carried it back and purchased the PN-20 packaged with Delorme's Topo 7.0.
This was a wonderful marriage compared to the Magellan Triton experience. Software worked great and allows all kinds of possibilities with downloading maps, aerials, NOAA charts, you name it! The unit is built very well and I am very pleased at the quality for the price.
The only negative things I might add is that the display is small and the learning curve is a little more than average to get up and running the way you want it with the features you want.
This unit is an excellent and economical choice in my opinion if you have already owned and played with prior GPS units. If you are new to purchasing a handheld GPS unit, you may become very confused, very fast. It just offers so much that a new person might easily become confused. On the contrary, if you have owned and played with maps and GPS units in the past, you will find that this is one powerful unit!
As of this writing (12-16-2008), I suspect they are getting ready to stop making the PN-20 and continue with their PN-40. The price continues to drop each week. From what I can tell, the PN-20 will not accept SD cards larger than 2 Gig while the PN-40 will support SD cards up to 32 Gig. This affects the amount of map details and areas you want in one package but hey, for the money....if you don't mind maybe downloading areas from your software into your GPS as you go on some different trips.....The Delorme PN-20 and Topo 7.0 are wonderful products! The receiver by the way, works very well.
Price Paid: $230

I own 4 Garmins. They are all easy to use. I bought a PN-20 for the Quads and sat photos capability. The PN-20 has been a nightmare to load maps into since day one.
My son and I are of average intelligence. I am a physicist and he is an engineer. I gave him the unit, he fiddled with it for a couple of days and gave it back.
I just spent 5 hours with an upgrade to TOPO 7.0. Unit won't recognize the maps that are sitting on it internally, never mind the SD card. It has been like this from day one. Forget the quads we ordered for the stupid thing. We got them to load once. Darn if I remember how.
The documentation is an endless do loop and useless. The menu driven commands don't do what they are supposed to. The PN-20 and its software are definitely not ready for prime time. Get a Garmin 76 series unit.
The display is spectacular. The Delorme unit has all the standard features of a handheld GPS. You can download TOPO-USA maps to this GPS unit, and get high resolution maps for any place in the country. This is great!
However:
-- the unit is very slow to acquire satellites, compared to either my handheld Garmin or Magellan. From a window seat of almost any airplane I can get a fix with my Garmin and read the names of the cities that we are passing over. Even after many repeated attempts, I have never succeeded in getting a fix on my PN20 from a window seat.
-- the software is awkward and clumsy. With my Garmin,
you set a waypoint, say at the beginning of the hike, and then when you want to turn around you select "go to waypoint" and it automatically updates the direction to
the waypoint and the distance.
As far as I can tell, with the PN20 you need to first create a "route", then follow this route back to your waypoint. If your path is not straight, and you veer off the route, you will need to re-create the route. Ridiculous.
So now I carry my PN20 *and* my Garmin with me! The PN20 provides wonderful maps, if I have enough time to sit and fiddle with it. The Garmin gives me an instant update on my position and orientation.
Price Paid: $369

I only had the PN-20 for 25 days and it already broke! It fell off my bike when I was riding it… The screen cracked! I contacted Delorme, they told me that THEY need to determine if it's covered under warranty or not! Be careful not to drop this thing!! I will let you all know if they stand behind their product or not. Wish me luck!

Steve Barron - August 16th, 2007
Update: August 28, 2007
It's steve barron again... I was very pleased with how Delorme treated my case. I was charged a very fair price for the repair. I also got it back very fast. I am very pleased!
Steve

Price Paid: $400

Your Review
You May Like
Specs
Price
Historic Range: $199.95-$399.95
Reviewers Paid: $230.00-$400.00

Recently on Trailspace