DeLorme Earthmate PN-60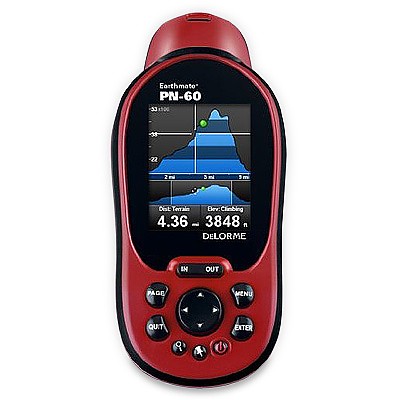 I bought this unit mainly as a precaution, to use with a paper map in the backcountry around the world. 
i was very impressed with the unit's interface, and menus — very convenient and easy to operate, satellite acquisition is fast and it retain signal even inside buildings.
battery life is great for my needs (if used in the right settings) and the overall hardware looks very sturdy.
there is although one MAJOR flaw: a very limited choice of grids and datums, and, no ability to manually configure grids and datums.
this is a major problem if you are moving around the world, because not all maps use the same grid, and you want to mach your unit to your map.
to me it looks like a very basic feature...
the other problem is that I'm trying to contact Delorme about it and so far no response...
Price Paid: 284$

I'm a long-time hiker; more recently a serious backpacker, and I hike (on non-trip weeks) about 15-20 miles/week. This is my first GPSr and I love it.
You'll probably read a lot of reviews that complain about the learning curve and I agree that it's not just a power up and go device, but the functionality and ability to customize almost every aspect of the PN-60 make it worth taking the time to learn it well. I spent HOURS (possibly days) researching different devices. It came down to the "gold standard" Garmin 60CSx or the PN60.
What really sold me was the MapPack. I have nothing against the Garmin devices (many friends and fellow hikers love them), but the map pricing is a bit ridiculous. For $30/year (which has become a great Christmas gift from family) you get access to EVERYTHING Topo North America's Netlink has to offer (1:24k maps of the whole US, color aerial imagery, Hi-Res imagery in and around major US cities, etc.).
If you price buying those without the subscription (or trying to get the same things through Garmin) there's really no comparison. If I know I'm going to a new park or out of state I just download topo and aerial maps for local parks and go off-trail without fear of ever getting lost (don't worry, diehards - always carry a park map and small compass with me just in case).
Garmin's "Connect" website really is fantastic though, but Delorme users don't have to miss out. You can manually upload .gpx files so just set up a free account, record your tracks, and stick them on website so you can set and monitor goals, get reports on your activities, etc.
Also, a note regarding DeLorme's customer service: I've seen a few reviews complaining about these folks, but I've never had anything except excellent service from them. The two times I've contacted them (once with a setup question and another time regarding a firmware update) they've been excellent and responded quickly to my questions.
Sorry this is so long, but hopefully someone can benefit from my research and this review. The 4.5 stars (as opposed to 5) is simply because there is a "little" room for improvement in regards to the USB connection and Topo9 interface.
But make no mistake, this GPSr is bulletproof, never has water issues, can easily be seen in full sunlight, and won't tear through batteries (I use lithium ions and will be purchasing the rechargeable pack from DeLorme).
Overall, fantastic device!
Price Paid: $292.97

Ever since I started backpacking some 20 years ago these GPS devices have had me as a buyer.  I have had two Garmin hand helds and 2 PN series hand helds.
I purchased the PN 60 about 3 weeks ago and it hasn't glitched yet.  With the Topo9 software I can look at the trail we are taking before we get there evaluating the ups and downs and can KNOW where it is that I am.  I have been doing a program called Royal Rangers for over 20 years now. That program has had me hauling boys out into the trails of So. Missouri and No. Arkansas for many years. 
With Delorme's Topo 9 and this PN 60 I can count on fast accurate and fun trail - no trail bush wacks and can remain calm knowing even though we don't have a clue where we are at in the woods.... PN 60 has  me down on the topo and I know with a glance where to go next. 
What the PN 60 records can be saved in the computer and trails and hi resolution maps can be sent to the PN 60. 
The old PN 20 would take its time booting up. This PN 60 is so fast it makes me smile every time I fire it up. We are talking seconds not minutes. I am a phoneman for at&t and do service work for them. The topo 9 and PN 60 do a great job of routing between jobs.
The price of $399 is a bit pricey but I found out a long time ago..if you want quality you will have to pay for it. 
Great product. Hands down. If you're needing to send a message to your spouse that is at home look into the PN 60w and the Spot communicator.
Around here cell service follows the highways pretty well.  Yet get away from the highway and down in the hollers' where no cell coverage is and you can still send out a Spot message for pretty cheap. 
Mark Jones
Price Paid: $399.99

This was the first handheld GPS I owned. I started with the PN-60 and upgraded to the PN-60w so I can use with the Delorme inReach unit. I liked both versions of the GPS and found it very reliable. Great for hiking, boating and biking.
Pros
Long battery life
Accurate positioning
Good color display
Screen size
Cons
The Delorme rechargeable battery can only be charged when in the GPS
Hard to follow manual makes a longer than normal learning curve for some
This was the first handheld GPS I owned. I started with the PN-60 and upgraded to the PN-60w a year later so I can use with the Delorme inReach unit (three years total). I liked both versions of the GPS and found it very reliable.
I use my GPS everywhere. The unit is not very good for a driving GPS (screen too small, rerouting when missing a turn is slow, etc) but when simply walking the streets it did very well.
The device was very sturdy and is well built to take the harsh conditions of the outdoors. I have been caught in the storms, dropped them and been in extreme temps with the unit performing with no issues.
The only issues I have had was getting it to sync with the Topo NA 9 version of the software. I have found that if you have a lot of maps preloaded on the device the sync function will bog down and time out. my work around has been to manually transfer files directly to the SD card when I needed a lot of larger files or limit the amount I keep in the unit to just what I need for a specific trip.
I got a good amount of my original purchase back using the trade in program at Amazon. I checked the used pricing for this unit on several resale websites and the unit kept value very well. this is not a common thing with most electronics.
Overall I would highly recommend the Delorme PN-60 series.
Source: bought it new
Price Paid: $225

Only buy to use with inReach. All Delorme software is a pain to use. They do not follow any standards, pgs screen is small, treats multiple tracks as one big one. Make me an offer, I'll sell you mine and the inReach for cheap.
Pros
Topo maps software has easy to see trails on the maps, pain to get them to tracks, but doable
Source: bought it new
Price Paid: $350-ish

Your Review
Where to Buy
Help support this site by making your next gear purchase through one of the links above. Click a link, buy what you need, and the seller will contribute a portion of the purchase price to support Trailspace's independent gear reviews.
You May Like
Specs
Price
MSRP: $299.95
Historic Range: $299.95-$399.95
Reviewers Paid: $225.00-$399.99

Recently on Trailspace