Deuter Climber

#2 in kids' Daypacks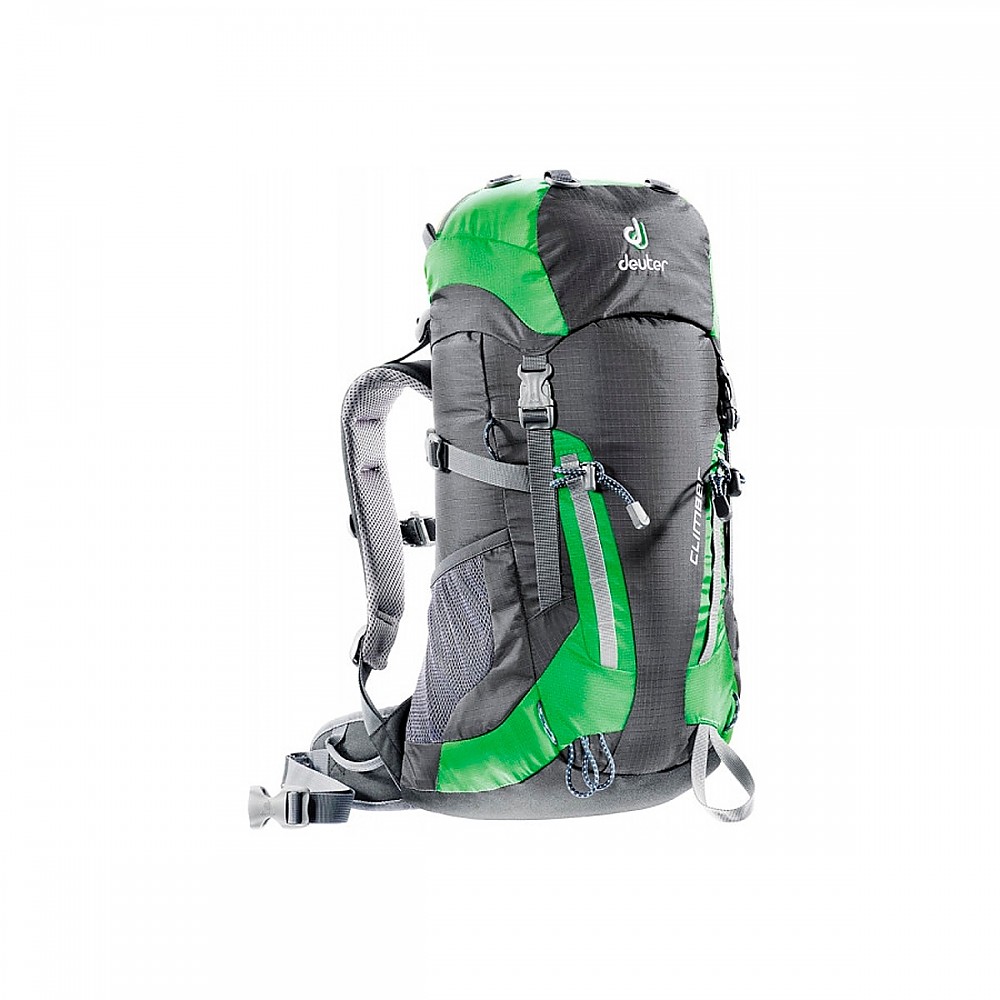 Specs
Price
MSRP: $75.00
Current Retail: $75.00-$79.95
Historic Range: $48.30-$79.95

Weight
1 lb 8oz

Volume
22 L

Size
22.8 x 9.5 x 7 in

Reviews
1

review

5-star:

0

4-star:

1

3-star:

0

2-star:

0

1-star:

0
The Deuter Climber is a 22L pack designed for children ages 6 and up. With many features found on adult packs it isn't a toy. Rather, it performs well enough that small framed adults in the 10"-17" torso range could certainly use it, at least for day hiking. For children it also works well for extended backcountry excursions with plenty of room for child sized loads.
Pros
Comfortable
Adjustable harness and belt
Two side pockets
Lots of attachment points
Hydration pocket and port
Cons
A bit of neck friction
Insecure side pockets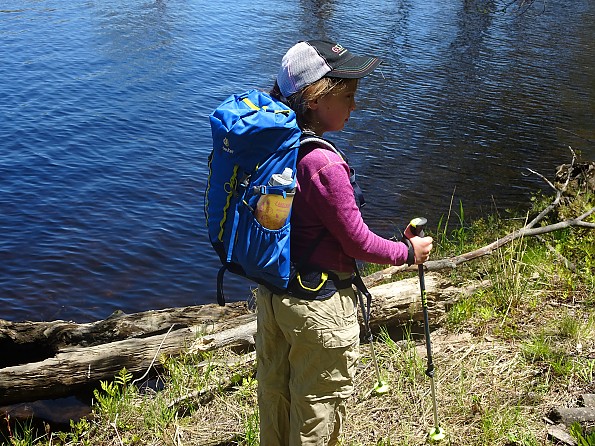 Deuter's redesign of their Climber produced a child-sized pack that looks and functions like an adult pack, just a little smaller. At 22 liters it has enough room to hold essentials like rain gear and stuffed ducks, but is small enough to help keep loads light for young bones. My daughter has been helping test the Climber for the last three months since it is a little small for me. She has had a series of LL Bean packs over the years for school and camping. This was her first experience with a more trail oriented bag.
Fit: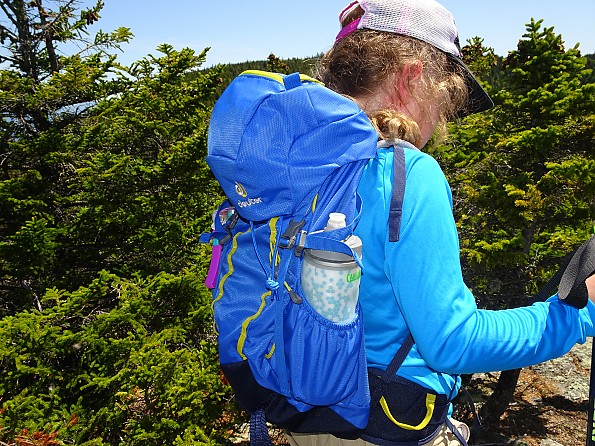 The Climber is intended to fit torsos in the 10"-17" range with a suggestion that it is for children ages 6 and up. Measuring my little testing partner I came up with about 14" for her almost 10-year-old torso and 56" total height. It took very little effort to adjust the straps to give her a really good fit. There is way more available belt at the waist than she needed, so there shouldn't be a problem accommodating larger sizes. I was actually able to fit the belt around my 36" waist with room to spare.
Despite the long straps intended to fit growing children for longer there wasn't a lot of trouble managing the extra length. The waist belts have a sliding loop that lets them be doubled over. The shoulder strap and lifters hang down, especially the lifter strap when pulled tight, but didn't seem to cause any trouble for my daughter.
The straps on the shoulder harness and lifters were easy to tighten and release. My daughter was able to make adjustments on her own. We encouraged her to loosen when taking off and tighten when putting on to get a good fit each time. It was nice that she was able to do it all herself.
While the Climber is too small for my 21" torso, smaller adults could use this pack for day hiking or other small pack uses. In fact, Frau Stranger is thinking about bringing it along on an upcoming solo trip to use for carrying water back to camp because it fits her pretty well even if her torso pushes up against that 17" mark. The sternum strap rides high, right under her chin, but the shoulder straps are still over her shoulder.
Comfort: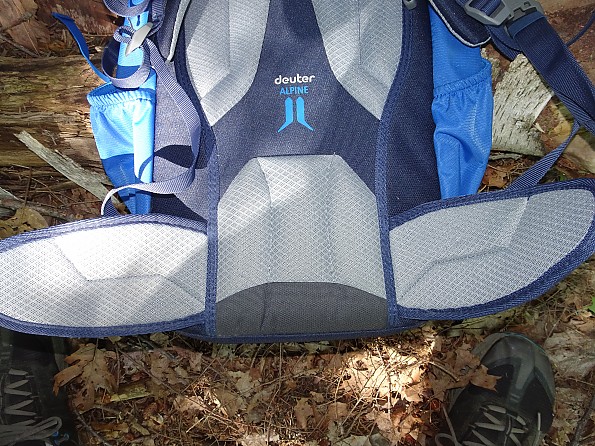 Deuter kept the belt padding very thin but used a wide, 3.75" at its widest point, belt. The flexible belt panels wrap around hips of all shapes and sizes while the slightly more padded lumbar panels tuck up against the back.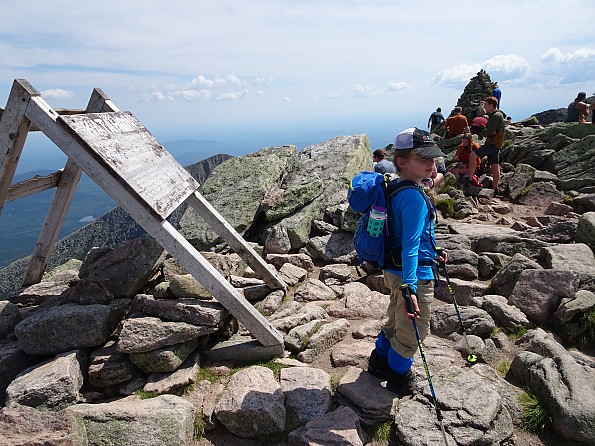 The shoulder harness curls up and over the shoulder from front and rear which keeps great body contact when active. Scrambling up the Saddle slide in Baxter State Park in Maine or tripping over muddy roots on the Cohos in New Hampshire, there were no issues with the Climber shifting or flapping around.
My daughter did have some minor complaints about the shoulder straps rubbing on her neck. She learned to keep her shirt collar pulled up enough to protect the neck and that seemed to resolve the issue.
Capacity: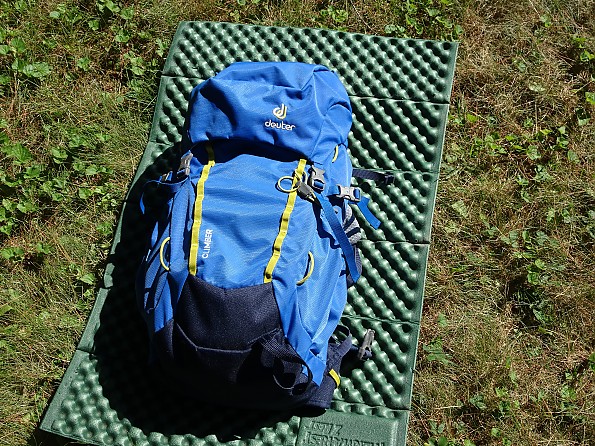 Most of the Climber's 22L capacity is in the main compartment which includes a hydration sleeve against the user's back. Measuring roughly 17" tall, 10" across the back, and 5" deep, there was ample room for clothing, books, and of course ducks.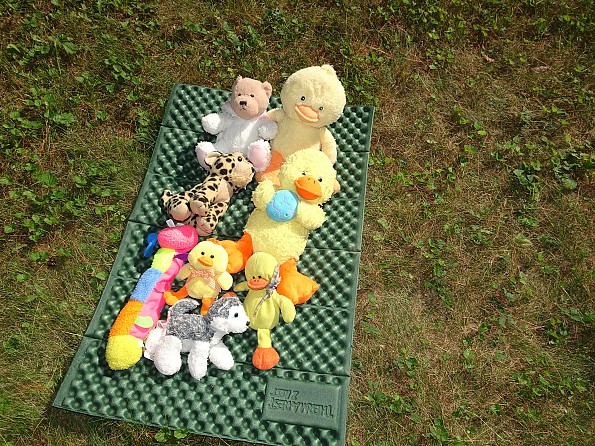 How many ducks? Most of them, plus a few of their friends were gently nestled, not crammed, into that main compartment. Not the usual load on trail, but a good demonstration of the space.
We kept our daughter's load to no more than 10 pounds on our overnight and longer trips and much less for day hiking. There was plenty of room for what we let her carry and a lot more. At 22 liters I could easily do an overnight trip with this pack if it fit me better heh.
Organization & Accessibility:
The Climber also has a dual compartment lid that gives you some organizational options. The easy to access external pocket makes a great place to stash things needed on trail like sunscreen, bug stuff, or perhaps a smaller duck. As seen above there is a clip for attaching keys, gps, etc for security.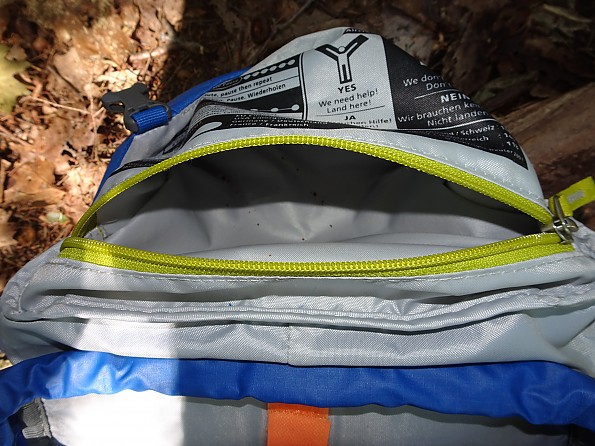 Flipping the lid up exposes another zipper on the inside that accesses a second compartment Deuter refers to as a valuables pocket. These two compartments share the lid space, so filling one limits available space in the other, but they do allow for some organization which is unusual in smaller packs.
Ride & Ease of Use: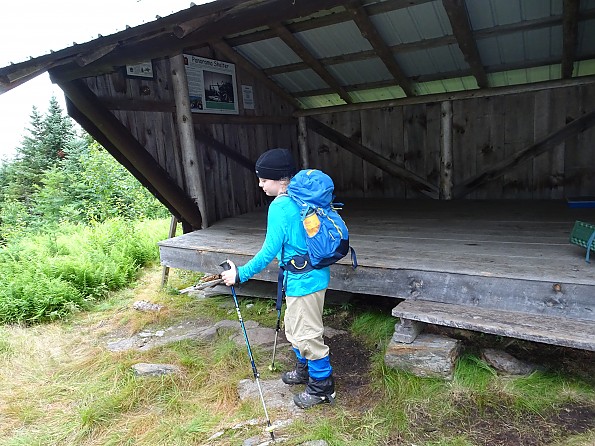 We really like to keep our daughter's load light so never really tested how the pack would ride with a heavier load. She never carried much over 10 pounds and usually used only about half of the volume of the Climber.
That being said I was really impressed with how the pack stayed with her on trail. I am almost always positioned behind her, either watching her close in front of me or farther off when she is leading the family train. That gave me a lot of time to see that the Climber's belt and harness really functioned just like a good adult pack. The system kept the pack from shifting when she was rock scrambling or even when she stumbled.
For the most part my daughter was able to adjust the pack without help. The hip belt mechanics seemed difficult to her. I am not sure if she wasn't applying the force correctly due to lack of experience or if the belt had too much resistance. I am sort of inclined to think the latter, as I found it moved somewhat slowly myself when I helped her.  The shoulder harness and lifters were no problem for her and she found it easy to get the pack seated to her body each time she put it on.
Features: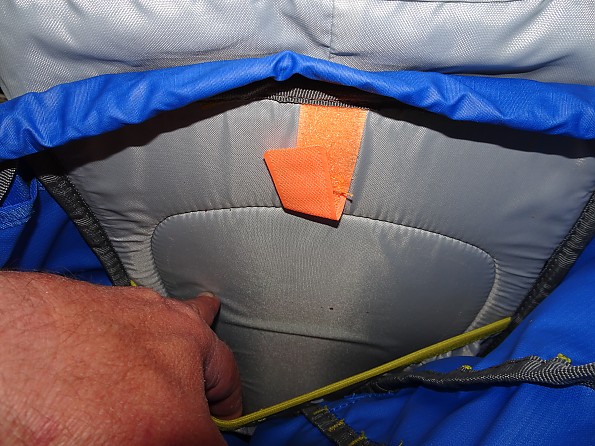 Deuter really added all the features you'd expect in an adult pack to the Climber including a hydration sleeve. It has an elastic top edge with a hook/loop hanger above. There is only one hydration port which exits the top of the bag to the user's left side. While I am able to fit a filled 3L Platypus Hoser bag in there, that is roughly 6.5 pounds. Older users won't have any issues, but that is a lot of weight for smaller kids. We use water bottles on trail so my daughter used this area as an organizational pocket.
Looking at the pic above you can also see the stitches that hold the exterior torso pads in place. Inside that panel is a solid feeling, yet flexible layer that acts as a minor bit of framing. This gives the bag shape, even when mostly empty while spreading the load when carrying a bigger or heavier load.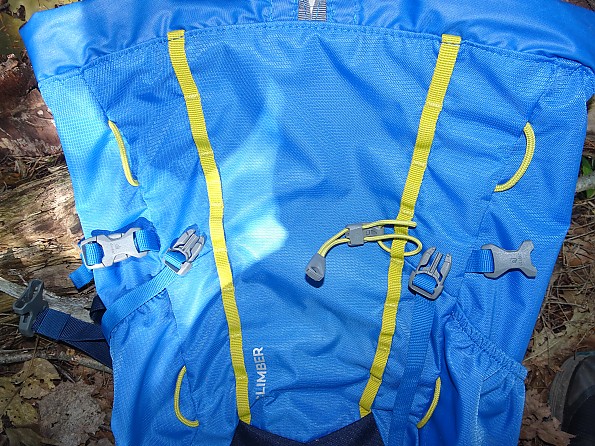 Running the length of the back of the bag are two strips of daisy chain connections with one cinch strap included. There are also four larger loops along the seams.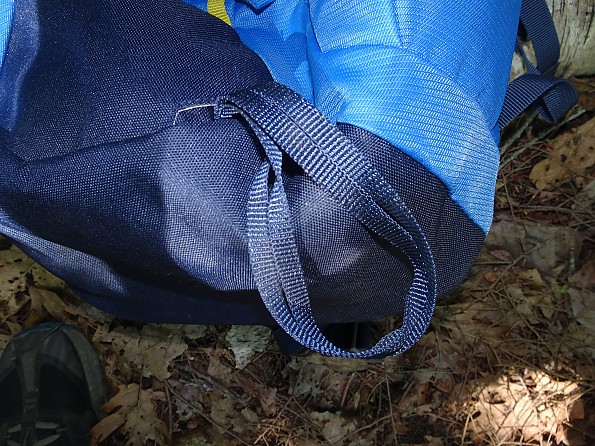 I'm sort of guessing Deuter added the ice axe loop for adult users, but what other folks do with their kids is their business heh. We do not do anything with ours that would need one, but the Climber has her covered if we ever do. We tried using this to hold her trekking poles while ascending the Saddle slide in Baxter State Park, but weren't comfortable with the poles being on her back once we looked at it. The ice axe loop and the cinching loop above would work well for this for adults or older children. We just didn't think it looked safe for a child so Frau Stranger carried the poles for her.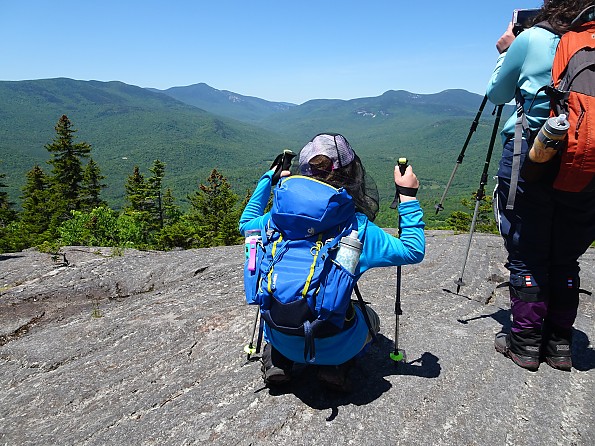 Dual side pockets are great for water bottles. We had an issue where we lost a bottle at the worst moment, but I'm not sure if that was a design issue or user error. The pockets have a strap to help hold taller objects, like bottles. Our daughter was able to pull a bottle out with the pack on her back, but needed help putting them away.
Construction & Durability: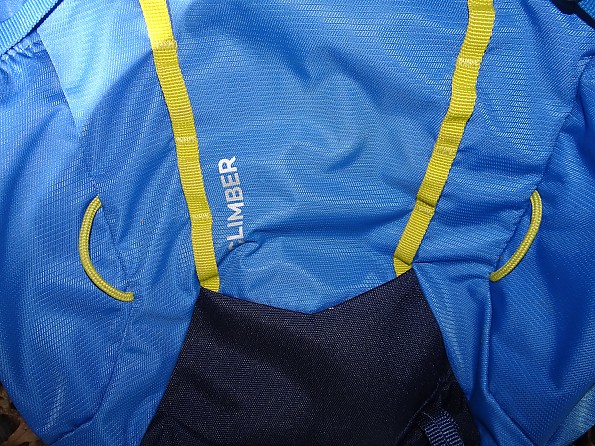 Here you can see the two primary materials used to make the bag of the Climber. The blue, Deuter calls it Lapis, is a 210D, 60/40 polyester nylon blend that is soft, flexible, and appears water resistant. They also offer a red option that they call Chili. The darker panel at the bottom, Deuter calls it Navy, is a 600D polyester meant to take more abuse. In this pic you can also see the even seams and stitching. The Climber may be intended for kids, but they didn't cut corners on the build.
Testing Conditions: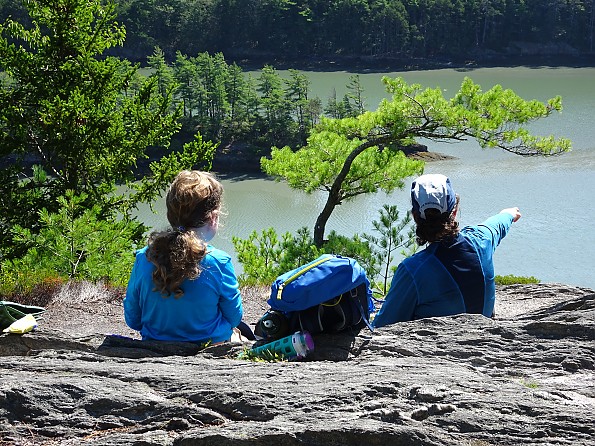 Given the ways of the world these days we didn't get out as much as usual this year, but my daughter has tested the Deuter Climber on day hikes, overnights, and one weeklong adventure so far. She is always pushing her limits and this year climbed Katahdin for the first time as part of a week of hiking and camping in Maine's Baxter State Park. The hike to the summit involved some gnarly rock scrambling and the descent had a few buttslides for the adults, more than a few for the little one. She also made a point of testing the Climber's durability by taking it off and flinging it to the ground at rest stops and campsites. At least I think she was trying to help test heh.
Conclusions: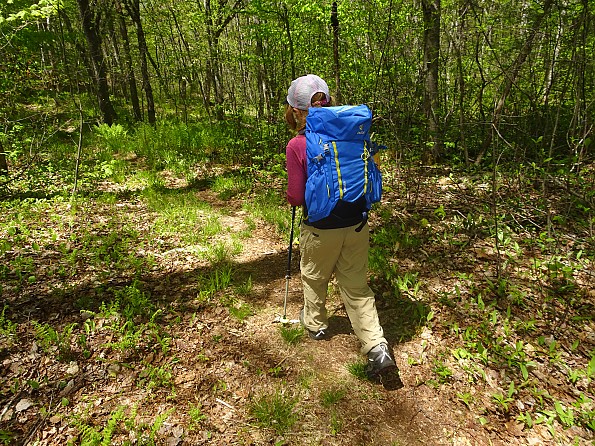 I wasn't expecting a children's pack to have much to test and review before the Climber arrived. Deuter changed my mind about that pretty fast once I realized this pack is pretty much an adult pack made smaller. The 22-liter capacity is more of a day pack for an adult, but for children it is plenty of room for longer trips.
Both backcountry adventure and kids can pose their own challenges to gear when it comes to durability and keeping stuff clean. Put the two together and you really find out fast what can deal with the realities. Again, I found myself a bit surprised at how well the Climber shrugged off dirt after being tossed to the ground and how well it held up to the rocks and trees that are commonly run into on an average Maine hike.
Enough from me for a bit though. Let's get the tester in here to say what she thinks about the Deuter Climber.
What did you think about the pack over all?

It was very useful for carrying things. I really liked the two water bottle pockets.

What part did you like the most?

The inside pocket (hydration sleeve). It was a great place to keep books and sit pads safe.

Was there anything that bothered you or you think could be better?

No.

Would you recommend this pack to your friends?

Yes, my hiker Girl Scout friends.
So overall I'd say we both agree that the Climber is a functional small load hauler that holds up to real world trail conditions, but she would use a lot less words. I liked the way it worked for her and I really noticed how it sheds dirt. Both dusty and muddy layers were applied at different times and both basically fell off from use. Depending on how fast she grows she may be able to continue using this pack for many years. Even when she outgrows the 22-liter volume for overnight trips it will still make a great day pack.
We did lose a water bottle that fell into a hole between rocks while scrambling up a big slide. This was during a break and I'm not sure how it happened, but the side pockets have a tapered cut to them and are topped by a lightly tensioned elastic. This made getting bottles out easy for my daughter, but may have led to this mishap. I also think the less than full pack might have contributed. I think the pockets were designed with an assumption that the pack would be more fully packed.
Again, on the whole, we were both very impressed with the Deuter Climber. Having all the features of a full sized pack makes her look and feel like a real hiker out there, even if she may not need all of them just yet. The ones we did use were fully functional so I will mention again that those of small enough size could use this as an adult. Definitely trying it on in store would be preferred to see how it worked on a specific body. For its intended use by kids I'd say the Climber goes well beyond what most kids need, which is a good thing. Having a pack like this can inspire little ones to dream bigger. Those features may get used sooner than expected.
Experience
The littlest Stranger has been using a series of LL Bean children's packs since she started preschool six years ago. I've used a few packs over the years myself.
Source: received for testing via the Trailspace Review Corps (Sample for testing and review provided by Deuter)

You May Like
Recently on Trailspace