Deuter DreamLite 500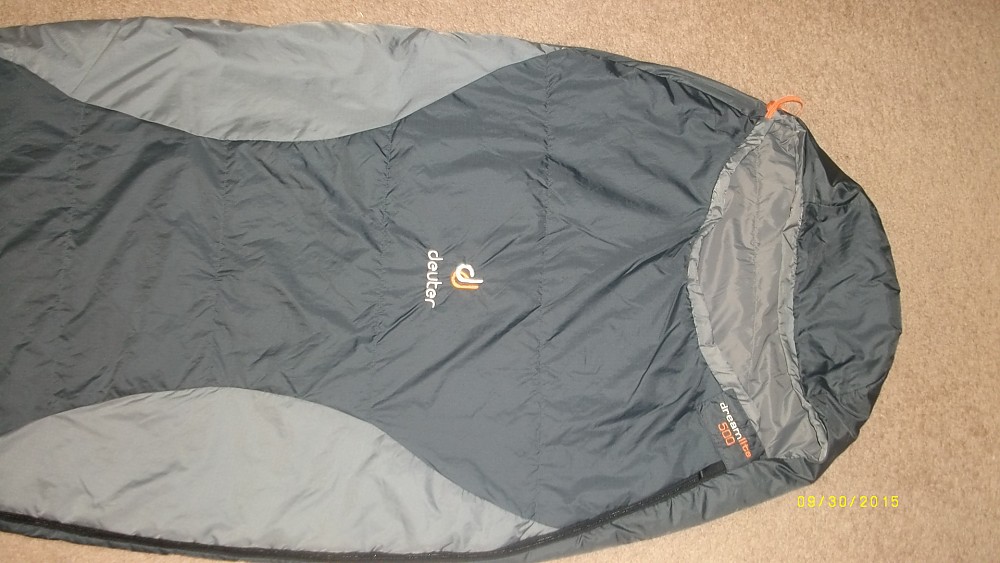 I can't believe that someone hasn't already reviewed this sleeping bag! These are my GO-TO warm weather bags, and the ones I use more than any of the others! I have two (2) of these bags, and I highly recommend them to anyone looking for a lightweight, warm weather only sleeping bag!
Pros
Lightweight
Simple, no-frills design, but with some features
Inexpensive (when I bought them, anyway)
Takes up very little room in your pack
Can be used as a liner in other bags, reducing the need to buy an expensive cold weather bag
Durable materials throughout (5 1/2 years of proof!)
Cons
Zipper will snag if you aren't careful (like ANY bag)
Not quite as light as claimed (but who's gonna quibble over 69.8 grams/2.46 oz?)
Not usable by tall people—6 ft is about the limit (*UPDATE- they make a Long version now)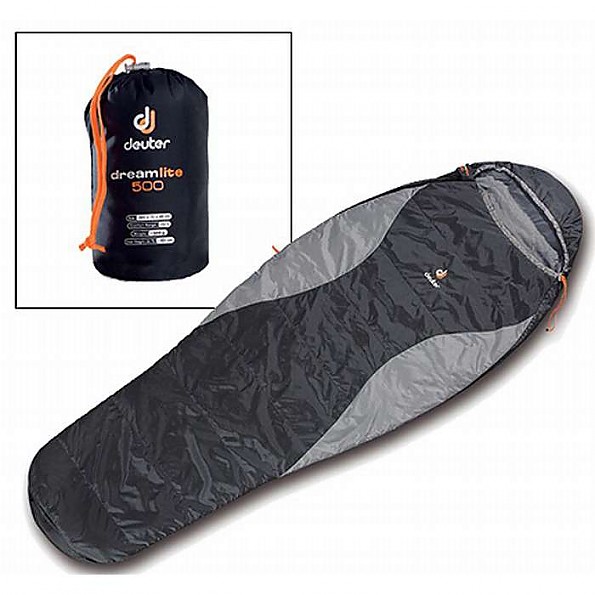 This is the color scheme of the bags that I own.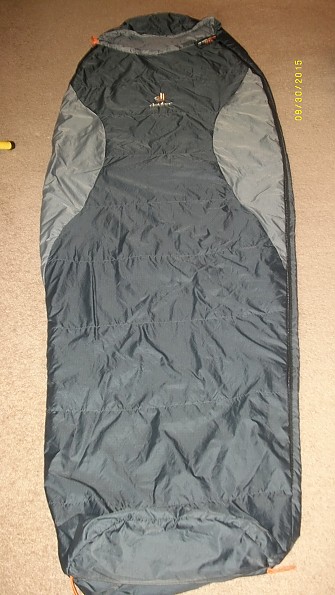 Mine don't look quite as tapered as the manufacturer's stock photo. And mine are not quite as "pretty" anymore, either! Lol. BUT, I purchased these bags in May of 2010, and have used them (with a silk or silk blend liner) on EVERY warm weather trip since then.
These bags have gotten more use than all of my other bags combined! So I can confidently say that they are well built and made of durable materials.
The Facts (Yawn):
Construction, top and bottom: Mummy sleeping bag, 1 layer Thermo construction

Outer/Cover: 100% Nylon [210T Nylon Ripstop]

Lining: 100% Nylon [237T Nylon Tactel Taffeta (breathable)]

Filling: 100% Polyester [Polydown Soft Polyester]

Fill weight: ~160 grams [~5.64 oz]

Dimensions: ~ 205 x 75 X 48 cm [~ 80.71" X 29.53" X 18.9"]

User height: up to ~ 185 cm [~72.8346"]

Pack(ed) Size: ~ 12 x 25 cm [~ 4.72" X 9.84"]

Total Weight: ~500 grams (including stuff sack) [~ 17.637 oz/1.1023125 lbs]

EN 13537 Temperature Ranges;

Comfort: +17 C [62.6 F]

Limit: +15 C [59 F]

Extreme: +3 C [37.4 F]
As for the weight, my scale consistently reads 20.1 oz/1.26 lbs/569.8254 grams in the stuff sack. Okay, I admit, yes, that is more than the manufacturer's stated weight of 500 grams. But who really wants to quibble over 69.8 grams/2.46 oz?
And besides, "Deuter Dreamlite 569.8254" just doesn't have the same ring to it. ;-)
I would have to say that—for me—the temp ratings seem to be spot on. The last time I used this bag, the temp got down to between 57 and 58 degrees F, and I was fine using just a lightweight silk/synthetic blend liner.
Okay, now the good stuff.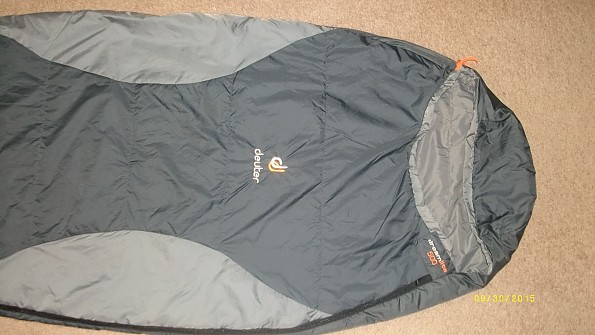 It's a good looking bag, that has held up well, and resisted dirt VERY well over 5+ years of use. I'm not hard on my gear by any means, but it is inevitable that you will get things dirty when living/sleeping/playing outdoors for ANY length of time. So I give it two big "thumbs up" for durability!
Being a warm weather sleeping bag, it has very few of the "bells and whistles" that you find on most other bags. Understandably, it has no need for them. That does not mean that this is just a "bag" with no features at all—there are a few, and they are worth mentioning.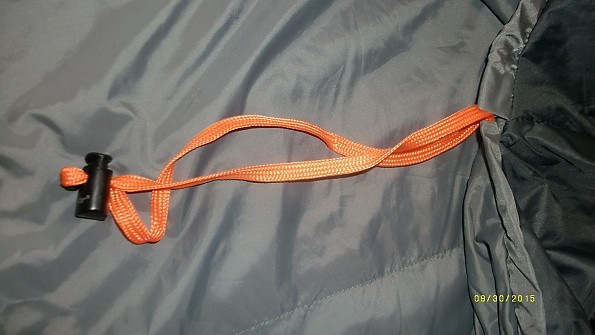 This is the hood cinch. It's a doubled flat cord (one for the hood area, the other for the neck area) construction, with a mini barrel lock/cam lock. Yes, pretty standard, but a nice, noteworthy feature for a warm weather bag. And I love the orange and black on grey! (hey, it's MY review! LOL)
Another feature uncommon to warm weather bags...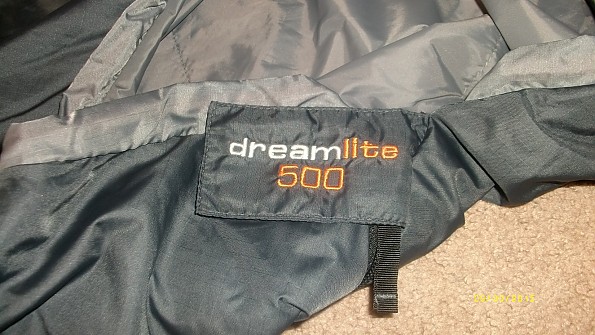 ... the zipper guard. Here, in the closed position...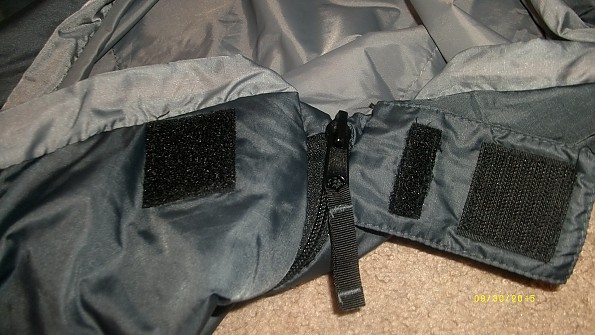 ... and here, in the open position.
Notice, on the right, the extra little patch of "loops" for the "hook and loop" closure system. This is a nice little added feature you want to look for. It allows the flap to be closed over onto itself, to keep it from attaching to everything and anything nearby. Oh and it will! I'm talking clothes, liner, socks, pet hair, stray insects and/or leaves... you name it.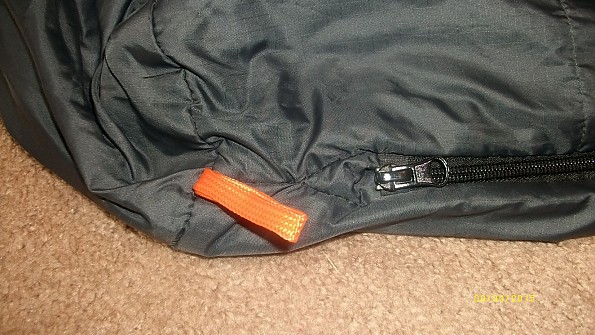 Here you can see that the bag features a full length zipper—great for venting your feet. You can also see one of the hang loops. More about that in the next picture.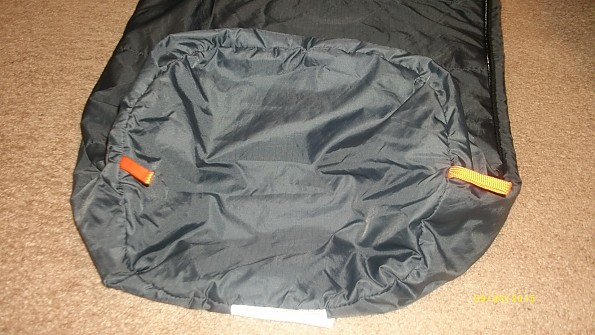 As you can see, the foot box area is basically round. It's not my favorite design for a bag, but it is very common, and I've had no problems with my feet feeling confined. You can also see that Deuter included dual hang loops for storage. No excuse for leaving your bag compressed! (which is a big NO-NO!)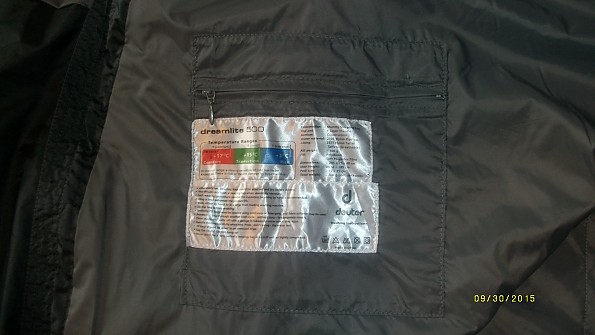 For those who love them, Deuter has included a very nice zippered storage pocket on the inside of the bag...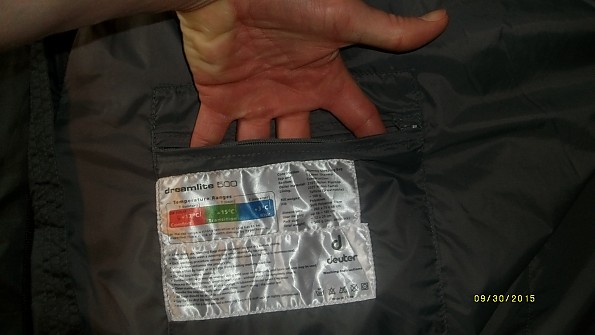 ... that is actually big enough to get your hand into! It's a great pocket—not too deep, not too narrow, big enough to get your hand in and out. What's not to like?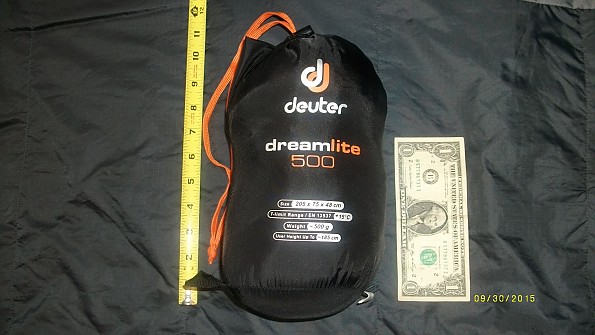 Here you can see the cool looking (again, it's MY review!) stuff sack included. No, it is not a compression sack. But seriously, you don't need it for this bag. It packs down plenty small enough as is. It is a standard, simple, cinch cord with barrel lock/cam lock design.
My only "gripe" (if you can call it that) is that the cinch cord on the stuff sack (and the hood, too, for that matter) is way too long. I don't like cords hanging loosely (OCD?), so I end up spending a crazy amount of time (OCD!) shoving the excess cord into the stuff sack (think pinkie-finger sized hole).
I (usually) don't intentionally take pictures of my gear when I'm out using it, so I rarely ever have a picture of my gear "in action." That's not what I'm out there for. But I did happen to find this...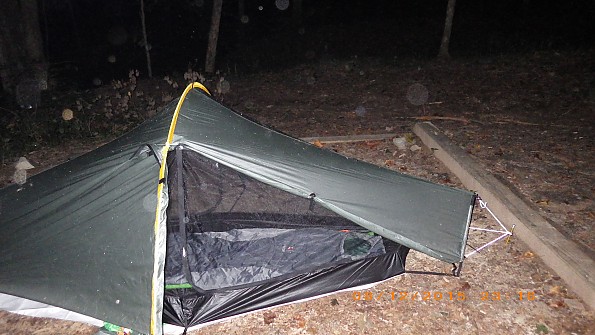 This picture was not taken to highlight my sleeping bag, but you can just barely see it there inside my Tarptent Moment DW.
That trip was actually a test run for the tent, and happens to be my most recent use of this sleeping bag. I was up above the Green River (in the picture, about 50 yards to the left, and 10-15 yards down) in Mammoth Cave National Park, Ky. The weather was absolutely perfect—low humidity, high of 80 F, low of 60 F. Or, at least that was the forecast.
The temp got down to between 57 and 58 that morning, with a constant... fog? No, it was more of a mist. You can see the water spots on the lense of my camera in every one of my pictures. Anyway, a constant mist rolling in from the river all night. You could see your breath an hour after dark! (Remember, this was August 12-13th in the South. It SHOULD have been in the mid-90's during the day, MAYBE mid-70's at night, with 10,000% humidity.)
That was the lowest temperature I have used this bag in to date, and, admittedly, I was a little chilled.
BUT... in the bag's defense I have to point out the facts:
I was using my thinnest, most lightweight silk blend liner; I was wearing only shorts and a shirt (both synthetic), no socks; I went to sleep with my head and arms/upper body OUTSIDE of the bag; I was only chilled when I woke up a few hours later.
Once I actually got all the way into the liner and bag, I was warm enough to sleep the rest of the night without waking up, and WITHOUT cinching the hood. I actually woke up hot in the morning because the sun was out, and the mist was gone.
So there you have it. 5+ years of proof that this is a GREAT warm weather sleeping bag, that will handle temps down to at least the upper 50s. The durability is without question after that length of time.
The Deuter DreamLite 500... if you don't have one, why not?!? I have TWO! Lol ;-p
*UPDATE 10/04/15:
After a little research, I have found that Deuter has redesigned this bag since I purchased mine. The construction, specs, and temp ratings have changed, as well as a "Long" version being added. I've also found that the sites that used to carry this bag no longer do.
So here is the newest/latest info I found;
Dreamlite 500 Regular (37071)
Weight:600 g/21.1644 oz/1.32277 lbs
Length:205 cm/80.7087 in
till Bodysize:185 cm/72.8346 in
Shoulder Width:75 cm/29.5276 in
Bottom Width:48 cm/18.8976 in
Pack-Size:ø 12 cm x 25 cm/4.72441 in x 9.84252 in
Outer lining:Dura-Hexlite RS
Inner lining:Soft-Nylon Taffeta
Fill:Polydown Soft Polyester fibre
Fillweight:160 g/5.64383 oz
13 °C/55.4 F
10 °C/50 F
-3 °C/37.4 F
Dreamlite 500 L (37081)
Weight:700 g/24.6918 oz/1.54324 lbs
Length:220 cm/86.6142 in
till Bodysize:200 cm/78.7402 in
Shoulder Width:80 cm/31.4961 in
Bottom Width:50 cm/19.685 in
Pack-Size:ø 13 cm x 30 cm/5.11811 in x 11.811 in
Outer lining:Dura-Hexlite RS
Inner lining:Soft-Nylon Taffeta
Fill:Polydown Soft Polyester fibre
Fillweight:185 g/6.52568 oz
13 °C/55.4 F
10 °C/50 F
-3 °C/37.4 F
This lightweight sleeping bag packs down super small making it perfect for weight conscious excursions. The bag can also be used as a sleeping bag liner.
Fill: Polydown Soft Polyester fibre
Lining: Soft Nylon Taffeta
Outer Material: Dura Hexlite RS
Construction:
1-Layer
The outer shell material is sewn to the upper layer of Polyester fleece. Since this construction can lead to cold spots, we only use it in summer sleeping bag.
Fill Material:
Polydown Soft Polyester fibre
Outer Material:
Dura-Hexlite RS
Hexlite is an extremely lightweight and soft fabric that is used for the outer shell material in the Dreamlite series. This ripstop nylon material is also characterized by its water-repellent finish.
Polyester: 50%
Nylon: 50%
As for sources, the following is all I could find;
trekkinn.com                     $57.95/Regular    $60.95/Long
backpacking-united.com   $75.11/Regular
exxpozed.com                  $78.41/Regular
deportesnomadas.com     $76.00/either one (I question that)
Source: bought it new
Price Paid: $78.95 on 5/9/2010

A very cold sleeping bag, far out of its rating.
Pros
Lightweight
Compressible to a really small size
This bag seemed like the perfect bag for my needs—a spring sleeping bag, highly compressible and lightweight, from a reliable tested brand.
Unfortunately it fails in the only thing that really matters—warmth, big time.
I used it while camping in a tent with a 15 mm E.V.A. mattress. I'll admit I'm a cold sleeper, but it has to be a night of 20+°C for it to be warm enough!!! And at those temperatures I can use a thermal liner that weighs a third of it, making it useless.
I take in consideration that EN rating are never true to real life conditions, but this bag is far out of its rating, very disappointing.
Source: bought it new
Price Paid: 70$

Sweet, durable, comfortable, holds up to its ratings very well. If you don't have one, prioritize getting your Dreamlite. I truly love mine.
Pros
Lightweight
Compact
Very comfortable on that really muggy hot night.
It even feels cool as you sleep, yet warm when needed
I've stayed warm in 35 degree plummets.
Cons
Zipper is very picky. You must take your time. It likes being babied. Baby it and smooth sailing
For the guy with the cord issue, I thought the exact thing. Even considered sliding barrel lock up to perfecto tying a knot and cutting the extra off.
But on one trip someone took my backpack. Luckily all my gear and sacks were in the tent with me. Man, figuring out how to lug my gear back out the trail without my backpack was a lot of trial by error and I discovered the need for the extra sack cord in stuff. At the bottom end of the stuff sack is a little nylon loop. I tightened up the pull cord, stretched its end down to the little loop, pushed the knot through it, pulled it around the loop again, wedging the knot between the long cord running down the side behind my hand.
This created a little nylon handle which gave me more transit control of the sleeping bag versus the swinging effect with just grabbing the extra cord as a handle. It became the final touch when I restuffed my Dreamlite in camp take down. Ever since I wouldn't want my cord to be shorter. Now give it a try, my outdoor friend.
Source: bought it new
Price Paid: Was priced wrong but i paid like 14.00 for mine at rock creek witch honored the

Your Review
Where to Buy
Help support this site by making your next gear purchase through one of the links above. Click a link, buy what you need, and the seller will contribute a portion of the purchase price to support Trailspace's independent gear reviews.
You May Like
Specs
Price
MSRP: $95.00
Historic Range: $59.21-$189.00
Reviewers Paid: $70.00-$78.95

Weight
1 lb 5 oz / 600 g

Fill weight
5.6 oz / 160 g

EN comfort
55 F / 13 C

EN lower limit
50 F / 10 C

EN extreme
27 F / -3 C

Fill
High-loft HollowFibre synthetic

Shape
Mummy

Max user height
6 ft 1 in / 185 cm