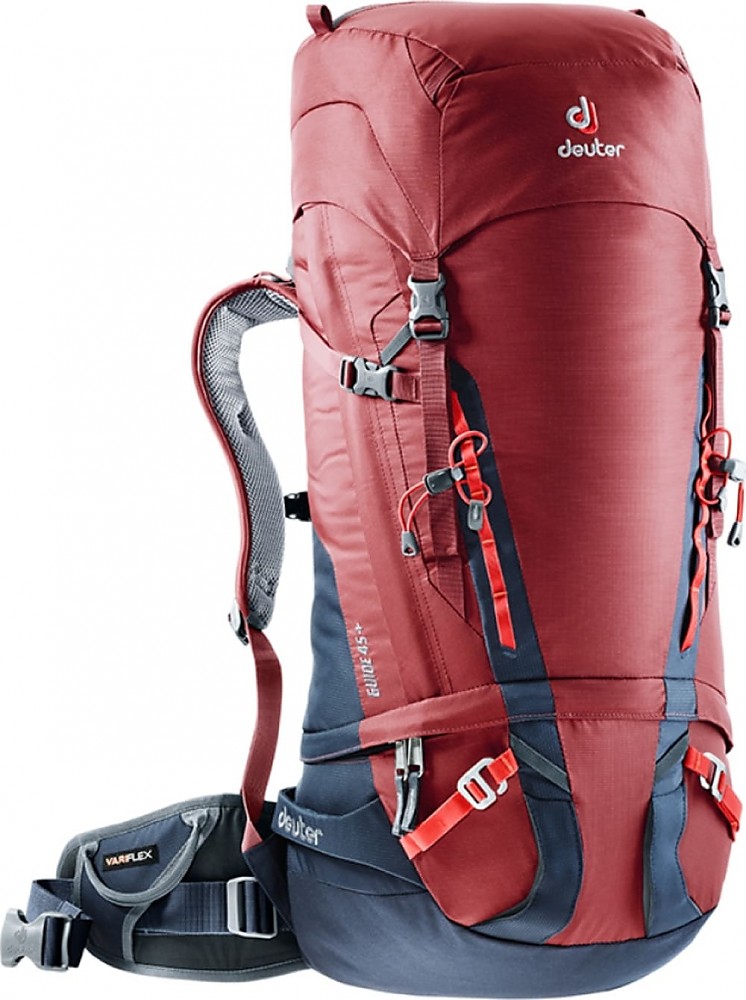 Specs
Price
MSRP: $179.00
Historic Range: $98.45-$180.00
Reviewers Paid: $102.00-$180.00

Weight
4 lb 4 oz / 1920 g

Capacity
2750 cu in / 45 L

Size
29 in x 13 in x 9.4 in / 73 cm x 34 cm x 24 cm

Material
Deuter-MacroLite / Deuter-Duratex-Lite

Reviews
9

reviews

5-star:

4

4-star:

1

3-star:

3

2-star:

1

1-star:

0
Excellent pack for its intended use, which is multiday ski touring and mountaineering. I would recommend this pack to anyone doing similar activities.
Pros
Sturdy
Ski loops
Excellent ice ax loops and crampon patch
Helmet and rope attachments
Comfortable
Water resistant
Cons
Does not come with rain cover
Side zipper is a point of weakness and possible water leakage
No hip belt pocket
Does not use the ACT hip belt buckle system
First, let me state that I have a positive bias toward Deuter. Most packs do not sit comfortably on my back, and since Deuters' back systems make a good fit for me, I almost always end up using a Deuter pack.
I am 178cm (5'10"), and the pack fits me very well, and sits comfortably with both heavy and light loads.
The hip belt is very comfortable and is a good fit. The only issue I have with it is that it uses the old school buckle system which, after having used the system found on Deuter's AirContact lineup, I must say is disappointing. (The AirContact system uses a free-floating clip on a bite, with the buckle fixed at the sides of your waist. This makes tightening much easier with a heavy load, and is less prone to loosening. The system used on the Guide 45+ is the typical one found on most packs, with the tightening buckle being a part of the clasp.)
The hip belt gear loops are well placed and water bottles clipped on them do not bother me while hiking and ski touring. There are no pockets on the belt, which is a shame, as they make an excellent place to store a snack or a camera.
Volume: Plenty. I am somewhere between the light and ultra-light in terms of gear and packing. I have managed to do 3-day ski touring trips with this pack weighing under 14kg including water (those were hut trips, add 2kg for tent). 
The spacious volume makes packing easy and quick, and the top-panel pockets are both large with wide openings. 
As I don't use the side-zipper for gear access, I consider it a potential point of failure. However, it is a pretty sturdy looking zipper, and if you make sure to keep the compression straps tightened, it shouldn't fail.
I'm not a huge fan of the separate sleep bag compartment. Especially considering that my sleeping bag compresses down to 8L and that compartment can easily hold twice that. That side, there is an internal zipper allowing you to open it completely for a single compartment bag type.
The external gear attachments are excellent. The ski loops work well with my mid-fat skis, and the near ice axe loop style is much better than the old style dangly loop. This does make attaching an avalanche shovel on the outside of your pack somewhat less straight forward. Mostly I try to pack it inside anyway if I can help it.
Deuter claims that the pack is waterproof. I have taken it on a heavy-snow weekend trip, and there was some moisture inside the pack by the end of the weekend, but no serious wetness. 
The used heavier materials and waterproofed the inside layer, but a good rain cover is light and fool proof, and I recommend you get one. Conveniently, Deuter makes a 30-50L one that fits beautifully (most other rain covers are 20-40L and 40-60L, being significantly floppy on the pack, and slightly heavier than absolutely necessary.)
Overall, I would recommend this pack to anyone looking to do extensive back country skiing, mountaineering, and multi-day hiking. It is even better if you replace the buckle system on the hip belts with the AirContact buckle system (much, much better), and make a strap-guide to hold the shoulder-tensioning straps in place so they're easier to find (they tend to get caught behind your back, and are quite difficult to get a hold of with gloves.)
Source: bought it new
Price Paid: $130

Backpack is fine, nice features, also good accessories available.
Used this backpack, last summer, 5 weeks in the Alps hiking, backpacking, and climbing in the Bergel area of Switzerland and Italy.
Shoulder straps slip all the time. Had to re-tighten them every 15/20 min.
I think carrying is the most important aspect of a backpack, that's why the 2.5 stars.
Helmet Holder is a great accessory, see review there.
Price Paid: €140

It has many positive features, but its Achilles heel is the lack of a lower side compression strap. Fit and comfort are superb.
Cons
No lower side compression strap
Weight
I've used this pack (2017 version) for 1- and 2-day trips in the Scottish hills and it stands up well to all that is put in its path. Carrying approximately +20kg of kit it's very comfortable and the padding is great.
Its main use will be for ski touring/mountaineering this winter. Judging by its performance on foot the ski aspect should be a blast BUT... it's severely let down (for me) by the lack of a lower compression strap. I consider this necessary to firmly secure skis and reduce the pack's volume when required. It's a shame to have to use a piece of elastic cord to secure the pack's lower regions when the inclusion of a strap would have done this.
Updated 2018:
A full winter's use of the pack has highlighted a few issues.
it is useless in anything but a light shower, it's certainly NOT waterproof by any stretch of the imagination.
I had to get lower compression straps professionally fitted to allow a tent to be secured to the outside. Why Deuter removed them is beyond comprehension.
On a plus, it's still extremely comfortable and performs well during skinning and downhill activities.
On Scottish winter routes it's a large and heavy pack, but with the inclusion of the lower compression strap it shrinks down nicely. Its versatility is aided by the removable waist belt. Suffice to say it's got plenty of room for a full winter rack and a pair of half ropes etc. 
For pure touring it stood up well for hut-to-hut use in France.
In summary, it's taken a few heavy knocks and stood the test and could be considered as a worthy all rounder / Jack of all trades. It's a heavier pack which is extremely well fitting and comfortable but isn't waterproof and in need of a lower compression strap.
Would I recommend it? I'd suggest a scan over the marketplace first.
Source: bought it new
Price Paid: GBP135

Durable pack, but not as versatile as I hoped. Pack of this caliber should have an adjustable back.
Pros
Durable
Water resistant
Outside harness system
Cons
Does not fit well
Can not expand outside harness system
Tour+ outside pocket obsolete when pack is loaded
Pack too small for the side zipper (gimmick)
I will not review anything unless I have had the product at least a year. I find the pack does not fit well. I am 5'10" and when weighted and all the weight is on my hips a pack of this caliber should have an adjustable back. 
I was hoping to replace a 2003 TNF Patrol Pack with this one. It is a great climbing pack. But because the buckles are only used by Deuter I can not expand the harness to carry float tubes, snowshoes, bed roll, etc.
I contacted Deuter Canada several times trying to buy buckles with no luck. So I will be hanging this on a wall for when I need a day-to-day pack.
Source: bought it new
Price Paid: $180

I tested this pack for 30 days straight hiking in the Himalayas.  I don't know what people keep talking about when they say the guide 45+ hugs your back.  I find the pack only makes contact at my lower back and at my shoulders. 
The pack is so concaved, that you can almost slide your hand between the pack and my back.  So, all the load is basically cynched to your lower back and not distributed by way of friction to the rest of your back.  This pack gave me lots of back discomfort.
Also, the load stabilizers kept loosening off on me so often, that I regularly hiked with my finger in the loops to keep them snug. 
I would have liked it to have a bungee-type mesh waterbottle holder on the side of the pack so you don't always have to take the pack off to get water out.  I'm not a fan of hydration systems and prefer the tried and tested water bottle because it is so much more multi-functional.
All the other features were awesome -- especially the multiple entry points so you can always find the thing you need buried in your pack.
Max. Load Carried: 40 lbs
Height of Owner: 6'2"
Price Paid: $145

I purchased the older model because it has much more straps to fasten additional gear on the pack, compared to the new model. It does not have a raincover probably due to the manufacturer's claim that the pack is waterproof. I have not tested that one yet, instead I went ahead and purchased a separate raincover.
It's a very well designed, sturdy and handsome pack. Alpine back system distributes the weight evenly on your back. If you do not pull the stabilizers so tight, the ventilation on your back is relatively decent, but if you do, forget about it.
It has lots of buckles and straps everywhere, they are very useful indeed; hydration system compatible, removable sitting mat. There is no side water pockets; no need for them though, the pack's interior is very spacious. Sleeping bag compartment can be reached from outside and again relatively roomy.
All in all, it is a great bag.
Design: top and side loading with internal partitioning
Size: 45+
Number of Pockets: 2
Max. Load Carried: 15kilograms
Height of Owner: 6,1
Price Paid: $130

This is a great pack! I took it to the Blue Ridge Mtns. for its first trip and it performed great. It weighs less that 4lbs and even with all my gear in it still felt comfortable and light as a feather on my back.
The airflow system worked great keeping my back dry and after being rained on all night it keep all my gear inside dry. The side strap held my trekking poles and my tripod tight. I would recommend this pack to everyone.
Design: Top/Side loading Internal
Size: 3300 cu. in.
Number of Pockets: 1 main compartment
Max. Load Carried: 30lbs
Height of Owner: 5'6''
Price Paid: $102

Great pack! I bought this pack for ski mountaineering. The strap system to hold skis is very heavy duty but light. The whole pack weighs less than 4 lbs. I have crammed 45+ lbs into it and it still carries comfortably!
You can get into the pack 2 ways, top or side, and the modular system allows you to leave behind parts if you want to. Hydration compatible. Axe loops with velcro holders. Everything you need!
Design: top loading and side loading
Size: 3750 cu. in.
Number of Pockets: 4
Max. Load Carried: 45+
Height of Owner: 5'10
Price Paid: $145

I bought this piece of equipment in Buglaria at retail price of 90 euros, and this backpack is worth every euro/dollar.
It's very well designed with x/back support system, which fits good on your back. It's stable, rigid yet comfortable. It has a ton of useful features and its made of ballistic duratex which is scratch and waterproof. I have often used it both, as alpine climbs and even as a traveller's backpack.
Design: internal frame
Size: 45+10l
Number of Pockets: 3
Max. Load Carried: around 20kg
Height of Owner: 188cm
Price Paid: $140

You May Like